2019 Ford Mustang Shelby GT350: I Will Never Change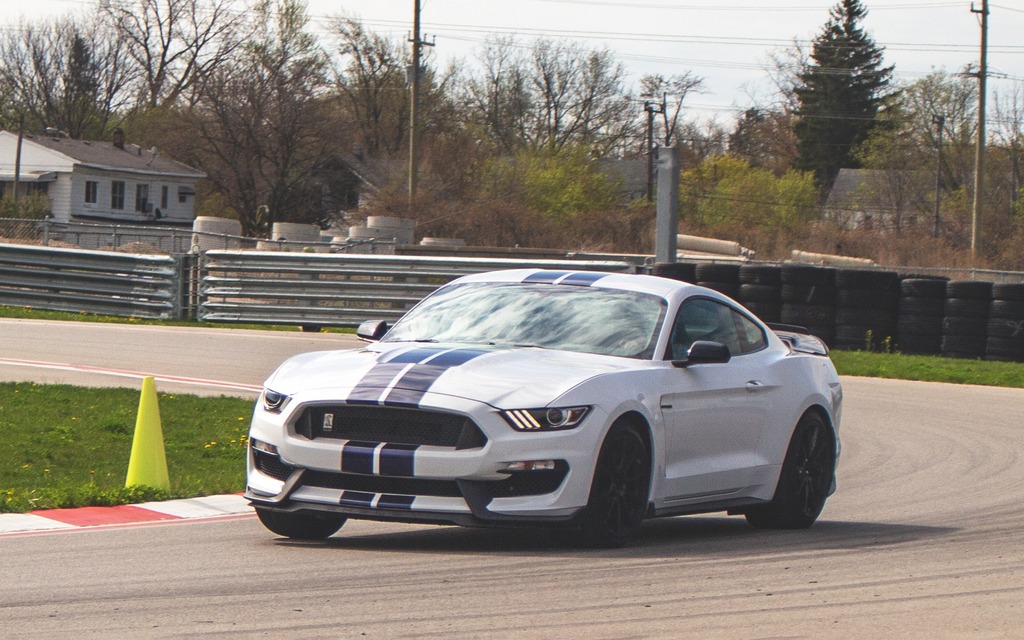 Strong points

Serious performance
A gem of an engine
Unquestionable presence and character

Weak points

Expensive
Questionable value of the GT350R
Vibrations from the flat-plane crank V8
Full report
DETROIT (Michigan) – If you came here to read about autonomous, electric or sensible cars, you're at the wrong place. We invite you to read other articles published by The Car Guide. What you have here is the 2019 Ford Mustang Shelby GT350, a car born from a desire to drive, a track machine, a vehicle that refuses to follow the herd.
Reviews that focus solely on a car's technicalities and driving dynamics are rare. But for this car, we had to make an exception.
A Subtle Update
Since all the attention is currently aimed at the all-new Shelby GT500, Ford has taken the opportunity to secretly update its GT350. The Car Guide was invited, without notice, to Michigan's M1 racetrack, just outside Detroit, to drive the car both on the track and on the road.
For those wondering, yes, we'll get a chance to drive the GT500 later this year.
What's new for the GT350 are mostly handling, aero and braking tweaks. Mechanically, the car remains the same; it's still powered by a 5.2-litre, flat-plane crank V8 good for 526 horsepower and 429 lb.-ft. of torque. Unlike the Shelby GT500, which will only come fitted with an automatic transmission, the GT350 gets a Tremec-sourced six-speed manual as a sole transmission option.
Styling-wise, nothing changes. As a matter of fact, the GT350 doesn't even get the current Mustang's new face or digital dash. The car does get an updated eight-inch infotainment screen as standard, as well as two new colours: Velocity Blue and Performance Blue.
Since the GT350 is first and foremost a track-ready sports car, it's without question the most visceral Mustang in the entire lineup. It's lighter, tighter, and more aggressively tuned. It slots just above the Bullitt within the Mustang hierarchy, kicking off at $75,600. There's a Handling Package available, a $1,000 option that adds a Gurney flap for added downforce and adjustable strut top suspension mounts.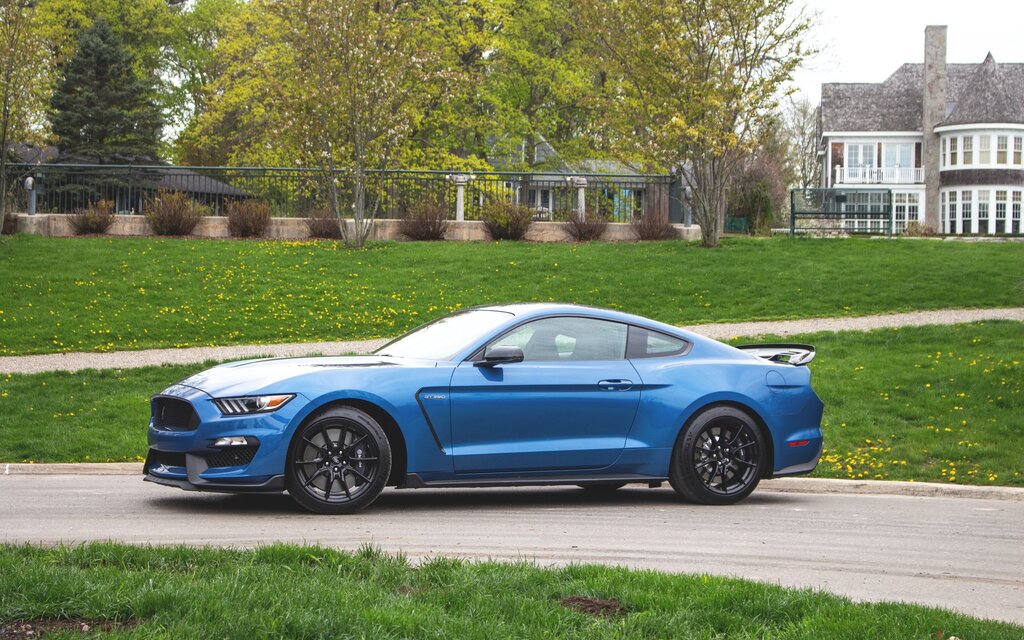 Need something a little more intense? The GT350R is still around, selling for $87,600, and gets a slight weight reduction treatment by way of a deleted rear seat, slight chassis reinforcements, a carbon fibre wing, a front splitter and the Handling Package.
Small Track, Big Car
M1 Concourse isn't a big track. There are only two back straights on which you rarely make it to fourth gear, and it's mainly composed of tight hairpin turns and high-speed bends, a frightening environment when you're behind the wheel of a 500-plus-hp American sports car. What's more, Ford employees gave us very little information about the track. No pointers, no important tips, just a helmet on the head and a HANS device strapped to our bodies and we hit the track.
One of the 2019 GT350's key improvements is the recalibration of the MagneRide suspension. Ford engineers stiffened the front dampers by 10% and softened the rear by 6%, all while incorporating the GT350R's rear sway bar.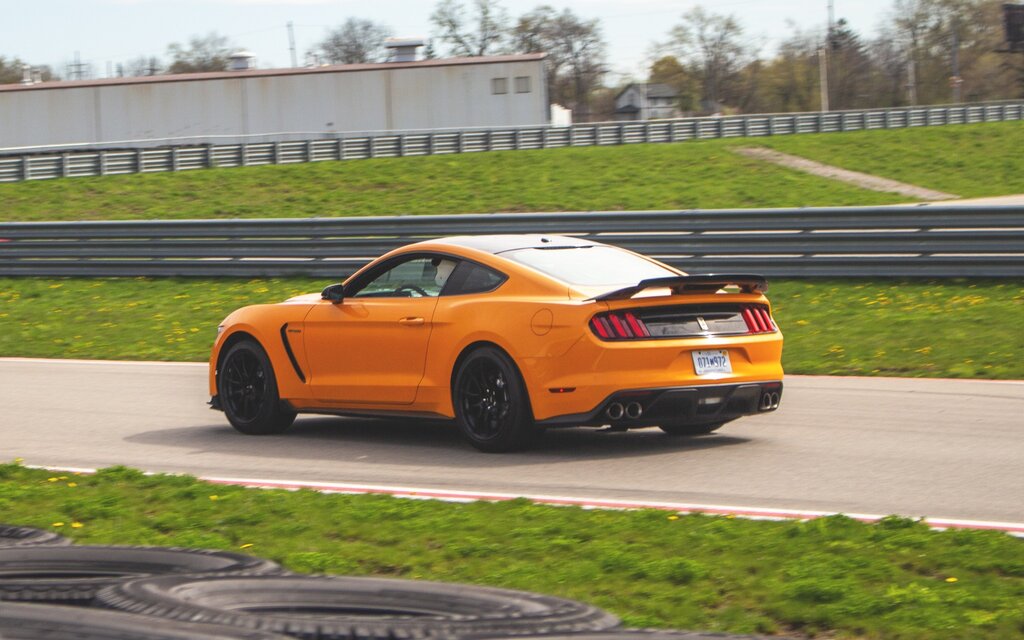 That bar is 24-mm thick, with a 3.6-mm wall thickness. According to Ford, these changes were made to better accommodate the new Michelin Pilot Sport Cup 2 tire package, which was specifically engineered for this car, as well as the new rear wing, which all help at improving grip upon corner exit and increase the car's stability during high-speed braking.
And that's exactly what we felt as we pushed this monster around the track. Once those tires had gotten nice and warm, we could further exploit the car's limits; limits so high that they encourage you to take part in almost counterintuitive manoeuvres. While subtle, the technical changes go a long way and help make this Shelby a much more controllable sports car at the limit.
And man, oh man did we enjoy the melodious growl emitted from that V8 engine. It's not only eager to rev, it provides a fresh dose of power all the way to its 8,000-rpm redline.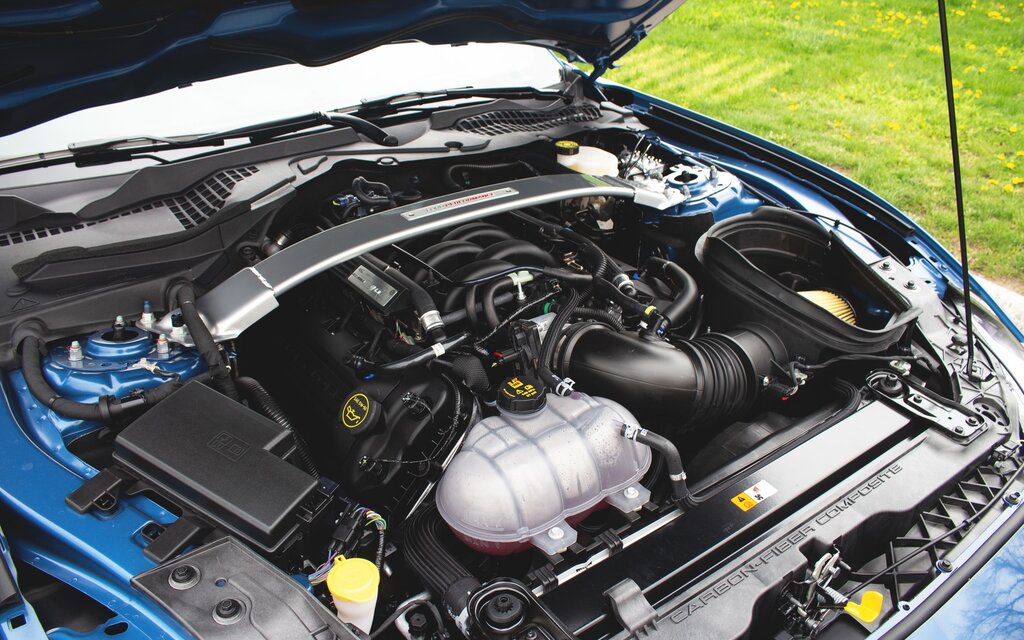 Less torque happy than the 5.0-litre unit found in Mustang GT, it's a significantly lighter engine due to the flat-plane crank, a normally European way of doing things that feels odd in an American car. The benefits are of course less overall mass and better throttle response. Obviously, it's the decibels that are the most noteworthy, sounding like a genuine race machine, reminding us how pure a naturally aspirated engine and a manual gearbox combination remains.
Faults? There are some, because after all, the 2019 Shelby GT350 was conceived for driving geeks wanting the maximum amount of performance for their dollar. If it's not your cup of tea, Ford will be more than happy to sell you another of the many variations of its pony car.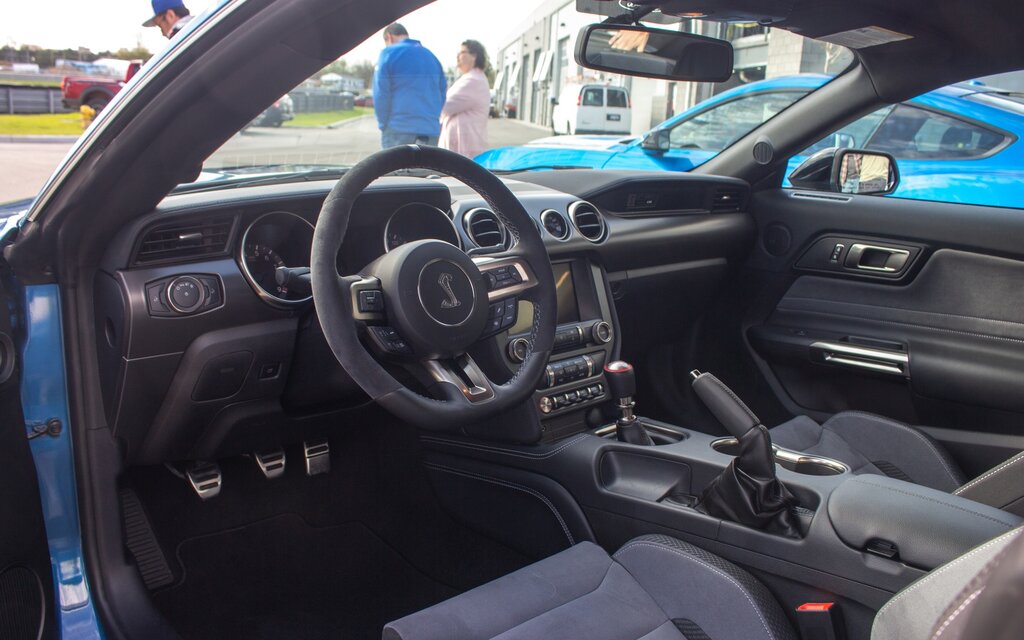 That said, the improvements of the 2019 car make us wonder why one should spend $10,000 extra for a GT350R. Unless your goal is to lock it up into a hangar and let its value appreciate, we don't see its pertinence. Also, while the new tire package does miracles on the track, watch out when comes time to change them. Let's just say your tire supplier will see you coming. Finally, the flat-plane crank leads to unwanted cabin vibrations, vibrations that quickly become irritating during urban driving.
In conclusion, the 2019 Ford Mustang Shelby GT350 is without question one of the best track tools currently on sale, if you can afford one. It sends a clear message to the entire automotive industry; that it has no intention to change.
Share on Facebook