2017 Genesis G90: The Silent Type
Strong points

Smooth, yet muscular powertrains
Very comfortable ride
No-hassle concierge service

Weak points

No brand recognition
Some interior design touches found in compact Hyundais
A bargain in its segment, but an expensive car nonetheless
Full report
Usually, establishing a luxury brand takes time and involves a lot of hard work and money. Ask Acura, Lexus and Infiniti, the three Japanese brands that come to life in the 80s and haven't yet matched the aura and prestige of Mercedes-Benz and BMW.
To sell luxury vehicles, a showroom and some advertising campaigns isn't enough. A manufacturer has to create a brand that consumers will associate with a certain lifestyle, and offer an ownership experience that will make neighbours, friends and family jealous, or at least, display some sort of admiration.
For those reasons, Genesis has its work cut out for it. Not many people will stick a picture of the 2017 Genesis G90 on the fridge and say "someday, you'll be mine." And they're ok with that. They know the road to success will be a long and windy one, and they're ready for the challenge.
Well, almost. Until the brand introduces an SUV—which won't happen for another year or two—it won't rack up significant sales numbers. They don't even have showrooms. Those interested in a Genesis can check out their website, book an appointment for a test drive at the location of their choice and order a car online. Service and repairs are performed through a concierge service. However, Genesis "boutiques" will pop up in certain upscale neighbourhoods and shopping malls, if only to raise brand awareness.
The 2017 Genesis G90 is the flagship of a three-car lineup that also consists of the midsize G80 as well as the compact G70—which will go on sale this summer. The G90 starts at $84,000, and that includes freight and delivery charges, the aforementioned concierge service as well as scheduled maintenance for five years or 100,000 kilometres.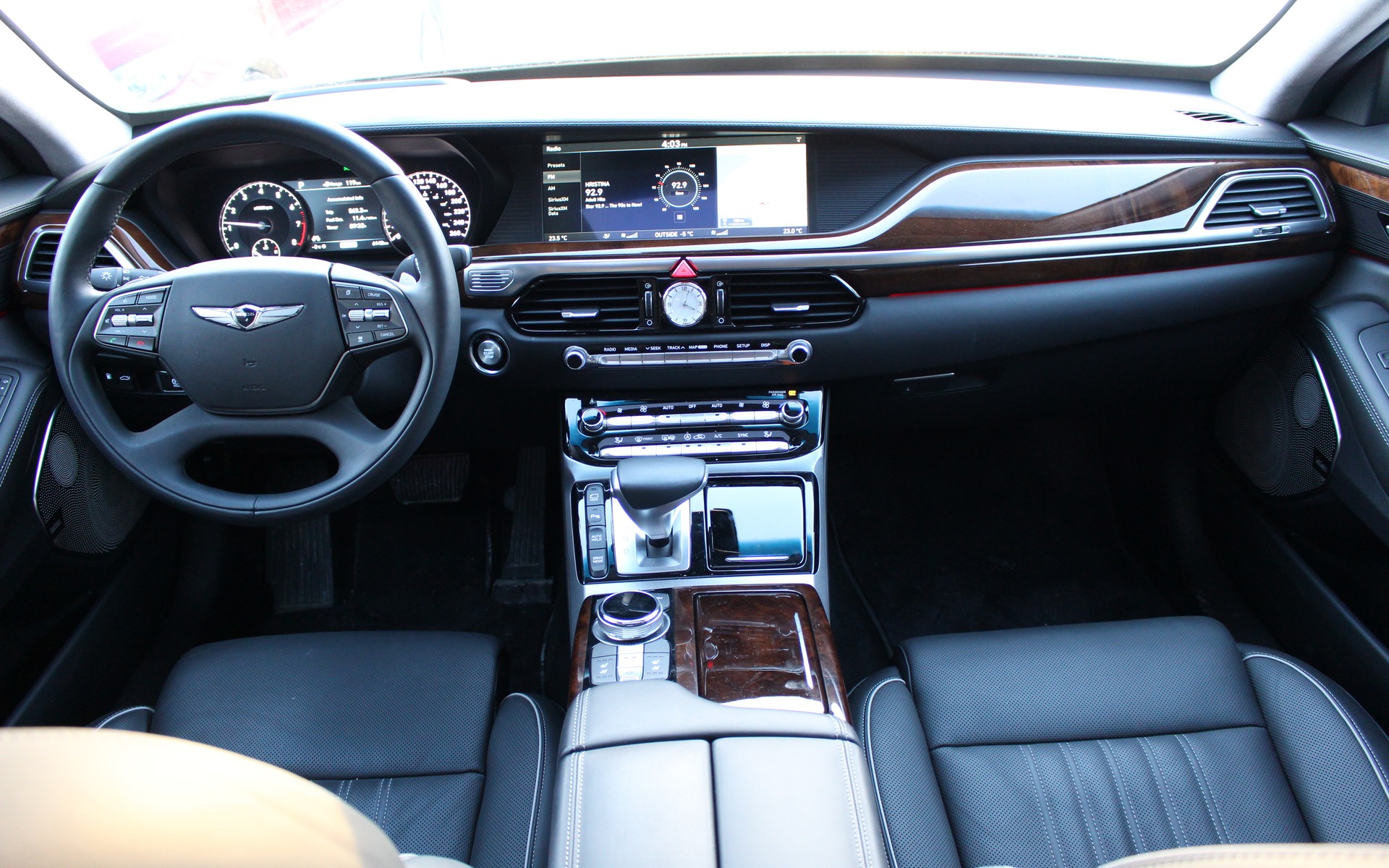 That's an admittedly high lump of cash, but we arguably get a Mercedes-Benz S-Class rival at a discount. Or an alternative to a Lexus LS or a Jaguar XJ. Or a direct competitor to the Cadillac CT6. The BMW 7 Series, Audi A8, the Porsche Panamera and Maserati Quattroporte are also in that market segment, but are much more dynamic cars than the G90 and target a different clientele.
For that $84K, we're treated to a twin-turbo, 3.3-litre V6 engine that belts out 365 horsepower and 376 pound-feet of torque, all of which are sent to all four wheels through an eight-speed automatic transmission. Unlike the rear-wheel-drive Hyundai Equus that it arguably replaces, and the Kia K900 that's on its last lap, the G90 is ready for Canadian winters.
For another three grand, buyers can move up to a 5.0-litre V8 that produces 420 hp and 383 lb.-ft. of torque. It obviously sounds better than the V6, and soaks up more fuel, especially in city driving. However, the 3.3T engine is definitely up to the task of making the G90 a fast car, and feels refined doing so. Over the course of our winter test, we managed an average of 11.6 L/100 km, a decent result.
There's a drive mode feature for altering the G90's character, if only a little. The Sport mode tweaks throttle response, transmission shift points and steering firmness, but the standard adaptive suspension adjusts itself according to the driver's current mood. We can also manually choose the dampers' firmness using the multimedia screen. During relaxed driving, the big sedan is buttery smooth without being nauseating, although it's still not as finely tuned as what the Germans can do with their suspensions.
Every 2017 Genesis G90 is decked out in Nappa leather upholstery and real wood accents, and while the overall design is rather conservative, fit and finish is beyond reproach. In addition, cabin insulation is amazing. Sure, some switchgear looks awfully like the one found in a $16K Hyundai Elantra, but that's to be expected. Mercedes-Benz can get away with putting the same buttons and switches in a B-Class and an S-Class, so we shouldn't criticize Genesis here. Yet for some reason, it bugs us. A little.
The G90 is loaded with features such as adaptive bi-xenon headlights, a power sunroof, 19-inch wheels, soft-close doors, power-folding outside mirrors with Genesis-logo puddle lamps, a 22-way power driver's seat, heated and ventilated front seats, heated rear seats, a 360-degree camera system, three-zone climate control, adaptive cruise control with stop-and-go capability and much, much more. Rear-seat passengers also get their own set of audio and climate controls on the fold-down centre armrest. The V8-powered G90 also gets a few exclusivities such as full LED headlights as well as power-adjustable and ventilated rear seats.
The 900-watt, 17-speaker, 7.1-channel Lexicon sound system is mighty impressive, and every G90 benefits from an infotainment system that includes a 12.3-inch screen, a console-mounted multifunction knob and an SSD hard drive for storing music and navigation. You won't find gesture control technology or perfume dispensers like in the BMW and the Benz, but otherwise, from a feature standpoint, the Genesis isn't lacking in any way.
What the Genesis obviously doesn't have is a branding that rhymes with luxury and opulence. Yet. Whether the extra $20K required for upgrading to an S-Class instead of the G90 is worth the envy and admiration of our entourage is up to the buyer. And for a lot of people, it might be. It's also worth noting that a similarly-equipped Cadillac CT6 costs a little less, although you don't get the concierge service and no-charge maintenance.
However, the G90 is every bit a full-size luxury sedan as its established rivals, without a prestigious badge. Those who can simply appreciate a high-end car without needing to draw attention could definitely be happy in this one. Who knows what the Genesis brand will represent in 20 or 30 years, but we should know that they're already producing well-engineered cars, and the G90 is no exception.
Share on Facebook