2019 Genesis G70: Crossing Enemy Lines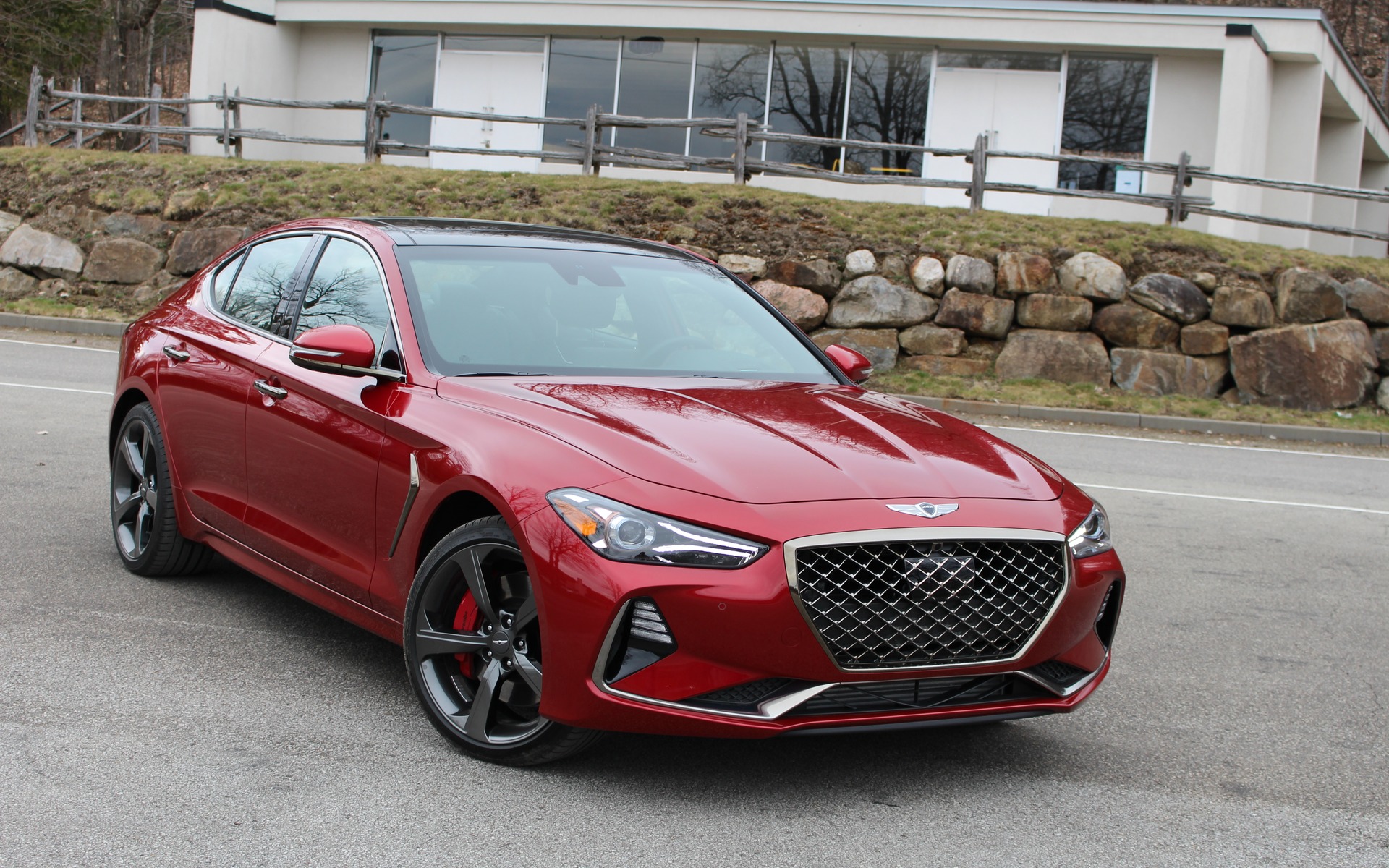 Strong points

Athletic design
Impressive interior finish
Surprising driving dynamics

Weak points

Tight rear-seat accommodations
Lacks sound and character
Unknown long-term resale value and reliability
Full report
MONT-TREMBLANT, Quebec – The German brands should start worrying now. A little.
To keep the Japanese brands from taking control of the luxury compact-car segment, Audi, BMW and Mercedes-Benz have been redefining what customers want and need in such a vehicle. Today, those buyers want sportiness, style, comfort and prestige combined in one package. While Acura, Infiniti and Lexus are still playing catch-up, but are pretty close, this new brand from Korea comes out of nowhere and creates a contender right off the bat.
What makes the 2019 Genesis G70 so good at rivalling the Alfa Romeo Giulia, Audi A4, BMW 3 Series, Cadillac ATS, Infiniti Q50, Jaguar XE, Lexus IS and Mercedes-Benz C-Class? The company understood that to stand up to the German brands in this solid group, it had to play by their rules, not its own.
Hiring German engineers surely didn't hurt. Tweaking the G70's driving dynamics on the Nurburgring was also a good strategy. The result of crossing the enemy's lines poses a serious threat to what the best cars in this segment have to offer. Except one thing, at least for now.
Actually, with the Kia Stinger, which shares its architecture with the G70, the Koreans created two contenders. But let's concentrate on the subject of this test.
It all starts in the engine bay, with a turbocharged 2.0-litre four cylinder that develops 252 horsepower and 260 pound-feet of torque. An eight-speed automatic transmission and an all-wheel drivetrain are standard.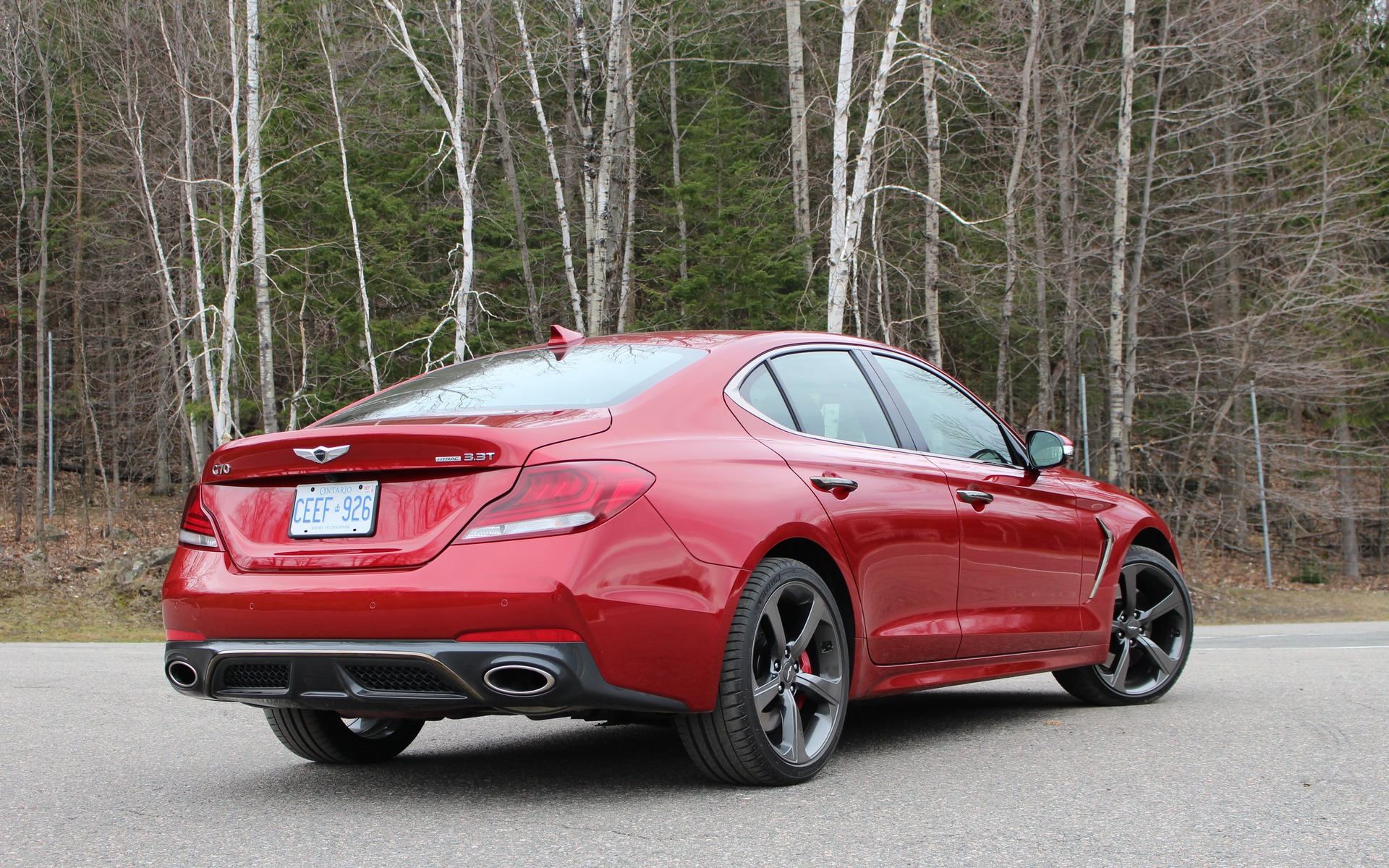 Torque peaks between 1400 and 4000 rpm, which means plenty of it and readily available. The automatic transmission isn't the quickest to react, even in Sport mode, but otherwise, this car is fast. At wide-open throttle, the engine's sound is refined and enjoyable, at least from inside the cockpit where a little extra growl is artificially sent through the audio system's speakers. It can be turned off, and frankly, the difference is barely perceptible anyway. During our drive, we recorded a trip computer average of 9.5 L/100 km, and we certainly weren't eco-driving.
Even more power can be had by choosing the twin-turbo, 3.3-litre V6 that belts out 365 horsepower as well as 376 pound-feet of torque that peaks from 1300 to 4500 rpm. It obviously makes for a speedier G70, and the extra smoothness of a bigger engine can be felt. Truthfully, it's a great six, but for the everyday drive, it won't make us regret saving some bucks by purchasing the 2.0-litre engine.
There is one variant of the 2019 Genesis G70 that stands apart. The 2.0T Sport is equipped with the four-cylinder turbo, a six-speed manual and a rear-wheel drivetrain. Genesis Canada pushed really hard to obtain this configuration from the mother company, as it figures there's a market—albeit a small one—for a true enthusiast sports sedan.
The manual gearbox feels pretty good, with a perfectly weighted clutch pedal and crisp shifter throws. Due to a less-restrictive exhaust, the 2.0T Sport offers 255 horsepower—three more than with the automatic. In addition, the G70 2.0T Sport isn't the value-leading trim level, as we often see in model lines where the manual gearbox offering is stripped of comfort and convenience items, making it less interesting. It even gets Brembo front and rear brakes with larger-diameter rotors, as does the 3.3T Dynamic and 3.3T Sport trims.
The vast majority of Canadians will likely prefer an AWD car. The G70's system can send up to 100% of the engine's torque to the rear wheels under light driving conditions, but when wheel slippage occurs, it's able to shift power up to a 100/0 front/rear split as needed. The system also varies torque 10/90, 20/80, 30/70, 40/60 and 90/10 according to various conditions, such as activating Sport mode or climbing a hill, or when we're barrelling down twisty roads.
Or a track. Because Genesis is that confident about their new sedan that it let us journalists loose on the Mont-Tremblant circuit, where we were pleasantly surprised by the car's poise and balance. We didn't have any competitors on hand for a back-to-back comparison, but our experience with the BMW 340i, the Audi S4 and the Lexus IS 350 leads to believe that the G70 can hold its own from a handling standpoint.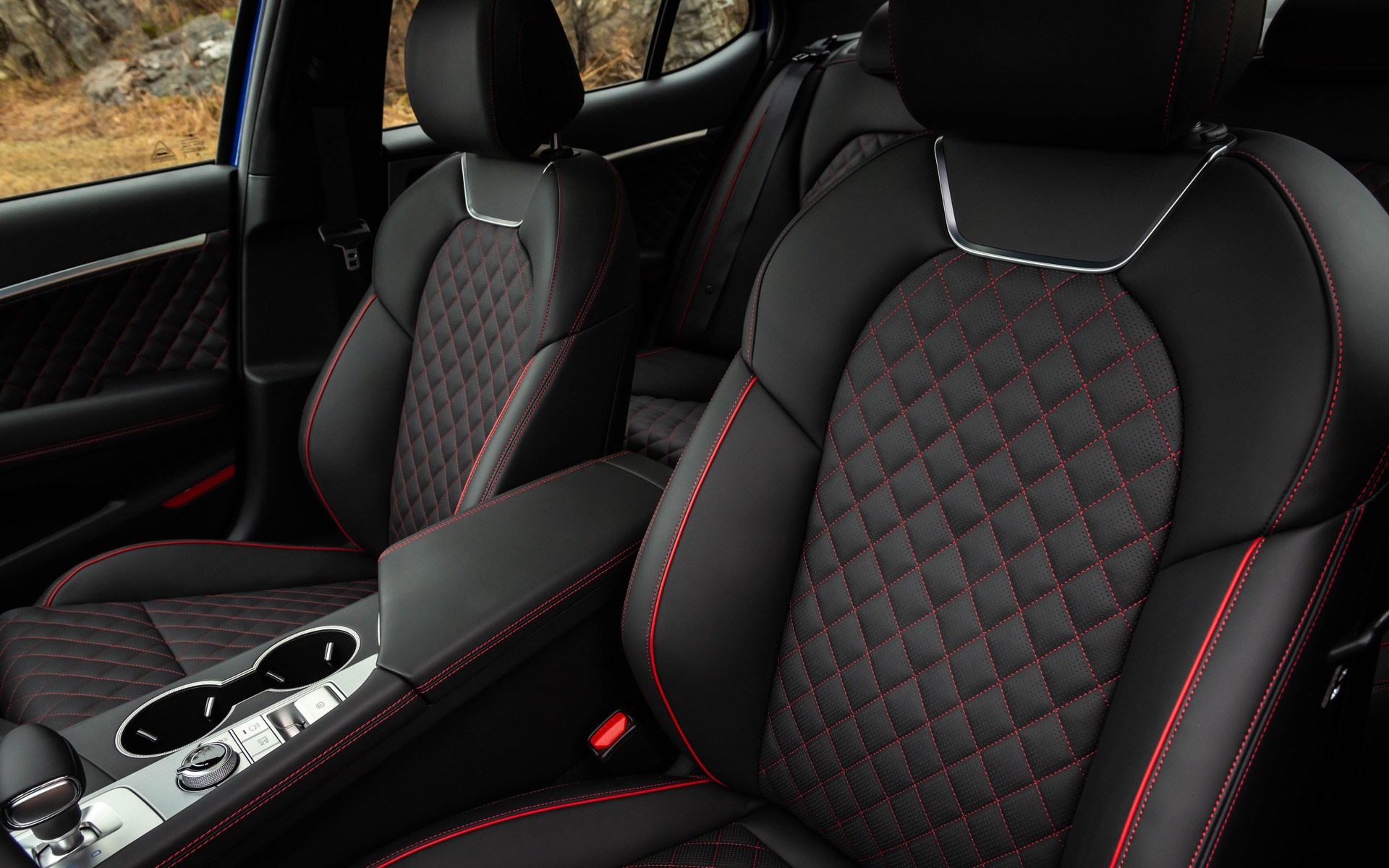 On the other hand, people don't drive at 10/10ths all the time, and the little Genesis can be a comfortable cruiser. The suspension well adapted to Canadian roads—and to Quebec roads—while Sport mode firms things up just a tad, without becoming bone-jarring. The car's steering is also well tuned, and V6 versions get a variable ratio setup that Genesis says increases low-speed agility and high-speed stability.
Front-seat space is good, outward visibility is good, thanks to slim front pillars, but the low roofline results in positioning the front seats lower to the floor. It's actually not that big of a deal until people climb into the rear-seat area—one of the smallest of its segment. Two adults can squeeze in, but three across will be painful for everyone. What really increases the feel of smallness back there is the lack of foot space under the front-seat frames, and the narrow lower door opening which makes it difficult to exit. This is clearly not a family vehicle, although its rivals aren't much better in that regard. Rated at 298 litres, trunk space is lowest in its segment.
More impressive is the car's interior fit and finish. Genesis really worked hard creating a rich environment, with quilted leather upholstery, stitched dashboard trim and just the right amount of brightwork. In every trim level, the infotainment system includes an eight-inch touchscreen as well as Apple CarPlay and Android Auto integration, while all but the base 2.0T Advanced benefits from a 15-speaker, Lexicon surround sound system. That's nice.
At a starting price of $42,000, the 2019 Genesis G70 comes loaded with heated front seats, a heated steering wheel, a power sunroof, dual-zone climate control, a 12-way power driver's seat and much more. It also includes safety features such as blind spot monitoring, adaptive cruise control, forward collision warning and lane keep assist. Lots of value here, and the MSRP includes freight and delivery charges as well as regular scheduled maintenance and concierge service for 5 years or 100,000 km (whichever comes first), and Genesis Connected Services for five years.
The rest of the lineup is composed of the 2.0T Sport ($45,500), 2.0T Elite ($47,000, likely the volume seller), 2.0T Prestige ($52,000), 3.3T Dynamic ($52,000) and 3.3T Sport ($57,500). Ventilated front seats, heated rear seats, a power-adjustable steering column, premium Nappa leather upholstery, navigation and head-up display are all available.
What the G70 doesn't have is the German sedans' performance exhaust systems that pop and hiss, so the aural experience and the character isn't the same. As mentioned before, the rear seating area is really small, so that's a bummer. But for some, the dealbreaker could be the lack of a prestigious badge. No matter how good this little Genesis is, branding is everything in 2018. Those who are looking for a brand above anything else should stick to their BMWs and Mercedes-Benzes. Those who are in the market for a well-balanced, comfortable and luxurious compact sedan should check out the G70. Genesis will even bring it to your doorstep for you to try it out.
Share on Facebook