[VIDEO] Brand New Chevrolet Corvette Z06 Falls Off Lift at Dealer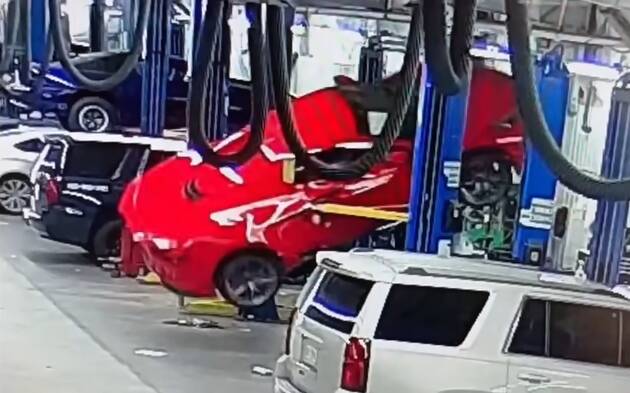 You should logically have peace of mind when leaving your car at the dealership for service. Technicians in this establishment have trained on your vehicle and should know its ins and outs thoroughly.
However, niche vehicles – such as the new Chevy Corvette – have specific particularities that technicians have to be very attentive to. And one of them involves positioning the beast on the lift.
Recent reports suggest that the latest-generation mid-engined Corvettes have been dropping off lifts more often than their counterparts, resulting in expensive damage, long repairs, and, of course, worthy video content for the web and a serious HR meeting for the technician at fault.
Technicians seem to be accustomed to handling front-engined vehicles with their distinct weight distribution. That's why the new Corvette comes with specific instructions designed to lift the vehicle appropriately.
In the following video, you'll see a new 2023 Chevrolet Corvette Z06 painted in Adrenaline Red colour on the lift with the rear passenger arm of the lift positioned a few inches more inward than where it should be.
It doesn't take long for that arm to give way, ripping through the sports car side and roof as it falls to the ground.
A few photos that show the end result of this tragedy have been shared by Street FX Motorsports on Facebook, showing the extent of the damage. Needless to say, that won't buff right out!
Share on Facebook