OPP Corvette Z06 Spotted in Toronto, Heading to Auto Show
UPDATE (2023/02/15): In a recent Facebook post, the OPP gave us an official peek at the vehicle and stated that the vehicle was loaned by Chevy exclusively for the show. Hence, it unfortunately won't be joining the fleet.
The Canadian International Auto Show is just about to kick off this week in Toronto and The Car Guide will be there to cover the many unveiling and events on the program. Several automakers have already set up their booths and filled them with their finest 2023 models.
However, there's a 2023 Chevrolet Z06 that has particularly attracted our attention on social media. This one isn't going to be exhibited in General Motor's booth, because it might be the newest member of the Ontario Provincial Police fleet.
The picture of the OPP 'Vette was posted on Reddit by Reddit u/furious_Dee in the r/ontario subreddit. It clearly shows the rear end of the Corvette Z06 bearing the signature black/white OPP livery, and facing a pair of brand new GMC Hummer EVs which, we assume, are all parked in the Metro Toronto Convention Centre's underground parking garage. 
Good News for Showgoers, Bad News for Speeders
On top of the usual Chevy Tahoes, Silverdos and Dodge Chargers, showgoers will be able to take a good close look at this potential newcomer. While the OPP could've easily settled for a Stingray, the law enforcement agency stepped things up to a Z06. Physically, the Z06 is characterized by its signature side vents that differ from the Stingray's. In the rear, we can also notice the quad exhaust tips that dominate the lower bumper.
Things get even more interesting under the rear bonnet, where you'll find a 5.5-litre V8 engine that outputs nothing less than 670 horsepower and 460 lb-ft of torque. With a 0-100 km/h sprint of only 2.6 seconds, this Corvette will definitely be closer than it appears in your mirrors if it ever goes into service.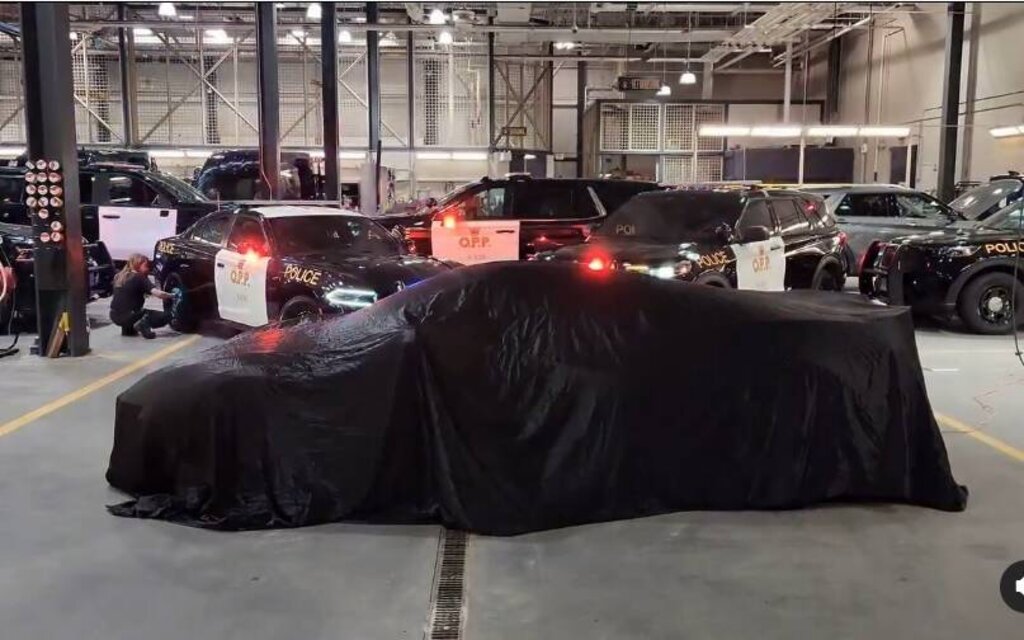 A video posted on the OPP's Instagram account shows the Z06 hidden under a tarp at their general headquarters in Orillia.
View this post on Instagram
Share on Facebook