Inside Porsche's 75th Anniversary Celebration in Stuttgart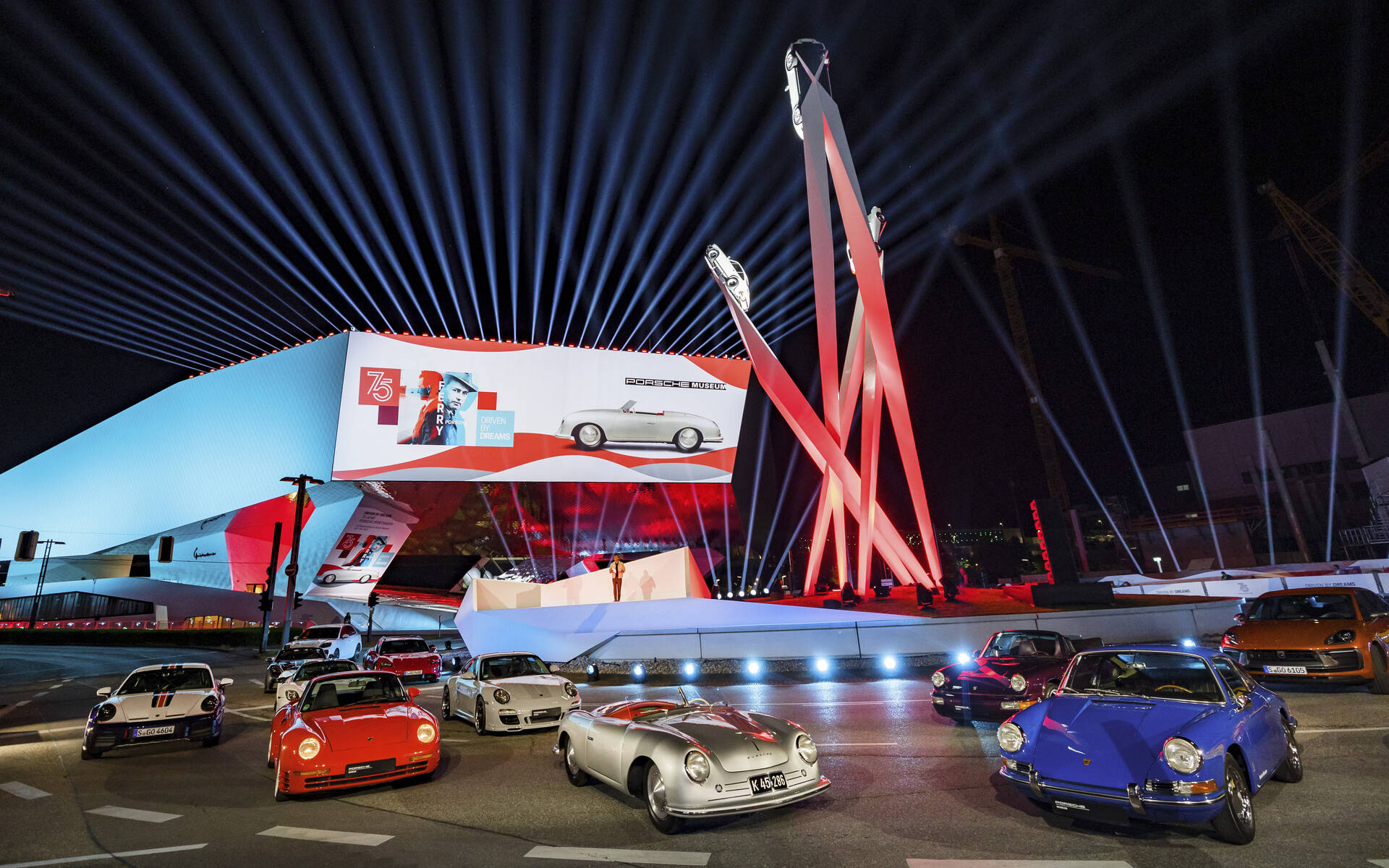 Stuttgart, Germany—The Car Guide was among a small group of auto journalists that were invited by Porsche to celebrate the sports car manufacturer's 75th anniversary in Stuttgart on June 8.
Yep, on that date in 1948, Ferry Porsche's first road car, the legendary Porsche 356/01, was certified for road use. It marked the beginning of a long and successful adventure, even though the early years proved a bit rocky.
Soon after World War II ended, Ferry Porsche had a desire to build his own sports car. He came up with some pretty bold plans but ultimately had to settle for the Volkswagen Beetle as a foundation due to the multiple parts shortages in Europe at the time. The first Porsche 356 was born inside an old sawmill in Gmünd, Austria, where all the units were hand-assembled. The company moved its operations to Stuttgart a few years later.
Over those seven and a half decades, Porsche has enjoyed remarkable success in terms of sales and profit. It now boasts a solid reputation for performance, luxury and refinement, catering to not only sports car purists but also families with SUVs like the Cayenne and Macan, not to mention the Panamera sedan and electric-only Taycan.
Our first stop in Zuffenhausen took us through an industrial area just a few kilometres away from the plant. Behind the doors of an unadorned white building, we were given access to Porsche's amazing and gorgeous collection.
Prototypes, road cars and race cars were all lined up for us to feast our eyes on. There were Porsche 356, 911, 912, 924, 944, Boxster and Cayman models aplenty, spanning all eras. We even stumbled upon the one millionth Porsche 911, which rolled off the line in 2017 wearing a superb dark green body.
Only a section of the facility was open to the media. We could have easily spent entire days in that building, but Porsche had a huge surprise for us at its museum. A new hypercar maybe? Following the Porsche 959 in 1983, the Carrera GT in 2003 and the 918 Spyder in 2013, it made perfect sense to celebrate the brand's 75th anniversary with a similarly exceptional automobile.
Lo and behold, those three icons were all on hand. The reveal, as hosted by Porsche CEO Oliver Blume, was actually a fully electric design study called Mission X. We were able to take a close look at it, and it appeared to be almost production-ready. Just like the Mission E concept previewed the Taycan, expect the Mission X to spawn Porsche's next great hypercar sometime in the future.
Immediately after the unveiling, we headed outside to Porscheplatz where big-time stars including Mark Webber, Hans-Joachim Stuck, Walter Röhrl, Timo Bernhard and Patrick Dempsey took part in the celebration, as well.
The streets were closed and a large stand faced the museum, the facade of which served as a screen for an impressive sound and light show. In between the numerous speeches were demos of classic Porsche cars.
Mark Webber kicked things off with the Porsche 356/01, Ferry Porsche's son Wolfgang riding shotgun. We saw every generation of the 911, of course, plus a road-going Porsche 911 GT1, 959, Carrera GT, 918 Spyder and a few race cars.
A straightaway behind the museum allowed the engines to express themselves, particularly that of a Porsche 956 that participated in the 24 Hours of Le Mans.
Webber came back for another lap, this time behind the wheel of a 919 Hybrid. The funny thing is, even with two lanes of traffic closed, the car couldn't make a U-turn so the former F1 driver from Australia had to spin the wheels to complete the manoeuvre.
All the vehicles drove by the crowd a final time before parking in front of the museum to take a family picture. Here's to another 75 years of awesome Porsche cars, people and stories!
Watch: 2022 Porsche 911 GT3 RS Review
Share on Facebook