Two One-Off Supercars Bid Farewell to Pure V12 Lamborghinis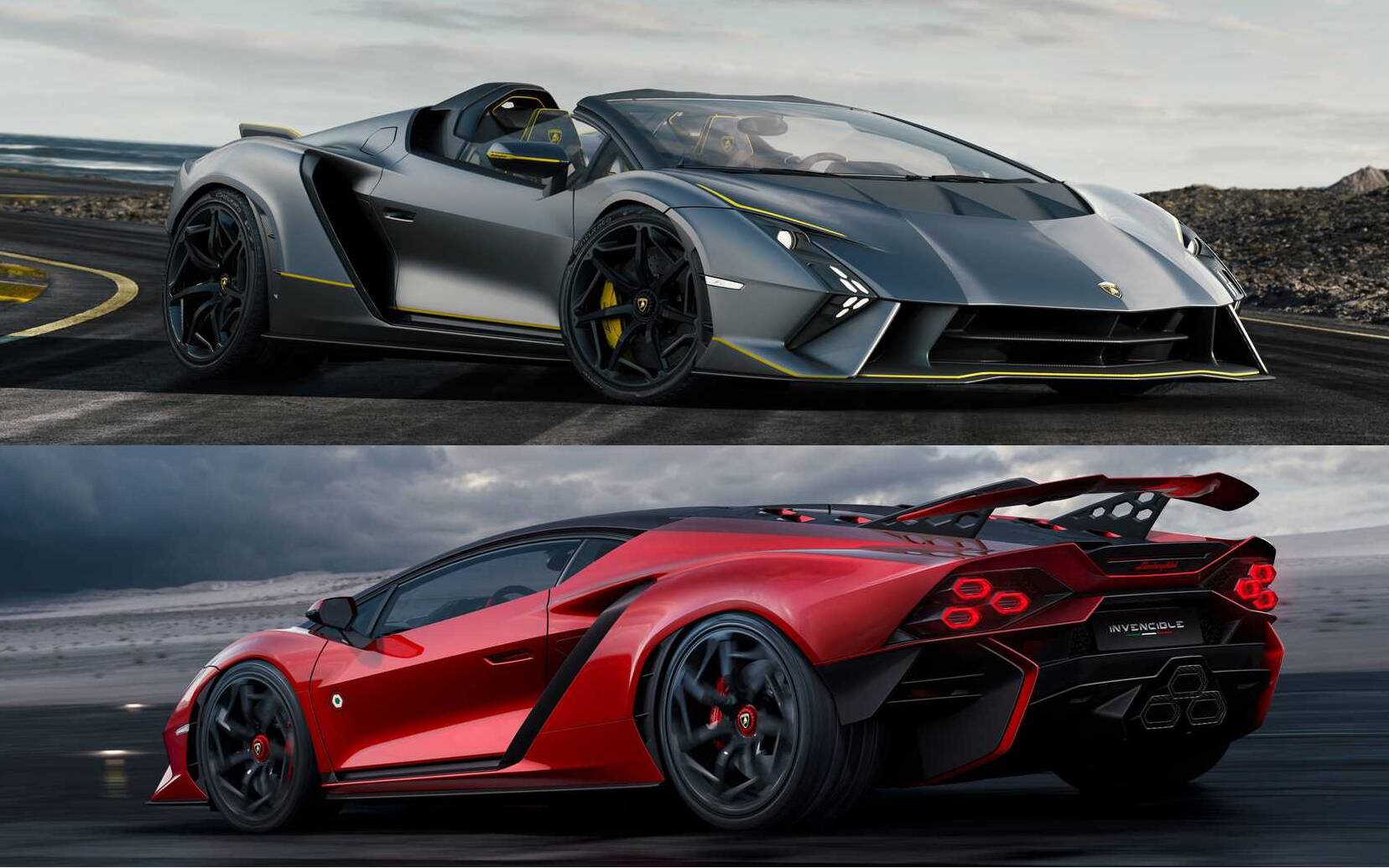 Lamborghini is just weeks away from unveiling the successor to the Aventador, which will feature a hybrid powertrain based on an evolution of the Italian automaker's naturally aspirated V12 engine.
Before we get there, however, two unique, one-off cars mark the end of the pure V12 era at Sant'Agata Bolognese and represent the very peak of Lamborghini's exclusive accent on personalization—the Invencible coupe and Auténtica roadster.
Both models rely on the 6.5-litre V12 and crank out 769 horsepower along with 531 lb-ft. of torque, just like the Aventador Ultimae, so what's special about them?
For starters, the engine cover incorporates hexagonal-shaped vents inspired by the design seen on Lamborghini's Sesto Elemento concept from 2010, which was a sort of homage to lightness and motorsport characterised by a large rear wing. Some aerodynamic elements also point to the 2007 Lamborghini Reventón and 2013 Veneno, helping the new Invencible and Auténtica slice through the air.
The front end, meanwhile, kind of mimics the track-only Essenza SCV12 from three years ago. The headlights and taillights have a hexagonal shape, too, and the same cues are repeated in the central triple exhaust. On the roadster, the two domes with integrated rollbars are inspired by open-topped racers of the past.
The interior is not as spectacular as the exterior, but there's something to be said about the extensive use of carbon fibre and 3D-printed elements such as the air vents. Of course, the customer was involved from the very beginning of the project to arrive at the final design including material, trim and colour selection.
Keep following The Car Guide in the coming weeks for your first look at Lamborghini's first production hybrid supercar (remember, the Sián and Sián Roadster had a very limited run). By the end of 2024, the entire Lamborghini range will be electrified in some way, helping the company reduce product CO2 emissions by 50 percent by early 2025. The first fully electric Lamborghini is slated to debut in the second half of the decade. 
Watch: Lamborghini Design Chief Presents New Huracán Sterrato
Share on Facebook