2023 Lamborghini Huracán Sterrato is Your Rally-Prepped Exotic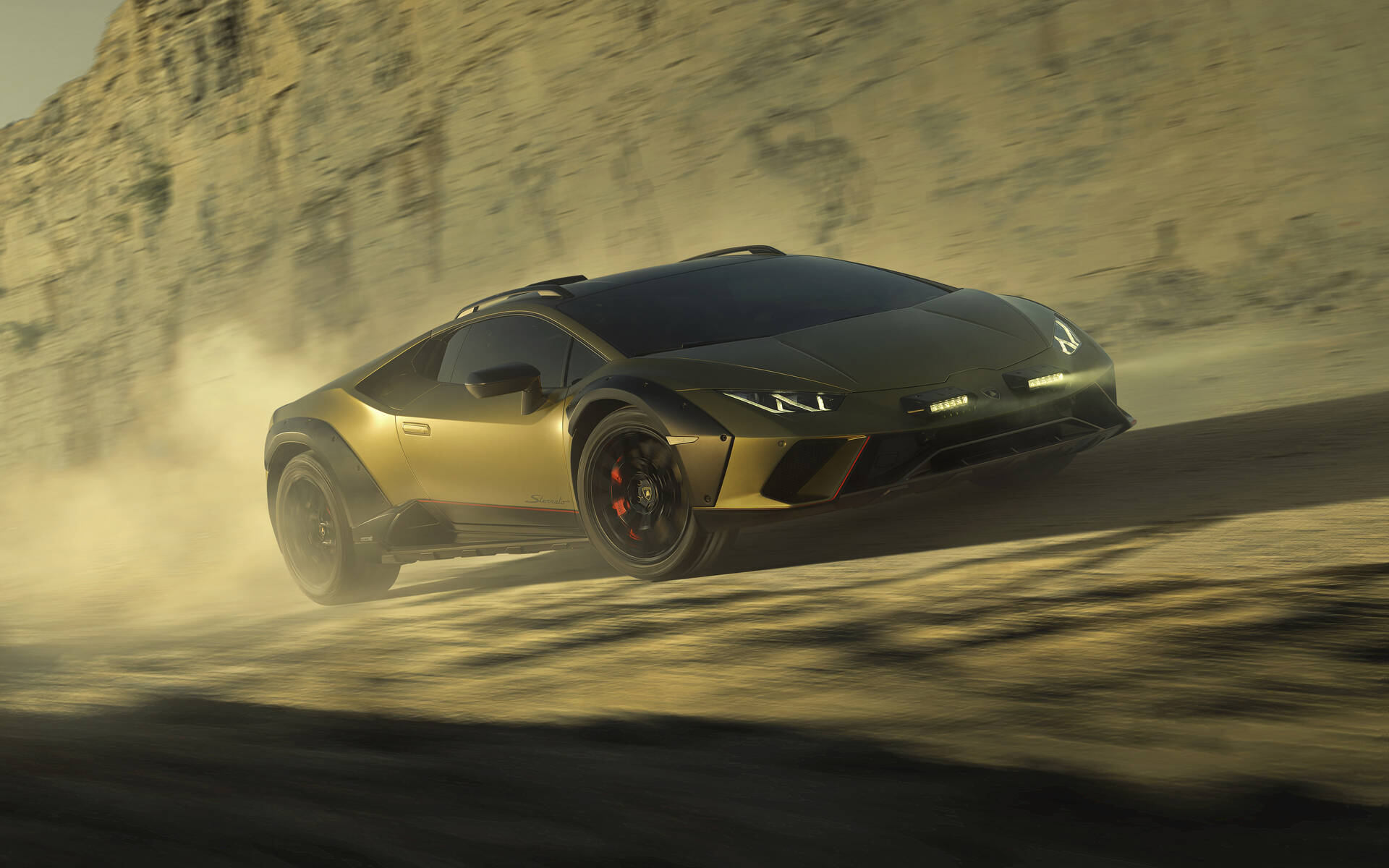 Sports car and off-road driving enthusiasts now have some fantastic options to combine their two passions. Following the Porsche 911 Dakar introduced at the Los Angeles Auto Show earlier this month, here's the new 2023 Lamborghini Huracán Sterrato.
This is the production version of the concept that was announced back in 2019. The exotic Italian automaker sees it as a work of art, which is why they hosted a public debut at Art Basel in Miami.
"With the high-speed all-terrain concept of the Sterrato, we have uniquely combined the driving experience of a true super sports car and the fun of driving a rally car," explained Rouven Mohr, Lamborghini Chief Technical Officer. "Lamborghini cars always deliver emotion: the Sterrato delivers a new degree of driving thrills." 
WATCH: Lamborghini design boss presents Huracán Sterrato 
The ground clearance has been increased by 44 mm compared with the Huracán EVO in order to ensure greater suspension travel, while the front (+30 mm) and rear (+34 mm) tracks are wider for more stability. The aluminum front underbody protection, reinforced sills and sturdy wheel arches all emphasize the Sterrato's muscularity. 
The car rides on 19-inch wheels equipped with custom-developed Bridgestone Dueler AT002 all-terrain tires that strike a balance between track performance and off-road capability. Those in the rear are wider than the front ones (285mm vs. 235mm).
You'll also notice a pair of off-road lights tacked on to the nose, as well as roof rails allowing drivers to carry extra gear if they so choose. Meanwhile, the classic air intake located on the rear hood helps supply the engine with clean air when driving on dusty trails.
Neither the Fastest Nor the Most Powerful
Speaking of which, you won't be surprised to find Lamborghini's naturally aspirated 5.2-litre V10 in the Huracán Sterrato. However, for some reason, output matches the Huracán EVO RWD (602 hp) and not the AWD variant (631 hp). Same thing for peak torque, which amounts to 413 lb-ft. instead of 443 lb-ft.
This is governed by a seven-speed dual-clutch transmission and electronically controlled all-wheel drive system with mechanical self-locking rear differential. Lamborghini claims acceleration from 0-100 km/h is achieved in 3.4 seconds while top speed is down to 260 km/h—on dry pavement, of course.
In addition to specific STRADA and SPORT drive mode calibrations, the Huracán Sterrato gets a RALLY mode for low-grip conditions. Braking power is supplied by aluminum fixed monoblock calipers with six pistons (front) and four pistons (rear), as well as ventilated and cross-drilled carbon-ceramic discs with 380mm diameter and 38mm thickness at the front and 356mm diameter and 32mm thickness at the rear. 
The pictures released by Lamborghini don't show the cockpit, but you should know the Huracán Sterrato is characterized by exclusive Alcantara Verde Sterrato upholstery. Over 60 colours for the leather and Alcantara interiors are optionally available through the automaker's Ad Personam program.
The instrument panel has new graphics and special driving features such as a digital inclinometer, compass, geographic coordinate indicator and steering angle indicator. Apple Watch users will eventually be able to synchronize their heart rate information with the on-board telemetry system. Pretty cool, isn't it?
The 2023 Lamborghini Huracán Sterrato will enter production in February at the Sant'Agata Bolognese factory, but only 1,499 units are slated to roll off the line. Are there that many people on this planet looking to buy a rally-prepped Italian supercar? You bet. Sadly, not all of them will use their car's potential to the fullest, which is a shame.
Share on Facebook