2023 Nissan Ariya: Two Sides of Premium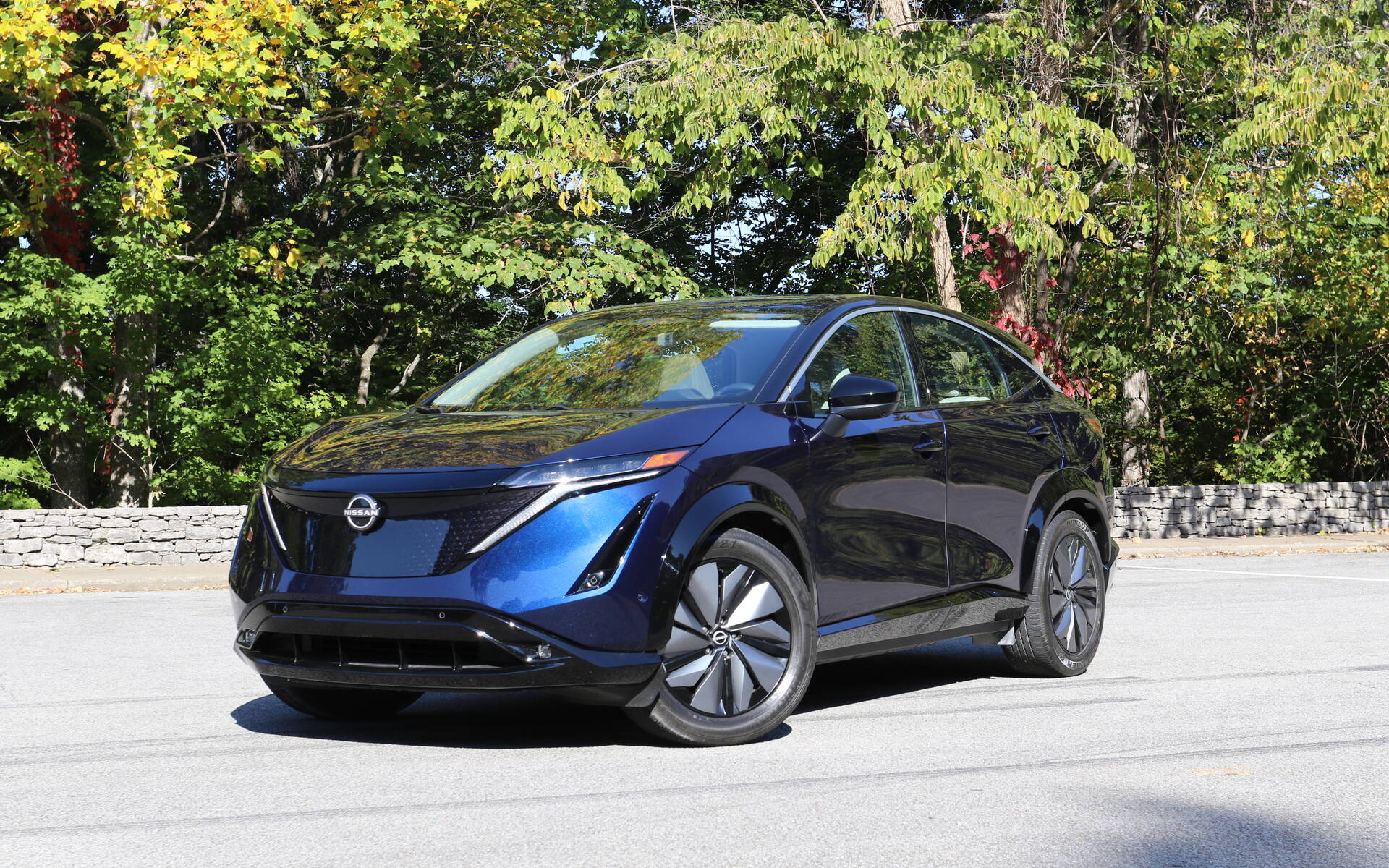 Strong points

Spacious and quiet interior
Comfortable seats and ride
Most models qualify for EV rebates

Weak points

High price especially in top trims
One-pedal driving is not possible
Not as sharp and fun to drive as some rivals
Full report
After a delay a more than a year, deliveries of the 2023 Nissan Ariya in Canada will finally begin late this fall for FWD models and early next year for AWD models.
We recently got the opportunity to test drive a pre-production, FWD-equipped Ariya which, for the record, is about the same size as the popular Rogue compact SUV, although with a wheelbase that's almost as long as the midsize Murano's.
Pushing the four wheels closer to the corners results in increased space for passengers. The Nissan Ariya feels positively roomy the second you step inside—particularly up front with the sliding centre console and minimalist dashboard—and it can comfortably accommodate four adults.
On the other hand, designers and engineers had to sacrifice some cargo capacity in the process. There's no trunk under the hood, and you can't fit more than 467 litres of cargo (413 litres in AWD models) with the rear seats up. Competitors like the Hyundai IONIQ 5, Kia EV6 and Volkswagen ID.4 easily beat that.
The aforementioned dashboard has very few physical buttons. The HVAC controls in the middle provide haptic feedback and look nice, but in a classic case of form over function, they force you to take your eyes off the road while driving. The good news is that the dual 12-inch displays prove easy to read and user-friendly.  
Several more haptic controls are found on the console including regenerative braking adjustment, drive mode selection and for opening a second, power-assisted glove box (see the photo gallery). Fit and finish is commendable, and we didn't hear any suspicious noises coming from our pre-production tester.
FWD or AWD With Two Battery Options
The 2023 Nissan Ariya is available with front- or all-wheel drive (the latter called e-4ORCE). The fact that single-motor models use FWD instead of RWD will probably reassure a few drivers. Additionally, there are two battery options here—one is a 63kWh pack and the other is rated at 87 kWh.
The base Engage FWD model delivers a range of 348 km. With the larger battery, you're looking at 465 km (Venture+) or 490 km (Evolve+). Official range for AWD models has yet to be posted but should land somewhere between 330-420 km. Again, the competition offers more than that, which could hurt Ariya sales.
When it comes to charging, Nissan claims the 63kWh battery can be charged from 20-80 percent in 35 minutes, while the same operation with the 87kWh battery takes 40 minutes. That's when plugged into a DC fast charger able to supply 130 kW of power. Guess what? A number of rivals can charge at faster rates. Then again, most DC chargers across Canada right now provide either 50 kW or 100 kW, so it's not that big a deal—yet.
Comfort First
Unlike the new Nissan Z which we put to the test earlier this fall, the Ariya has no sporty aspirations. As a family-oriented crossover, it naturally focuses on comfort, starting with the automaker's Zero Gravity seats and a smooth ride. Add a quiet interior, and you get the ideal vehicle for escaping the daily grind, no matter how rough the road gets.
The Ariya's handling characteristics don't match those of the IONIQ 5 or EV6, let alone the Ford Mustang Mach-E. Steering is heavily assisted and lacks precision. On the plus side, there's no shortage of braking power—though the pedal can be hard to modulate—as we found out during an emergency stop when a carefree deer ran across the road in front of us.
By the way, one-pedal driving is not possible with the Ariya. Nissan says it listened to customers and realized most of them preferred to use two pedals. Okay, but how hard is it to add a button similar to the LEAF's? Surely some drivers would want to use that capability.
As for power, FWD models are rated at 214-238 horsepower depending on the trim level. Torque is the same at 221 pound-feet. Honestly, the single-motor Ariya gets the job done in terms of acceleration and passing manoeuvres, but it's no rocket. Efficient? No doubt. Our tester achieved a combined 17.5 kWh/100 km during a 155-km trip on a day when temperatures ranged from 19-28 degrees Celsius.
High Price
In Canada, pricing starts at $52,998 for a base Engage FWD model and goes all the way up to $69,998 for a top-line Premiere e-4ORCE model, making the 2023 Nissan Ariya more expensive than a number of competitors.
At the time of writing, Nissan Canada had yet to confirm the available EV rebates the Ariya will be eligible to receive, but remember that the federal iZEV program (up to $5,000) now has a price limit of $55,000. Provincial incentives in B.C. ($4,000) and Quebec ($7,000) also apply under a maximum of $70,000 and $60,000, respectively. When you add it all up, the actual cost of buying a Nissan Ariya can vary tremendously.
The big question mark is availability. While the new Ariya is priced above many other EVs, it could prove more successful if Nissan somehow manages to get units in driveways in a reasonable amount of time. People are tired of being told they'll have to wait up to two years—or longer—to get their hands on their coveted model.
Share on Facebook