2023 Nissan Ariya e-4orce: Could This Electric SUV Replace the Murano?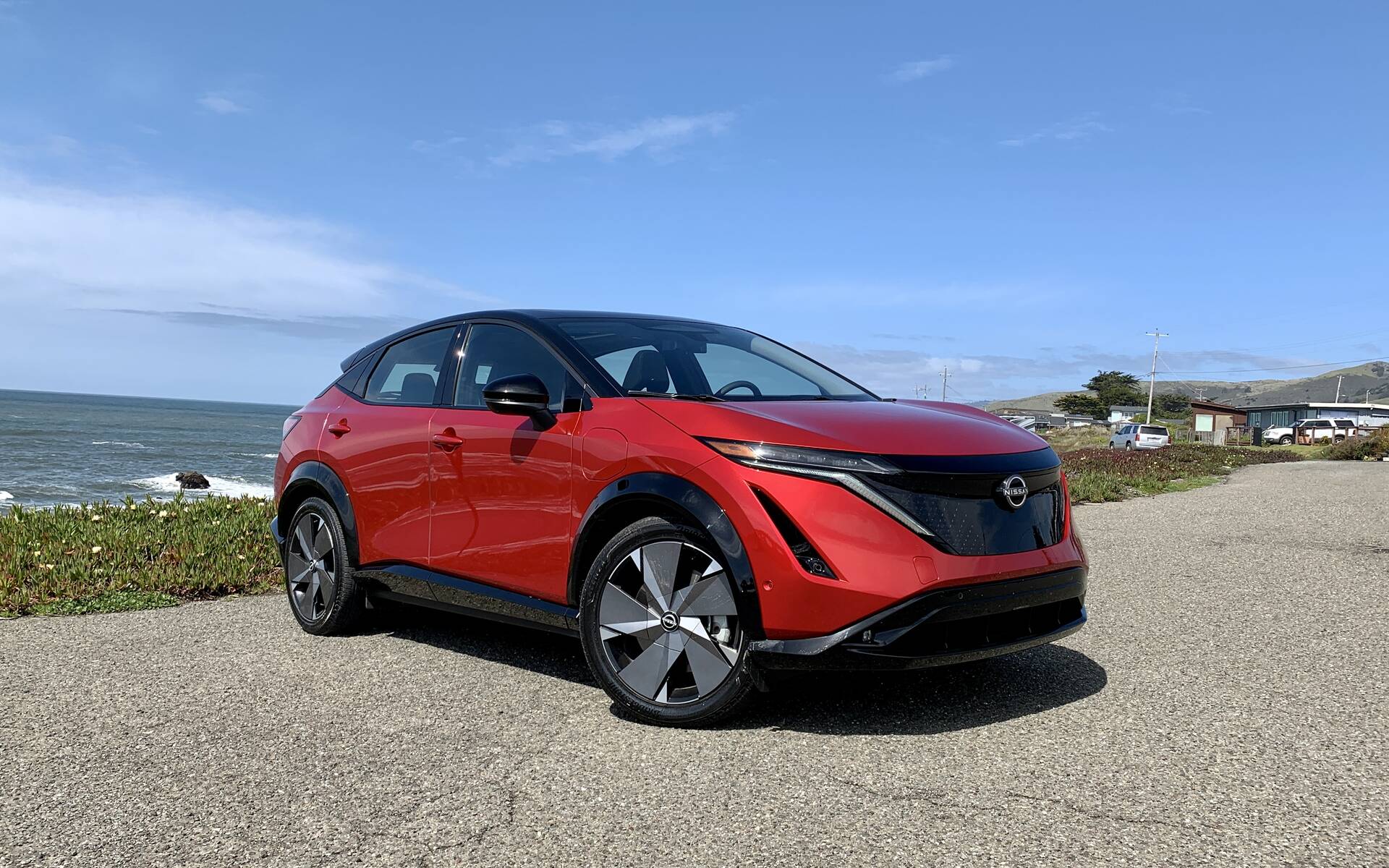 Strong points

Highly comfortable seats
Adequate range
Roomy interior

Weak points

Steep prices
Limited availability
No front trunk
Full report
The current-generation Nissan Murano dates back to 2015 and a replacement is long overdue. However, considering the Japanese automaker's electrification plans, we'd be shocked to see a brand new Murano arrive in 2024 or 2025. With similar interior space, the all-new Ariya electric crossover could be its heir apparent.
Nissan recently invited The Car Guide to California to test drive the AWD-equipped 2023 Nissan Ariya e-4orce. Here's what we found.
Compelling But Not Revolutionary
The Ariya spearheads Nissan's next-generation EV offensive, taking over the LEAF hatchback which first came out in 2012. Over 600,000 copies of the latter have been sold globally to this day, solidifying the company's position and reputation in the electric mobility segment.
Going a few steps further, the Ariya is much more sophisticated but admittedly late to the party. Between the time Nissan introduced the concept in 2019 and the first units rolling out in Canada, other manufacturers such as Hyundai and Kia (just to name a couple) have launched their own electric crossovers. So, while compelling for many reasons, there's nothing revolutionary about the Ariya.
If you like selection, you'll be happy. The lineup includes FWD and AWD configurations, both with standard-range and extended-range variants. Our tester for this event was a long-range Ariya equipped with an 87kWh battery and Nissan's e-4orce electric AWD system. It's good for up to 428 km, a figure that's sure to meet the needs of most drivers. On the other hand, the standard-range Ariya e-4orce can only travel about 330 km.
On our watch, energy consumption amounted to 20 kWh/100 km, which is pretty good but you have to know that the test drive took place in ideal conditions. Also, we didn't get the opportunity to assess the Ariya's charging performance. Oh, and by the way, we're still waiting for the official range estimates from Natural Resources Canada.
The dual motors combine to generate 389 horsepower and 442 lb-ft. of torque. Those are impressive specs, but given the size and weight of the vehicle, performance hardly feels special. There's something to be said about the smooth, progressive acceleration, but other than that, the Ariya is not what we'd call an exciting SUV. Riding the subway is arguably just as fun. The sheer lack of feedback from the steering doesn't help.
Competent e-4orce  
As ridiculous as it may sound, the test drive included a lapping session at the Sonoma Raceway. No Ariya customer is ever going to hit the track with their electric crossover, but that's what we did. The idea? Nissan wanted us to experiment with its e-4force system.
Basically, anytime one of the wheels starts to lose traction, the system adjusts power delivery to the other wheels and can even apply brake force if necessary. We put it to the test on wet tarmac and it proved generally competent. Winter driving on snow and ice could be a different story, but so far, so good.
As for Nissan's ProPilot Assist 2.0 semi-autonomous driving technology, it is not available yet in Canada.
Slow Start
As mentioned up top, the Nissan Ariya is hitting the market after a number of competitors such as the Ford Mustang Mach-E, Volkswagen ID.4, Hyundai IONIQ 5 and Kia EV6. It was supposed to launch in late 2021 but was pushed back to 2022 and then early 2023.
What's more, Reuters recently reported that production of the Ariya in Tochigi, Japan is currently facing a number of issues and far from meeting the desired volume targets. Hopefully, the automaker has taken steps to ensure no early troubles will further affect the Ariya's start.
For now, availability remains a big problem. Deliveries of e-4orce models in Canada are slated to begin in the spring, and the backlog is a lengthy one.
Steep Prices
How is life inside the 2023 Nissan Ariya? Let's just say that designers did an excellent job, creating highly comfortable seats that add to the smooth ride. There's plenty of space, too, including generous legroom and headroom in the rear.
The sliding centre console up front is definitely worth mentioning and something that will wow your neighbour. You can slide it all the way back to create more room between you and the front passenger, although this means no one can sit in the middle of the rear bench.
Fit and finish is commendable, and we like the various blue accents. Of course, anything less would have been a disappointment in a vehicle that tops out at $69,998. Base models, meanwhile, start a $52,998. Clearly, this is not a cheap EV. On that note, all Ariya models are eligible to the $5,000 federal rebate.
Our Verdict
While more advanced than the LEAF, the new 2023 Nissan Ariya has some catching up to do in the electric SUV segment. It doesn't bring anything revolutionary to the table, but it should still meet the needs and expectations of customers who've been waiting several months to get one.
Share on Facebook