Nissan Has Some Cool and Crazy Ideas for SEMA 2022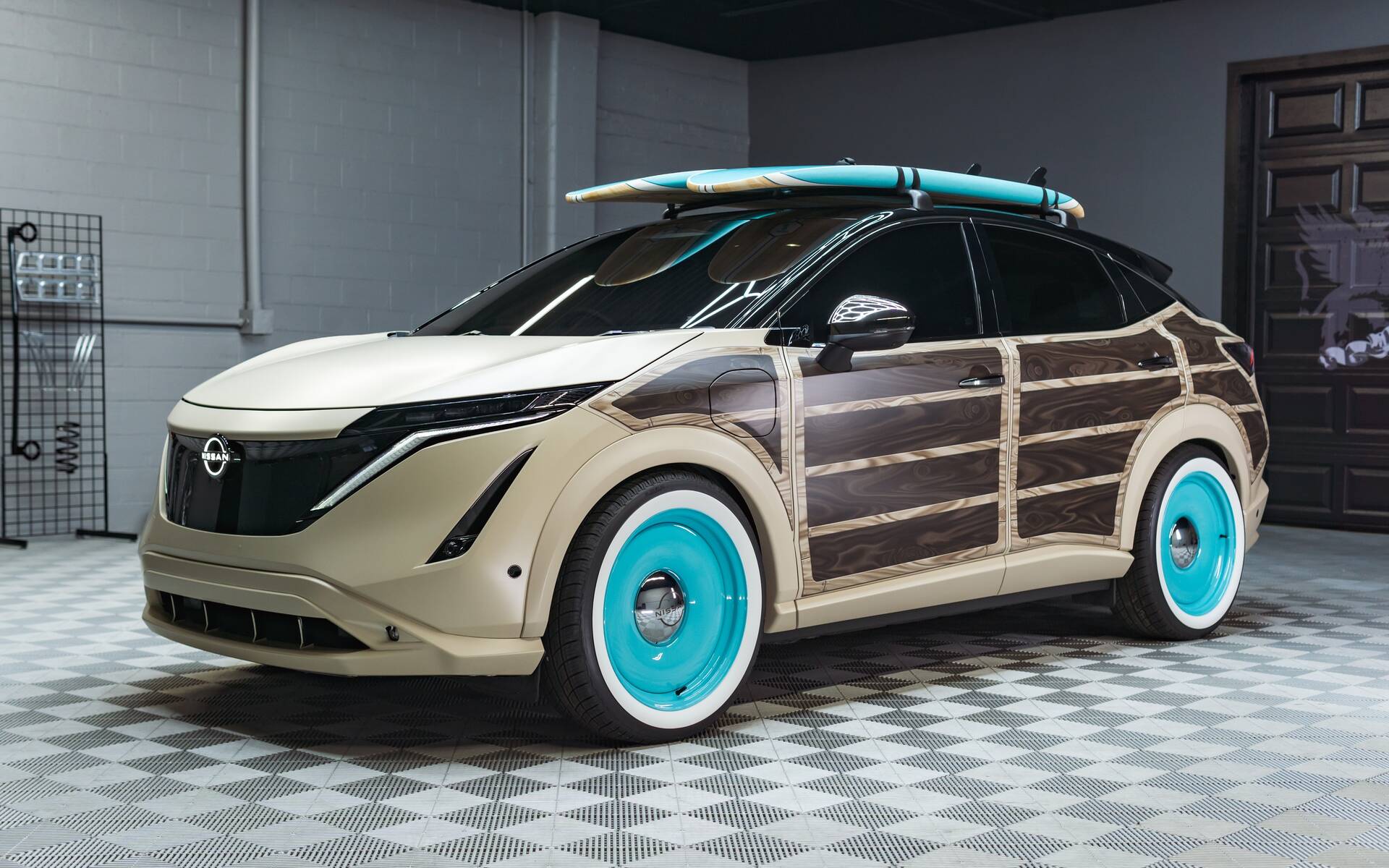 The 2022 SEMA Show in Las Vegas is coming next week (Nov. 1-4) and Nissan will be among the automakers on hand with six unique and colourful concepts, not to mention the new Z GT4 race car making its public debut.
The one that most caught our eye—and will haunt our dreams—is the Nissan Ariya Surfwagon. The idea was to turn the automaker's brand new electric crossover into a retro-style beach cruiser.
Nissan says it's designed to "stoke dreams and inspire EV owners to personalize their vehicles to fit their lifestyles," in this case the love of surfing, but who would ever want that weird colour combination and vinyl wrap poorly mimicking wood panels? Probably no one.
The Surfwagon concept apparently retains all the utility and functionality of a standard Ariya (and adds a surfboard rack on top), but the impressive ride quality that we loved during our first drive of the Ariya is likely compromised by the lowered suspension.
The same company that created it, Tommy Pike Customs based in South Carolina, also turned a 1987 Nissan Sunny pickup into an electric street truck using the LEAF's motor and 40kWh battery. It has about double the power (147 hp) and more than triple the torque (236 lb-ft.) of the original four-cylinder engine.
Amazingly, a custom driveshaft made it possible to keep the factory-installed manual transmission. We also dig the Hakosuka Skyline widebody kit with a Brock Racing Enterprises No.46 livery, as well as the matching 17-inch Rotiform wheels. By the way, the rear suspension uses heavy-duty components and the front suspension comes from a Nissan 240SX. What do you think?
We'll now let you browse through the photo gallery at the top of the page to check out the other Nissan concepts headed for SEMA, including a NISMO Off-Road Frontier with a V8 engine from the departed Titan full-size pickup and a low-rider variant of the Frontier.
Share on Facebook