2022 Ford F-150 Lightning: Already a Superstar We Can't Get Enough of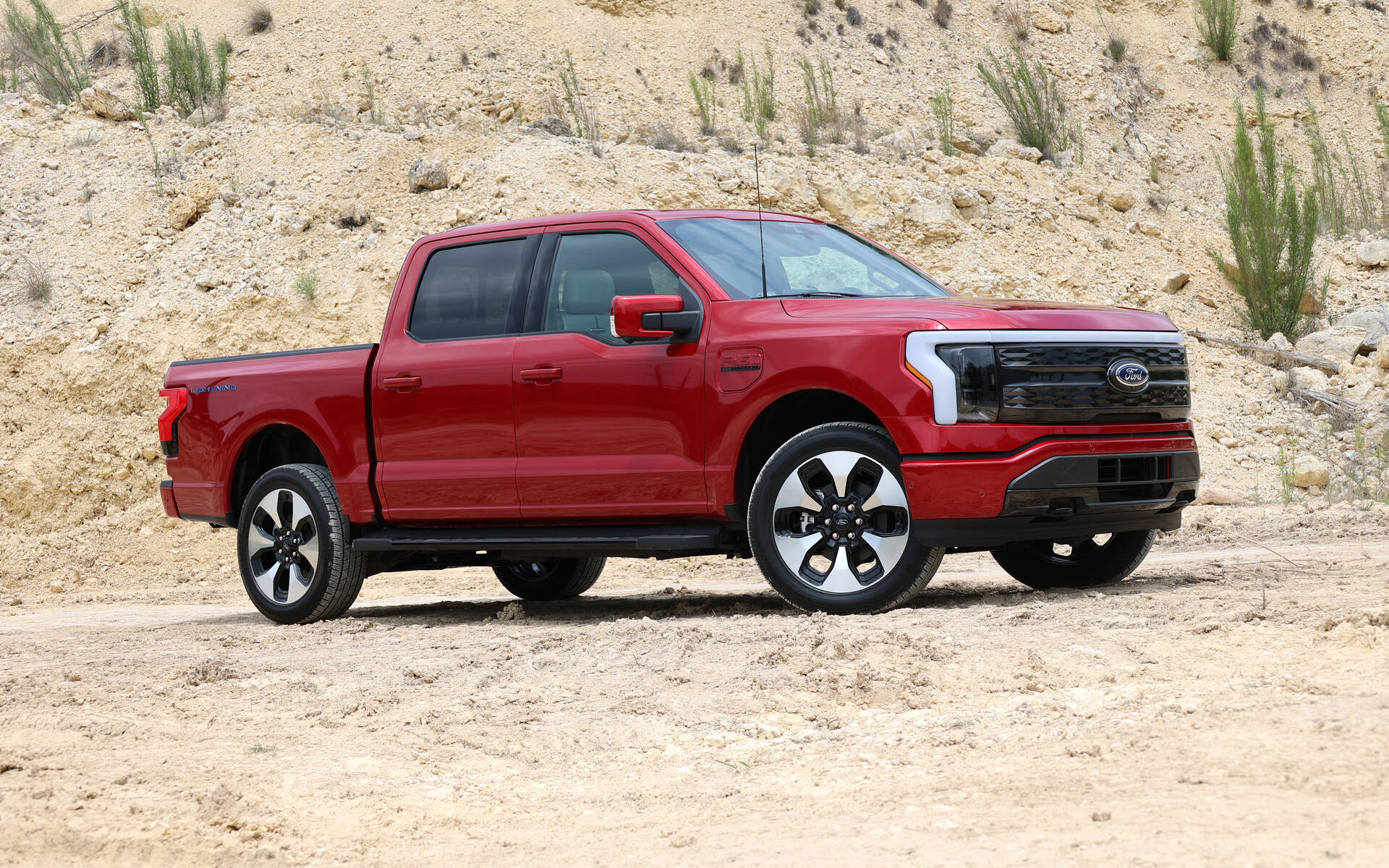 Strong points

Remarkable power
Great payload and towing capacity
Good range
Surprising handling

Weak points

Limited availability
Heavy weight
Pro model not available for retail sales
No EV rebates apply
Full report
While the GMC Hummer EV took an early lead in the U.S., we can certainly make the case that the equally new 2022 Ford F-150 Lightning is the first true electric full-size pickup on the market—a mainstream model that looks a lot like the conventionally powered F-150 both inside and out.
Ford stopped taking reservations after 200,000 people raised their hands, and as I write these lines the company has not started accepting new reservations. For production's sake, it's probably better this way. Speaking of which, the current plan is to build 40,000 units this year and 150,000 in 2023.
A number of journalists including yours truly were invited to discover and test drive the F-150 Lightning in San Antonio, Texas, where large pickups rule the road. On hand were literally dozens of Ford engineers eager to share the ins and outs of the truck's EV components and systems.
They began with a presentation about the Pro Power Onboard built-in generator, which makes it possible to power tools and devices at up to 9.6 kilowatts. Next, they detailed the 80-amp Charge Station Pro wall box that is included with extended-range battery F-150 Lightnings, allowing faster charging at home. Proper installation is required, obviously, but the benefit is the ability to fully charge the truck in under eight hours versus 20 hours with a traditional power outlet.
The most impressive solution, though, is called Ford Intelligent Backup Power, essentially turning the vehicle into a generator that can provide full-home power (heating, lights, appliances, security systems, and more) for up to three days. It's projected to cost around $5,000, by the way.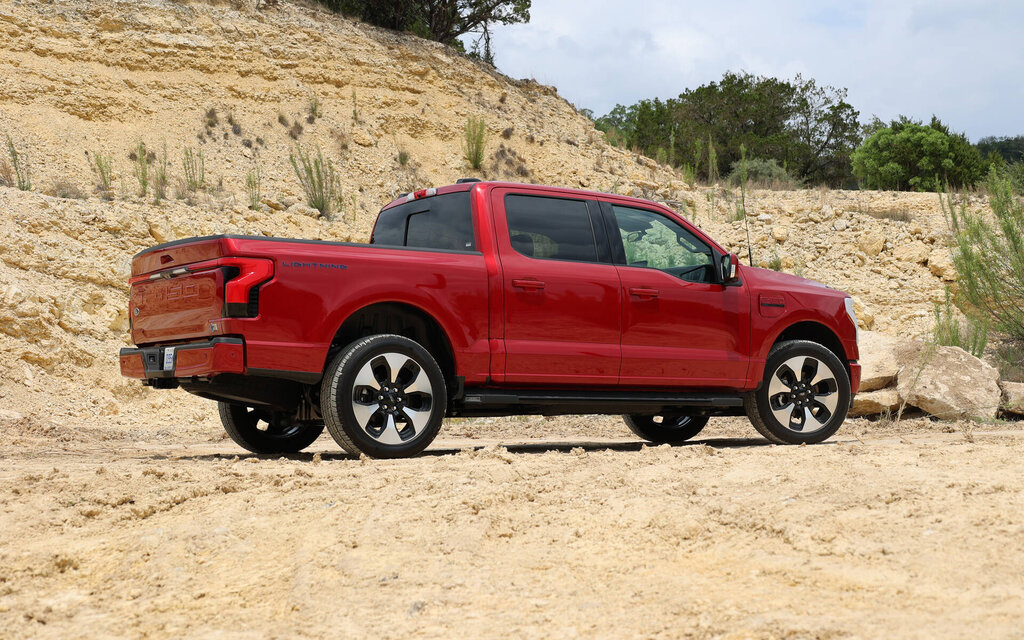 Power and Range
Ford recently announced the final specs for the F-150 Lightning. Two battery packs are available: a 98kWh unit allowing 375 kilometres of range and another one rated at 131kWh which adds 135 kilograms and increases range up to 515 kilometres (or 485 kilometres in the case of the heavier Platinum model riding on 22-inch wheels).
On my watch, the truck averaged 27.5kWh/100 km, so covering 500 kilometres with a full battery charge seems realistic, at least in ideal weather conditions. When quizzed about the effects of cold temperatures, the Ford reps bragged about the numerous tests performed in Alaska but remained vague about the rest. It's probably safe to expect a drop of 35 percent in winter, which would mean approximately 250 kilometres of range with the standard battery and 320-330 kilometres with the larger battery.
With the former, output is rated at 452 horsepower, or about the same as the most potent gasoline-fed F-150. However, peak torque is 775 pound-feet, delivered instantaneously. The larger pack gives you 580 horsepower, resulting in electrifying acceleration. Even the heaviest configuration can sprint to 100 km/h in less than five seconds. Just so you know, the F-150 Lightning tips the scales at 2,800-3,175 kilograms (6,200-7,000 pounds) depending on the model.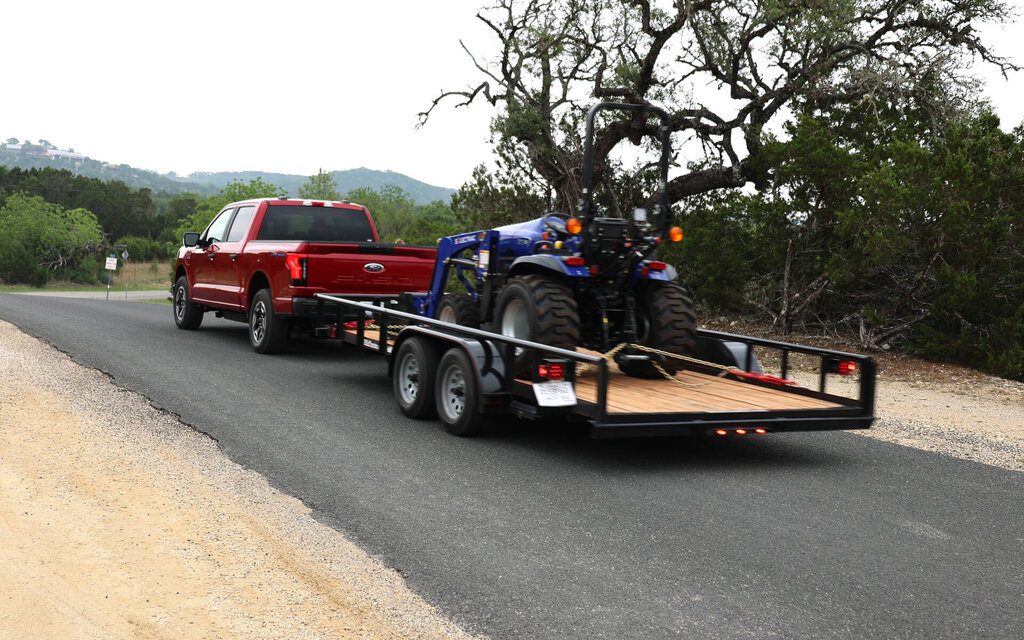 Capability
Ford set up a series of towing tests to demonstrate the truck's actual capabilities. On paper, the F-150 Lightning can pull 3,500 kilograms (7,700 pounds) with the standard-range battery or 4,535 kilograms (10,000 pounds) with the extended-range battery. Our tester passed the tests with flying colours.
Since Ford is the expert when it comes to towing technology, a wide array of systems are available to make life easier for owners—from coupling the trailer to driving in any environment. The bad news is that range takes a major drop, just like it does with a conventionally powered truck. While pulling a load of 5,000 pounds, the average energy consumption jumped to 45kWh, representing a hit of 40 percent. No test was done with 10,000 pounds in the back, but you can imagine the result.
Next came the payload test. Ford had the cargo bed filled to the maximum capacity of 1,015 kilograms (2,235 pounds), and the F-150 Lightning handled it seemingly with ease. I was particularly wowed by the front trunk, which is comparable to that of a midsize sedan and can carry 180 kilograms (400 pounds) of stuff. There are additional power outlets in there, not to mention those in the cabin. Hats off to Ford's engineers, who clearly did more than just removing the combustion engine to wind up with such abundant and practical space under the hood.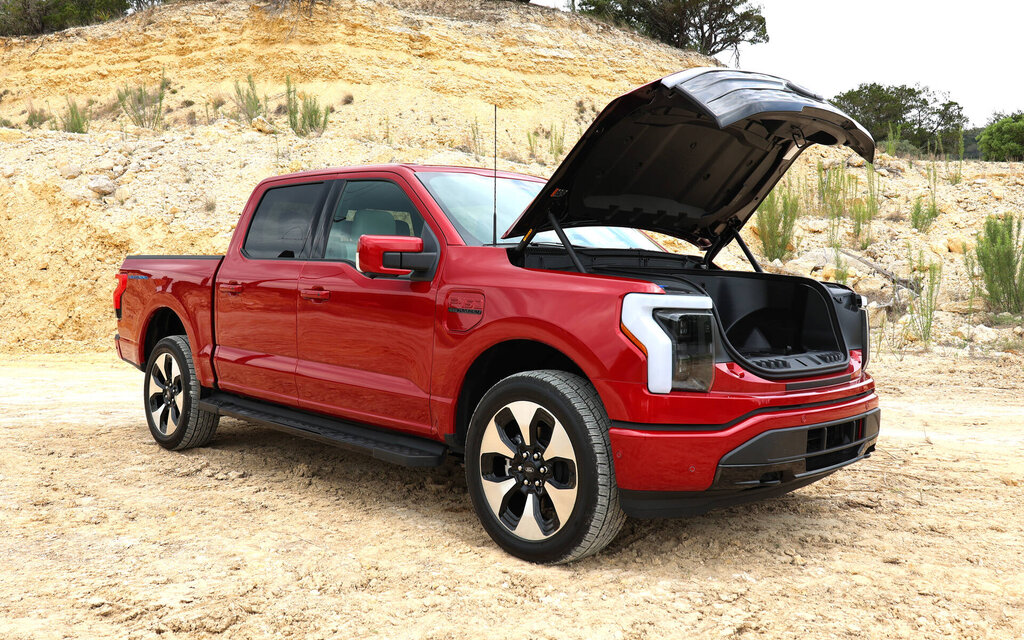 Heavy Yet Nimble
Drivers familiar with the new F-150 will feel right at home in the Lightning. Only a few EV-specific bits in the instrument panel and centre display are different. Information about battery charge, range and energy consumption is displayed in a very simple way, and I love that.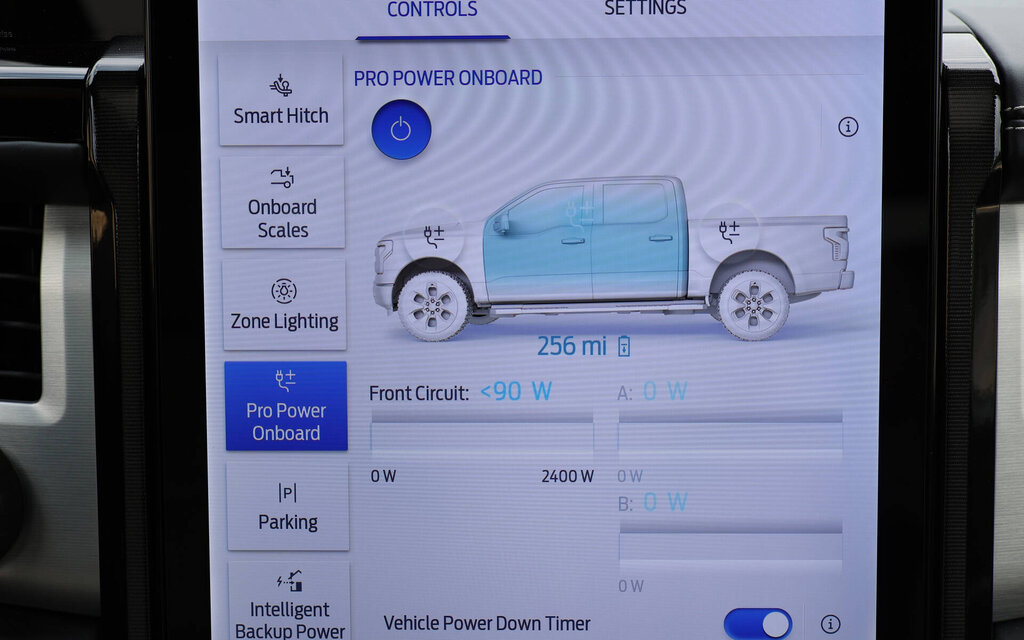 Beyond the quiet operation, this electric pickup surprises with great handling. The low centre of gravity is one reason why, but don't forget the independent rear suspension that was specifically developed for the F-150 Lightning, along with the modified chassis that cleverly incorporates the battery pack.
Driving is fun, except on damaged roads where the truck's massive weight creates a bouncy ride. It's still lighter than the GMC Hummer EV, and not as annoying as traditional light-duty pickups with a solid axle that suffer from rear wheel hops, but you can definitely feel the limitations in certain types of situation.
Overall, the F-150 Lightning's power, explosiveness and agility are simply remarkable. I can't wait to pit it against the Silverado EV and the battery-powered Ram 1500 in a couple of years.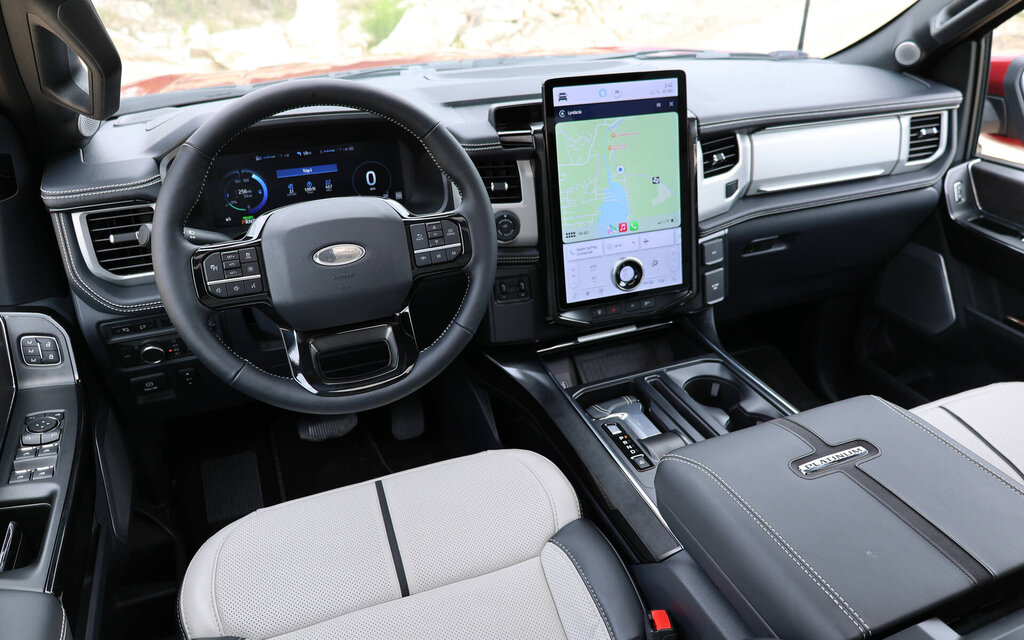 Four Models in the U.S., Three in Canada
The 2022 F-150 Lightning comes in Pro, XLT, Lariat and Platinum models, all of which feature a SuperCrew cab and 5.5-foot cargo bed. Unlike the U.S., Canada will get the first one for businesses and fleets exclusively, meaning retail customers only have access to the three others, which are more expensive and therefore more profitable for the company.
Would the base Pro model (MSRP starting at $58,000) with vinyl seats and flooring prove popular this side of the border? Most likely not. On the other hand, it would qualify the F-150 Lightning under the Canadian government's incentives for Zero-Emission Vehicles Program (iZEV), which grants rebates of up to $5,000. Since April 25, 2022, larger zero-emission vehicles—SUVs, minivans and pick-ups—must have a base model MSRP under $60,000. Higher-priced versions of these vehicles, up to a maximum of $70,000, are also eligible.
So, forget any rebates with your F-150 Lightning, which starts at $68,000 in XLT trim plus $2,085 freight and PDI. The Lariat is next with an MSRP of $80,000. Both feature the 98kWh battery as standard, but you can replace it with the 131kWh pack for $13,380. Methinks a majority of customers will accept to pay that big premium.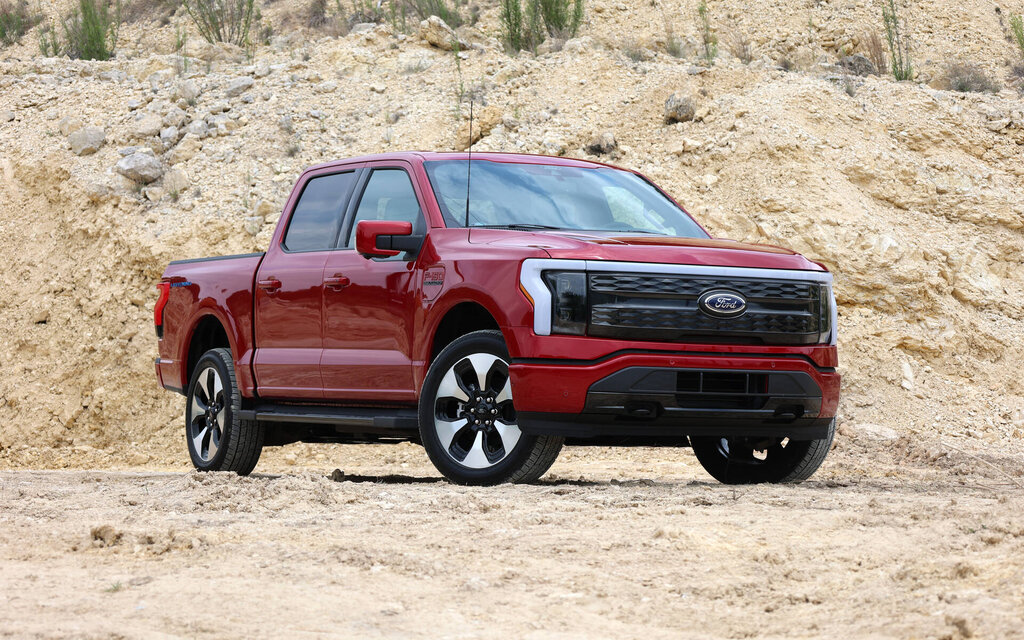 Final Word
The highly anticipated 2022 Ford F-150 Lightning is slated to hit Canadian roads this summer. The first units to arrive will be few and far between, mind you, and most of them Lariat or Platinum models. People are already going crazy for this truck, which will lead to a sort of black market.
Hopefully the big wigs at Ford Canada will use all their power to try to get as many units here as possible. Also, remember this: Ford CEO Jim Farley recently confirmed that a second electric pickup is on the way, probably a smaller and cheaper one. How about a Maverick Lightning or Ranger Lightning?
Share on Facebook