2022 Ford
F-150 Lightning

: Serious Towing Pains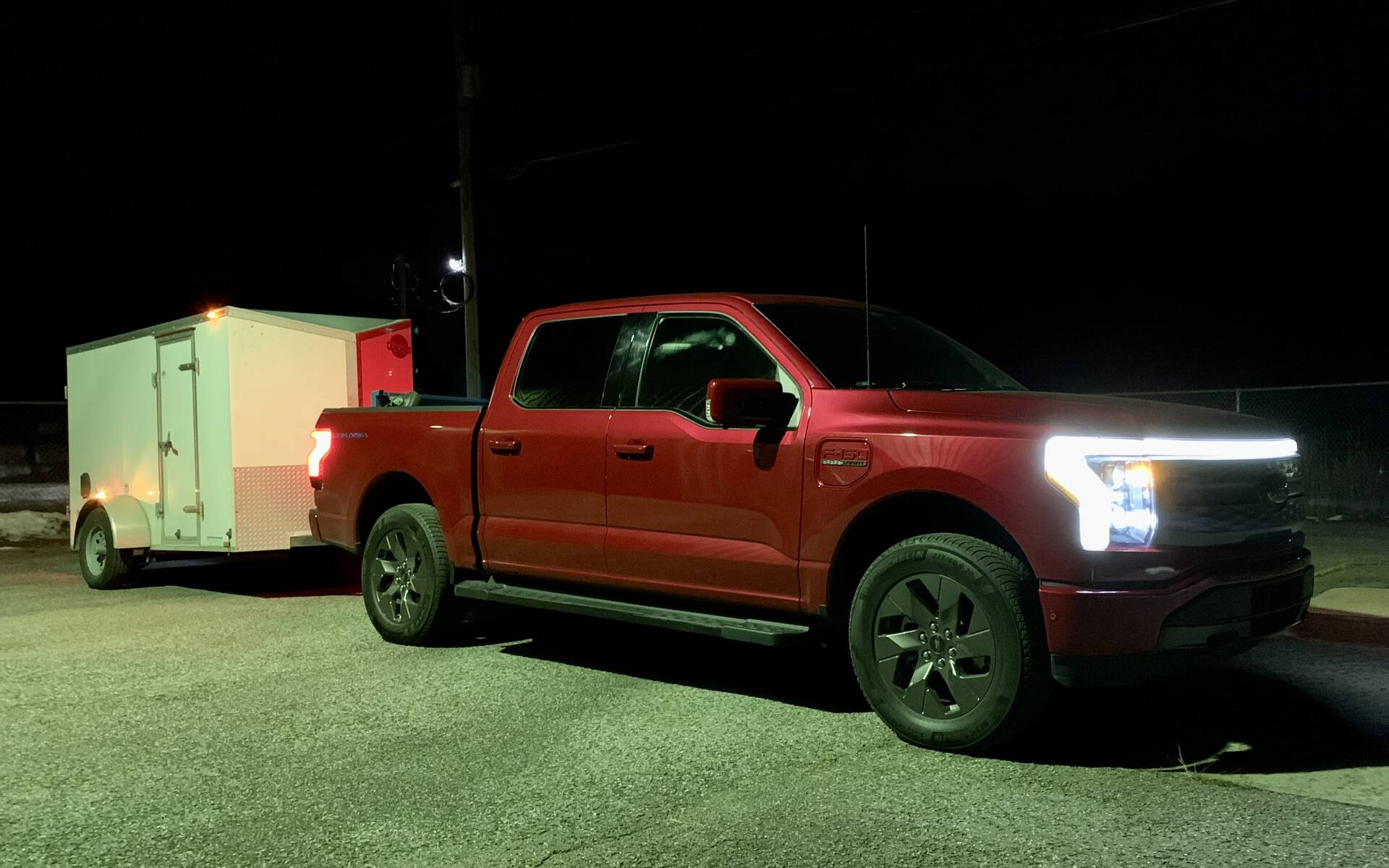 As the full-size pickup sales leader, it's no surprise that Ford was the first manufacturer to launch a fully electric truck in Canada.
Following our first drive earlier this year, we were eager to get back behind the wheel of the F-150 Lightning to see how it performs in various towing challenges. Alas, the experience proved utterly disappointing.
Up to 10,000 lbs, But…
Ford claims the 2022 F-150 Lightning can tow up to 10,000 lbs (4,536 kg) depending on the configuration—pretty much what you'd expect with a standard full-size pickup, only this one doesn't burn any fuel. It proves strong and capable at all times, for sure, but towing seriously affects the battery's range—a lot more than we anticipated.
The trailer we attached to the truck was 4.21 metres long, 2.08 metres wide and 1.98 metres tall (exterior dimensions). Combined with the cargo inside, it represented a load of approximately 3,000 lbs (1,360 kg), which is less than a third of the max tow rating. In fact, any midsize pickup could have handled it without breaking a sweat.
We left Montreal and headed west toward a small town north of Montebello, some 141 kilometres away. This should have been an easy task for the F-150 Lightning. In reality, it was not.
Prior to hitting the road, the on-board computer told us we had 316 km of range at our disposal, or about 80 percent of a full battery charge. For the record, our tester came with the extended-range 131kWh pack and retailed for just over $100,000.
It didn't take long before we started to wonder whether we could reach our destination without stopping for charging, seeing how quickly the big battery seemed to lose electrons. Range anxiety is real, folks. As it turned out, we completed our trip with only 36 km left, which means the F-150 Lightning drained 280 km of range over half that distance.
At the end of this towing exercise, another scary sight was a reading of 60 kWh/100 km. According to Natural Resources Canada (which obviously doesn't factor in towing), the F-150 Lightning is normally closer to 30 kWh/100 km. Essentially, those 3,000 lbs doubled its real-world energy consumption.
Since we made sure to never drive faster than the posted speed limits, the key variable here was the cold. We performed our test at a temperature right around the freezing point. Imagine the result in the thick of winter at minus 20 °C.
On our way back home, with no trailer behind, we stopped by an Electric Circuit charging station and kept the F-150 Lightning plugged in to a 100kW DC charger for an hour. The operation netted 71.52 kWh and cost $22.98. Neither of these numbers is impressive. And when we finally arrived in Montreal, the battery again only had a few kilometres left in it. Thank God we didn't have to stop a second time for charging.
At the end of the week, our electricity bill totalled $52.73 for 657 km of driving and towing. Granted, a conventionally powered F-150 would have cost us more money than that, but being limited by battery range and enduring significant downtime also has a price. The ideal solution is to charge at home, but not every driver can have access to a domestic charger.
Immensely Comfortable
One thing's for sure: the F-150 Lightning is immensely comfortable and smooth, whether towing or just driving around. Gas-powered F-150s typically suffer from a bouncy ride, but with a fully independent rear suspension there's no such thing here. Cabin comfort is largely improved, too.
We'll see how the electric truck's sophisticated underpinnings hold up over time, and how well they can handle repeated abuse or heavy-duty chores like towing 10,000 lbs.  
Who is the F-150 Lightning For?
Based on our latest series of tests, the answer to that question is fairly simple. The Ford F-150 Lightning is primarily designed for drivers who don't need to haul or tow heavy loads. But why buy a big, expensive pickup, then? Now that's a good question. We're pretty sure you can find some other way to bring your personal watercraft to the lake a couple of times during the summer.
Alternatively, the F-150 Lightning can be used by construction workers and entrepreneurs who rarely get out of their local areas. With cargo in the bed, a ladder on the roof and a trailer in the back adding a few thousand pounds to the vehicle, it's hard to imagine being able to cover more than a hundred kilometres, especially in the cold. That means a 50-km radius at best. Unless you know of a jobsite that has DC fast chargers, but that would be a first.
Our Verdict
While it easily and comfortably takes care of towing, the Ford F-150 Lightning is evidently not designed for long-distance work. If you must travel over 100 km with a trailer on a regular basis, we strongly recommend buying a gas-powered truck instead.
Watch: 2022 Ford F-150 Lightning Overview
Share on Facebook