2022 Hyundai
IONIQ 5

: A Seriously Good EV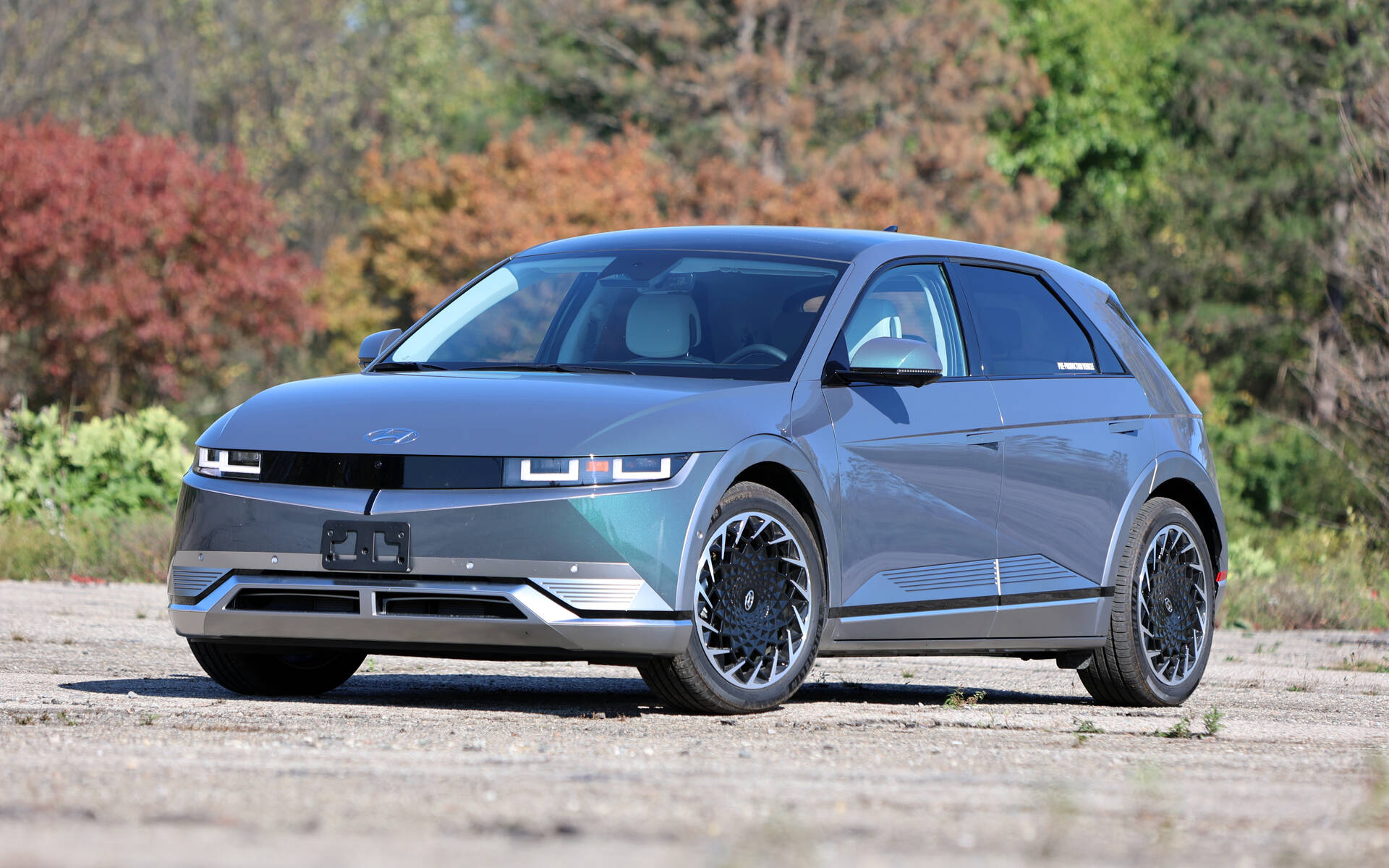 Strong points

Advanced technology
Uniquely attractive looks
Lots of interior space
Superb ride and handling
Up to 480 km of range

Weak points

AWD models are expensive
Entry-level model lacks key features
No rear window wiper
Full report
Hyundai may not have the flashiest or longest-range EVs on the market with the IONIQ and Kona Electric, but it still manages to post decent sales. Last year, the Korean automaker sold a bit more than 20,000 full-EVs and plug-in hybrids in Canada, helped by a good value proposition and generous incentives in provinces like Quebec.
Now, a new chapter begins with the 2022 IONIQ 5, the first in a series of next-generation models based on Hyundai's dedicated Electric Global Modular Platform (E-GMP). The Americans like to call it an SUV, but in reality it's more like a spacious hatchback. Whatever, there are several reasons why the IONIQ 5 is highly anticipated by a number of Canadians. Chief among them is a bold design and impressive specs.
A Look Unlike Any Other
Following a brief test drive in the Detroit area last month, Hyundai invited journalists to spend more time with their hot new EV in and around San Diego. With arguably the best weather in the entire land, the Southern California city was a perfect choice for this latest event. Unfortunately, Mother Nature had other plans. It rained so much that we simply couldn't stop to take some good pictures and shoot a video.
The folks at Hyundai realized something: they made a mistake not adding a wiper to the rear window. Surely the 2023 model will fix that. But it's hard to blame them because the rest of the vehicle is extremely well designed, starting with the uniquely retro exterior which is kind of a cross between an early-90s Mazda 323, a Lancia Delta and even the AMC Pacer. The IONIQ 5 looks like nothing else on the road at the moment, and many people will dig that. The so-called "Parametric Pixel" headlights and taillights are pretty cool, too. And what about those wheels? They are mesmerizingly attractive.
The aforementioned E-GMP, which will be shared with a three-row SUV previewed by the Hyundai SEVEN concept, gives the IONIQ 5 a super-long wheelbase resulting in short overhangs. The proportions are terrific, and the amount of interior space created in the process is equally impressive.  
Inside, the layout is clean and wide-open, making you feel almost like in a large SUV. The floor is perfectly flat, the driver's area is elegantly futuristic, and the rear seats can easily accommodate three adults—or three booster seats for kids. The inspired design features refined materials and a sleek combination of 12.3-inch displays with graphics that are way above average in terms of resolution.
Pick the Range You Want
There are several Hyundai IONIQ 5 models to choose from. The entry-level Essential generates 168 horsepower and its 58-kWh battery provides an estimated range of 354 kilometres. The Preferred model that comes next requires an extra $2,200. It adds a heated steering wheel, fast-charging capability up to 350 kilowatts and a heat pump that increases efficiency on colder days. Needless to say few people will opt for the base IONIQ 5, which merely exists to drop the MSRP below $45,000 in order to qualify for the federal EV rebate of $5,000.
The Preferred is also available with a 77.4-kWh battery that extends the range to 480 kilometres—longer than the vast majority of rivals. It boosts output to 225 horsepower at the same time, resulting in slightly better performance. Power is again sent to the rear wheels only. Will that be a problem for potential customers? Even though the large and heavy battery is mounted under the floor and contributes to a low centre of gravity, there's nothing like all-wheel drive to tackle tough Canadian winters.
Most IONIQ 5 buyers will likely select the dual-motor Preferred AWD model, which is rated at a combined 321 horsepower and sprints from 0-100 km/h in 5.1 seconds according to Hyundai. Equipped with the larger battery, it delivers 415 kilometres of range—similar to the less powerful, FWD-only Kona Electric.
The top-of-the-line Ultimate model boasts the same exact powertrain (400 km of range), but adds desirable features such as a glass roof, 20-inch wheels, 360-degree camera and more. It's the one we used to travel nearly 300 kilometres on the roads of California—in awfully bad weather (including 75 km/h winds), as mentioned above.
The Hyundai IONIQ 5 proved stable, agile and very efficient even in these challenging conditions, the lack of a rear wiper notwithstanding. Build quality is remarkable, and you can see it and feel it throughout. The interior is quiet and the ride is wonderfully smooth. The same can be said about power delivery, which is always strong but never violent. On the other hand, drivers settling for the base model with just 168 horsepower—barely more potent than the Mazda MX-30—will likely be disappointed.
It Can Get Expensive Quickly
So, the 2022 Hyundai IONIQ 5 starts at $44,999, meaning it's eligible for both provincial and federal rebate programs. For example, in Quebec, IONIQ 5 customers will benefit from an incentive of $5,000 from Ottawa and $8,000 from the provincial government. In British Columbia, buyers will get $5,000 from Ottawa and $3,000 from the provincial government.
The Preferred Long Range model costs $51,999, and you need to add $3,000 to get all-wheel drive. The Ultimate package requires another $5,000. Of course, the Volkswagen ID.4 AWD Pro is cheaper, but range is not quite as long (386 km) and you will have a hard time finding one.
Hyundai insists it can meet customer demand in a reasonable time and even adapt to changing demand. In the U.S., there's an AWD variant with fewer amenities at a lower price, but not in Canada. Maybe that will change in the future, unless people of the Great White North don't mind a RWD-equipped IONIQ 5 riding on proper winter tires.  
One thing's for sure: Hyundai has a winner on its hands with this new vehicle. The IONIQ 5 is solid, competent and cool enough to convince not just EV enthusiasts but also ordinary Joes. It can satisfy the needs of a majority of Canadian drivers and their families. Hopefully delivery times will be short as the company claims.
Share on Facebook