Toyota Tacoma: Five Things We Want in the Next Generation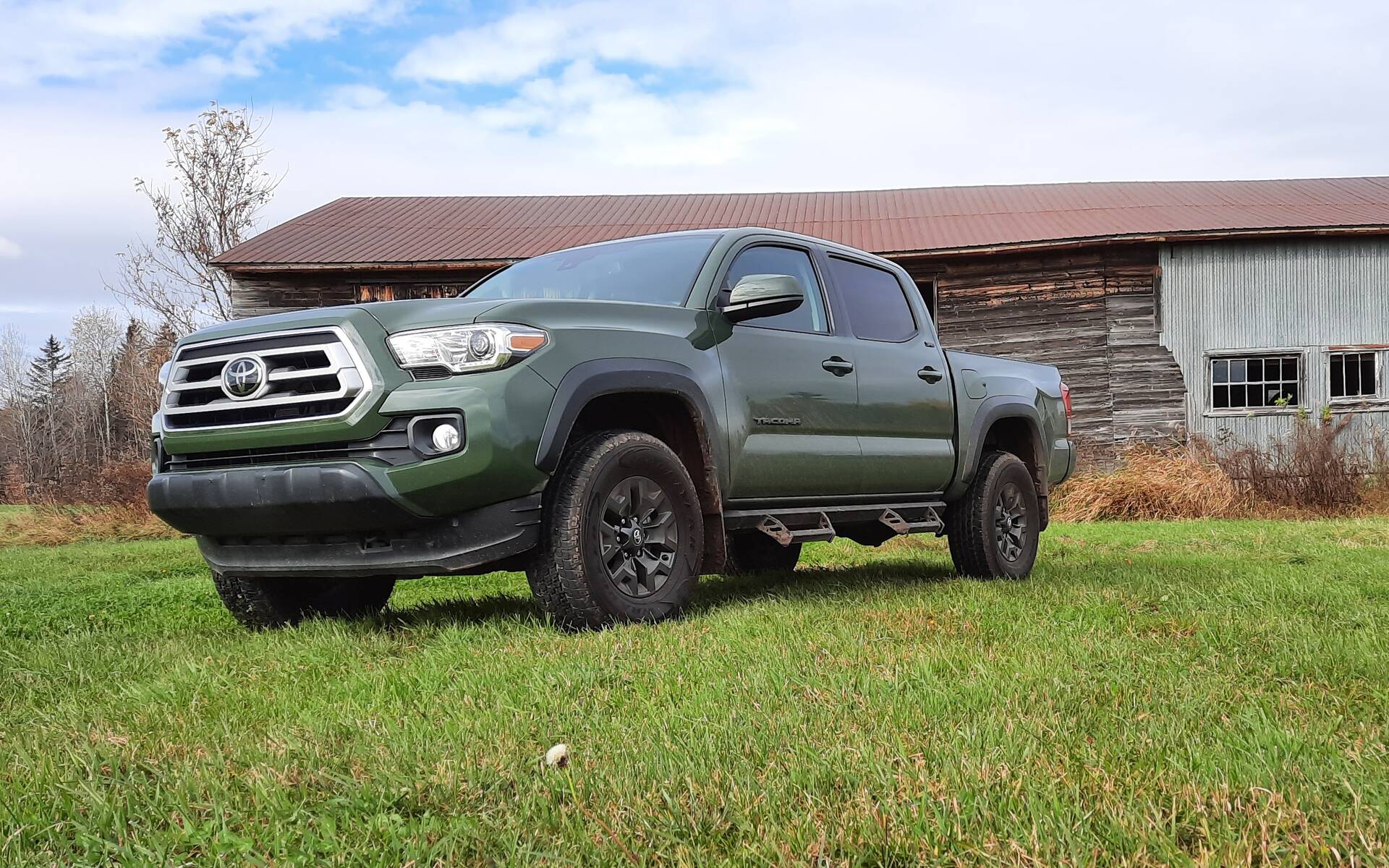 Strong points

Unbeatable reliability and resale value
Great off-road capability (TRD Pro)
Available manual transmission

Weak points

Unrefined ride and handling
Modest towing capacity
Largely outdated interior
Full report
A new generation of the tireless and dependable Toyota Tacoma is expected to debut in the near future, likely as a 2023 model. Unlike the fully redesigned 2022 Tundra, Toyota's midsize pickup is a sales leader in Canada and the race is not particularly close.
However, the next Tacoma needs to receive some major upgrades. Why? Because its three main competitors—Ford Ranger, Chevrolet Colorado, GMC Canyon—will also be all-new for 2023. And let's not forget the Nissan Frontier, which is fresh from its first complete overhaul in more than 15 years.
Before we list five things we want in the future Toyota Tacoma, a word on the outgoing model, which we spent time with this fall…
What's New for 2022?
Ahead of a well-deserved retirement, the current-generation Tacoma gets a few changes for 2022. The TRD Pro model gets TRD-tuned Fox internal bypass shocks along with new TRD-engineered upper control arms in forged aluminum. They're part of a taller suspension lift—1.5 inches up front and 0.5 inches at the rear.
New black TRD wheels offer a wider track and are fitted with new Goodyear Territory all-terrain tires, while a flashy Electric Lime Metallic body colour is added to the mix. The various logos and badges get some modifications, as well.
Introduced last year, the Trail Edition of the Tacoma is back, once again based on the SR5 4x4 Double Cab model. Toyota engineers lifted the front of the truck 1.1 inches thanks to taller coil springs, increasing ground clearance and the approach angle to 34 degrees in the process. The rear suspension is lifted 0.5 inches.
The same new Goodyear Territory all-terrain tires can be found here, wrapping new bronze-finished wheels that complement the bronze-accented grille. Four exterior colour choices are available, headlined by new Trail Edition option Lunar Rock. A new Trail Edition badge is fitted on the rear tailgate, and the rear bumpers are now colour-keyed to match the exterior paint colour.
5 Things We Want in the Next Toyota Tacoma
1. A smoother ride: We're not asking the Tacoma to be as smooth and pleasant to drive on paved roads as a Honda Ridgeline, but there is certainly room for improvement in that department. With a version of Toyota's new TNGA-F architecture, which underpins the 2022 Tundra, and a rear suspension that uses coil springs instead of leaf springs, the next model should prove more comfortable and enjoyable on a daily basis.
2. Improved capability: Will the 3.5-litre V6 return as the lone engine choice? Granted, this unit has proven to be extremely durable and reliable, and with 278 horsepower and 265 pound-feet of torque it delivers pretty decent acceleration (even more so from about 3,500 rpm). However, GM's twins are more powerful and so is the Frontier. The Ranger, meanwhile, generates significantly more torque with a 2.3-litre EcoBoost. It's a bit hard to imagine a muscular hybrid option that would follow the lead of the new Tundra, but the next Tacoma could use a stronger engine delivering increased towing capacity (currently maxed out at 6,500 pounds).
3. Maybe keep the manual and update the automatic: Similar to the Jeep Gladiator, the Tacoma stands out from most competitors by offering a six-speed manual gearbox in TRD models. That's great—for some people. Other than improving fuel economy and adding features like Crawl Control, the Tacoma's available six-speed automatic transmission fails to impress and should be replaced. Toyota does have eight- and ten-speed boxes it could use, and we'd like the Tacoma to benefit from one.
4. A more refined and up-to-date cabin: That was also one of our wishes for the new Tundra, and Toyota beautifully answered the call. Without losing its rugged appeal, the Tacoma needs to increase the level of refinement and incorporate state-of-the-art technology. A digital instrument cluster sure would be nice, but more importantly we want a more attractive and user-friendly infotainment system. In fact, Toyota has confirmed that the system found in the latest Tundra (and 2022 Lexus NX) will gradually spread to all vehicles between now and the middle of the decade. And while we're at it, a bit more space and storage would be appreciated, too.
5. Keeping prices in check: Everything is getting more and more expensive, and vehicles are good examples. Obviously, the pandemic didn't help. The 2022 Tundra added some cheaper, entry-level models, but the more upscale ones carry a much bigger price tag now. The current Tacoma ranges from $39,890-$59,360, which is more affordable than the Ridgeline and Gladiator, but way above its top three rivals from the U.S. Unlike the new Frontier, the next Tacoma may not be able to stay below $40,000, but hopefully Toyota will find a way to keep its midsize pickup reasonably priced.
Share on Facebook