Four New Nissan Concepts Show Four Visions of the Future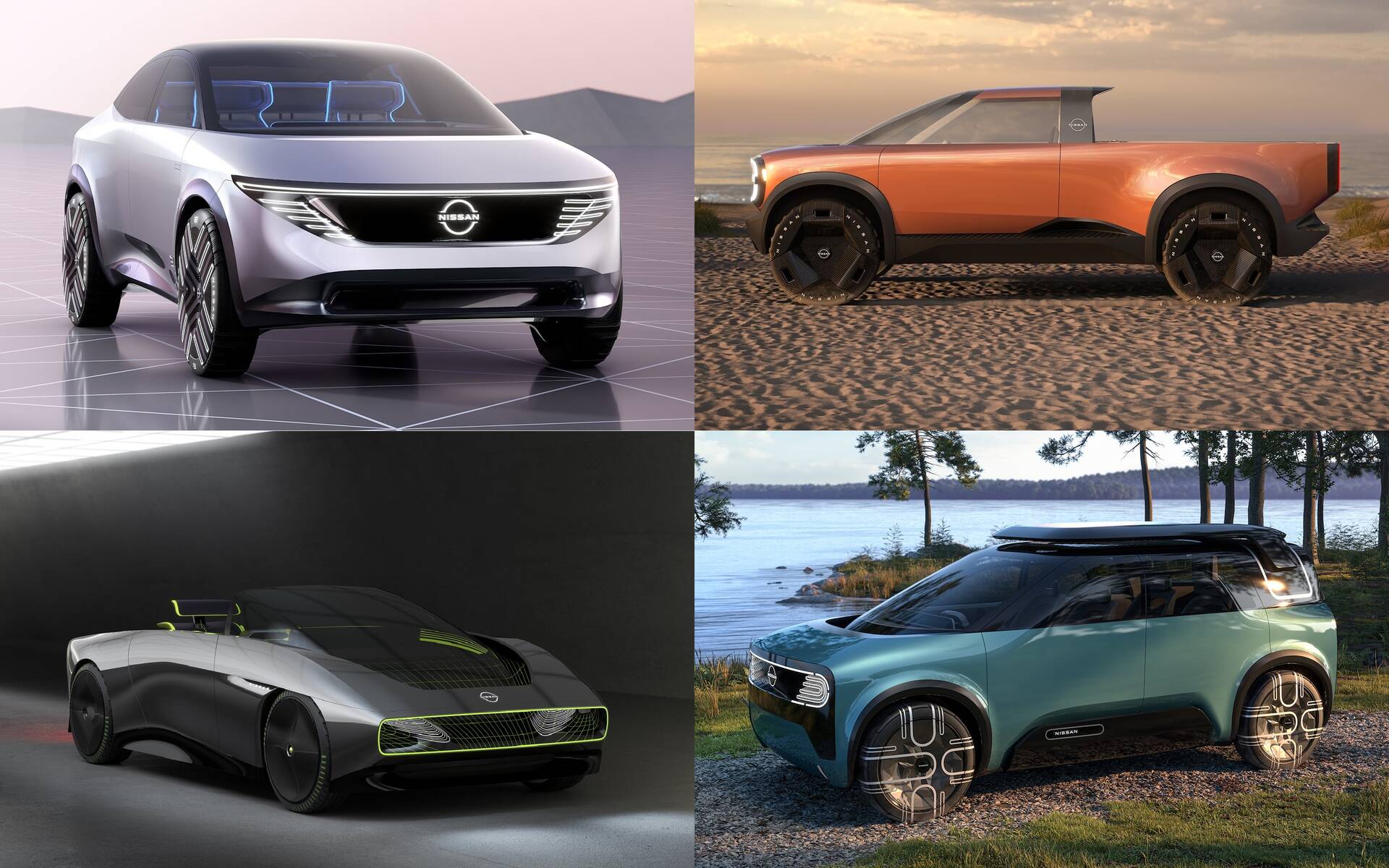 While announcing its new electrification plan today, which calls for the launch of 23 new models globally by 2030 including 15 battery electric vehicles, Nissan unveiled four different concepts that show four different visions of automobiles in the future.
Each one is aimed at a specific type of customer and marks a radical departure from the Japanese automaker's current lineup. All of them are designed with autonomous driving in mind, as well. Check them out below.
Nissan Chill-Out
Probably a bit closer to production than the others, as least when it comes to the exterior, the Chill-Out is an SUV that rides on the same platform as the upcoming Ariya. The oversized wheels and coupe-like silhouette give it a sporty look, that's for sure. Access to the interior is made easier by coach-style doors, and the steering wheel can retract in self-driving mode allowing occupants to enjoy a movie on the ultra-wide infotainment screen.
It will be interesting to see if the small SUV slated to replace the LEAF in 2025 will draw inspiration from this concept. Nissan didn't provide an estimation for range, but it would likely be similar to the Ariya's (321-482 kilometres).
Nissan Surf-Out
Electric pickups are on many people's lips these days even though not a single one of them is available in Canada yet. The Surf-Out concept could be Nissan's answer to the Ford F-150 Lightning, Rivian R1T, GMC Hummer EV, Tesla Cybertruck and the like.
Visually, this single-cab model stands out with a translucent front panel that gives a unique (though not really necessary) view of the interior. The rear liftgate is a digital panel that can be customized to show a variety of words, icons or emojis. Interestingly, a tinted bed cover can be installed to turn the pickup into some sort of coupe.  
Nissan Max-Out
Convertibles are a dying breed, but Nissan may have something to say about that with the Max-Out electric roadster. Of course, styling may not please everybody, but as the name suggests the cockpit maximizes space and comfort. For some reason, however, the passenger's seat lacks a head restraint. The super-large, sloping windshield looks like a fantastic way to create a close connection between the driver and the road.
Nissan Hang-Out
Finally, the Hang Out concept is a versatile crossover with sliding doors that aims to redefine the mobile space for families. For example, the front seats can swivel to face the rear seats and facilitate interactions between vehicle occupants—in driverless mode, of course.
Another option is turning the cabin into a movie theatre by pivoting all the seats 180 degrees backward and deploying a giant screen in the rear. Or you could create your own camping setup on the go.
What do you think?
Share on Facebook