Porsche Unveils 590-Hp Taycan GTS and Taycan GTS Sport Turismo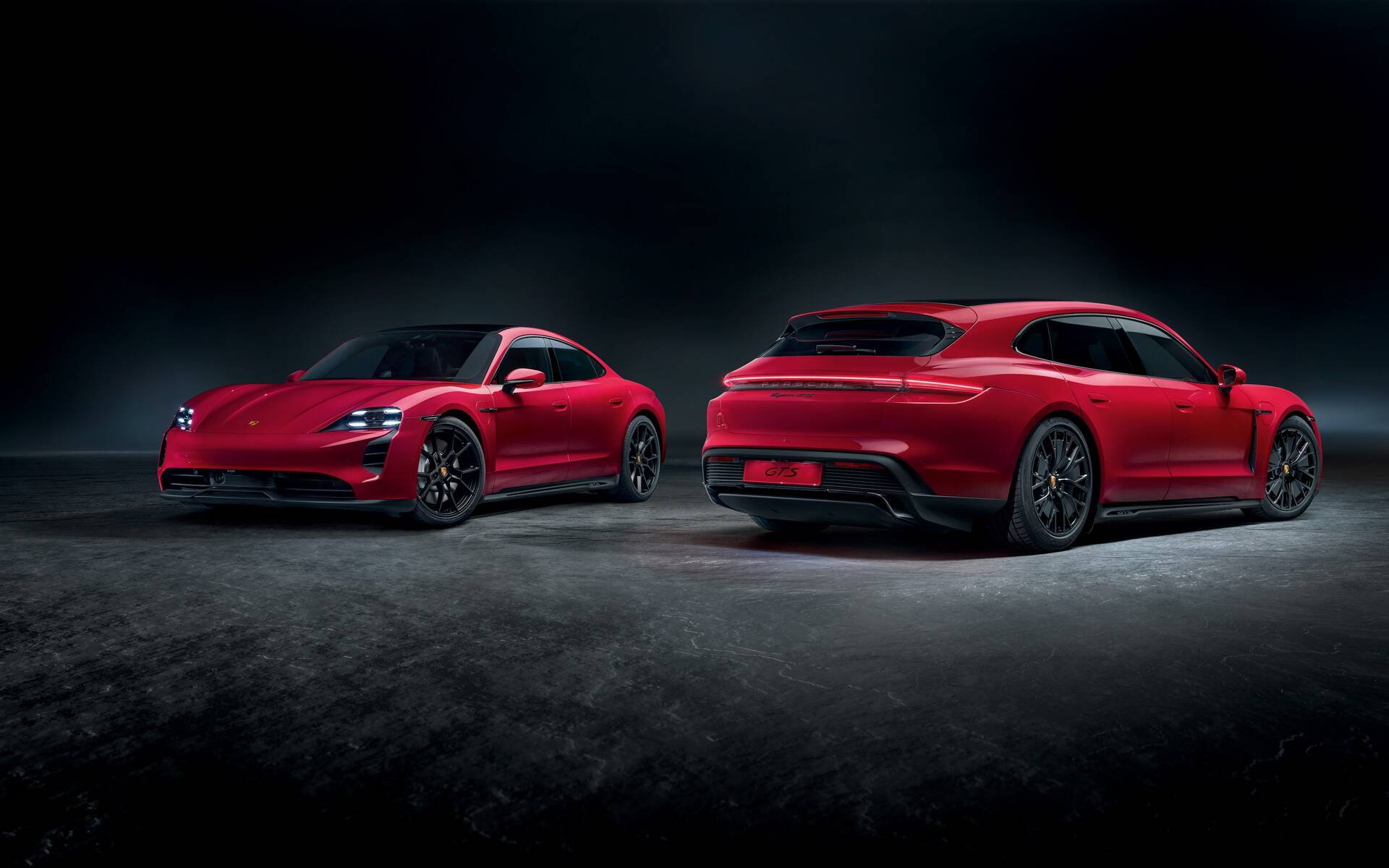 Every vehicle in the Porsche lineup now includes a GTS trim after the German automaker used the 2021 Los Angeles Auto Show today to introduce the new 2022 Taycan GTS sedan and Taycan GTS Sport Turismo wagon.
As you can expect, the GTS slots between the Taycan 4S and Taycan Turbo. In the case of the Sport Turismo variant, the sporty silhouette, rearward-sloping roofline and 1,212-litre trunk (rear seats folded) are shared with the recently launched Taycan Cross Turismo. However, ride height is identical to the sedan's and there is no body cladding around the wheel arches.
590 Horsepower
The adaptive air suspension, including Porsche Active Suspension Management (PASM), is specifically adapted to the GTS, which benefits cornering performance. The setup of the optional rear-axle steering is even sportier, while the richer sound pattern of the modified Porsche Electric Sport Sound underscores the character of the new GTS model, the company says.
Generating as much as 590 horsepower with Overboost and Launch Control, the Taycan GTS and Taycan GTS Sport Turismo sprint from 0-100 km/h in 3.7 seconds, just half a second slower than the Turbo models. The maximum speed of the duo is 250 km/h.
Sportier Looks and Innovative Roof
Naturally, in true GTS fashion, there are numerous black or dark details on the exterior, such as the front apron, the bases of the exterior mirrors and the side window trims. Inside, many black Race-Tex features emphasize the sporty nature of the cars, as does the standard brushed aluminum interior package with black anodized finish.
Interestingly, a panoramic roof with Sunshine Control is available as a new optional extra for the Taycan GTS. An electrically switchable liquid crystal film can change the roof from clear to matte, protecting the occupants from glare without darkening the interior. The roof is actually divided into nine segments that can be switched individually—a world first in the auto industry. In addition to the Clear and Matte settings, Semi and Bold can also be selected.
The new 2022 Porsche Taycan GTS and Taycan GTS Sport start at $150,100 and $152,700, respectively. Both cars will roll out to Porsche dealers in the second quarter of 2022.
Share on Facebook