2022 Porsche Taycan GTS: Taking Charge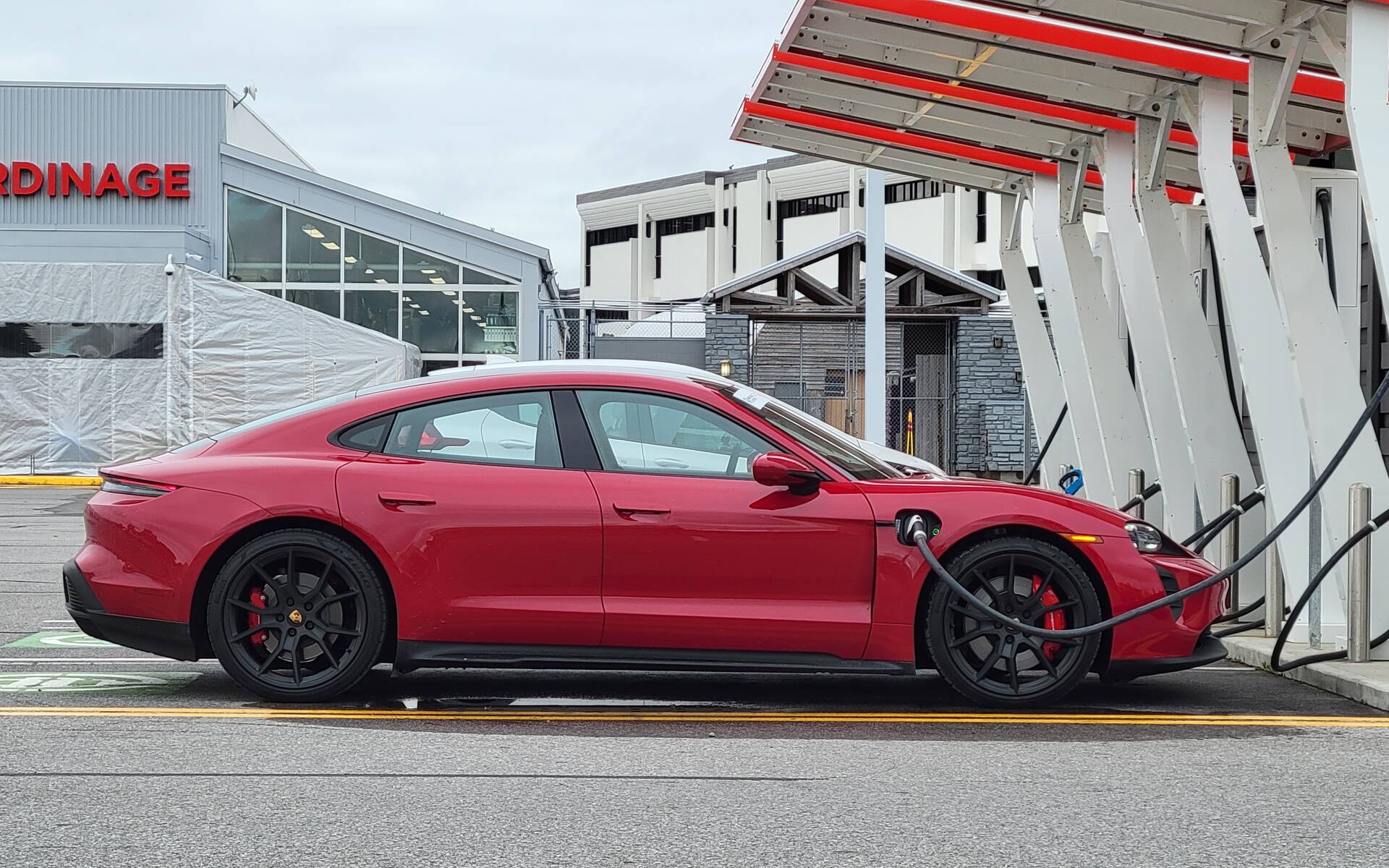 Strong points

The Taycan provides true Porsche feedback in its GTS version
Comfortable, even on long distances
Outstanding charging speeds

Weak points

The Taycan is a heavy car
Expensive options
Full report
Porsche did everything it could to emulate the signature Porsche experience in the electric Taycan. Impressive power delivery and absolutely phenomenal handling are definitely part of the mix. But critics, including The Car Guide journalist Gabriel Gelinas, have also pointed out that the Taycan is quite heavy when driven spiritedly on the race track.
Regardless, the Taycan GTS is a very capable performance car. But it is also important for us to put the Taycan GTS to the test in more common settings, like a long road trip – which can certainly be challenging for an EV.
So, as part of the Great Electric Car Rally, which spanned over 3 000 kilometres across four Canadian provinces, we were given the keys to a Carmine red 2022 Porsche Taycan GTS to see if it could marathon as well as it sprints.
The GTS slots just over the base 4S and under the Turbo and Turbo S variants, giving it everything the GTS moniker stands for in terms of handling, with a "reasonable" 590 horsepower cavalry.
An Up-And-Coming Electric Highway
We were assigned an "easy" portion of the trip between Quebec City and Oshawa. Meaning that unlike the team that passed the Taycan GTS on to us, we didn't have to scramble to find Level 3 charging stations. Theoretically, with a car that can cover 400 kilometres of range, you would think a single stop near the Quebec/Ontario border would do the trick, especially during perfect early fall weather. But the roll of the dice gave us a car with only 30% charge. Point taken, life doesn't always bless you with a full tank of gas, either.
Rally organizers had a flurry of activities planned for us, along with charging restrictions, strict speed limits and other restrictions that aim at putting the vehicles in a variety of conditions and situations one would encounter on the road while driving an EV. While these are applaudable, they aren't Porsche GTS friendly. We were really looking for real-world situations where someone is trying to get to Toronto as soon as humanly possible. Hence, we strayed from the group and chose the fast lane.
The Taycan GTS Can Take Charge
The Taycan GTS can dish out a whopping 627 lb-ft of torque so fast it'll make your head spin, which is in typical electric car fashion. However, it does it with such finesse, providing razor-sharp feedback from the pedal instead of the on/off switch you often find in an EV. This becomes very relevant when trying to gauge input on the race track and coming out of corners – it doesn't serve that much purpose on the highway. Steering is also on point, and calibrated in true Porsche fashion.
The main downside in the Taycan GTS' dynamics is that it tilts the scale at a little bit more then 5,000 lb. Add to that three decent sized occupants and you got yourself a lot of inert weight to haul. This impacts driving experience during spirited drives, but it is also quite the load to carry for the range.
But this is easily compensated by the Taycan's very capable 800 Volt architecture that doesn't only dish out power quickly, but it can take the charge like a champ. On the two Electrify Canada 350 kW chargers we stopped at, we were able to reach peaks of 260 Kw to 270 Kw. And not for just a few percentages, from 10 to 30 and even 50% before the charge would drop to still very respectable levels. This enabled us to limit our stops to 15 minutes.
In the end, we were able to squeeze 375 kilometres out of every charge, and considering that Porsche doesn't believe in regenerative Braking – engineers would rather optimize the vehicle for coasting – and the fact that we used every bid of acceleration pleasure it was able to provide, this is pretty impressive.
A Very Respectable Cruiser, All Things Considered
In lieu of thrilling curves and apexes, the long 750-kilometre stretch of highway that merges the 40 in Quebec and the 401 in Ontario served us with the opportunity to fully take in the interior amenities and comfort of the Taycan GTS. And despite its brawny character, we quickly discovered that the GTS is quite the cruiser. Competition-inspired seating wasn't a reason for fatigue, even after the 8-hour drive.
Even if we didn't fully partake in the Rally's activities, leaving organizers perplexed as we sped past waypoints, we proved that, on this particular journey between Quebec City and Toronto, we could choose to charge as many – or as few times as we wnated, proving that infrastructures are a key part of EV driving, whatever vehicle you're in.
Share on Facebook