2022 Volkswagen Golf GTI and Golf R: Definitely Worth the Wait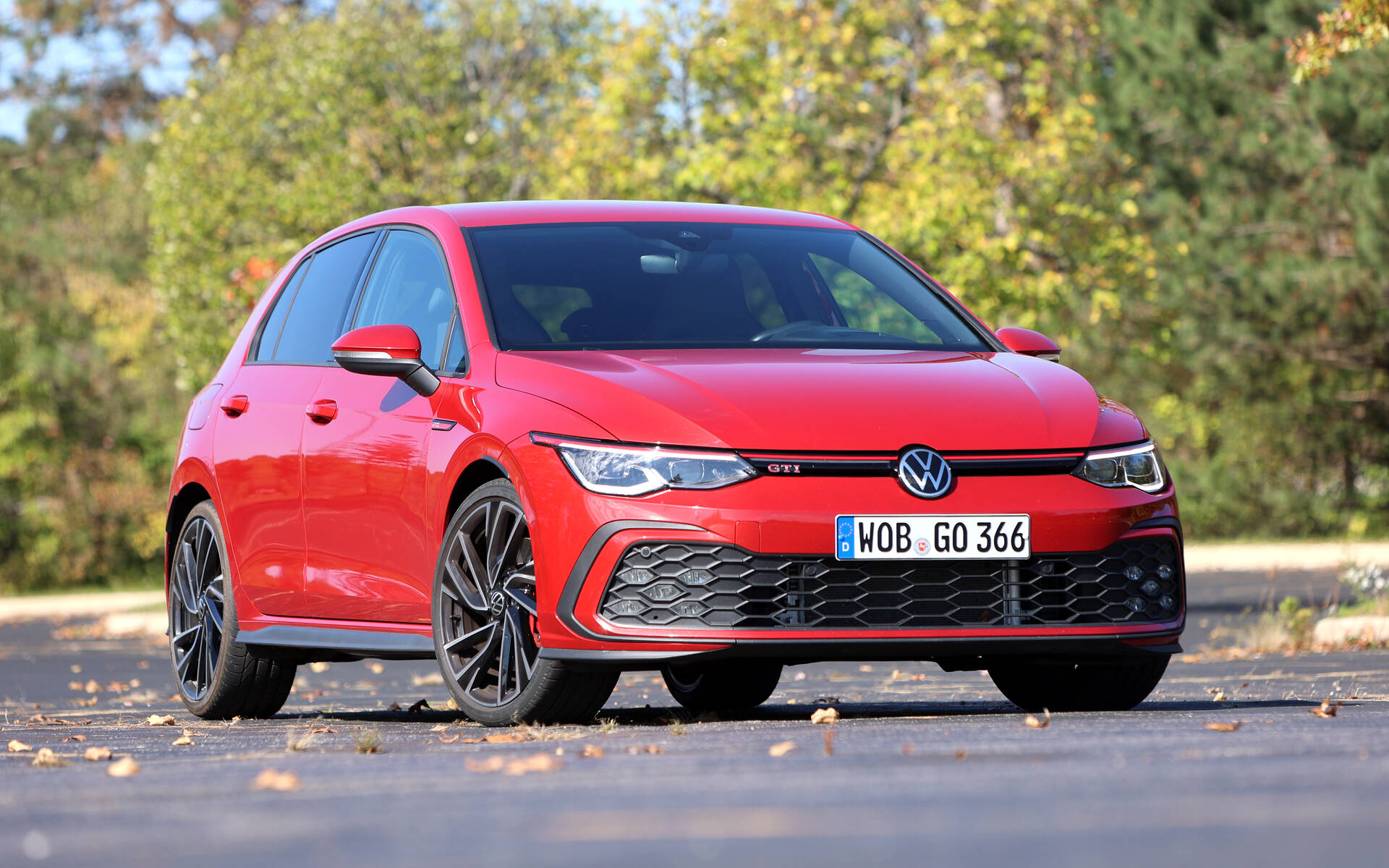 Strong points

High levels of performance
Unmatched driving dynamics
Even more accommodating in everyday use

Weak points

No physical buttons or traditional gauges
Limited colour selection (Golf R)
Full report
Volkswagen enthusiasts can no longer wait to get their hands on the new, eighth-generation Golf GTI and Golf R, which are the only Golf models returning to Canada.
While the base Golf was still enjoying a lot of success here, it wasn't the case in the U.S. where many people including some market analysts didn't see the point of offering a standard hatchback at a higher price than a comparable Jetta. The Americans, as you know, despise five-door cars. Unless, of course, we're talking about a sporty car. Now that's a different story.
More expensive yet a lot more attractive than your ordinary Golf, the Golf GTI and Golf R return for 2022 with sexy new attire. Each one has its own unique treatment for the bumpers, grilles, side skirts, wheels and tailpipes, mind you. In a first, the Golf R also has a two-piece rear spoiler that is detached from the liftgate.
I recently had the opportunity to drive both as part of the 2022 North American Car, Utility and Truck of the Year evaluation process. And let me tell you this: with their unmatched driving dynamics, they certainly have what it takes to reconcile consumers with traditional cars.
Balance is probably the best word to describe the new Golf GTI and Golf R. They are fun, agile little machines that create a close connection with the driver and prove even more accommodating than in the past. Some of that is the result of the various drive modes. You can set the cars for a true sporty driving experience or a comfortable ride like a larger vehicle would offer.  
The chassis is always stable and therefore superbly suited for everyday use. While the Golf GTI represents more of an evolution from its predecessor, the Golf R takes things to a whole new level. Output is increased to 315 horsepower, and you can feel the difference right away. Then you have R-specific Special and Drift modes that give you full control over the car. On top of that, there is a new electronically controlled, twin-clutch rear differential that enables quicker and more precise torque vectoring for improved handling.
I loved the exhilarating sound, breathtaking performance and exceptional agility of the new Golf R, which can sprint from 0-100 km/h in just 4.7 seconds according to Volkswagen. This is a tremendously skilled and versatile car you will have a blast with 365 days a year.
But don't sleep on the Golf GTI. After all, it too gets more power for 2022—241 hp to be exact—yet torque steer is never really an issue. Volkswagen has managed to refine the car and elevate performance without compromising its unique identity. That's why a front-wheel drive configuration was retained.
Sure, the horsepower gap between the two models is a big one, but the Golf GTI is nearly as fun to drive, albeit slower. I dare you to take it for a spin and not feel satisfied.
Strong DNA Inside and Out
The Volkswagen Golf GTI and Golf R stand out from each other now more than ever, and that goes for their interiors, as well. The former comes with magnificently sculpted seats finished in their usual plaid fabric, plus red stitching throughout and a golf ball-inspired shift knob. The Golf R, meanwhile, features carbon-style trim pieces, leather seats and blue stitching. In both, physical buttons and traditional gauges have been completely eliminated and replaced by digital screens and touch-sensitive controls. Each one gets specific graphics to emphasize their unique identity. I'm not going to lie: the digitalization of the cockpit takes away some of the charm of driving these sporty Golfs.
Comfort, convenience and versatility are all elevated, which is more good news for future owners. There is more space in all areas combined with excellent visibility and flawless ergonomics. At the NACTOY event, I also spent time behind the wheel of the Audi S3, which is a close cousin of the Golf R, but despite its superior fit and finish that car is significantly less roomy. I'd much rather buy the VW for this reason, not to mention the benefit of having a rear hatch.
Place Your Order… And Wait Some More
With the final 2021 Golf models now delivered to customers, it's time to focus on the new generation, which should start to hit showrooms by the end of the year. The problem is that the Wolfsburg plant that builds the Golf GTI and Golf R for the entire plant is operating at reduced capacity these days. Unless you've already placed your order, you might have to wait until next summer to get your car. The silver lining is that you'll avoid a full winter of abuse, although the AWD-equipped Golf R can be mad fun in the snow, too.
So, yeah, I'm pretty impressed with the eighth-gen Golf. Like many people, I will miss the base model, but at $31,495 the new GTI is simply irresistible. As for the Golf R, the entry price of $44,995 seems quite reasonable given everything the car has to offer. And did I mention the manual transmission?
Share on Facebook