2021 Chrysler Pacifica Pinnacle AWD: Suburban Family Limo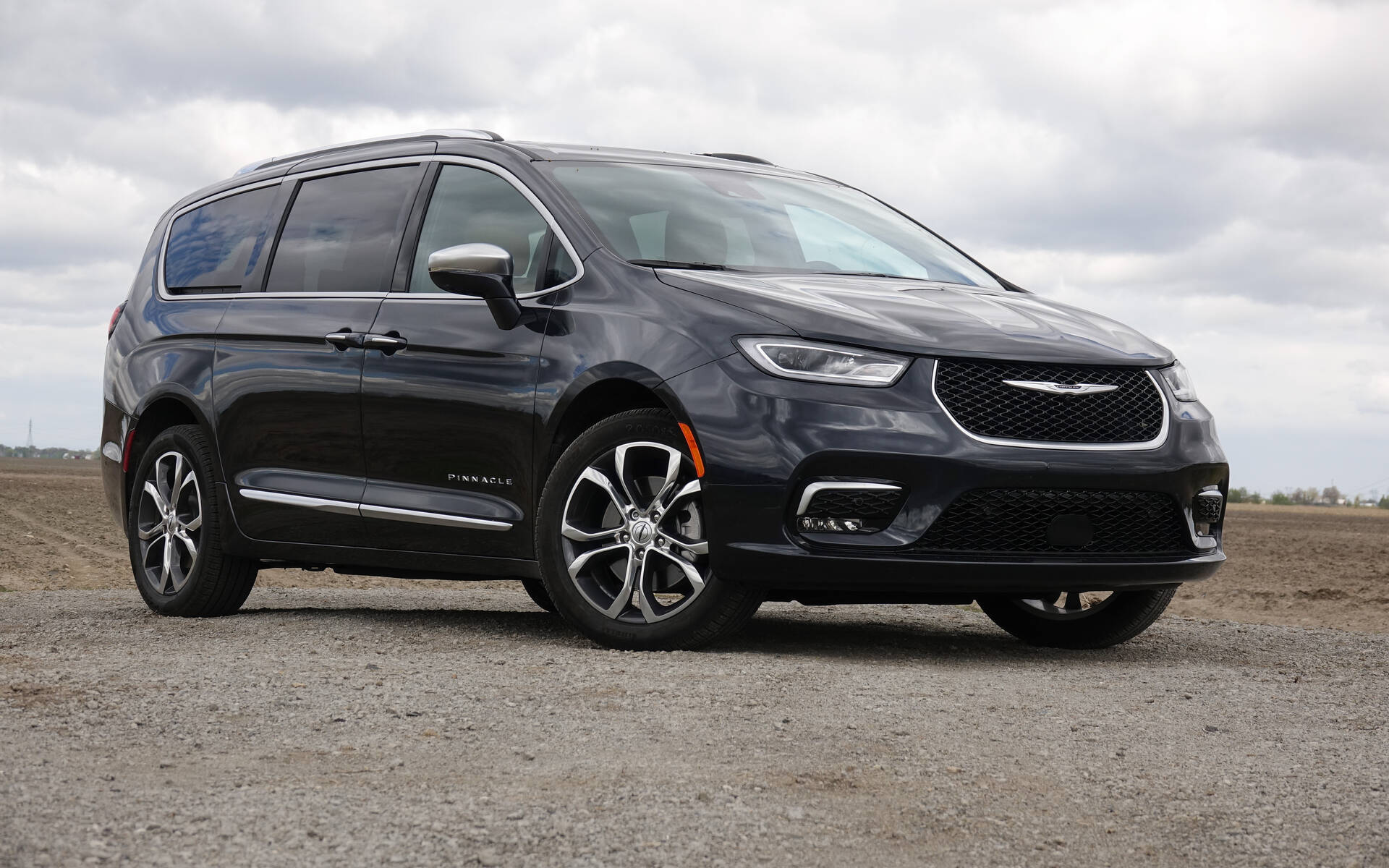 Strong points

Elegant styling
Available AWD
Plenty of gadgets
Spacious and versatile

Weak points

Unimpressive drive
Stow 'n Go seats need practice
Lower fuel economy
Not cheap
Full report
While Chrysler won't break any minivan sales records in this day and age of SUVs, the company isn't about to turn its back on a market segment it pioneered and has been dominating for 37 years. Now that the Chrysler Grand Caravan is here as a simpler and cheaper variant of the Pacifica, the lineup is more diversified than ever—a good thing since the competition has made huge strides in recent years.  
New for 2021 is a top-of-the-line Pacifica model called Pinnacle and standard Uconnect 5 across the range. The posh Chrysler minivan is the first vehicle in North America to feature the new, state-of-the-art infotainment system.
Taking advantage of the new Android operating platform, it's the most advanced Uconnect system ever with five times the processing speed of its predecessor. Amazon Alexa is included, plus wireless Apple CarPlay and Android Auto, not to mention a dozen Type-A and Type-C USB ports to keep everyone's device charged and connected.  
AWD Minivan FTW
Canadian drivers are likely more interested in the option of all-wheel drive on V6-powered Pacifica models (not available on the Pacifica Hybrid due to the location of the high-voltage battery), which requires a premium of about $3,000.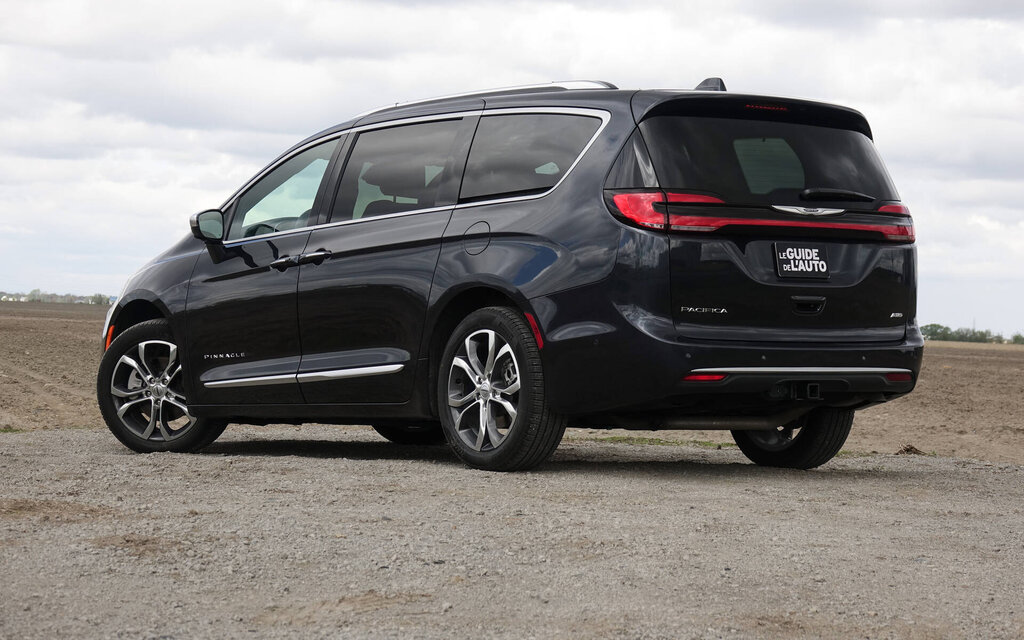 On slippery surfaces, the system automatically activates the transfer of all available engine torque to the wheels with more traction. The power transfer unit and rear drive module disconnect when AWD is not needed, thus stopping the driveshaft from spinning and improving fuel efficiency.
The AWD system doesn't affect the second-row Stow 'n Go seats, which you can still fold into the floor, though not without a bit of practice. Engineers did add a rear stabilizer bar to make up for the extra 164 kilograms, while also upgrading the suspension, increasing ground clearance by 20 millimetres and fitting larger brake discs (350 millimetres front, 339 millimetres rear).
As a result, the heavier Pacifica Pinnacle AWD sprints from 0-100 km/h in 8.85 seconds and 80-120 km/h in 6.3 seconds. In case you want to go drag racing, the quarter-mile run is achieved in 16.45 seconds at 139.2 km/h. Base Pacificas with FWD post acceleration times of 8.24, 5.35 and 16.12 seconds, respectively. As for braking, the Pinnacle AWD model we tested needed 40.78 metres to stop from 100-0 km/h versus 42.27 metres in FWD configuration.
Happy Birthday
The 2021 model year marks the current-generation Pacifica's fifth on the market, so Chrysler designers refreshed the exterior by taking inspiration from the more angular and more popular SUVs. The front grille looks sharper and is twice as large as before. The front LED lighting units are now split, while the big chrome bar on the bumper has been eliminated.
In the rear, the new, full-width LED taillights are quite attractive. Touring and Limited trim levels continue to offer an S Package that replaces chrome around the side windows, front grille and rocker panels by gloss black accents. You can also specify red leather seats in the Limited. Hot!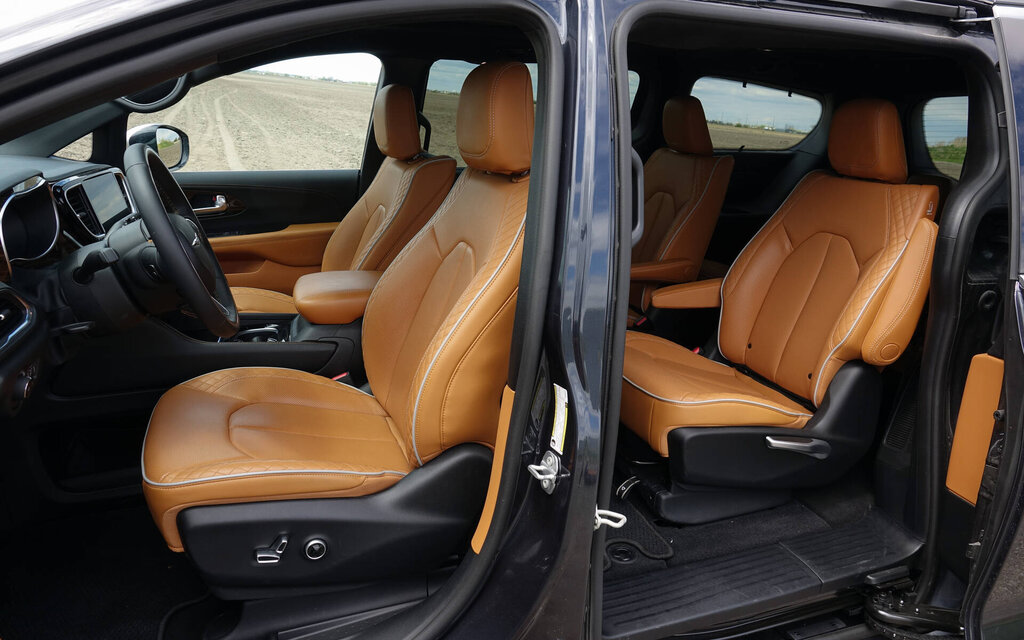 Pinnacle models stick with chrome for all exterior trim pieces, while quilted Caramel Nappa leather seats are available in all three rows with unique matching lumbar pillows in the second-row captain's chairs and beautiful grey stitching that you can also find on the black leather steering wheel.
Up front, there's a new integrated Ultra console offering 12.1 litres of storage—a third more than the regular console. An 18-speaker Harman Kardon stereo and rear-seat entertainment system with dual 10.1-inch monitors are included, as well. Optionally, you can get a rear-mounted camera that will show you the entire cabin on the front centre display, which is something to consider if you have little ones in rear-facing child seats.
All Aboard!
The seven-passenger Chrysler Pacifica was designed with comfort, entertainment and safety in mind. It does a superb job on all three fronts. In Pinnacle trim, refinement is taken to another level along with pricing. The driver's seat is a cozy place to be, offering a good driving position despite a steering wheel that may be unnecessarily thick. Visibility is excellent thanks to tall windows and side mirrors positioned away from the A-pillars.
The centre touchscreen with Uconnect 5 is marvellous. Apple CarPlay integration is pleasantly executed for user-friendly operation, which is seldom the case. You can easily switch between vehicle functions using the buttons in the lower part of the screen. Overall, the controls are intuitive and easy to use, and that goes for the transmission selector midway through the centre stack, as well. You don't even have to look down to manipulate it.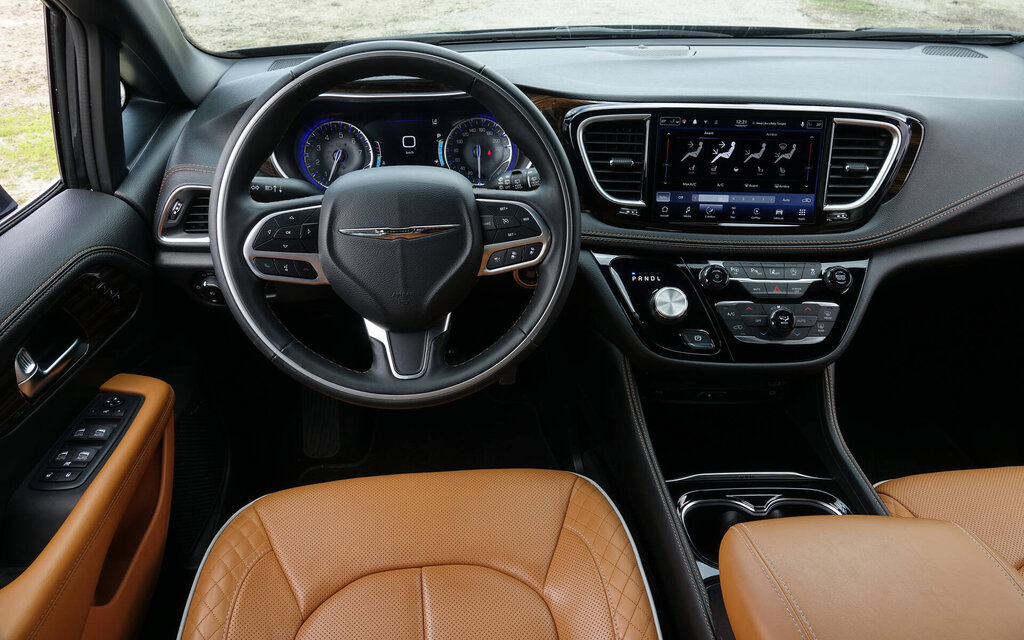 On the road, the Pacifica is nearly silent at 100 km/h. It's nice that you can choose between regular cruise control and the adaptive version, with buttons mounted on the right side of the steering wheel. Don't trust the lane-keeping system, however, as it proves inconsistent and ineffective at times. In fact, the driver may be the most overlooked party in this high-riding limo. Steering is extremely light and disconnected from the road. Handling is decent, but you always have to be mindful of crosswinds.
What's more, the nine-speed automatic transmission appears to be smooth at first, but it doesn't take long before you start to feel some hesitations and jerky shifts, particularly in dense traffic. The Pacifica's throttle-by-wire system, which is not very linear, deserves a lot of the blame. On a positive note, the short turning radius makes this minivan fairly manoeuvrable around town.
The 2021 Chrysler Pacifica's AWD system is transparent and highly competent on dry pavement. Now we just need to put it to the test in the snow to see how good it is. Too bad AWD is not available on the more fuel-efficient Pacifica Hybrid, although you can have it on a reasonably priced Touring V6 model.
Share on Facebook