Who is the 2022 Ford Maverick Designed For?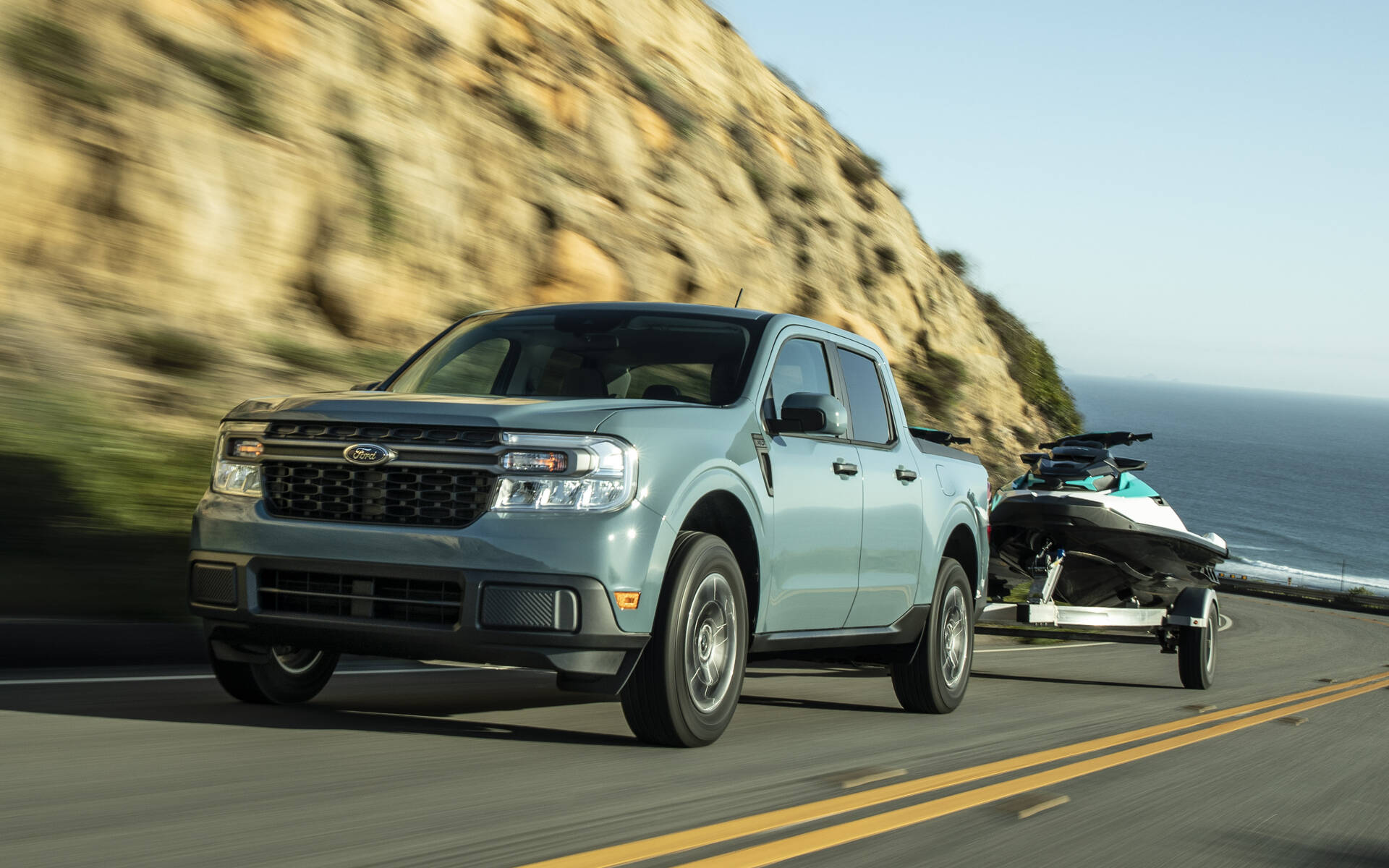 Pickups are big business, but they can and should come in smaller packages, too, which is why Ford is adding a fourth line to its portfolio. Following the Super Duty, F-150 and Ranger, here's the all-new 2022 Maverick, a compact and affordable model full of surprising features.
But who is it designed for, really? Ahead of today's reveal, The Car Guide was invited to sit down with Ford's engineers and designers to get to know this product a little better.
Maverick?
Previously used for a compact car in the 1970s and the first-gen Escape sold in Europe in the early 2000s, the Maverick name returns with a segment-busting truck. And based on focus groups held by the company, it fits perfectly with what customers expect.
"Maverick challenges the status quo and the stereotypes of what a pickup truck can be," said Todd Eckert, Ford truck group marketing manager. "We believe it will be compelling to a lot of people who never before considered a truck."
Eckert was referring to people who need to drive and park in the city on a regular basis, but want to get out of town from time to time or have lots of projects they need to carry out—from small entrepreneurs to active folks to renovation and DIY enthusiasts. It's a similar approach to the equally new Hyundai Santa Cruz.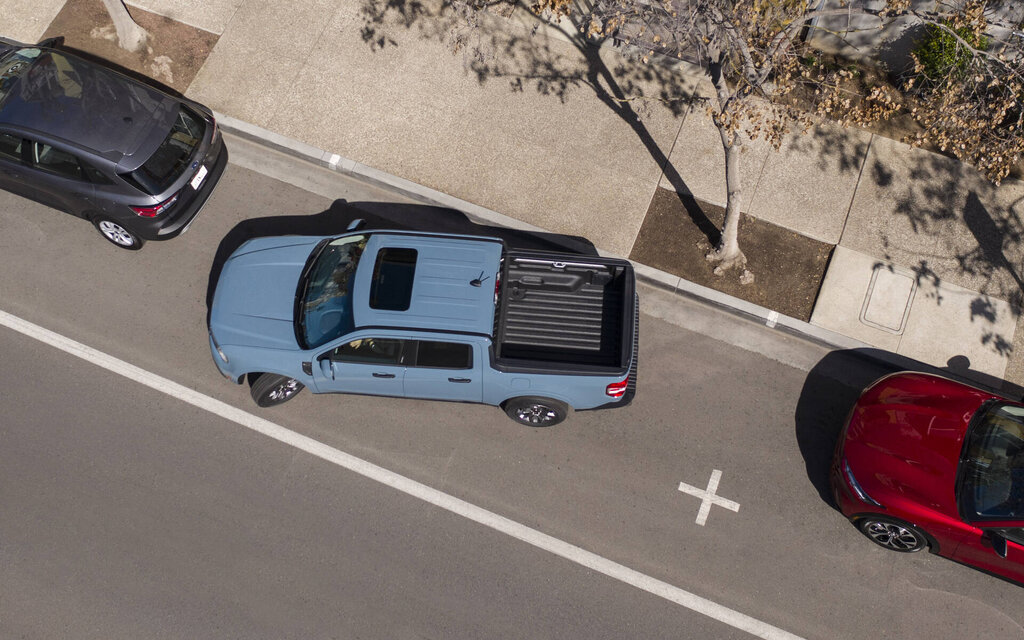 Different From the Ranger
The Ford Maverick is a different truck from the Ranger and Ford believes it will have little effect on the latter's sales.
"The Ranger is for classic truck owners who handle tough jobs and tackle various conditions, particularly off-road," he said. "Even though you can get an FX4 package with the Maverick, this model is more about everyday driving and living, making it a versatile alternative to SUVs and even sedans."
Their construction and powertrain are different, as well. While the Ranger is a body-on-frame 4x4 pickup with a 2.3-litre EcoBoost engine producing 270 horsepower, the Maverick is 28 centimetres shorter, built on a unibody structure and featuring a hybrid FWD setup as standard, with 191 total horsepower (a 2.0-litre EcoBoost rated at 250 horsepower is optional).
Chief engineer Chris Mazur told us the Maverick took 20 months off Ford's development schedule and benefited from over 26 million kilometres of real-world and virtual testing. 
All About That Bed
Beyond impressive hybrid fuel economy (5.9 L/100 km in the city), the thing that will please Ford Maverick customers the most is arguably the multi-trick cargo bed called "FLEXBED."
First of all, access is made easier by a load floor just 30 inches off the ground (with the tailgate opened) and low bed sides that allow even the fifth percentile female to easily drop or pick up stuff, Ford assured us.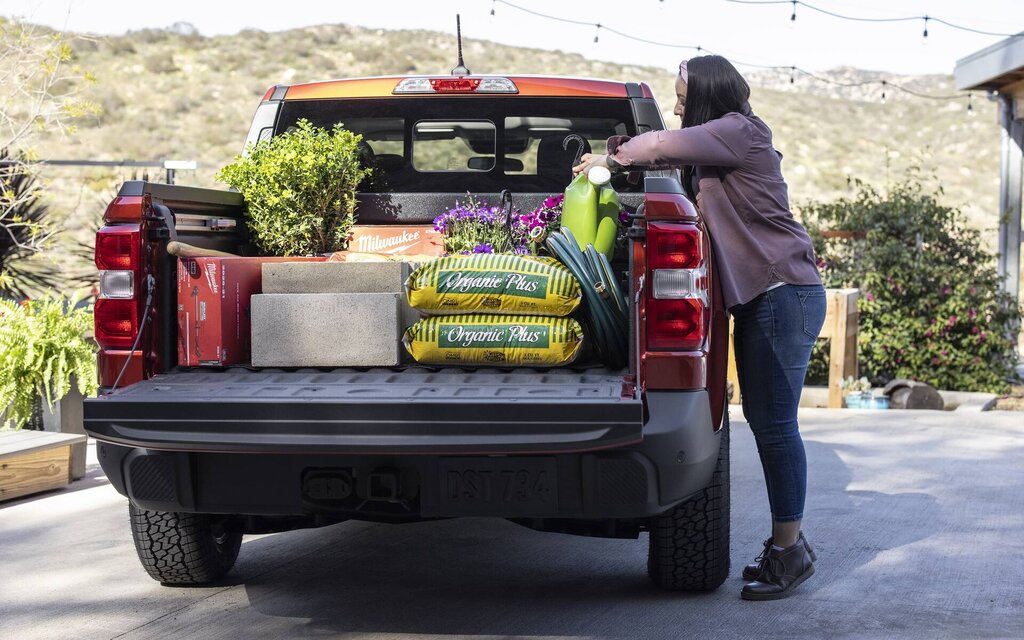 The 4.5-foot bed can carry 1,500 pounds of payload, the equivalent of roughly 37 bags of 40-pound mulch, and the six-foot floor with the tailgate down accommodates a standard ATV. The bed is also wide enough to support up to 18 sheets of 4'x8' three-quarter-inch plywood by laying them flat over the wheelhouses and the tailgate lip in the halfway-open position.
"The whole bed is a DIY fan's paradise," said Keith Daugherty, an engineering specialist who helped develop the truck box for Maverick.
Indeed, you can create segmented storage, elevated floors, bike and kayak racks and more by sliding 2x4s or 2x6s into slots stamped into the side of the bed. There are two tie-downs, four D-rings and built-in threaded holes in the sides to bolt in new accessories, racks or other equipment. There's even a QR code you can scan in case you need ideas and tips to get started.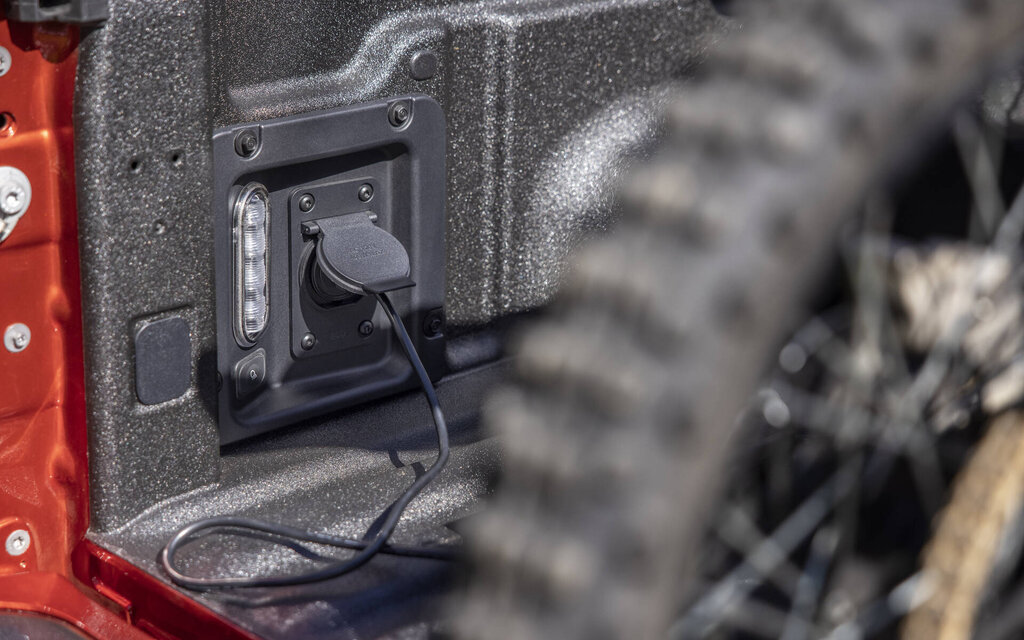 In addition to the 110V power outlet, built-in 12V electrical power is prewired to a removable cover on either side of the back of the bed to support DIY electrical projects. How about that?
"People have forever been hacking into their wiring harness to run things like lighting, air pumps and other useful accessories," said Gaby Grajales, an electrical engineer. "This is a better solution – we're enabling customer needs while protecting the taillamp wiring and creating a fused circuit to avoid compromising the overall electrical system. With this, you have the option to select the factory-available box lighting or install your own home-built lighting setup, or even invent a whole new use for the 12-volt access points."
When and How Much?
The 2022 Ford Maverick will go on sale across the country this fall, but you can place an order today. Pricing starts at $25,900 for a base Maverick XL Hybrid FWD, which is a pretty enticing deal. On the other hand, many Canadians will hate having to choose between efficiency and all-weather performance. The 2.0L EcoBoost with AWD requires an extra $2,500.
"If there is enough demand in the future, nothing in this truck's design would prevent us from considering the addition of AWD on the hybrid model," said Ford Canada's communication manager, Christine Hollander.
Watch: Everything You Need to Know About the 2022 Ford Maverick
Share on Facebook