2022 BMW M4 Competition Cabriolet: No Top, Still the Same Huge Grille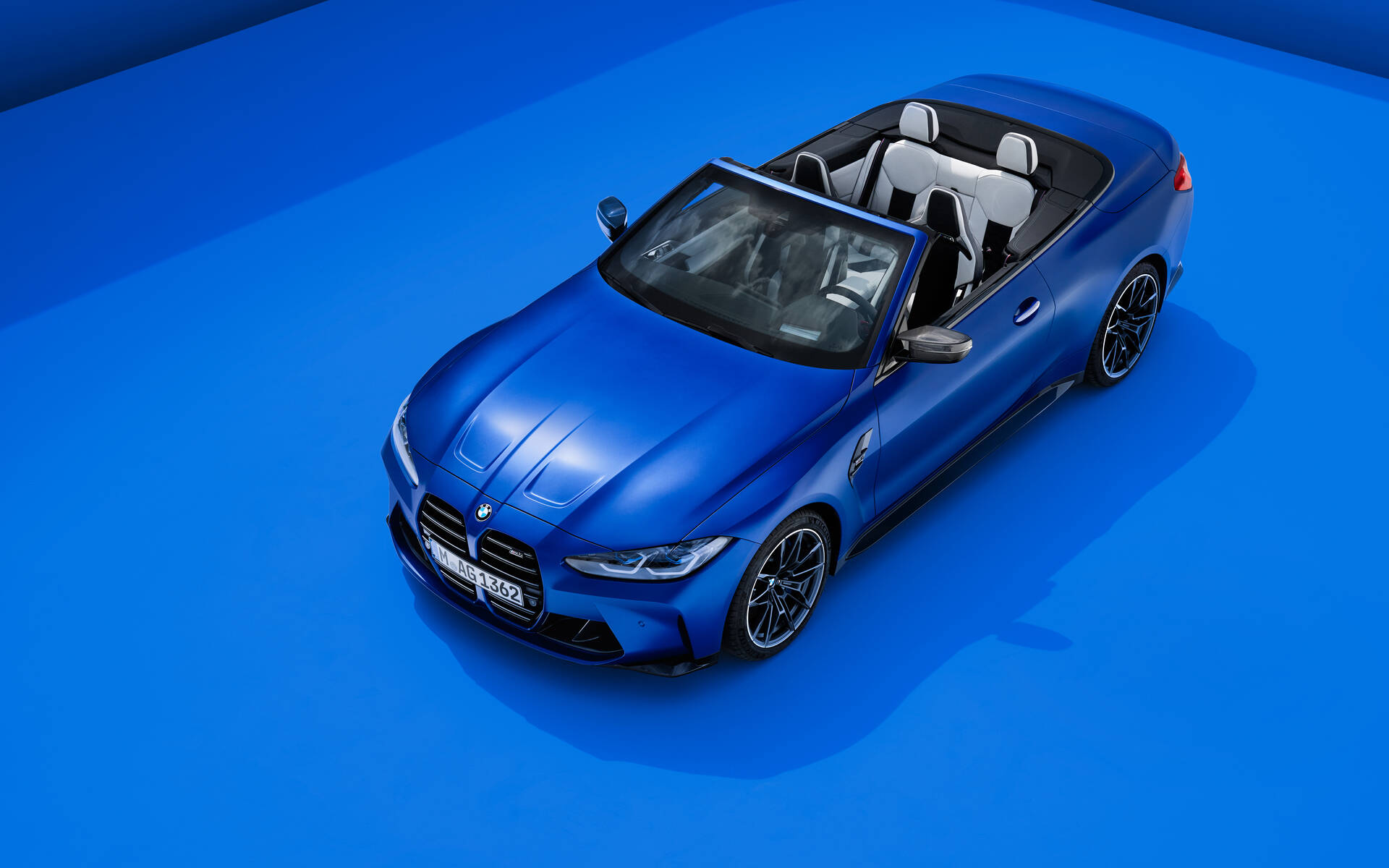 Ever since the new 4 Series was launched, and then the high-performance M3/M4, a lot of the focus has been on the exterior design, more specifically that gigantic new grille which, according to some, completely disfigures otherwise very attractive cars.
This August, BMW Canada will add to its lineup the convertible variant of the M4—and not just any convertible. We'll get the ultimate expression: the M4 Competition Cabriolet xDrive.
Unlike the M4 coupe which is also available with 473 horsepower and 406 pound-feet of torque, the soft-top model will deliver nothing short of 503 horsepower and 479 pound-feet of torque from its turbocharged inline six-cylinder engine.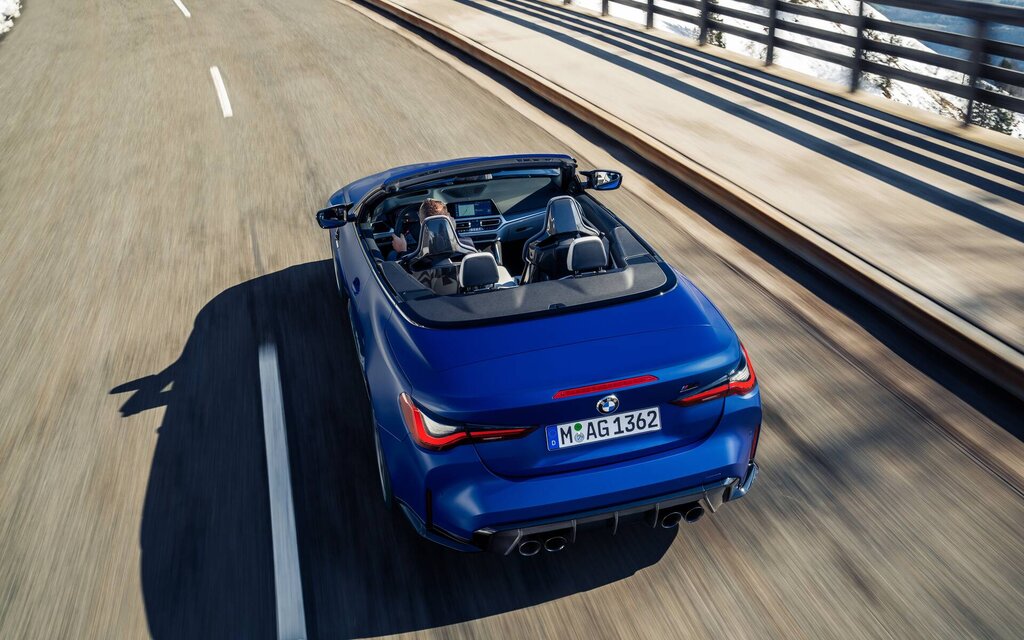 The M xDrive all-wheel drive system is a first for the M4 Cabriolet. Torque is directed to the rear wheels during normal driving, providing the classic RWD experience. Only when additional traction is required is torque sent to the front axle (you can also select 2WD mode with DSC turned off). Combined with the eight-speed M Steptronic transmission, expect 0-100 km/h acceleration times of 3.6 seconds—sure to mess up your hairdo in the process.
By the way, the three-panel soft top is 40 percent lighter than the predecessor car's retractable hardtop, effectively lowering the centre of gravity. BMW claims its smooth surface and insulation achieve levels of acoustic and thermal comfort far superior to those of a conventional soft top. You can have it in Moonlight black, which gives the fabric a nice metallic shimmer.
Opening and closing the roof takes 18 seconds and can be performed at speeds up to 49 km/h. When folded, it provides 34 litres of extra cargo capacity over the previous M4 Cabriolet.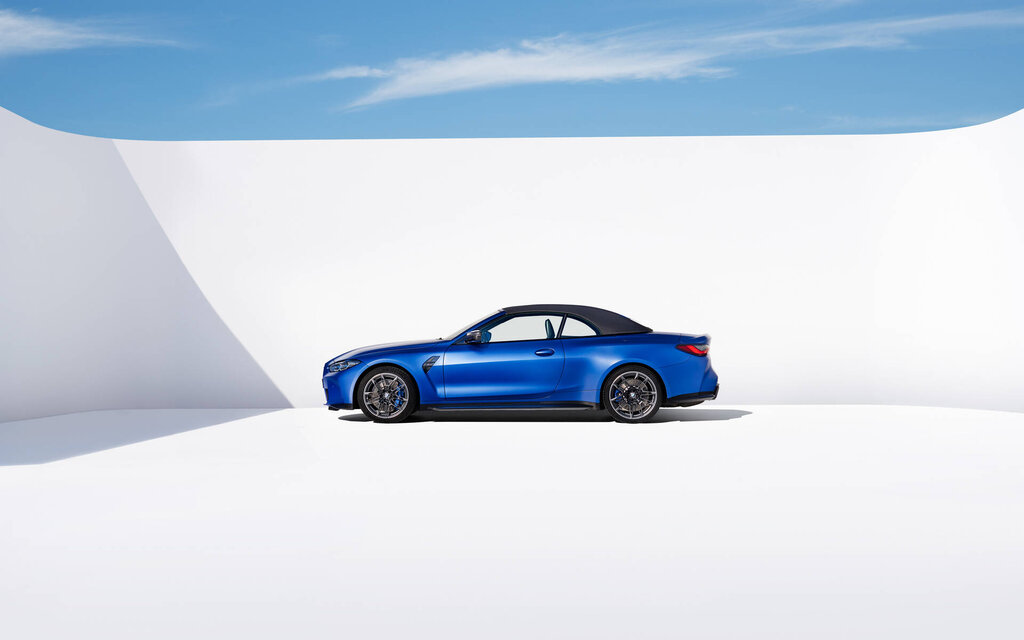 As for styling, the differentiation between the new M model and the 4 Series Cabriolet on which it is based is more striking than in any prior generation. Aside from the doors, soft top, trunk lid, window surfaces, headlights and taillights, every part of the exterior is unique to the M model.
We're not going to spend any more time on the grille, so let's point out that the M4 Cabriolet has a wider body and stance complete with gloss black aero components around the lower body. M light-alloy 19-inch front and 20-inch rear wheels adorn the sides, while the rear diffuser frames two pairs of 100-mm tailpipes.
Pricing for the 2022 BMW M4 Competition Cabriolet xDrive starts at $99,900. As mentioned above, the first cars will arrive on Canadian shores in August, so maybe not too late for your summer vacation. It can be ordered right now.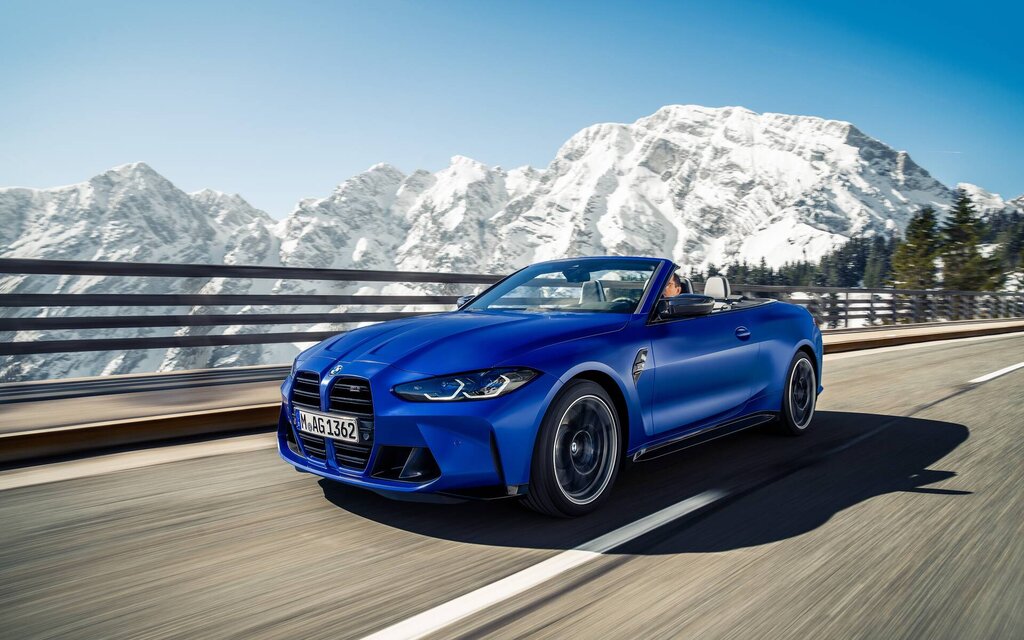 Share on Facebook