2021 BMW M4 Competition: BMW at Its Finest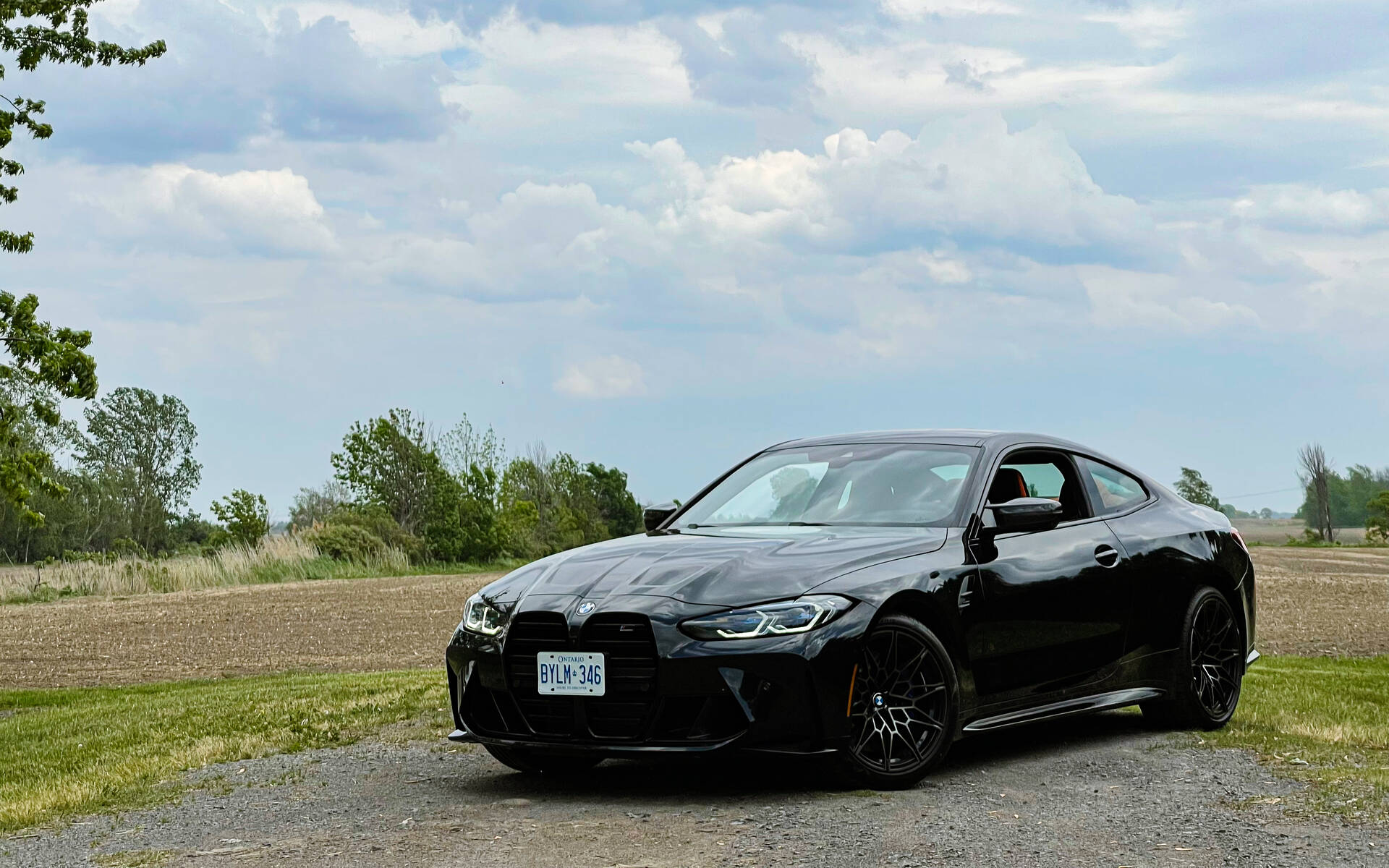 Strong points

Super-quick acceleration
Phenomenal handling
Nicely dressed interior
Each trip is an event

Weak points

Polarizing looks
Autobox can be hesitant at times
Stiff ride on bad pavement
Limited rear-seat access
Full report
The new 2021 BMW M4 Competition is a clear embodiment of what BMW does best.
Equal parts calm and crazy, wise and wild, this formidable car can be driven leisurely on any given day before morphing into a corner-devouring monster as soon as you hit the track.
The M4 works its magic on all fronts, even finding a way to make the redesigned grille look kind of attractive. Simply put, it's a masterpiece on four wheels. But enjoy it while you can, because this model could be the last of its kind before electrification takes it on a different path.
A Look That Grows on You
When BMW first introduced the next-gen M3 and M4, fans reacted mostly negatively. Sure, the double-kidney grille design is still there, but it can now be seen from a mile away. Incidentally, that grille is found on all BMW 4 Series models, while the 3 Series sedan retains a more classic look—except for the high-performance M3, of course.
In M4 Competition trim, aggressive styling elements add purpose and credibility to the grille. Beauty is always in the eye of the beholder, but this extremely mean look eventually grows on you—and probably intimidates quite a few sports car drivers that would dare to challenge it.
The interior is just as spectacular. Our tester had a combination of black and orange leather creating a particularly exotic environment. Some critics will say it lacks class, but performance trumps everything when it comes to the M4.
Without the shadow of a doubt, the piece de resistance inside this car is the pair of racing-inspired Competition seats. They're so supportive it makes you feel that much more confident behind the wheel. Not a lot of drivers can comfortably fit in them, however, plus the lack of padding becomes an issue on longer trips.
As for the rear seats, they're actually pretty decent for a compact coupe. They may be a bit tough to access, but once settled in you'll be okay.  
A Dying Breed of Engines
BMW owes much of its reputation to its powerful engines, and the technological wonder under the hood of the new M4 Competition is the latest proof.
This turbocharged 3.0-litre inline six-cylinder delivers 503 horsepower and 479 pound-feet of torque, enough to sprint from 0-100 km/h in 3.9 seconds. An eight-speed M automatic transmission sends power to the rear wheels. BMW will eventually add a variant equipped with xDrive all-wheel drive, but honestly there's no real need for it.
The M4 Competition can be programmed just like a computer, meaning that you can individually adjust the suspension, steering, throttle response, shift points and more.
While annoying on a number of other cars, this system has the ability to turn the M4 into a pleasant daily driver—although the ride can be a tad stiff on rough pavement—or a hot lap machine if that's what you prefer. Our advice for weekday fun is to set everything to Sport mode no matter what lies ahead. Experienced drivers can turn off the various electronic nannies and rely purely on their skills, but proceed with caution if you do that.
The highly effective rear differential makes the BMW M4 Competition one of the rare RWD cars with that kind of power that can put all of its ponies to good use. As mentioned earlier, triple-digit speeds are achieved in less than four seconds, and the turbo-six keeps pushing well beyond that. It's the pinnacle of what you can accomplish with a non-electrified BMW car.
Handling is scary good. Even when your brain urges you to slow down, the M4 sticks to its line like it's no big deal. With all the driver assist features on, it becomes child's play. Without them,   you need to be careful, obviously, but the dynamics are so finely tuned that it will leave you similarly amazed.
Our Verdict
In the end, the thrills you get with the 2021 BMW M4 Competition and the precision it displays on the road and the track are a testament to what the German automaker does best. It's an exceptional automobile that will suit both hardcore driving enthusiasts and those looking for a more laid-back experience.  
Share on Facebook