2021 Mazda CX-5: The Shining Star Next to the Rising Star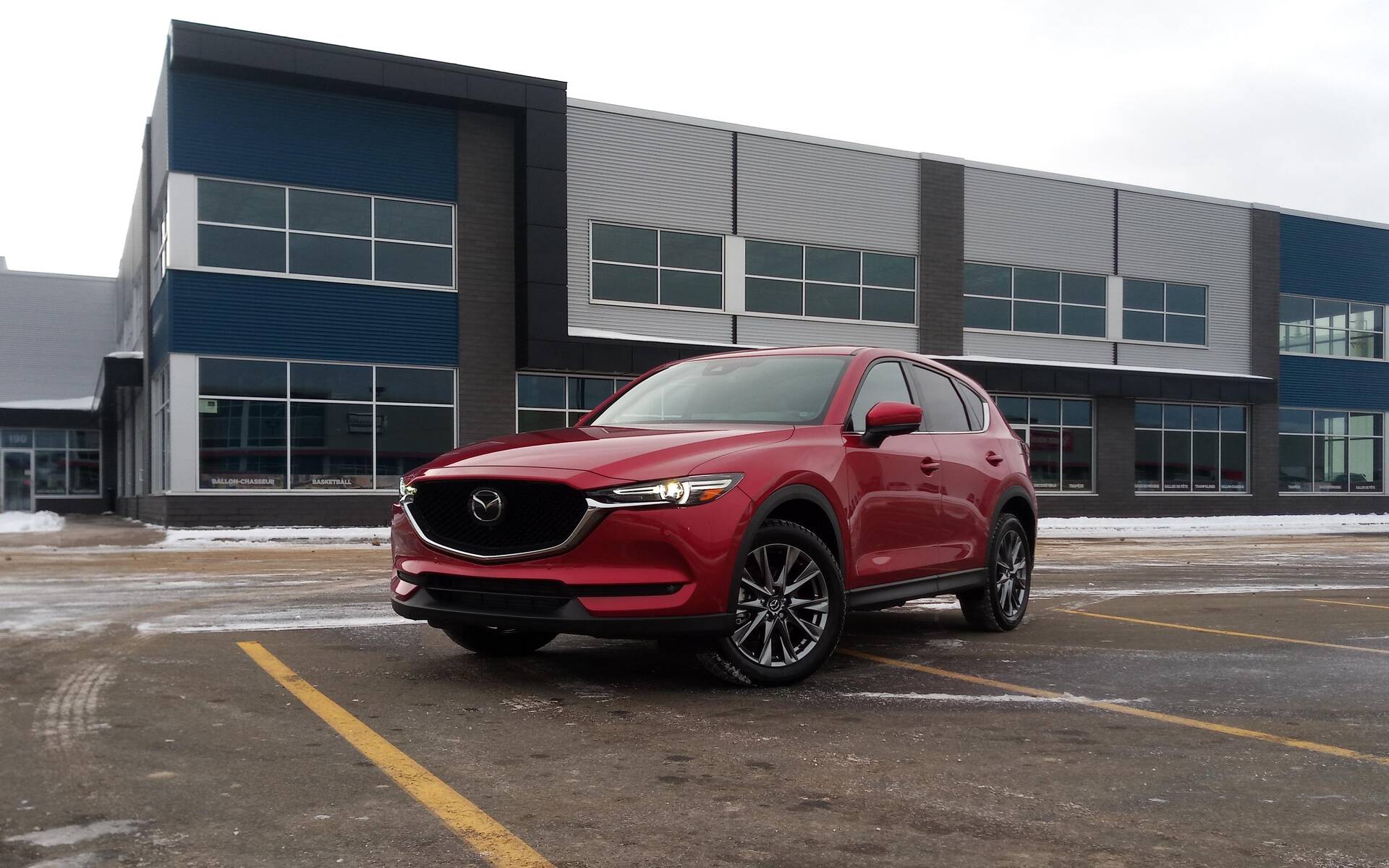 Strong points

Sexy looks and refined interior
Great turbo engine
Fun, dynamic handling

Weak points

Limited space
Lower fuel economy
One of the worst infotainment systems
Full report
While the new CX-30 is undoubtedly the rising star in the lineup, the Mazda CX-5 still shines the brightest—at least in terms of Canadian sales. As the fifth-most popular SUV in 2020, it moved up a spot to ninth among the top 10 best-selling trucks and SUVs.
Therefore, it's easy to understand why Mazda isn't in such a rush to introduce the next generation. The original lasted four years only; this one is entering its fifth and will likely continue until 2023 at least. The competition is taking no breaks, however, with the upcoming 2022 Hyundai Tucson and Mitsubishi Outlander being just two examples.
What's New for 2021?
For sure, there's always something new with the Mazda CX-5. Beyond a revised colour palette and the addition of new badges, the off-road traction assist system now comes standard on all CX-5s equipped with i-Activ AWD, from the base GX model up. It's certainly a factor that might prevent customers from turning to a more adventurous rival like the Subaru Forester or Jeep Cherokee.
Also, the lone touchscreen on the menu is an eight-inch display (previously 7-inch display as standard), while the GT model gets wireless Apple CarPlay and Android Auto.
For those who appreciate special editions, Mazda offers not one but two. The CX-5 Kuro stands out with Garnet Red leather upholstery, red stitching on the steering wheel, shift knob and throughout the cabin, black trim panels on the dashboard and door panels, as well as 19-inch alloy wheels with a black metallic finish.
Meanwhile, the CX-5 100th Anniversary is arguably the classiest of the bunch with a Snowflake White Pearl body and Garnet Red leather interior. Red carpeting and Pure White armrests are included, too, along with "100th Anniversary" logos throughout.
Lovely Turbo Engine
The 2021 Mazda CX-5 continues to have an edge over some compact SUVs that make do with a single engine option. On the other hand, the number of hybrid models in the segment keeps increasing, so you have to wonder how long it can resist the temptation to go electrified.
In a wise move that will surprise nobody, Mazda recently axed the 2.2-litre turbo-diesel engine it took an eternity to bring over to North America. Consumers have already moved on from diesels. The standard engine is a naturally aspirated 2.5-litre four-cylinder that generates 187 horsepower and 186 pound-feet of torque. The other choice is a turbocharged variant delivering up to 250 horsepower and a class-leading 320 pound-feet when fed with premium gasoline.
You can use regular gas, mind you, but that will cost you 23 horsepower and 10 pound-feet. It's also not ideal in terms of engine longevity.
Is the turbo worth it? Absolutely. The base engine is still fun, but the juiced-up CX-5 adds a new dimension and it's hard to go back after that—kind of like settling for FWD after getting a taste of AWD. However, you should know that maximum towing capacity is the same for all CX-5 models (2,000 pounds), which is a bit of a shame.
On the road, the 2021 Mazda CX-5 is always a treat to drive, helped by the award-winning G-Vectoring Control Plus system, sharp and responsive steering, and nicely calibrated suspension. The six-speed automatic transmission does a great job, too, although we suspect the next generation will get two more gears for even smoother acceleration and especially improved fuel economy.
With the naturally aspirated engine, the combined city-highway rating is 8.8-9.3 L/100 km depending on the drivetrain (subtract 0.3L in the case of a GS model with cylinder deactivation technology). The turbo increases the combined rating to 9.8 L/100 km, although in winter conditions it can easily exceed 12 L/100 km if you spend more time around town.
Speaking of which, remember that a premium model like the GT, Signature or 100th Anniversary will require more money for winter tires due to the 19-inch wheels. Also, there's no button to lock the differential in AWD mode, which would provide more confidence to drivers having to tackle gravel or snow-covered roads on a regular basis. On the plus side, Mazda deserves praise for adding automatic emergency braking in reverse on the CX-5 Signature.
Is Styling More Important to You?
Like every other Mazda vehicle, the CX-5 looks sharp and sexy. Add a refined interior in top trim (the cocoa-coloured Nappa leather seats are delightful) and you're pretty much in luxury SUV territory.
A few key sacrifices need to be made, though. Rear-seat room is tighter than in many other compact SUVs. The cargo area is smaller, as well—from 875 litres with the seatbacks up to 1,687 litres with the seatbacks down. At least the 40/20/40 split creates extra versatility.
Furthermore, there are some ergonomic issues up front. The centre armrest is a bit too far back, while certain controls could be more accessible and user-friendly. The worst, though, is the infotainment system. While the CX-5 does have a touchscreen, unlike the new Mazda3 and CX-30, the system requires too many steps and actions to get what you want. It's not super-quick, either. And the rear-view camera? We've seen a much sharper image in other vehicles.
Verdict
The 2021 Mazda CX-5 is an excellent compact SUV for those who appreciate luxurious styling, a solid powertrain and dynamic handling first and foremost. It continues to evolve and improve, and that's great. When will Mazda add a hybrid option? No one knows.
We'll leave you with this: the CX-5 has a higher resale value than the Korean competitors known for offering more bang for your buck, and it ranks among the top 10 best vehicles for predicted reliability according to Consumer Reports.
Share on Facebook