2021 Toyota Camry Gains New Hybrid Model, More Safety Tech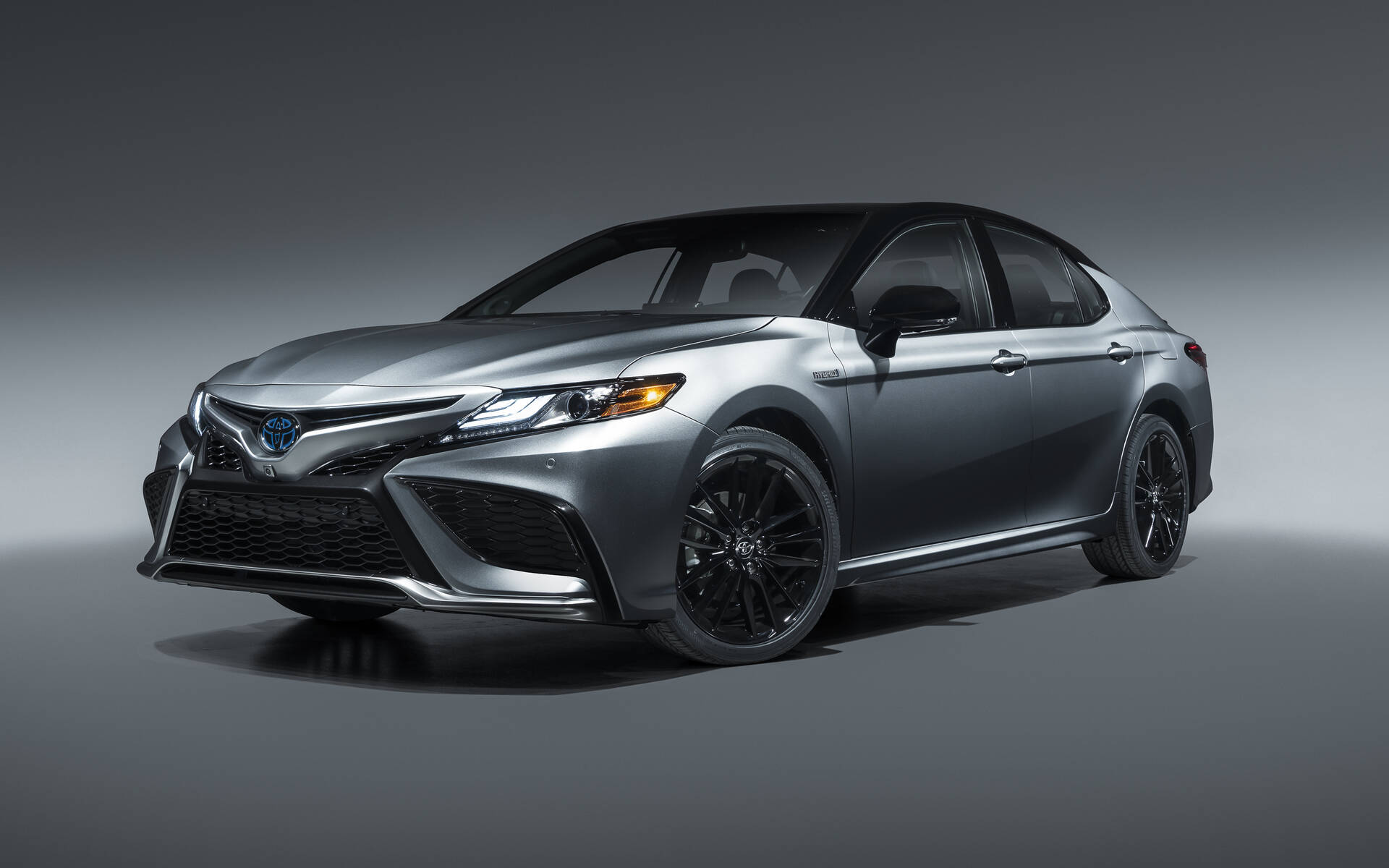 After adding an AWD option, new TRD and Nightshade models along with enhanced multimedia systems for 2020, the popular Toyota Camry continues to evolve with the introduction of Toyota Safety Sense 2.5+, which is a first within the Toyota lineup, and a new Camry Hybrid XSE model similar to the Highlander crossover.  
All 2021 Camrys also receive a new "floating" centre screen in 7-inch or 9-inch sizes (depending on the trim level) as well as a few cosmetic tweaks. Let's take a closer look…
Toyota Safety Sense 2.5+
This suite of advanced safety and driver assistance features now goes one step further. As seen on the new Lexus IS, the single-lens camera and millimeter-wave radar elements of the Pre-Collision System receive enhancements to expand the response range, detecting a preceding cyclist in daytime conditions and even a preceding pedestrian in daytime and low-light conditions.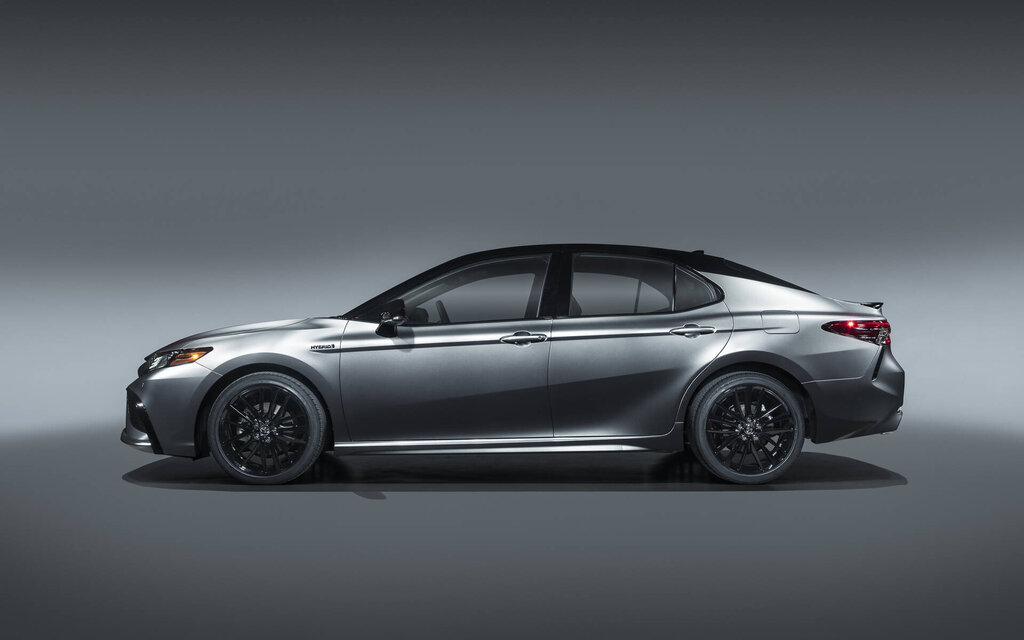 What's more, at intersections, the system may detect an oncoming vehicle or pedestrian when performing a left-hand turn and provide audio/visual alerts and automatic braking in certain conditions. There's also emergency steering assist, which is designed to stabilize the driver's emergency steering manoeuvres within their lane while avoiding a pedestrian, cyclist or vehicle.
Adaptive cruise control has been improved for smoother overtaking of slower vehicles in traffic. Toyota's Rear Seat Reminder will come standard on all 2021 Camry models, too, helping avoid situations where a child or pet is left behind in the car.
Camry Hybrid XSE
The Toyota Camry Hybrid returns with a combination of a 2.5-litre four-cylinder gasoline engine and electric motor delivering a total of 208 horsepower. However, it adds a sporty XSE model with firmer springs and shocks, plus racier styling inside and out.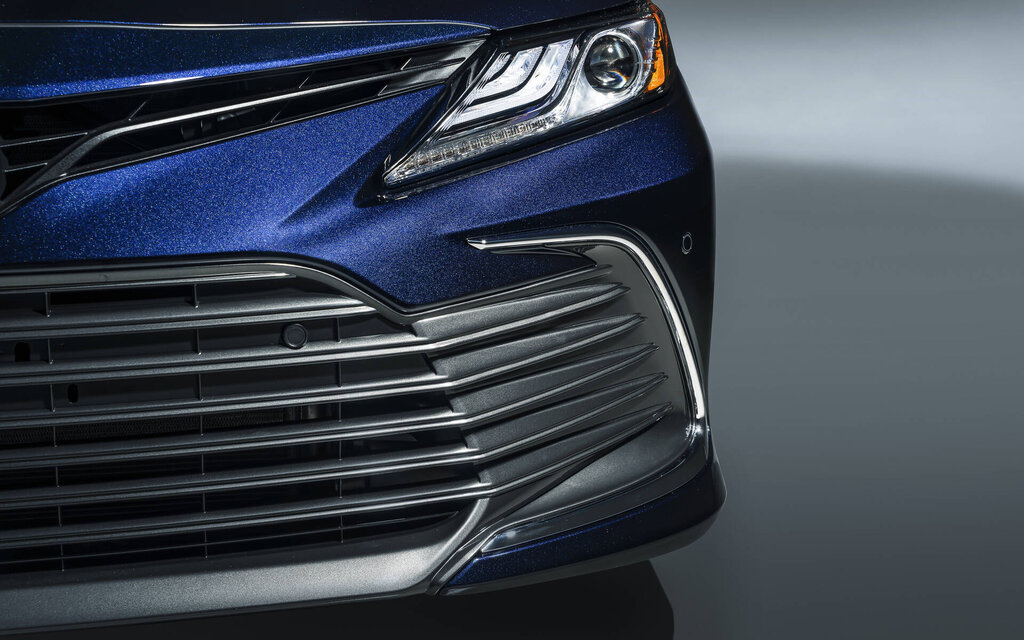 Speaking of which, Toyota designers revised the front end of all SE and XSE models as well as that of LE and XLE models to create more differentiation between them. New wheel designs and body colours are available. Notably, Camry XSE models are now the only ones to offer a two-tone exterior with Wind Chill Pearl (white) or Celestial Silver Metallic with a Midnight Black Metallic roof combination. They also have a unique Cockpit Red interior option.
As mentioned above, a new floating 7- or 9-inch touchscreen stands atop the centre stack, similar to the one in the RAV4. New interior trim for 2021 gives a sophisticated, higher-tech look with linear dark, wood inlay or patterned metal depending on the model. A luxurious-looking, textured herringbone seat pattern can be found in the XLE.
Overall, there are as many as 20 different trim levels to choose from with the 2021 Toyota Camry (sadly, AWD is still not available with the V6). Sales will begin in late summer or early fall. Pricing will be announced by that time.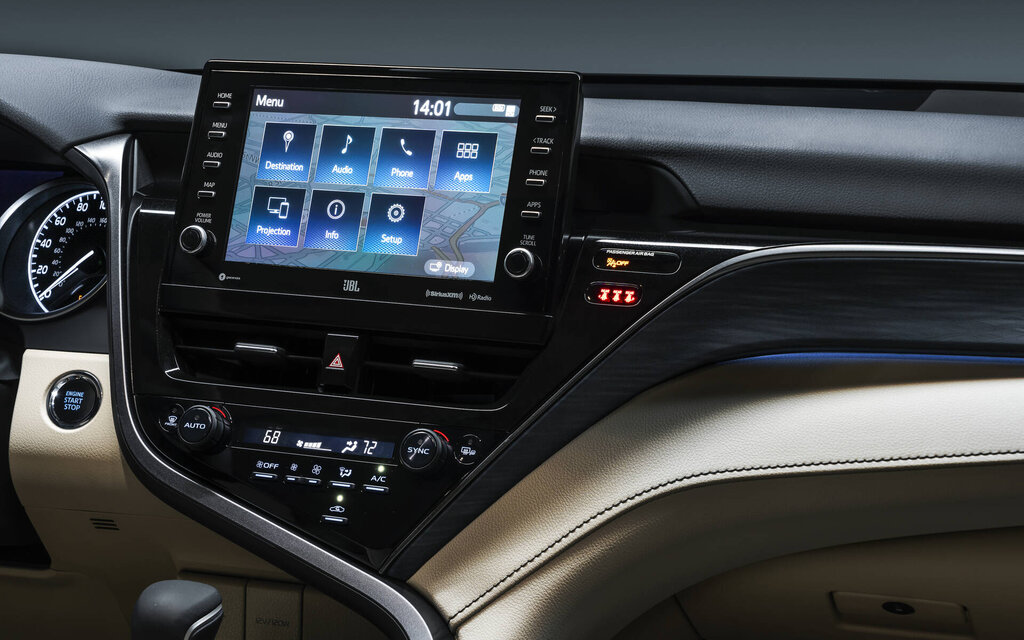 Share on Facebook