2020 Nissan TITAN: $300 Million Later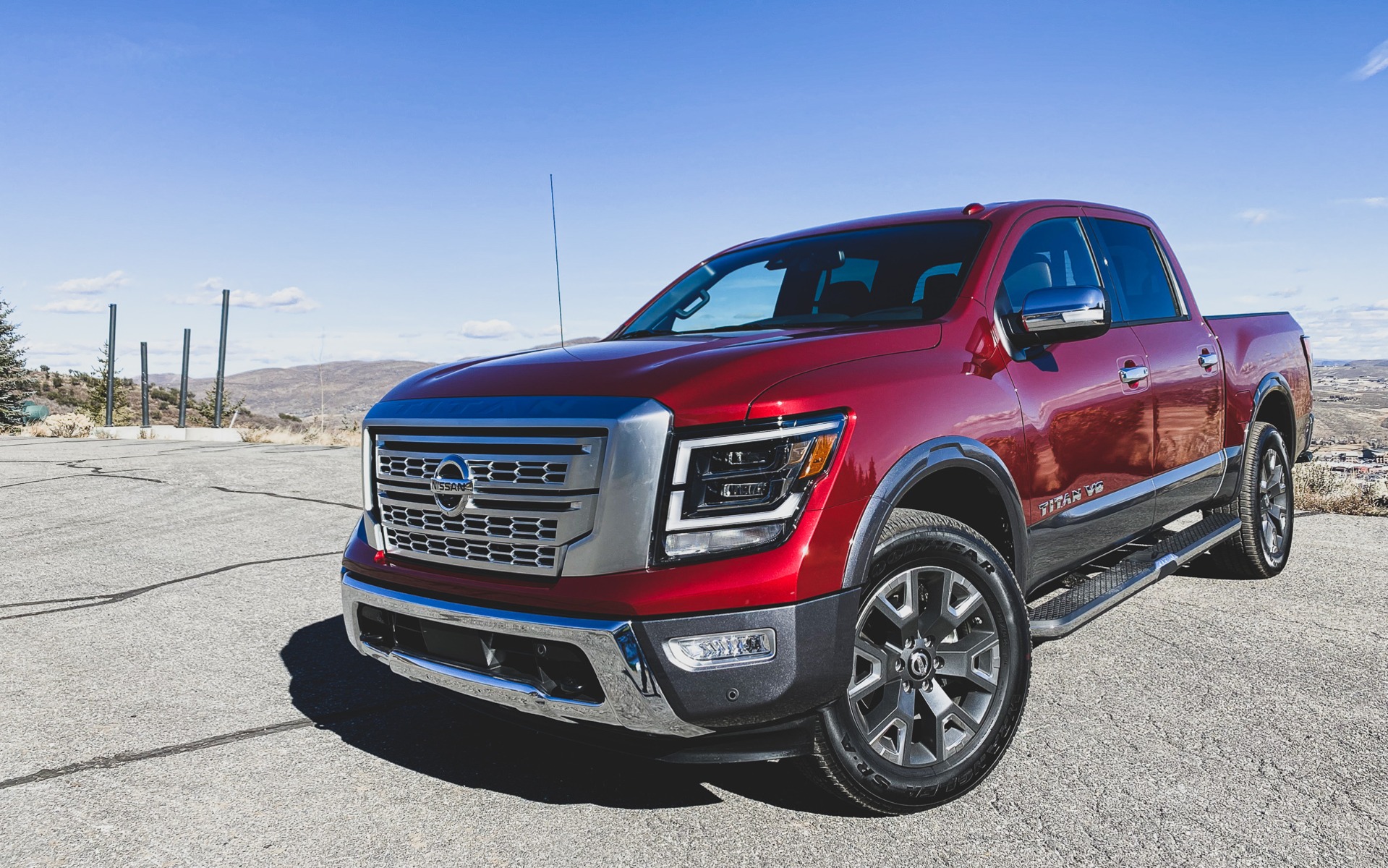 Strong points

Nice PRO-4X model
Superb off-road performance (PRO-4X)
Comfortable ride
New nine-speed transmission
New infotainment system

Weak points

Top-line model lacks standout features
Not enough technology
Less sophisticated than competitors
Only one engine
Only one cargo bed
Full report
Full-size pickups have never been more popular—and important. If it weren't for the Ram 1500, FCA might no longer exist. Without the F-150, Ford would be in a tough spot. And GM, despite having a strong global presence, needs the Silverado and Sierra for its bottom line.
Unsurprisingly, Toyota and Nissan have been trying for years to grab a bigger piece of the pie.
For 2020, we get a much improved TITAN that benefited from an investment of $300 million. Is it finally good enough to offer a real alternative to American pickups? Well, it's… complicated.
The Looks of a "Powerful Warrior"
The redesigned 2020 Nissan TITAN sports a colossal new front grille, new lights with more powerful LEDs and, in PRO-4X trim (featured at the top), a rugged off-road look that definitely passes the test.
The cosmetic tweaks embody what Nissan designers call a "Powerful Warrior" theme while giving the truck a futuristic appearance at the same time. As always, consumers will be the judge of that.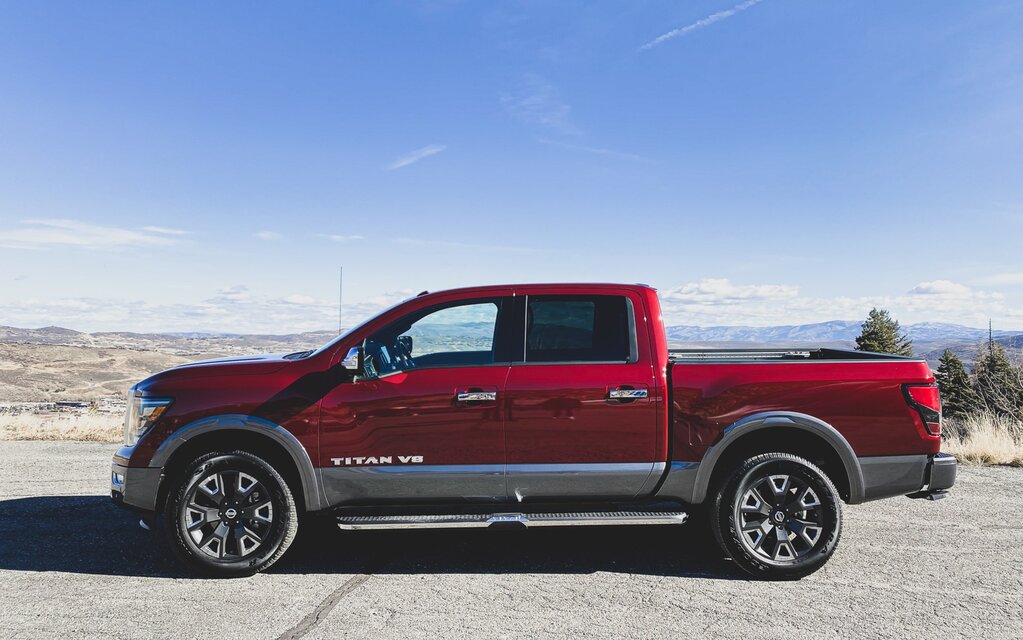 The new design is far from perfect, of course. Despite the cabin offering new materials, a slick nine-inch display and a large panoramic sunroof, something is missing. Even in top-line Platinum Reserve trim, there are still way too many gloss-black plastics that easily pick up dirt, scratches and other undesirable marks.
Powertrain Upgrades FTW
If you like selection, stay away from the 2020 Nissan TITAN. The only engine in the lineup is the 5.6-litre V8 shared with other Nissan and Infiniti products. It now generates 400 horsepower—more than any other standard V8 in the segment—and 413 pound-feet of torque thanks to new programming. The F-150's 5.0-litre mill, by the way, is rated at 395 horsepower.
Shifting is handled by Nissan's first nine-speed automatic transmission. It makes the drive smooth whether towing big loads, going off-road or simply hitting the highway. The two extra gears also improve acceleration: 60-100 km/h sprints are shortened by almost a full second versus the old seven-speed transmission.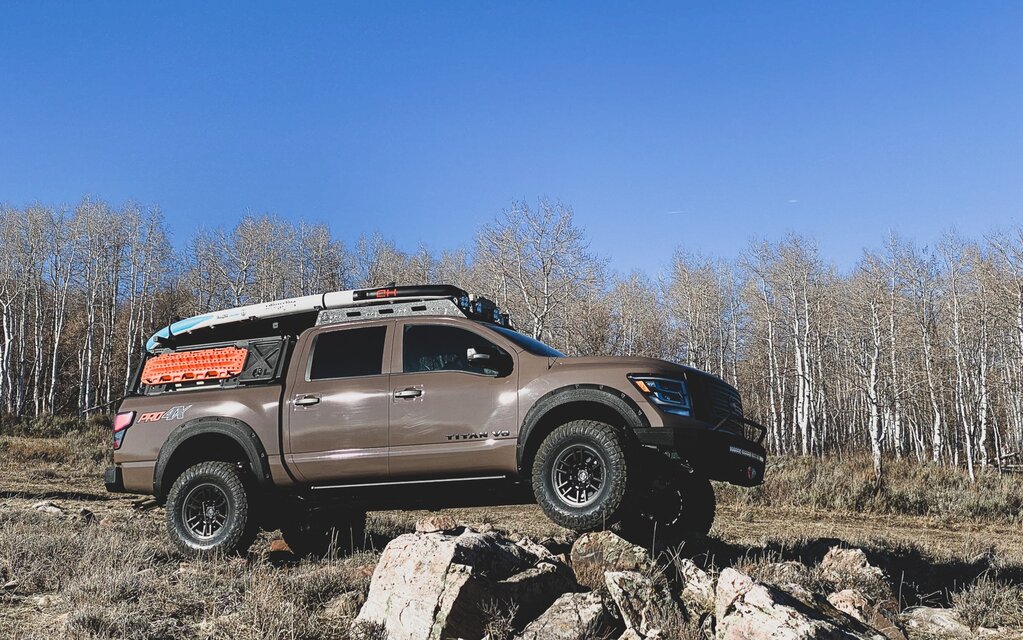 As for fuel economy, don't expect any miracles. The official ratings have yet to be announced, but we recorded an average of 16 L/100 km during our brief test drive in the mountains. Depending on how heavy your right foot is, the truck will realistically hover around 14 L/100 km.
No Game-changing Tech
The 2020 Nissan TITAN is supposedly full of new technologies, but what is the company talking about exactly? There's class-exclusive Rear Intelligent Emergency Braking, but everything else is stuff we've already seen elsewhere.
Inside the cabin, a new infotainment system powers the big display mentioned earlier. While the graphics are not too fancy, resolution is superb and the system itself is pretty simple to use. That being said, with Apple CarPlay and Android Auto now offered, we bet most drivers will turn to either one of those options.
The high-resolution screen is extremely appreciated because it makes all the cameras around the vehicle that much more useful. With the old TITAN, it was like watching a bootlegged movie on a bad VHS tape. Now, everything is way clearer.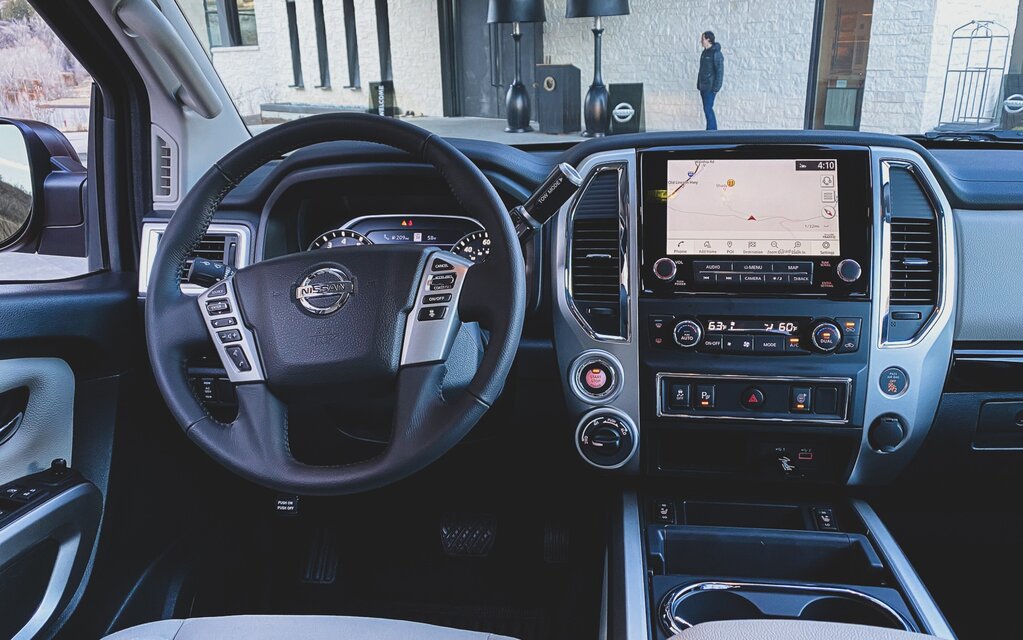 Still, compared to the F-150 and Ram 1500, technology is not on the same level. Or you could say it is when you look at the same competitors… from five years ago. Where's the automatic parking system? The massaging seats? (To be fair, Nissan's "zero gravity" seats work like a charm to eliminate fatigue on long drives.)
Impressive Ride
While the 2020 Nissan TITAN is not the most technologically advanced pickup, it handles fairly well. The ride is comfortable whether you're talking about the standard model or the off-road variant. God bless the next-generation Bilstein shocks. The cabin is quieter thanks to new acoustic glass and the aforementioned panoramic roof is perfect for gazing at the stars.
What about towing? The TITAN has a capacity of 4,178 kilograms (9,120 pounds), which is about average for the segment. All we did during this media event was to pull a 5,000-pound trailer, which is something you can do with a Honda Pilot.
Off the beaten path, the TITAN PRO-4X delivers commendable performance. It feels robust with both the suspension and differential doing impeccable work. On the flip side, you only have the two-speed transfer case to play with. There are no drive modes to select, like Sand, Mud, Snow or whatever. At a time when everything becomes automatic, it's refreshing to feel in control of something.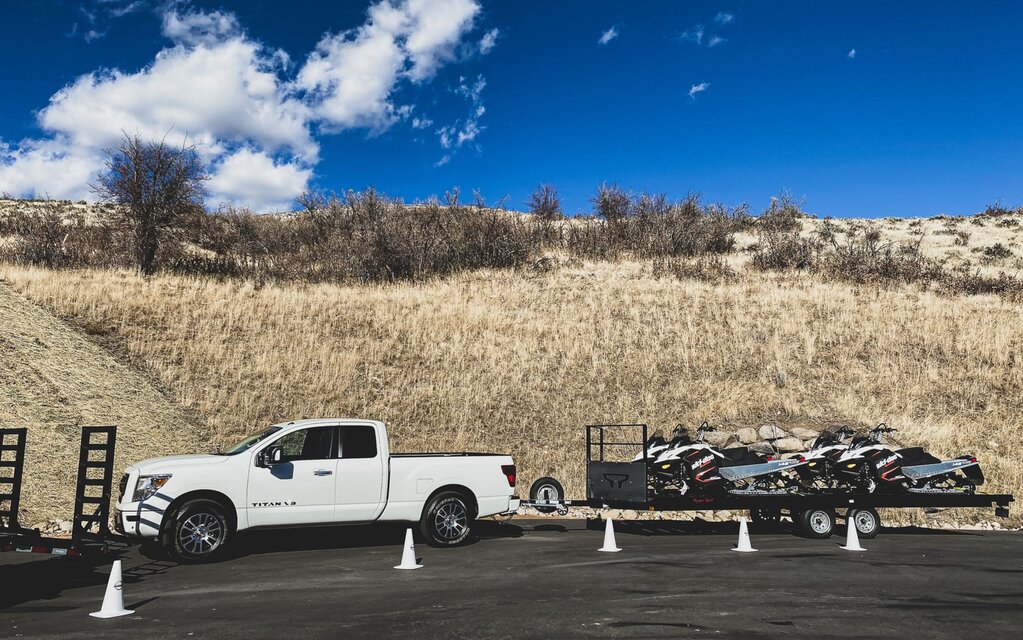 Prisoner of Low Sales
No matter how good it is, the 2020 Nissan TITAN can't escape the fact that Japanese pickups are extremely low-volume sellers here in Canada. Also, selection is very limited. There's just one cab (Crew Cab), one bed length (5.7 feet) and one engine (V8).
What Nissan did was the same thing marketing experts would have done—survey the market and come up with a product that can satisfy 85 percent of customers.
It may not be as modern or sophisticated as its American rivals, but the new TITAN has a pleasant character and is honestly a joy to drive, especially in PRO-4X trim. Will it ever catch the competition? Not a chance. But $300 million later, the TITAN makes enough progress to stay relevant.
Share on Facebook