2019 Mitsubishi
Eclipse Cross

: Pricey In-betweener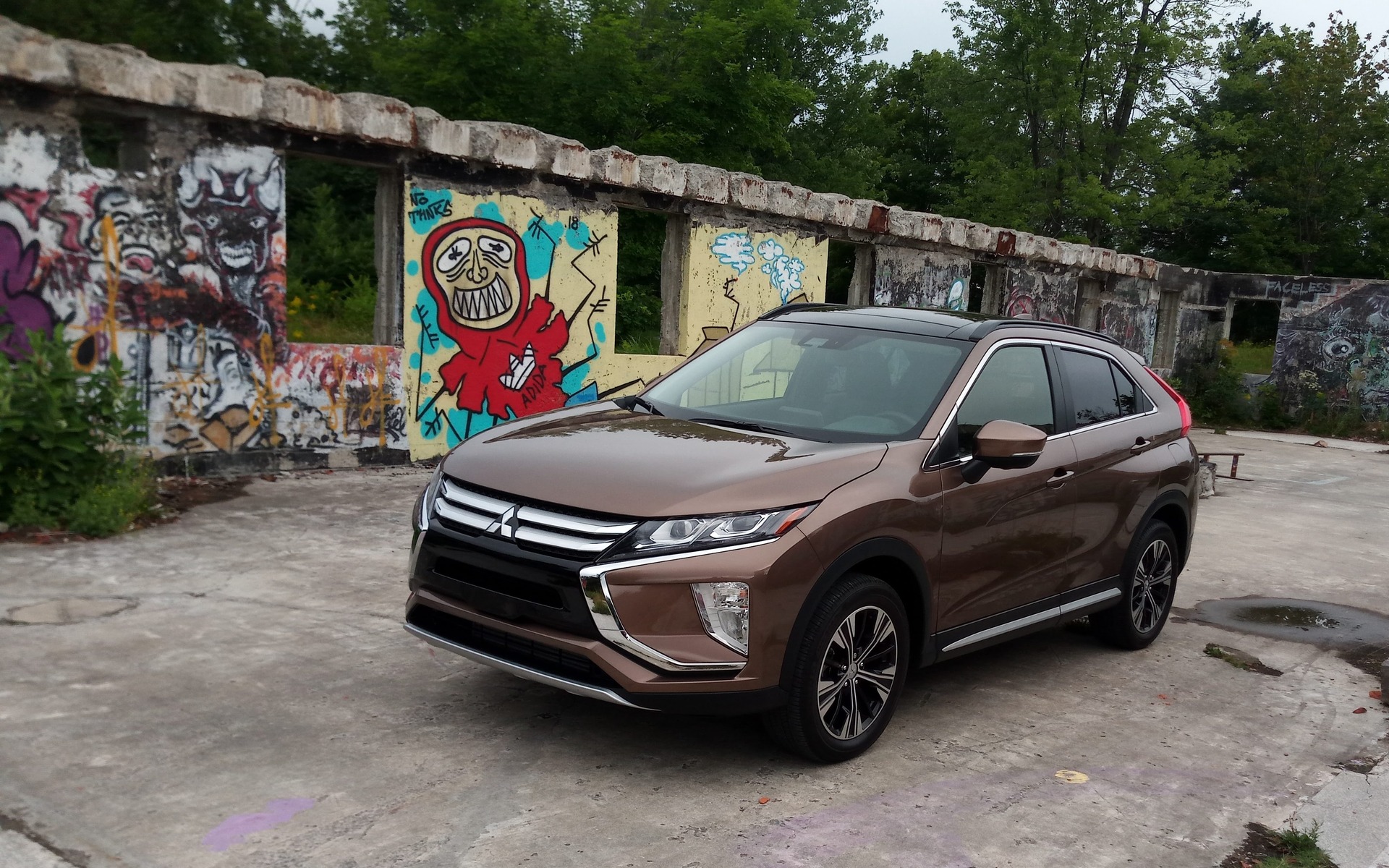 Strong points

Distinctive looks
Good AWD system as standard
Unbeatable warranty

Weak points

High price and fuel consumption
Performance fails to meet expectations
Several irritants and ergonomic issues to fix
Full report
Now in its second year on the market, the Mitsubishi Eclipse Cross is the brand's newest and most distinctive product, yet it doesn't enjoy the kind of success executives had hoped for.
Not quite a compact or a subcompact SUV, this model aims to fill a relatively small void between the venerable Outlander and the little RVR. After the first six months of 2019, it continues to trail its two brothers in terms of Canadian sales.
What are the reasons for that? We spent a full week searching for them behind the wheel of the 2019 Eclipse Cross.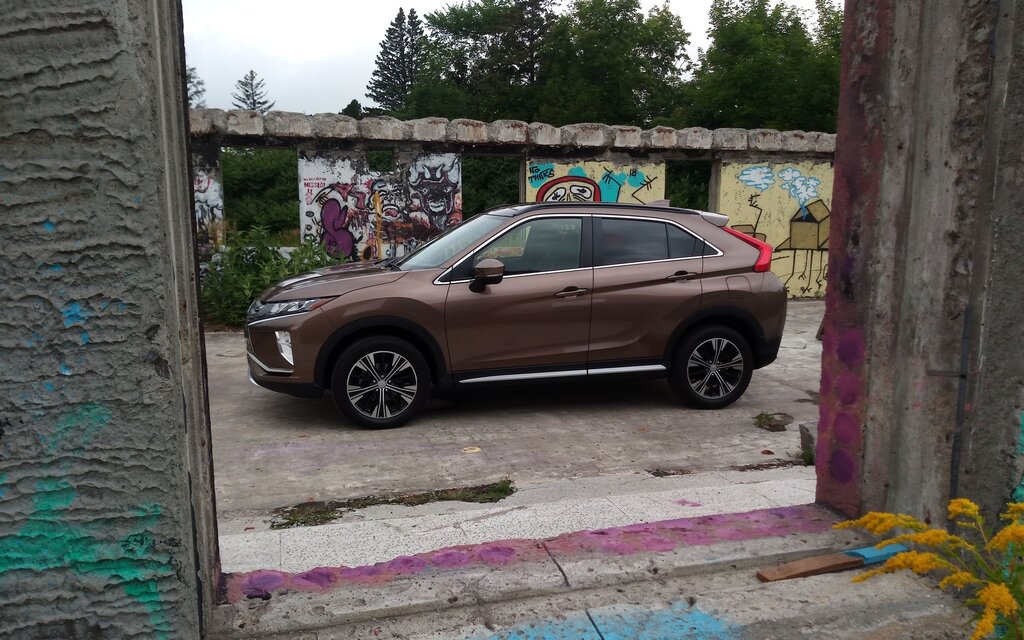 Bold Styling
In a segment where competitors resort to all sorts of tricks to make a fashion statement and stand out from the crowd, Mitsubishi finally had the guts to design a bold-looking SUV, one with a coupe-like profile that marks a refreshing departure from the aging and uninspiring Outlander and RVR.
The striking headlights and fog lights, the stylish 18-inch wheels, the various chrome accents, the character line on the sides and the dramatically slanted beltline all combine to create a dynamic look. And like it or not, the light strip bisecting the rear window leaves no one indifferent.
Don't worry, there are more attractive colours than the questionable Bronze Metallic shown here…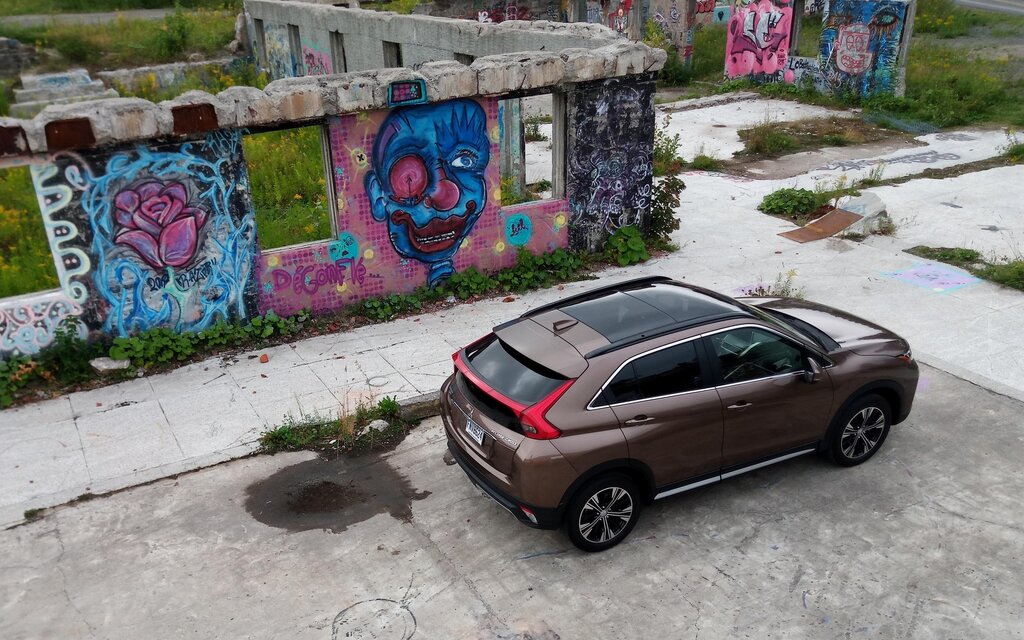 Nicely Equipped, but…
How is life inside the 2019 Mitsubishi Eclipse Cross? Well, the heated front seats provide adequate comfort, storage is decent and the list of standard goodies includes automatic climate control plus a seven-inch touchscreen with Apple CarPlay and Android Auto.
Our top-of-the-line GT S-AWC tester had a dual-panel panoramic sunroof, head-up display, electronic parking brake, 710-watt Rockford Fosgate premium sound system, leather seats with contrast stitching and heated rear seats. Safety is enhanced with a number of driver assists such as a 360-degree camera system and forward collision mitigation with pedestrian detection. Oddly enough, there's no navigation system anywhere on the menu.
Now, here's where things get worse. The quality of some of the materials is disappointing (steering wheel, upper door panels, etc.), the centre touchscreen is slightly out of reach for normal-sized drivers, and the touchpad on the console is not something you want to use often, unless you have the patience and dexterity we lack. There's not even a convenient, physical volume knob for the radio.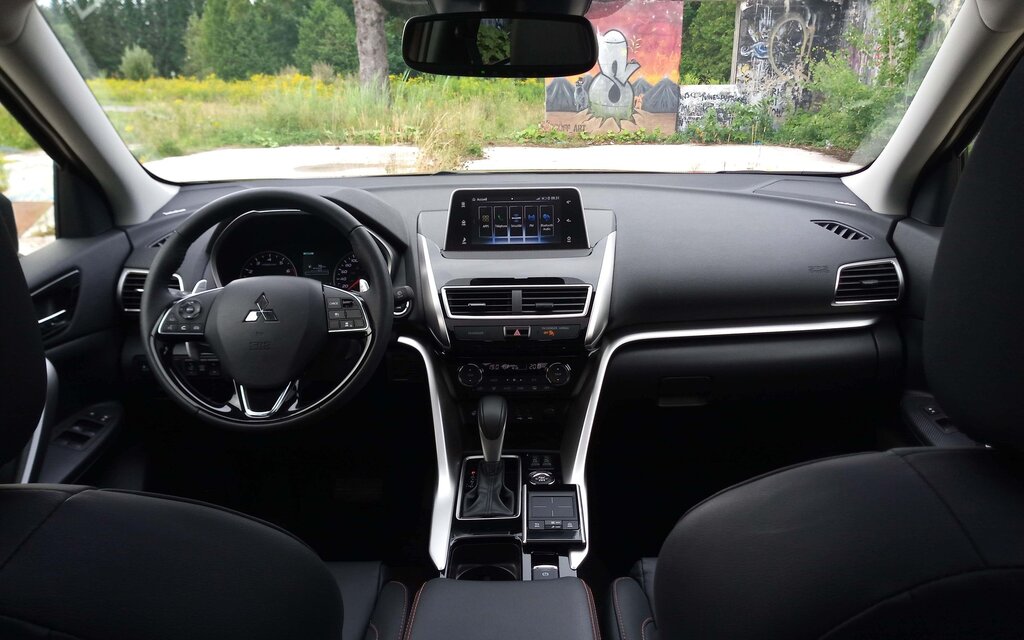 In the rear, headroom is very limited and the head restraints are some of the most poorly designed we've seen. Truth be told, despite the sliding bench mechanism and reclining seatbacks, we pity those who have to sit there.
As for the 640-litre trunk (1,385 litres with the rear seats folded), it is roomier than that of a typical sub-compact SUV, but significantly smaller than what a compact model offers. The shape of the rear hatch doesn't help. Also, we would have liked some under-floor storage like in many other utility vehicles, but the spare tire takes up all the space.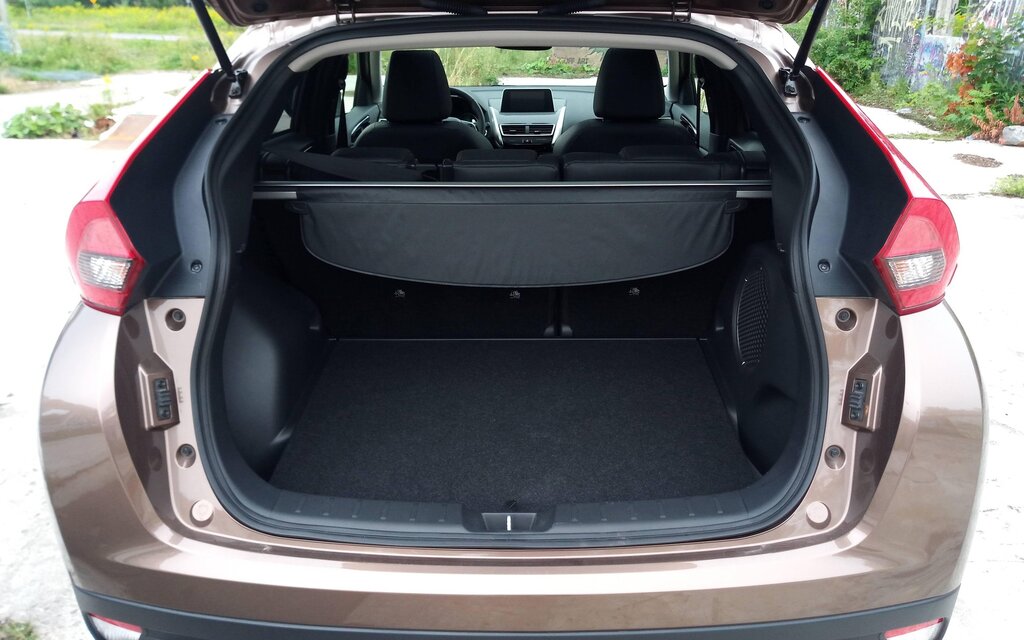 From S-AWC to CVT
The 2019 Mitsubishi Eclipse Cross is exclusively motivated by a turbocharged 1.5-litre four-cylinder engine producing 152 horsepower and 184 pound-feet of torque which, on paper, sounds promising.
The problem is that you don't really feel it. The continuously variable transmission is mostly to blame—it's easy to find a better calibrated CVT elsewhere. Acceleration quickly becomes noisy and the combined city/highway fuel consumption rating of 9.3 L/100 km is underwhelming by small-SUV standards—we averaged 9.0 L/100 km. An Eco mode is available, though we refrained from using it for fear of killing all the fun that remains.
Where the Eclipse Cross has a bit of an edge is in the handling department. It comes standard with Mitsubishi's excellent Super All-Wheel Control technology (including Auto, Snow and Gravel modes), a solid chassis and a fairly sharp and responsive steering. The ride tends to become stiff on rougher pavement, however. And while the brake pedal is easy to modulate, braking distances are rather long.
One last thing: a full week of testing wasn't enough for us to get used to the light strip across the rear window every time we looked through the rear-view mirror.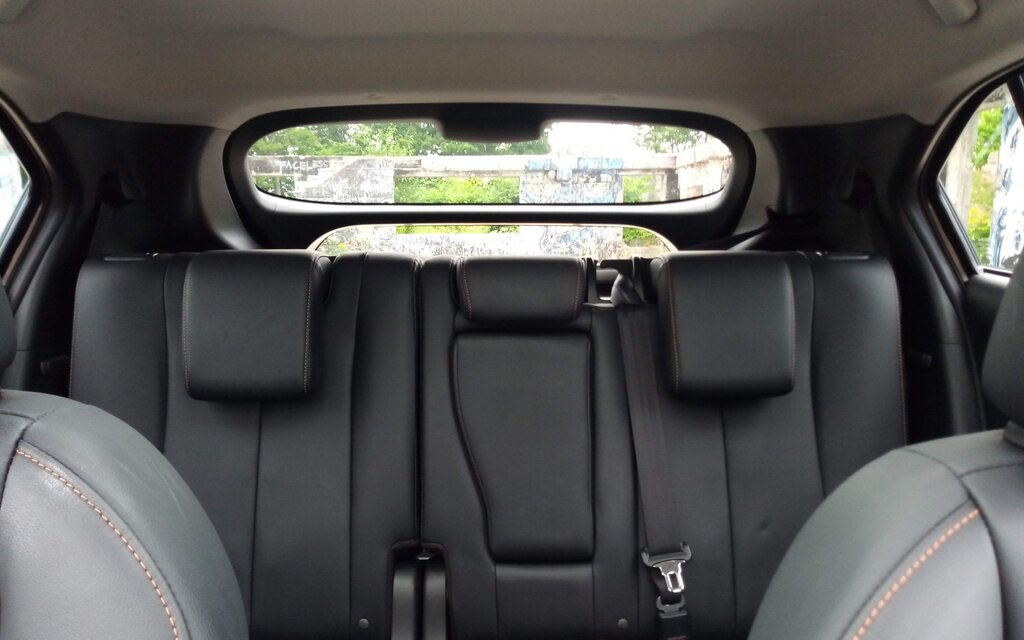 A Tough Fight
Automakers keep launching more and more SUVs to meet the wants and needs of as many people as possible. What kind of buyer would consider a 2019 Mitsubishi Eclipse Cross? Based on its size and powertrain, probably about the same folks who are shopping for a Nissan Qashqai, Jeep Compass or Subaru Crosstrek—all of which are cheaper—not to mention the upcoming Chevrolet Trailblazer and Mazda CX-30.
In our opinion, with the excessively high price of its various trim levels, the only choice that makes sense is the base Eclipse Cross starting at $27,998. Otherwise, you're better served by a real compact SUV offering more interior room, more power, more refinement and usually more features. That being said, none can beat Mitsubishi's 10-year/160,000 limited vehicle and powertrain warranties.
Share on Facebook