2019 Lexus ES: Cream in the Fuel Tank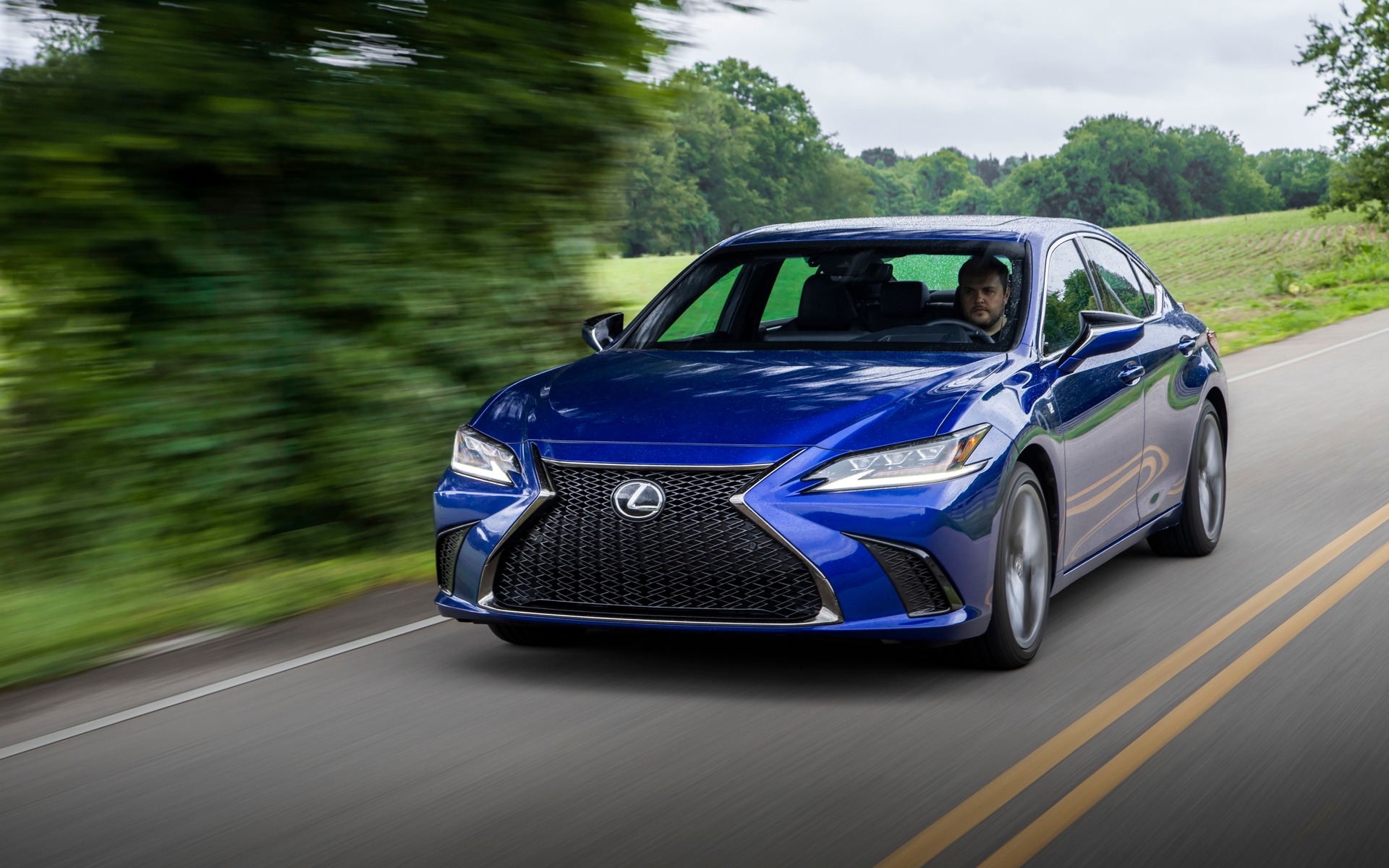 Strong points

Audacious design
Quiet and highly luxurious cabin
Smooth and refined handling

Weak points

Complex infotainment system
Android Auto not available
Still no all-wheel drive
Full report
NASHVILLE, Tennessee – While some carmakers are removing sedans from their lineups due to lack of interest from consumers, Lexus relishes in the fact that it can sell two entirely different midsize sedans. Performance junkies will lean towards the GS, or even the GS F, while drivers desiring something softer, quieter, and significantly more comfortable, will opt for the ES.
For 2019, the ES is entirely overhauled. Now at its seventh generation, and expected to hit Canadian showrooms this September, this all-new iteration is without question the best front-wheel-drive sedan Lexus has ever produced. We were in Nashville to take it for a spin during its global launch.
Camry Plus
Let's first set things straight: yes, the 2019 Lexus ES shares many components with the Toyota Camry. In fact, the car rides on an all-new platform called GA-K at Lexus, TNGA at Toyota, and the same one that also underpins the 2019 Toyota RAV4 and 2019 Toyota Avalon. And while many will argue that it's possible to buy a well-equipped Camry for a lot less money, there's actually a bit more to this ES than meets the eye.
Sure, its 3.5-litre V6, with 302 horsepower (+34 compared to 2018) and 287 lb.-ft. of torque (+20 lb.-ft.) is very similar to Toyota's popular sedan, but the Lexus geeks have done a fantastic job at conceiving a much more luxurious and refined automobile, whose character is all but unique; traits that were lacking in the past. Finally, the ES' price tag is totally justifiable.
Lexus cars of late have managed to distinguish themselves from their Japanese competition by ceasing to imitate the European opposition, all while affirming their brand identity through audacious designs and an almost obsessive attention to detail. It all seems to be working for Lexus, because its sales figures are in much better shape than Acura's and Infiniti's.
When you sit in a modern Lexus, instead of telling yourself "I could probably buy a BMW or a Mercedes-Benz for not much more than this," you think "yes, I'm willing to pay the price it costs to drive a Lexus." And the 2019 ES reflects that thinking like a champ.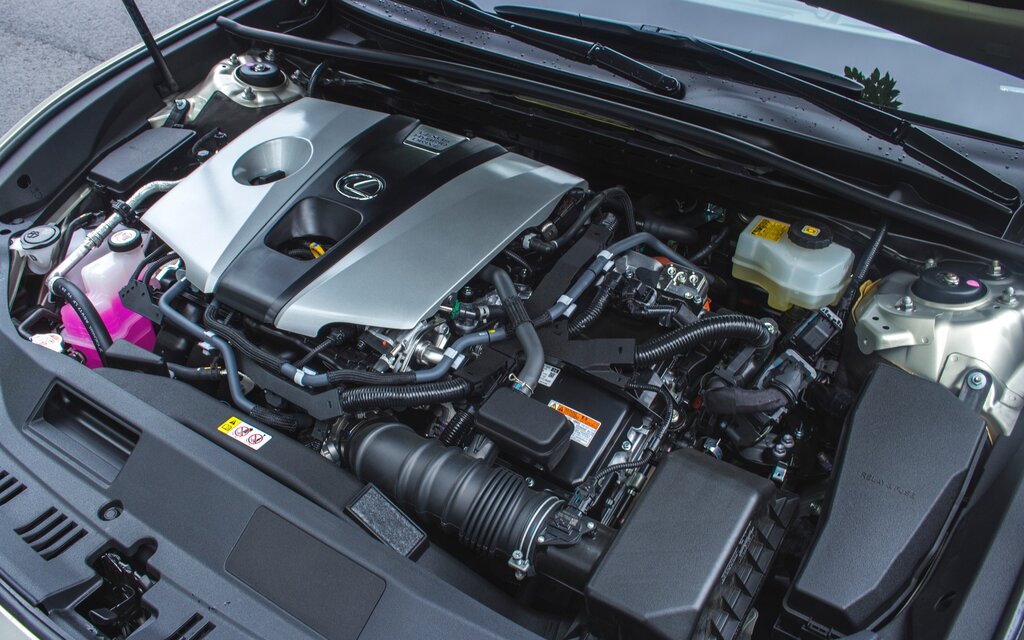 Hybrid or F SPORT?
The ES' two available trim levels, the ES 350 (with the V6) and the ES 300h, remain relatively unchanged mechanically, albeit with a small power increase. The second one, the ES 300h, is a hybrid that incorporates a 2.5-litre Atkinson-cycle, naturally aspirated four-cylinder engine and a tiny electric motor for a total output of 215 horsepower, 15 more than in the car it replaces. Front-wheel drive is the only way to go. Unfortunately, the ES still doesn't feature AWD.
Thanks to the new platform, the ES gets a longer wheelbase, by 66 mm to be exact. The car's front track was widened by 10 mm; the rear by 38 mm. Lexus also slightly lowered the car's roof by 5 mm to give it a nice, grounded look. Another big change this year is the addition of an F SPORT version which comes with a patented new mechanical adaptive suspension. Lexus says such a configuration significantly improves damper longevity all while leaving intact the attributes associated with an electronic system such as what you'll find in some German products.
Rock Solid and Silky Smooth
Once behind the wheel, the immediate impression is of a much more upscale handling feel. That adaptive suspension in the F SPORT allows the ES to be remarkably compliant and nimble, almost on par with a genuine sports sedan. But don't get your hopes up, because while this car can hold its own on a twisty road, even with front-wheel drive, its best qualities are luxury, comfort and relaxation.
This means that even though you could set the car to Sport or Sport + modes, and even though its V6 engine delivers decent acceleration, and that the automatic transmission, while a bit laggy, puts the power down adequately, you'll prefer setting this sedan to Eco mode and indulge in its immensely quiet cabin. And let's not forget those perforated leather seats which have been engineered for ultimate lateral support. Sublime, nothing less.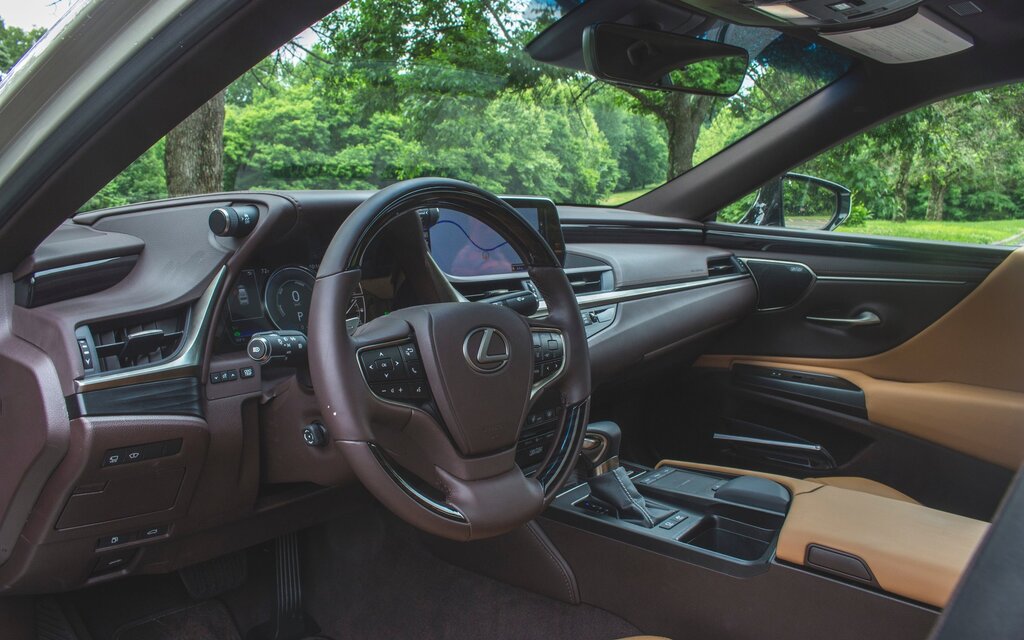 And that's when you sense Lexus' savoir-faire. Weather you opt for the F SPORT trim with its red leather seats or the more classic look with tan leather and wood trim, that interior is absolute. Rear-seat head- and legroom is ample, and the trunk, which gives way to 454 litres of space, is cavernous. Most importantly, the dashboard design is unique; all while bathing in exquisite materials and exemplarity build quality.
Sadly, the same can't be said about the infotainment system which remains complex and counterintuitive due to the trackpad put there to operate it, as well as complex and dated menus. This year, Apple CarPlay finally makes it in the car, but Android Auto still isn't available. It's important to underline that such features are now available in a Honda Civic.
However, its awful multimedia interface aside, the 2019 Lexus ES is a well-executed midsize luxury sedan as a whole. Many will complain that it still doesn't offer all-wheel drive. To these sceptics, I answer this: Lexus sells plenty of all-wheel-drive cars and SUVs in its lineup to fill the bill. The ES having the mission of being the creamy, immensely reliable and insanely comfortable sedan in the lineup, I'd say Lexus has just hit a home run with this one.
Share on Facebook