2018 Lexus RC: Off Target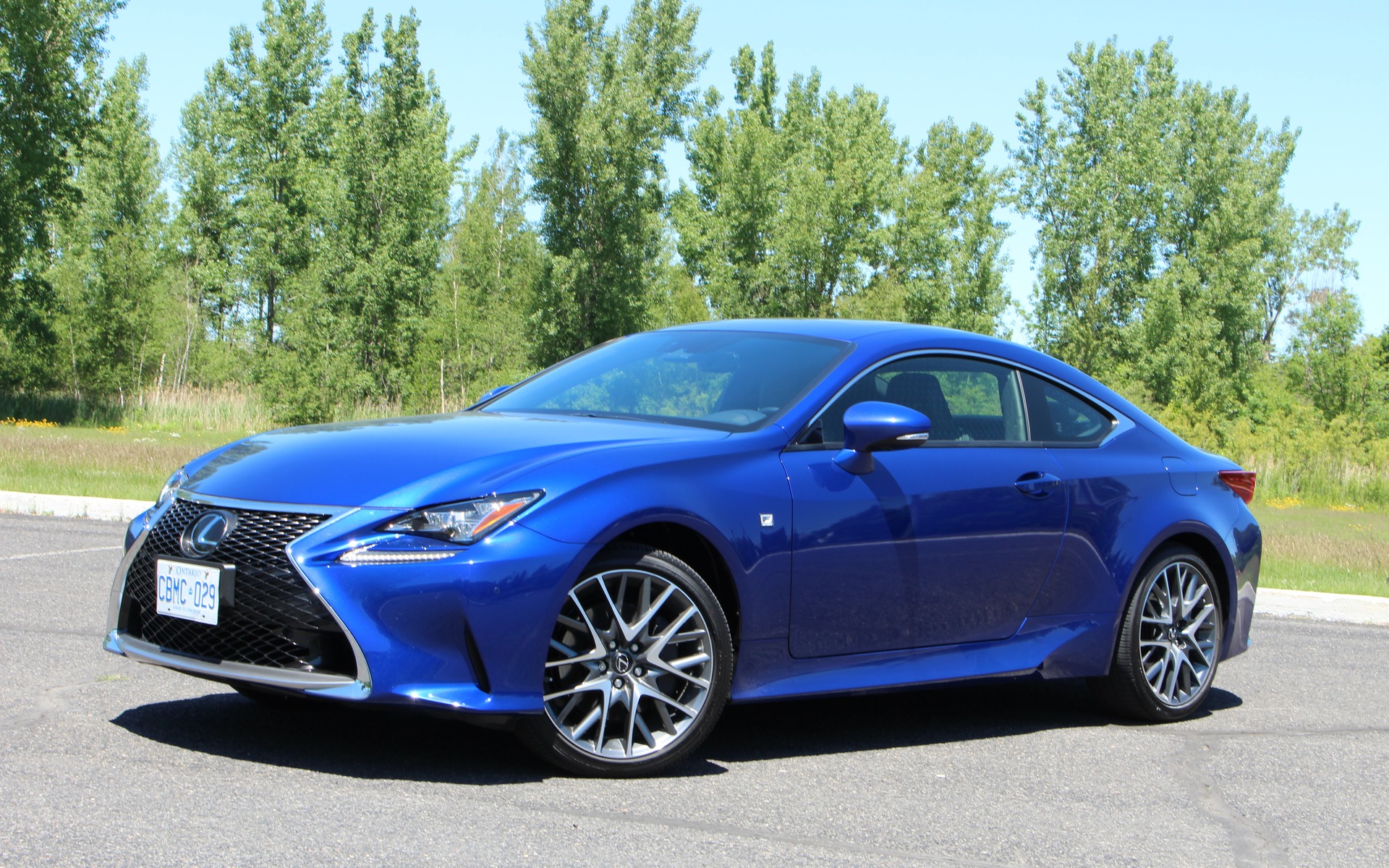 Strong points

It's got the looks
Solid build quality
Reputation of reliability and high resale value

Weak points

Tight and uncomfortable cabin
Lacks sophistication compared to its rivals
Aggravating infotainment system interface
Full report
When a luxury brand introduces a compact sport sedan, and in this case, a compact sport coupe, they inevitably and immediately get compared to the BMW 3 Series and 4 Series, the Mercedes-Benz C-Class as well as the Audi A4 and A5. These German cars are well appointed, fast and boast excellent handling characteristics. They set the bar really high for any manufacturer who's trying to grab a piece of its market share.
That's quite a challenge for companies like Lexus, Infiniti, Acura and Cadillac, who've been serving up their own compact models, with some success. At Lexus, the IS has been on sale in Canada for almost 20 years, but it's only recently, with the first-generation RC that appeared for the 2015 model year, that the brand has been trying to shoot down the Bavarian coupes.
The 2018 Lexus RC shares many components with the IS sedan. In Canada, it doesn't get the latter's base engine, a 241-horsepower, turbo 2.0-litre four, which isn't a big deal since it can't be matched to an all-wheel drivetrain. Our base trim is the RC 300 AWD, equipped with a 3.5-litre V6 that develops 260 hp, while the RC 350 AWD has the same engine, but with all burners fired up to produce 311 hp.
Lexus qualifies the RC's performance as thrilling, but we'll just say it's entertaining. The RC 350 we tested is fast, of course, but without the low-end torque we love in the competition's turbocharged engines, the naturally aspirated V6 isn't as enticing. On other hand, it will likely be more reliable over the long run than sophisticated force-fed engines. The RC 350 even sounds pretty nice at wide-open throttle, until you realise that it's equipped with what the brand calls Active Sound Control, or what we call a fake engine growl. Most people won't know the difference or won't care.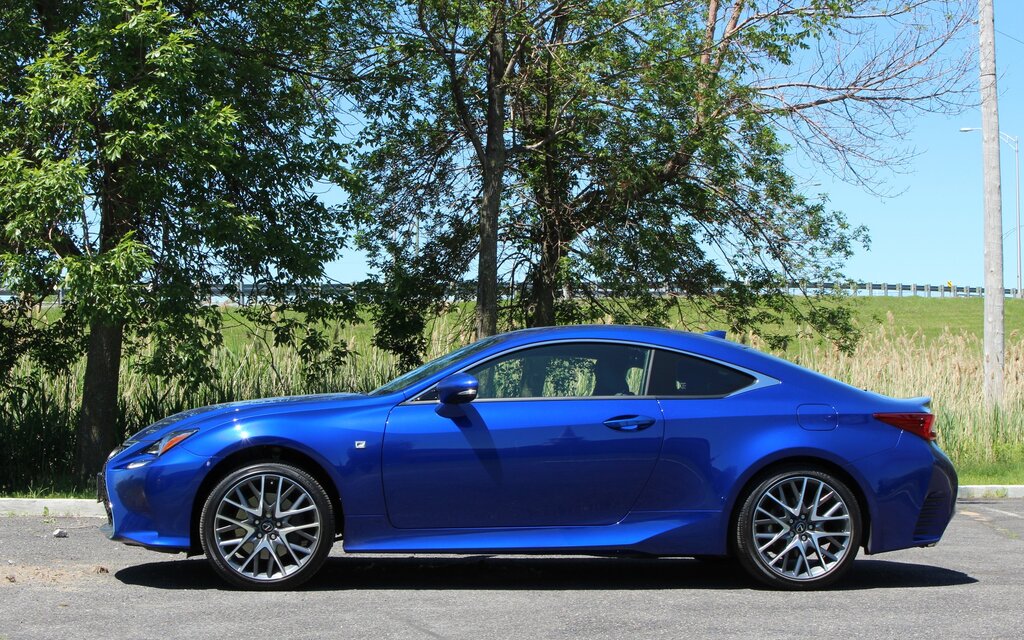 The six-speed automatic works like a charm—for a six-speed automatic. It does sharpen its reflexes when the Sport or Sport+ mode is activated, but for the most part, it's tuned for fuel economy and smoothness above all else. During our test, we made a quick trip from Montreal to Toronto and back, and couldn't get our average fuel economy to dip below 10.0 L/100 km, and super unleaded is required. In comparison, a BMW 440i xDrive coupe with the turbo six-cylinder engine consumes two litres less on the highway than the RC 350—7.5 L/100 km versus 9.8.
The 2018 Lexus RC's cabin is tight. It's a coupe, we know, and compact coupes shouldn't be criticised for that, but there's very little wiggle room in the RC. Back-seat passengers will have to sign up for a Pilates semester before hoping to climb aboard and get out. Front-seat occupants will feel their hair brush against the headliner, unless they recline their seatbacks at an angle that would make them doze off. The worst offender is the bump in the floor, right in front of the accelerator, that forces the driver to either twist his foot or rest his leg on said bump—that likely gets pretty dirty in winter.
"Do you drive a Lexus? An IS or an RC perhaps?"
"Why, yes I do. How'd you guess?"
"By your dirty right pant leg."
"(muffled swear words)"
Otherwise, the RC's interior design is tasteful, build quality and materials are impeccable, although in pure Toyota/Lexus fashion, there are a lot of different textures and patterns clashing with each other. Buttons and knobs are of all shapes and sizes, while the motorised speedo/tach gauge in the driver instrument cluster is cool, yet has no true usefulness.
As for the infotainment system, it's seriously flawed, controlled via a touchpad interface, which works well on a laptop computer, but not in a moving car while we're trying to concentrate on the road ahead. Using the system while driving is distracting and frustrating. Apple CarPlay and Android Auto integration isn't available, and even if the system had a touchscreen, it's a far reach. The climate control temperature sliders aren't easy to use either, and the fan speed buttons are small. The automatic setting is our friend here.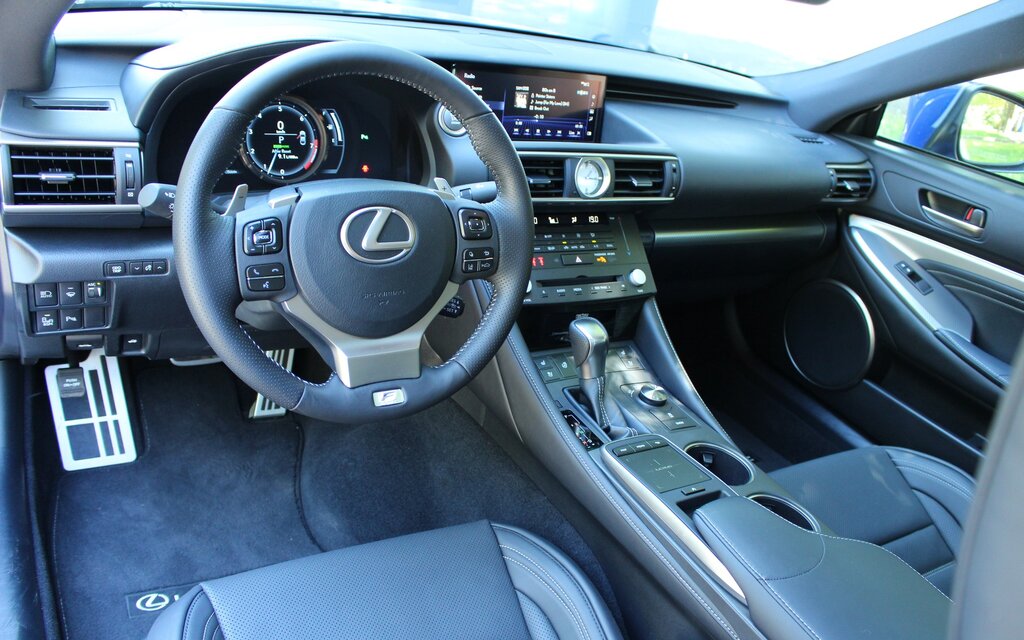 Despite its shortcomings, the 2018 Lexus RC has its virtues. It looks stunning from just about every angle, and we highly recommend choosing the F-SPORT package to the RC 300—which is included with the RC 350. It adds a plethora of comfort and convenience features as well as an adaptive suspension and 19-inch wheels. And Active Sound Control.
What that amounts to is a compact coupe that will cost nearly $60,000 before freight and delivery charges, while our RC 350 tester rang in at $63,250. A hefty sum, yet it still manages to undercut similarly-equipped rivals. Those rivals—the BMW 440i xDrive, the Audi S5 and the Mercedes-AMG C 43 4MATIC—are more powerful, more athletic and more sophisticated than the Lexus. There's also the RC F and its 467-hp V8, but priced at close to $90K, it's more expensive than the BMW M4, Audi RS 5 and Mercedes-AMG C 63, three way more lustful machines.
On the other hand, the RC's advantage will glare like a neon sign in five or ten years down the road, when the German coupes will have sharply depreciated in value and will cost more to maintain.
Seeking a long-term purchase? Check out the Lexus RC before signing for one of its competitors. Otherwise, a BMW, Audi or Mercedes will be better choices overall for a short-term relationship.
Share on Facebook