2018 BMW M5: Absolutely Fabulous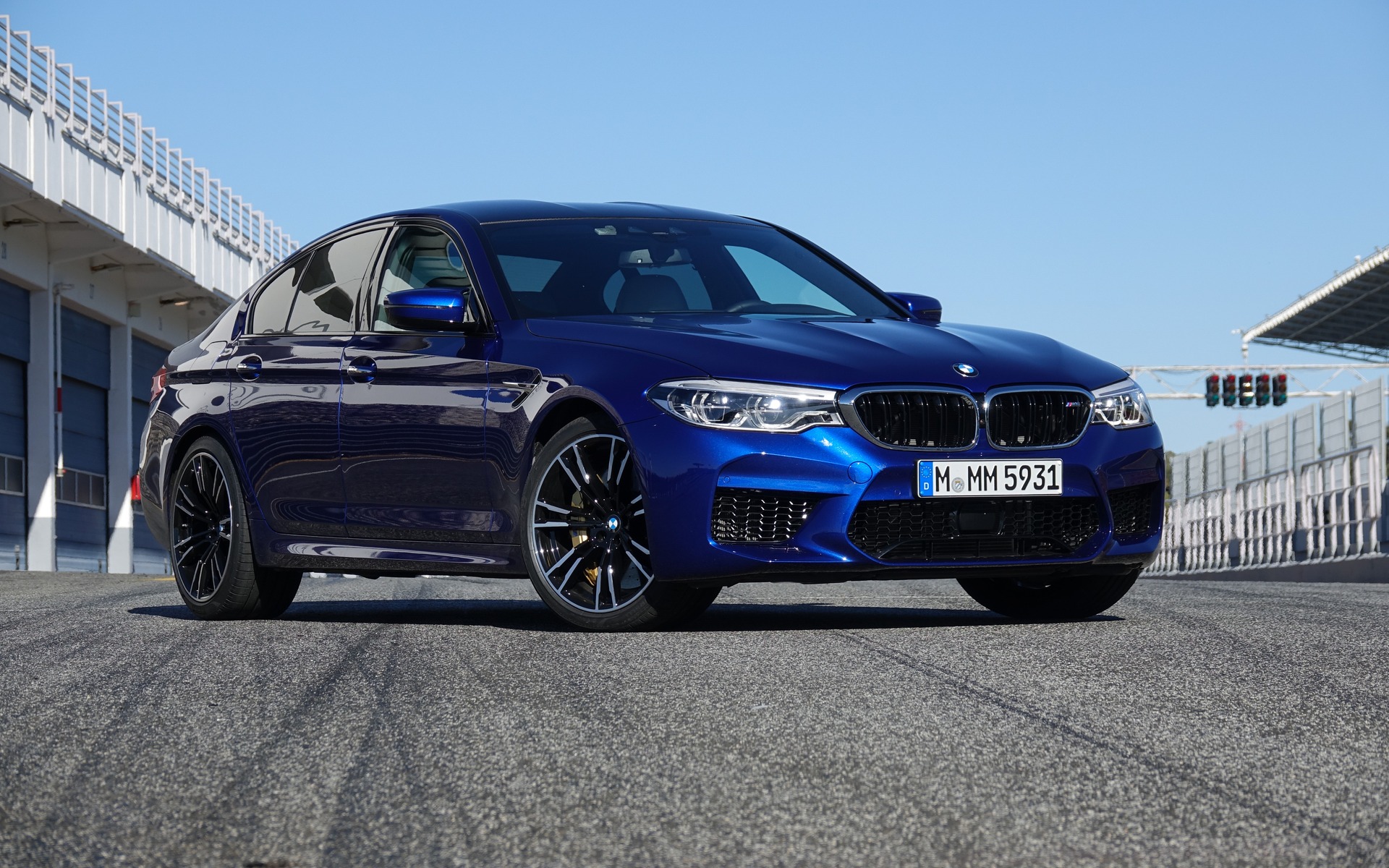 Strong points

Exemplary handling (road and track)
Remarkable engine and all-wheel drive
Mind-blowing performance
Irresistible rear-wheel drive mode
Comfort, luxury and refinement

Weak points

Steering lacks on-centre finesse
Limited angle adjustment of the seat cushion
Irresistible rear-wheel drive mode
Weight still substantial
Full report
ESTORIL, Portugal – Sorry to spoil the suspense, but "fabulous" is the only word that comes to mind after trying BMW's new M5 sedan on the track. To be fair, I suspect it also had something to do with chasing fellow Canadian Bruno Spengler, 2012 champion of the infamous DTM Series, for 12 laps on the same circuit where Jacques Villeneuve was the last pilot to win an F1 race (in 1996).
It certainly didn't hurt. Then again, I would have used the very same word had I been driving behind Nico Wenzel, the young pilot who was leading the other group. After all, the real star that day was the sixth-generation M5 whose ancestor was introduced in Canada 30 years ago. It had been preceded in Europe by the M535i, powered by a 3.5-litre in-line six-cylinder whose 218 horsepower seems rather modest by today's standards.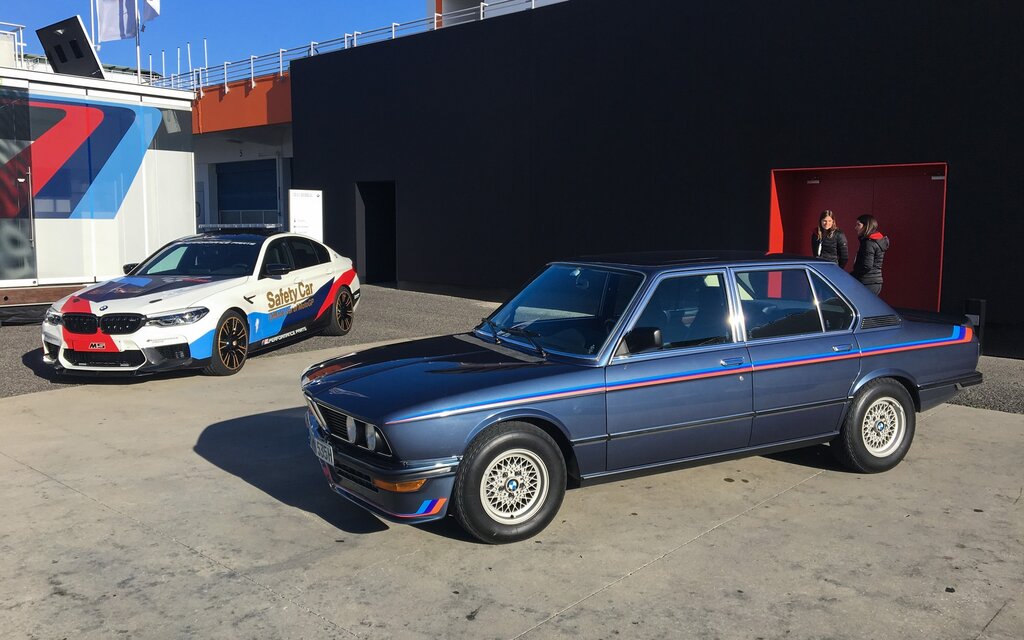 More Muscle and Grip
The new M5 is nearly three times more powerful with a 592-horsepower, 4.4-litre V8, a modified and refined version of the fifth-generation's engine. Not to mention the 553 lb.-ft. of torque it delivers at just 1800 rpm. With bigger turbos and more robust oil and coolant circuits, it can not only cash in on the additional torque, but also easily maintain the unprecedented levels of performance. Even on the track.
Another important milestone for the M division: the new M5 is the first of its cars to be equipped with a conventional automatic gearbox with a torque convertor. It's an eight-speed ZF unit whose components have been reinforced with an aluminum sump to increase oil cooling capability. This helps it reach the same goals for consistency, sturdiness and reliability.
They had no choice, since the M5 is also the first M car equipped with M xDrive all-wheel drive. The X5 M and X6 M SUVs obviously have it, but the M5's all-wheel drivetrain is unique in that it offers a rear-wheel drive mode that driving purists, drift enthusiasts and tire dealers will love.
In normal 4WD mode, all the torque goes to the rear wheels until there's the slightest hint of skidding. And you won't have to wait long for that to happen with this 600-horsepower sedan. It's eight kilograms lighter than the previous version thanks to an aluminum hood and a carbon-fibre roof (among other things) and despite the addition of the all-wheel drive. The central transfer case transmits just enough torque to the front wheels for maximum actuation without sacrificing one iota of agility and balance on corners. An active differential takes care of distributing torque between the rear wheels.
As a prelude, we took it for a quick spin down the road and discovered that the M5 is also a smooth, silent and comfortable luxury sedan. It can be equipped with all the accessories and safety systems of the new 5 Series. Like a refined beast, it also knows how to slice a narrow, rolling and tight road with exquisite ferocity. This poised vehicle will never let you feel its weight, thanks to nearly perfect suspension geometry and damping. Things like the firmness of the steering and the intensity of the exhaust sound are also adjustable.
On a stretch of Portuguese highway, the M5 reached sinful speeds in a matter of seconds. It was unflappable, but I would still like on-centre steering feel to be sharper. And while we're on the topic, I'd also like to be able to set the seat cushion to a more pronounced angle. But aside from that, it offers great comfort and support. Even on the track.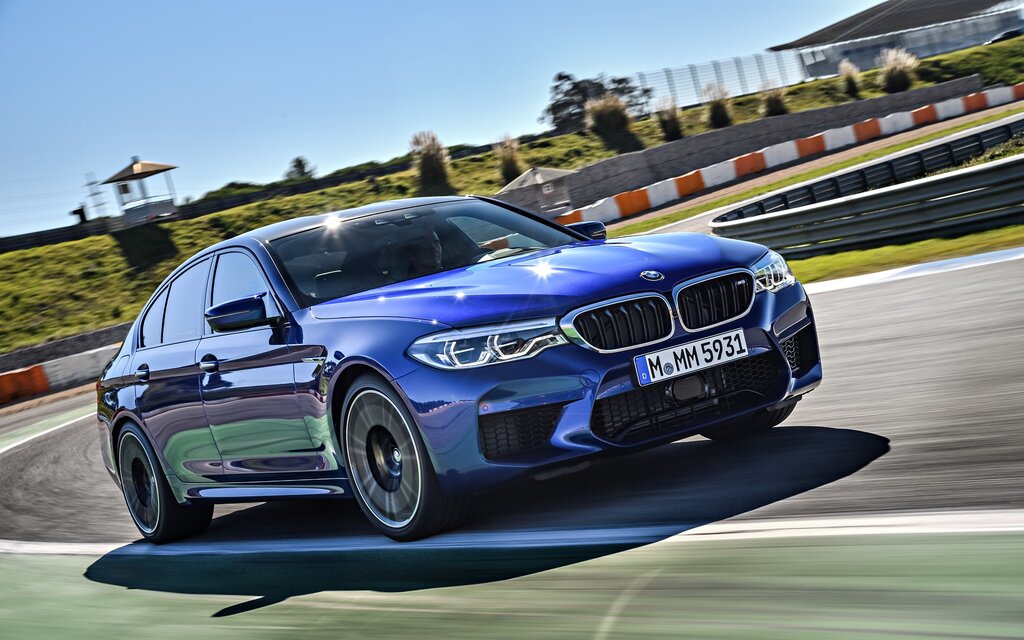 In Another Dimension
After completing two fast laps on the Estoril circuit in 4WD mode, we selected 4WD Sport mode by pressing a button on one of the two programmable red wheel-mounted levers. Traction control immediately deactivated, and the fun got turned up a few notches. This allows you to take the M5 into a turn and make it spin by playing with the steering wheel, then letting the four wheels drift or make it oversteer using the accelerator. It's all that. I want one.
And I haven't even mentioned the constant boost and velvety roar of the twin-turbo V8 that's paired with an exceptional automatic gearbox that upshifts and downshifts as smoothly and quickly—within milliseconds—as the best twin-clutch gearboxes. This same tandem should help you to reach 100 km/h in 3.4 seconds from a dead stop thanks to a rev-adjustable launch mode. I'll gladly check it out the first chance I get.
The M5s we tested were all equipped with 20-inch wheels fitted with Pirelli P Zero 275/35ZR20 tires in front and 275/35ZR20 in back. This footwear offered impeccable grip and superbly linear and progressive reactions on the track. They also had carbon disc brakes that are larger than the standard metallic brakes. The pedal remained firm and perfectly effective, even after a few laps of slamming on the brakes at 250 km/h as we neared the end of the straightaway in Estoril and tried to stay in Bruno Spengler's wake. I strongly recommend these options.
If you're interested, BMW Canada is taking orders now for the M5, at a starting price of $113,300. Deliveries will begin in March 2018. Unfortunately, it's too late for the matte red satin First Edition. All 400 units are already sold.
It goes without saying that I can't wait to compare the M5 to the Mercedes-Benz AMG E 63 S and to any other serious rival, on the road and on the track. In the meantime, this car is looking more and more like an absolute homerun.
Share on Facebook