2018 BMW M550i xDrive: Not Quite an M5, But Close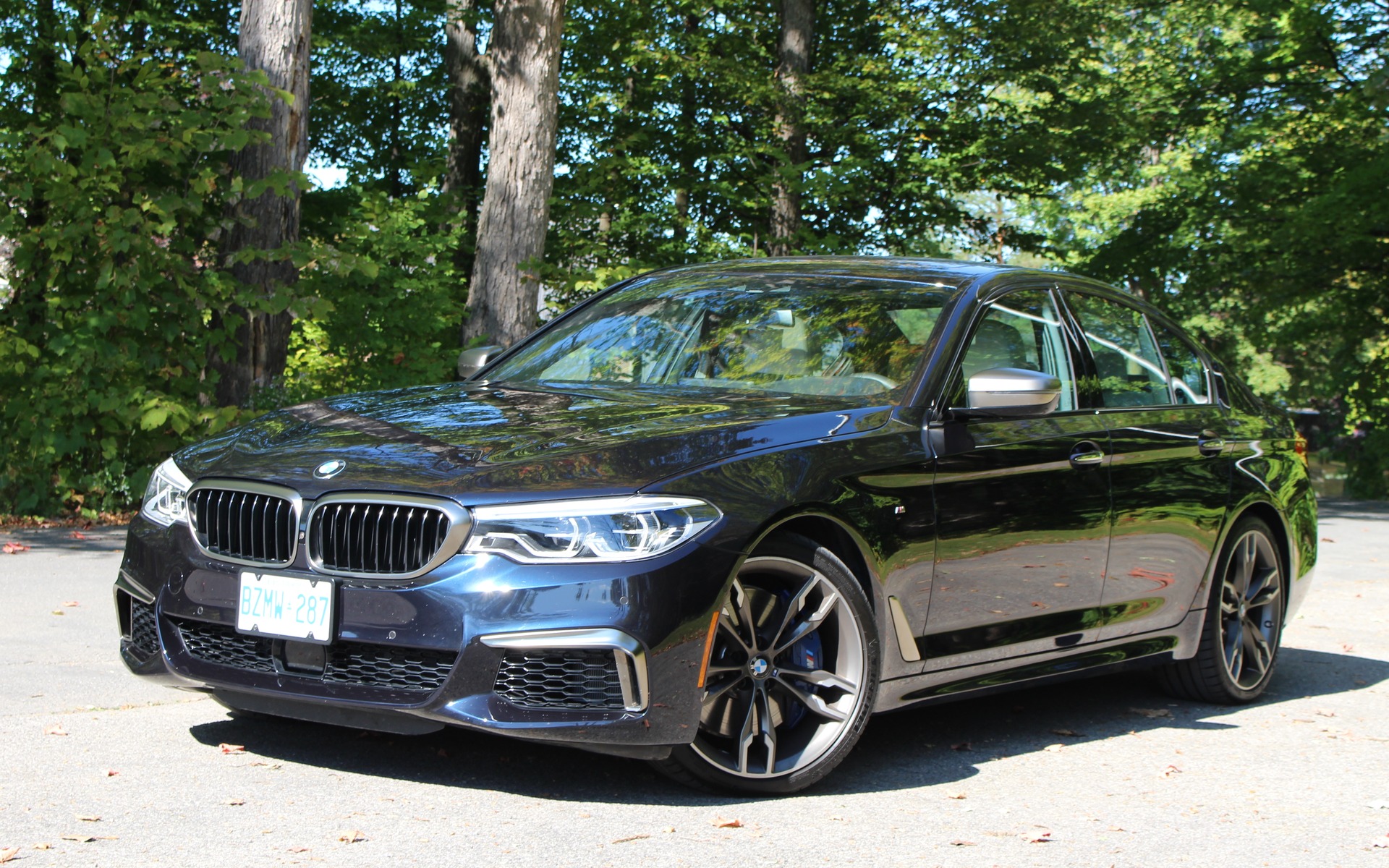 Strong points

Lusty V8 engine
Could be mistaken for an M5
Sumptuous cockpit

Weak points

Nervous steering feel (with rear-wheel steering)
Some expensive options
Headroom down compared to previous-generation 5 Series
Full report
Obviously, if we're looking for the most potent BMW 5 Series on the market, the M5 is the weapon of choice. With 600 metric horsepower on tap, it can blast from 0 to 100 km/h in just 3.4 seconds and reach a top speed of 305 km/h. It also costs more than $113K.
Great, but that might be a little too hardcore for us. Oh, we'd brag about the BMW M5's performance credentials, for sure, but for the everyday drive, would we really exploit the car's full potential? Not legally, anyway.
The 2018 BMW M550i xDrive is the next best thing. It's got the M Performance badge, and although it's not a full-fledged M car, it does have the firepower to make the Sunday morning country road drive pretty interesting. The untrained eye might even mistake it for an M5, so that's cool.
Under the hood is what's becoming a rarity, even in luxury cars—a V8 engine. This twin-turbocharged, 4.4-litre lump that belts out 455 horsepower as well as 480 pound-feet of torque that peaks from 1800 to 4750 rpm. BMW claims a 0-100 km/h time of four seconds. A blink of an eye slower than the M5—who'll notice?
Apart from the straight-line speed, the M550i's engine has a very intoxicating soundtrack. Yes, it's refined to suit the car's mission as a performance-oriented luxury vehicle, but in Sport mode, the V8's rage can be heard as well as it can be felt.
The eight-speed automatic transmission and all-wheel drivetrain make sure no power is wasted, sending every stallion to the pavement efficiently and quickly. And yet, fuel economy isn't too shabby, as we averaged 10.5 L/100 km over the course of the week.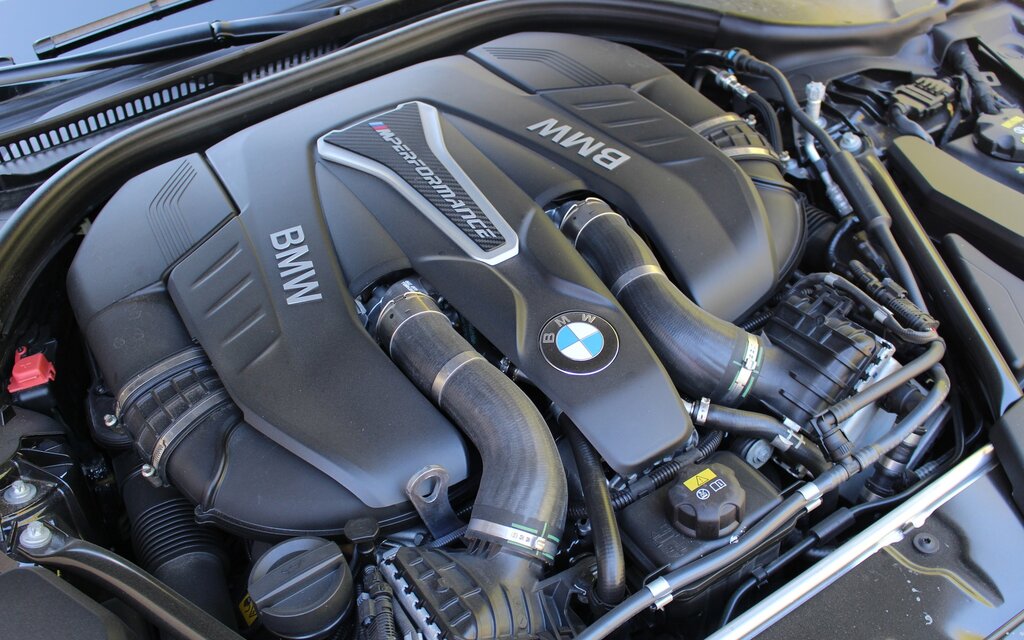 What we weren't expecting is the darty steering feel of the 2018 BMW M550i xDrive. Our tester was equipped with the Adaptive M Suspension that includes Active Roll Stabilisation and rear-wheel steering, and that may have played a role in this. It's uncharacteristic of BMW products, especially for an M Performance car, but again, the M550i isn't supposed to be as edgy as an M5.
The 5 Series was redesigned for the 2017 model year, and it presents higher-quality cockpit materials as well as a less conservative overall design. A wide selection of interior colour combinations is offered, such as two-tone black and white layout in our tester. We must keep in mind that light-coloured upholstery can get dirty real quick if we regularly wear jeans or if children usually ride in the car.
As we would expect, the M550i includes—or can be equipped with—features such as front and rear seat heating, a heated steering wheel, ventilated front seats with massaging function, rear-seat sunshades, soft-close doors, a sunroof, head-up display, four-zone climate control, a rear-seat entertainment system and much, much more. The standard Harman/Kardon, which sounds pretty good, can be replaced with a $4,900 Bowers & Wilkins system, and the iDrive infotainment interface is easy to use. Apple CarPlay integration is offered, but not Android Auto.
Interior space is about the same as in its rivals, namely the Mercedes-Benz E-Class, the Jaguar XF, the Audi A6 and the Cadillac CTS. Front and rear headroom is down compared to the previous-generation 5, but rear-seat legroom is up, and shoulder room has also been increased by a negligible amount. Trunk space grows from 520 to 530 litres, making it one of roomiest in its class, barely beaten by the E-Class' boot.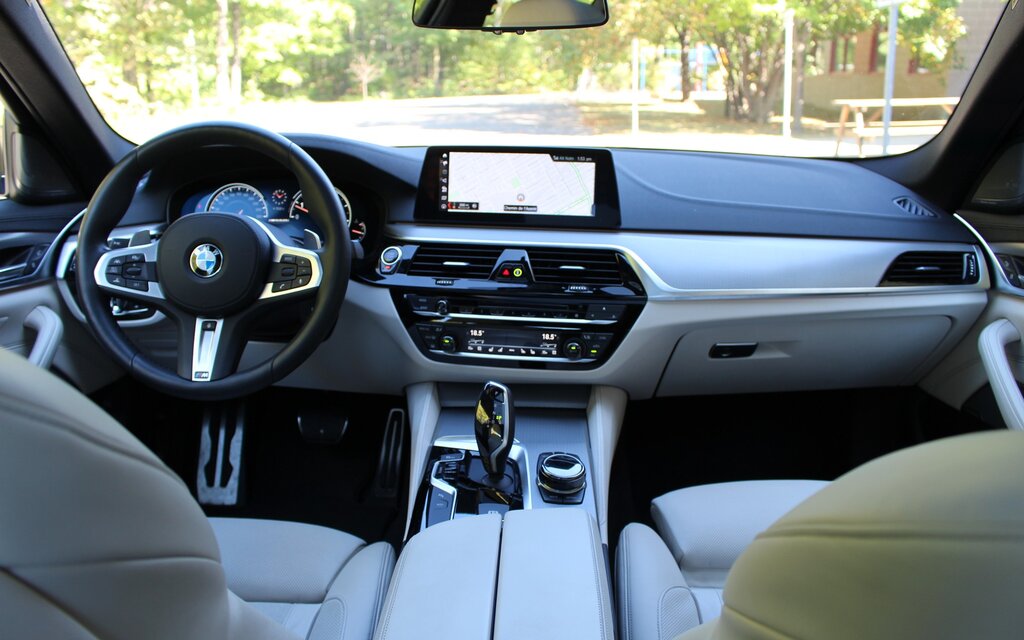 2018 BMW 5 Series pricing starts out at $63,000 before freight and delivery charges. That's for the 248-horsepower 530i xDrive version. The 248-hp 530e xDrive plug-in hybrid, the 335-hp 540i xDrive and the 261-hp 540d xDrive are the incremental steps leading up to the M550i xDrive, which retails from $83K. Our test car, with options, cost about $95,000. That's still a big pile of dough, but we can easily go nuts and spec a 396-hp Mercedes-AMG E 43 4MATIC or a 450-hp Audi S6 up to that amount, or even higher.
The M550i xDrive serves up almost the same performance level as the mighty M5, but it doesn't have the handling prowess or the beastly character of its sister. On the other hand, it's more comfortable for the daily drive, and the performance gap will likely never be missed, unless we take our 5 Series to the track, which probably no one will do—except those who bought the M5.
For the consumer, it's all a matter of which car in this performance and luxury sedan segment will please us the most, so it's obviously important to cross-shop among the models mentioned above. However, the 5 Series has all the performance, the luxury and the upscale features we really need to be happy, and the recent redesign makes it a compelling choice. The M550i and its smooth, but husky V8 engine is icing on an already tasty cake. If your fix requires something more potent than sugar, then spend the extra cash and get an M5.
Share on Facebook