2018 BMW M5 revealed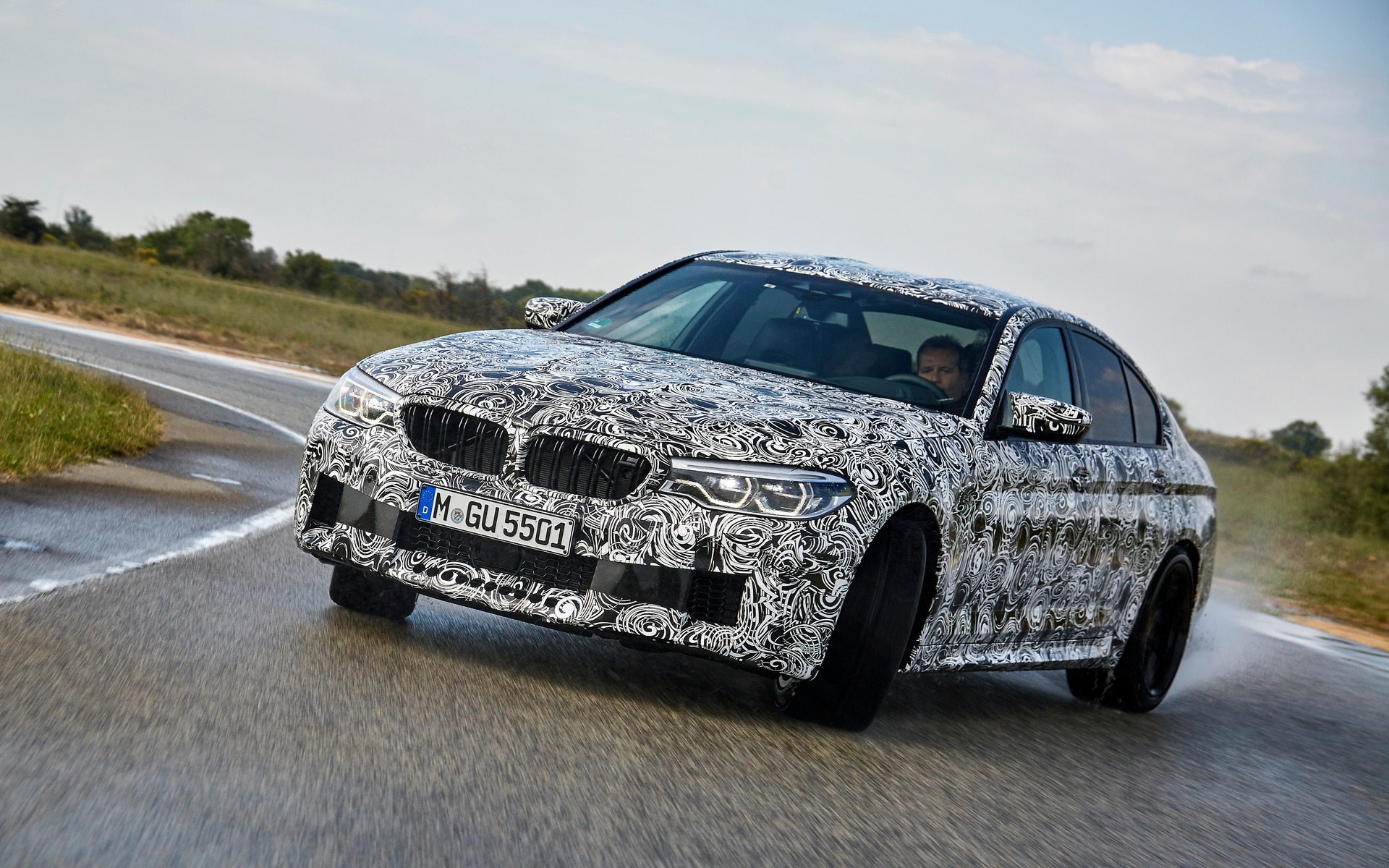 For the last few years, the German automaker has amusingly decided to publish its own "spy shots" of upcoming models in order to get our attention. This time around, it's the BMW M5 that has been revealed in a camouflage suit.
The sixth generation of the powerful BMW M5 sedan will launch later in 2017 as a 2018 model in Canada. Under the hood, we'll still be getting a twin-turbo, 4.4-litre V8, but thoroughly revised with increased injection pressure, new turbochargers, improved lubrication and a more effective cooling system. Horsepower and torque figures haven't yet been officialised, but the company is promising more ferocious engine sounds than in the old M5.
The latter boasted 560 horsepower, but BMW is hinting that the new generation will benefit from more power and torque. We can expect at least 600 horses in the 2018 M5, and BMW says the car can blast from 0 to 100 km/h in about 3.5 seconds.
The engine will be bolted onto an eight-speed automatic transmission, but that doesn't rely on a twin-clutch setup as was the case in the previous M5 and as is the case in the current M6—who share the same powertrain. However, shift changes should be ultra-quick, if we're to believe the automaker's press release.
It's also flaunting the new M xDrive all-wheel drivetrain, optimised by BMW's performance division to offer a sportier driving experience. This drivetrain will obviously be rear-wheel biased in normal driving, and will shift power to the front wheels as necessary, in snow or on a track. In addition, the driver will be able to deactivate the front axle if he or she prefers a rear-drive-only setup. The M5 will be the first model to benefit from M xDrive.
The 2018 BMW M5's instrumentation will be updated with analog gauges, but also a digital speedometer and head-up display with a larger projection surface. BMW also redesigned a shift lever, the previous one being unnecessarily fussy.
The new M5 will join the other members of the BMW 5 Series range, which in Canada already consists of the 248-hp 530i xDrive, the 335-hp 540i xDrive, the 530e xDrive plug-in hybrid with a combined output of 248 hp as well as the M550i xDrive and its 455-hp, twin-turbo V8.
Share on Facebook