A Pair of new 2017 BMW
5 Series

Variants For Detroit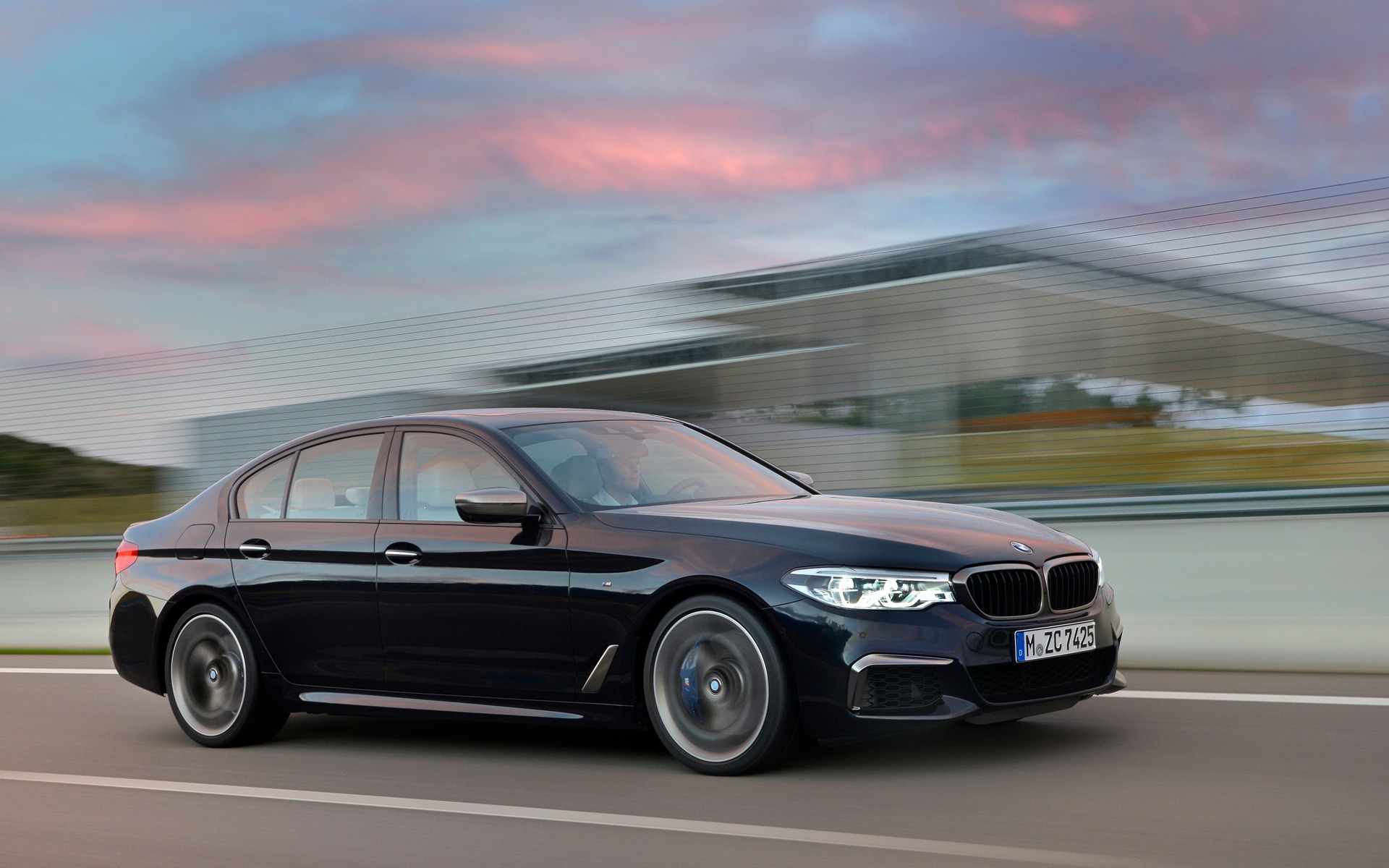 In case you've missed it, we're already driven the newly redesigned 2017 BMW 5 Series sedan, but it has yet to make an auto show debut. That will happen in January in Detroit, and the German manufacturer will be bringing along two new versions of their midsize model, in addition to the slightly reworked 2018 BMW 6 Series as well as the BMW X2 Concept that was first shown at the Paris Auto Show in September.
Apart from the 530i xDrive and 540i xDrive versions offered in Canada, BMW will be introducing the 530e iPerformance, a plug-in hybrid. It combines a turbocharged, 2.0-litre four-cylinder engine with an electric motor and an eight-speed automatic transmission for a total output of 252 horsepower and 310 pound-feet of torque, good for an estimated fuel economy of 1.9 L/100 km on the European cycle and an EV driving range of up to 50 km.
The car can be fully charged in less than three hours using a 240-volt outlet, or almost five hours with a household, 120-volt socket. The rear-wheel-drive 530e iPerformance will be able to accelerate from 0 to 100 km/h in a claimed 6.2 seconds.
The M550i xDrive will be the most performance-oriented 5 Series variant until an eventual new M5 comes along. Its twin-turbo, 4.4-litre V8 belts out 462 hp as well as 479 lb.-ft. of torque from 1800 rpm, allowing the sedan to hit 100 km/h in 4.0 seconds. It's also equipped with a retuned eight-speed automatic, while the all-wheel drivetrain's torque split keeps a rear-wheel bias. The M550i also benefits from an M aerodynamic styling package and, optionally, an adaptive M Sport suspension.
Also scheduled for its presentation in Detroit will be the 2018 BMW 6 Series Coupe, Cabriolet and Gran Coupé. While the cars won't get a redesign just yet, they will be offered with new paint colour choices including Sonic Speed Blue metallic, and the M Sport package now gets bi-colour 20-inch alloy wheels. Inside, carbon fibre trim will be available as well.
The BMW X2 Concept is a small crossover with a coupe-like profile, like its big brothers the X4 and the X6. However, instead of boasting a sloping roofline that cuts into rear-seat headroom, the X2's roof stays fairly upright, while the rear windows sweep upwards to create the all-important look of a coupe.
The 2017 BMW 530e iPerformance and M550i xDrive will arrive in March 2017, while the updated 2018 BMW 6 Series will hit showroom floors just in time for spring.
Share on Facebook