2019 Volvo XC40: Playful Utility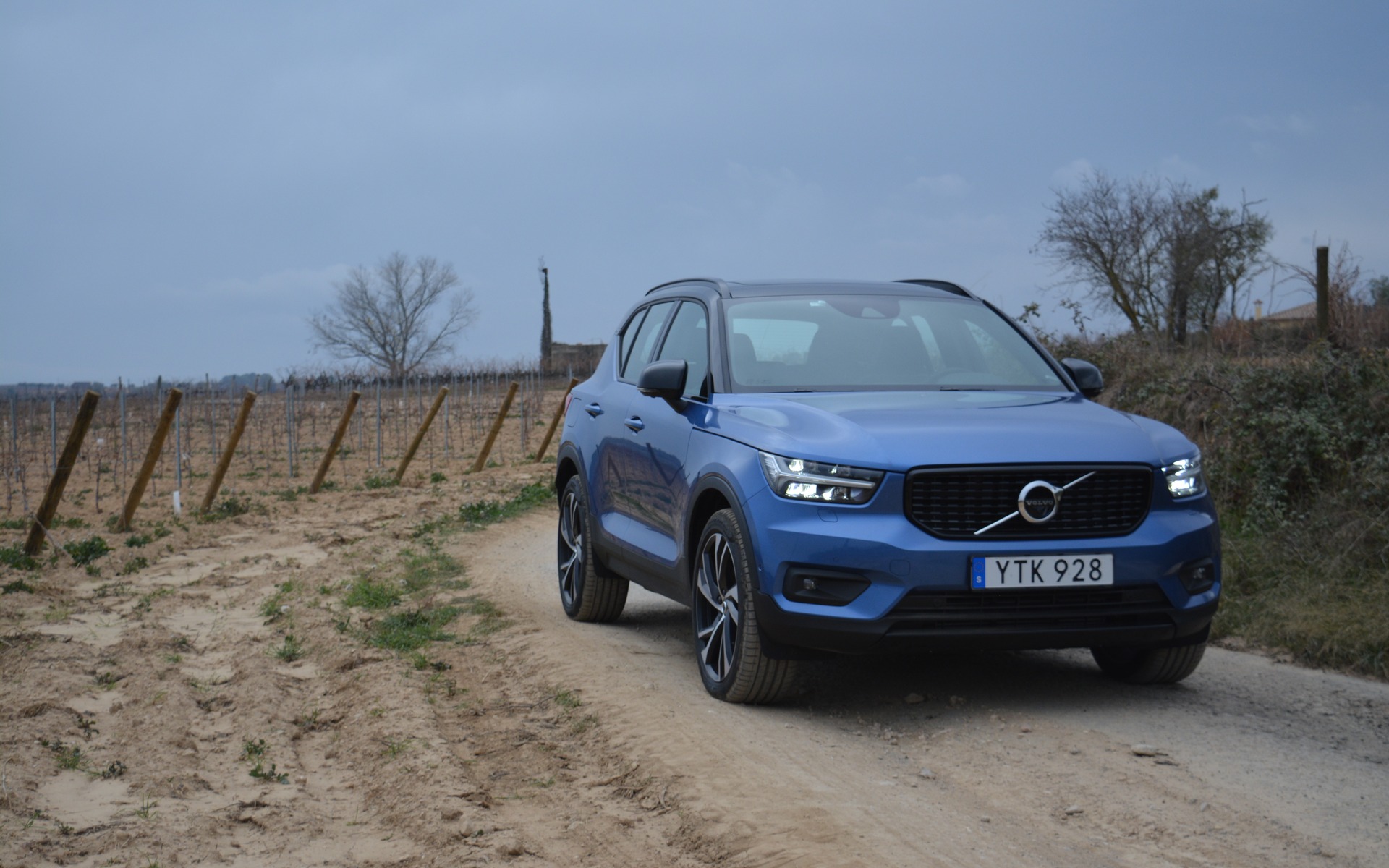 Strong points

Powerful engine
Unique styling, yet so Volvo
Handling and ride quality
Versatile and spacious cabin

Weak points

Some wind and road noise
Back seat too tight for three abreast
Slow throttle/transmission response in comfort mode
Full report
BARCELONA, Spain – How many of you like the Volvo brand? I, for one, have always rooted for the Swedish company. I applauded, and continue to do so, their constant desire to stand out from the crowd with unique design and their unrelenting quest to make the safest cars ever.
The call for more crossovers has been answered by this maker of excellent station wagons. The current-generation flagship XC90 has served as a poster boy for Volvo technology and design, and was recently followed-up by the second-generation best-selling XC60. This time around, it's the all-new compact XC40 that takes centre stage.
All-new Design and Approach
The 2019 XC40 is the first Volvo to arrive in North America built on the company's compact modular architecture, or CMA. This flexible building block allows Volvo to essentially tailor-make a product for a segment and a market. For example, wheels ranging in size from 17" to 21" can be fitted on the vehicle. It has also allowed the brand to perfectly blend crossover styling with SUV attributes.
The 2019 Volvo XC40 is taller (6 mm lower than the XC60 in fact), wider, and presents a higher seating position than the Audi Q3 and BMW X1. To boot, it offers the greatest ground clearance among its competitors. And let's not forget that it can be ordered with a snazzy, well-executed two-tone paint job!
These outer dimensions, although still compact, have permitted designers to give the XC40 a different yet very Volvo look; it's familiar, but unique at the same time.Lead Exterior Designer Ian Kettle set to create a "tough little robot" and within moments of looking at the XC40, we understand that he's achieved his goal.
The cabin is, again, all Volvo. Unique and almost retro design elements such as the air vents accompany thoroughly modern attributes such as the large, lovely screen. The seats are typically Volvo and the available space is maximized and completely functional. There are huge door bins, a large centre console with a garbage bin, and the trunk has a folding floor revealing bins, and storage for the cargo cover. True brilliance.
T5 Power for Canada
Volvo's lineup of Drive-E engines consists of boosted three- and four-cylinder, petrol and diesel mills. North America gets the petrol-sipping four-piston types. More specifically, the US is entitled to a T4 (lower power output) FWD and a T5 with AWD. While a FWD version makes sense south of the boarder, AWD and a little more power, without consuming much more fuel, is the way to go in Canada.
With 248 horsepower and 258 lb.-ft. of torque, the 2.0-litre is the most powerful of the category for vehicles priced around $40k. The adjoining eight-speed automatic puts the power to good use with only a slight delay in activation when the selected drive mode is set to "comfort." In "dynamic", things get sharper. The best compromise can be customized through the "individual" mode.
The 2019 Volvo XC40 rides and drives as good as one can expect. Actually, the new XC60 is barely a half-notch above quality-wise. This stems in part from the fact that the rear four-link suspension is sourced, and revised, from the previous XC60. The XC40 is agile thanks to its size and weight and there's some steering feel despite the fair amount of assistance.
Our drive took us west and north of Barcelona where the Pyrenees mountain range was in sight. Handling is predictable and although the emphasis is on comfort, a.k.a. non-sporty suspension tuning, the not-so-wee XC40 was good fun near the limit of its Pirelli tires.
Technology, as Always
Beyond the standard high level of connectivity through Volvo Cars' Sensus solution, the XC40 is loaded with all the features that will help the brand hopefully achieve their Vision 2020 goal where no one should be killed or seriously injured in one of their products.
This is why their compact entry-level ute is kitted with all the same equipment you would get in an XC90. For example, collision avoidance up to 60 km/h is standard. As well, you also get lane keep assist, driver alert, roadside information, large animal detection and much more. Elements such as active cruise control, 360-degree camera, cross traffic alert with brake and pilot assist are optional.
Who For?
The XC40's target demographics are the 25-39 professionals with a child or less and the 50+ empty nesters. This Volvo will be a true conquest- and urban-focused vehicle that will appeal to those seeking out a smart, luxurious and versatile means to get around.
Two trims will be offered: Momentum ($39,500) and R-Design ($43,700) to which a number of options can be added.
The new 2019 Volvo XC40 arrives next spring and will make its Canadian debut at the Montreal International Auto Show this coming January.
Share on Facebook