2017 Volvo V90: Do We Really Want an SUV?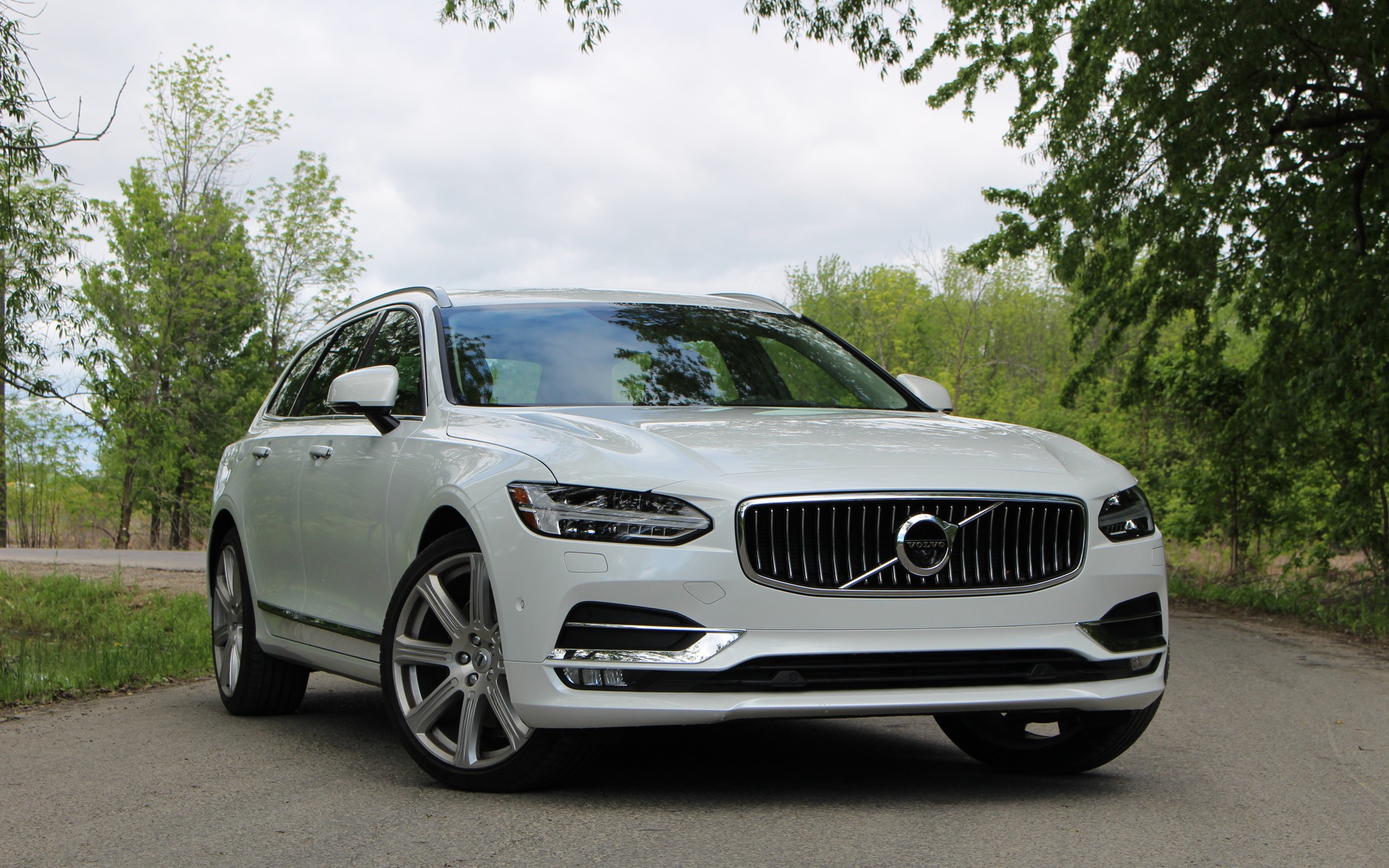 Strong points

Gorgeous inside and out
Good amount of cargo space
Refined ride and handling

Weak points

Underwhelming engine sounds
Not as spacious as an XC90
Reliability improving, but still a concern
Full report
If we think buying anything other than a sport utility vehicle is un-cool, we should think again. The Volvo V90 wagon looks so good, so sexy, that neighbours will admire us for being fashionably different. And admire our car, too.
At least, that's our opinion. But we're automotive journalists, who have been diehard wagon fans since the wheel was invented. And the V90 is arguably the best-looking one that hit the market in the last ten years. It competes with the Mercedes-Benz E-Class Wagon, although in Europe, it also goes head to head with the BMW 5 Series Touring and the Audi A6 Avant. The Jaguar XF Sportbrake is a main rival, too, but for now, it's not available in Canada.
There are other advantages to driving a wagon instead of an SUV. Compared to Volvo's own XC90, the V90 will save us about a litre of fuel every 100 km. And if we're not totally sold one of the other, the Swedish brand even offers an interesting in-between, the jacked-up V90 Cross Country.
In North America, Volvo's all 2.0-litre, four-cylinder powertrain lineup consists of the 250-horsepower T5, the 316-hp T6 and the 400-hp T8 plug-in hybrid system. Only the T6 is available in the 2017 Volvo V90 here, and our test car was a loaded Inscription variant with standard all-wheel drive.
According to the manufacturer, zero to 100 km/h takes 6.1 seconds with this supercharged and turbocharged powertrain, and it is quite muscular for such a small engine, with a torque peak of 295 pound-feet from 2200 to 5400 rpm. The eight-speed automatic transmission works smoothly, and can quicken its reflexes if we activate the Dynamic drive mode.
During our summer test, we ended up with an average of 8.4 L/100 km, which is excellent for a midsize car. The only issue here is that super unleaded is required.
There is another issue, actually. The T6 is powerful and efficient, but it just doesn't sound mean and meaty like a $60K-plus luxury-car engine should. It's especially noticeable during spirited driving. That's the trade-off for good fuel economy.
The 2017 Volvo V90's cabin is just as elegant as the sheetmetal, with a design only Scandinavians seemingly know how to pen. We're not too crazy about the piano black, trim, because any manufacturer can dress up with cockpits with that, but the diagonal-motif wood panelling, the right amount of brightwork and the beautiful speaker grilles all make the car's interior look rich and tasteful.
The seats in our test car are extremely comfortable, despite not offering a gazillion power adjustments like in some of its midsize luxury competitors. Volvo has a talent for creating seats we could spend hours in and feel ready for a marathon once we reach our destination.
There are very few buttons on the centre stack, since everything except radio volume can be controlled using the Sensus infotainment system's 9.3-inch touchscreen. This touch of modernity can be frustrating and distracting, though, as even the basic features are sometimes buried in menus and some buttons zones are small. The system also includes some features allowing us to sync applications with our phones, start the car remotely as well as send info such as navigation destinations from our phone to the car. Ultimately, we can simplify things by using the Apple CarPlay and Android Auto integration. The 1400-watt, 19-speaker Bowers & Wilkins sound system is a must for music lovers, although it does cost $3,250.
Front and rear passengers benefit from a decent amount of space, and a panoramic sunroof is standard on every 2017 Volvo V90. A welcome feature that adds light to the cabin and helps rear-seat occupants enjoy the ride even more. The cargo area includes a power-retractable cargo cover that can still be removed if we need maximum volume. Speaking of which, it's rated at 851 litres with the rear seatbacks in place, and 1953 with the seatbacks folded down. A little more than in the E-Class Wagon and the Volvo XC60, a little less than in the XC90.
Pricing starts at $59,900 before freight and delivery charges for the T6 Momentum, while the sportier R-Design is listed from $64,450 and the luxurious Inscription starts at $66,050. For that sum, we get ventilated front seats, Nappa leather upholstery and 19-inch alloy wheels, among other things. Loaded with options such as head-up display, blind spot monitoring, active park assist, heated rear seats, a heated steering wheel, the aforementioned sound system, an air suspension and 20-inch wheels, our V90 rang the cash register at about $80K.
A lot of dough, but a Mercedes-Benz E 400 4MATIC wagon starts at $74K before adding options. The price difference between trim levels is really small, so buyers might as well hit the R-Design or Inscription trims for a few extra bucks as month. However, according to J.D. Power's 2017 Vehicle Dependability Study, Volvo still trails most luxury brands, so it's got some work to do.
The 2017 Volvo V90 does everything well. Its ride quality is great, its powertrain is gutsy and efficient, and it's got plenty of cargo space in addition to a 3500-lb. (1588-kg) towing capacity. It may not be quite as practical as a midsize SUV, but to be seen in a car this beautiful, aren't the trade-offs worth it?
Share on Facebook