2019 Porsche Cayenne: Third Generation Under the Microscope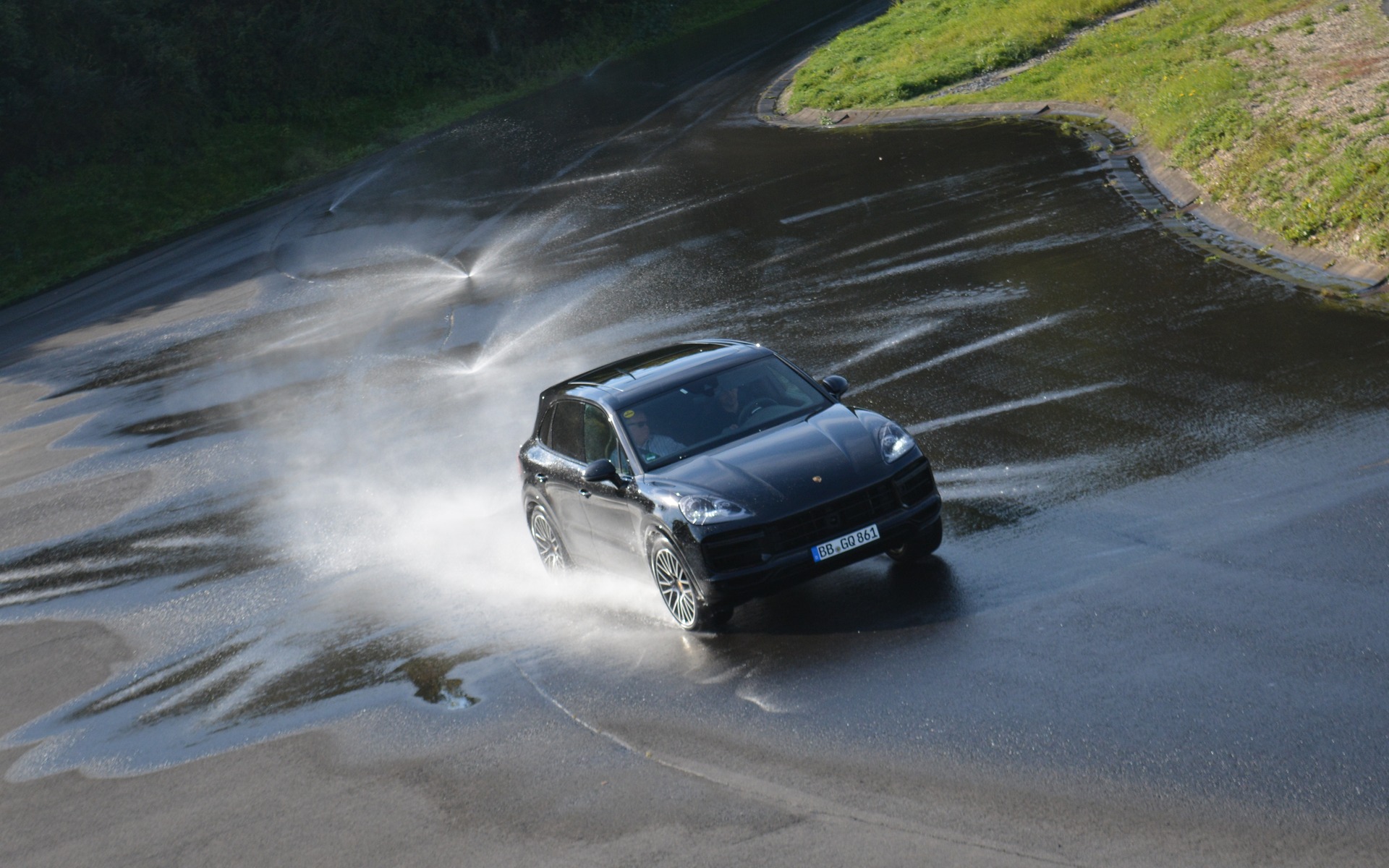 The story about Porsche's Cayenne SUV is well known. Although the vehicle is now 15 years of age, discussions about bringing the truck to market were had well before that. In fact, the good Professor Doctor Ferry Porsche said to the Die Welt (The World) newspaper on January 24th, 1989, that "If we built an off-road vehicle according to our standards of quality, and it had a Porsche crest on the front, people would buy it."
And they certainly have. The first generation, introduced in 2002, found over 270,000 takers while the second generation, launched in 2011, has sold well over 500,000 units. And shortly, the third iteration of Porsche's large utility vehicle will hit the ground rolling better than ever. At least that's what can be surmised following a day of deep diving into what makes the new Cayenne tick.
According to Porsche, this new 'ute is the culmination of everything that the company has learned from building performance SUVs mixed in with the some of the very latest technologies that were once reserved for their sports cars. With a refined design, improved driving dynamics and more technology than a space shuttle, if we are to believe Porsche, this might be the best all-round vehicle to date.
Through an exhaustive series of workshops, we were given the Cayenne's pulse and its soul was bared to us. It all begins with the Volkswagen Group's MLB Evo platform that, through some intensive engineering, had been tuned, to say the least, to meet and exceed Porsche requirements. The chassis' development was a three-step process and included the total vehicle concept, the chassis mechanics and mechatronic chassis systems. In other words, the perfect blending of design, performance and safety.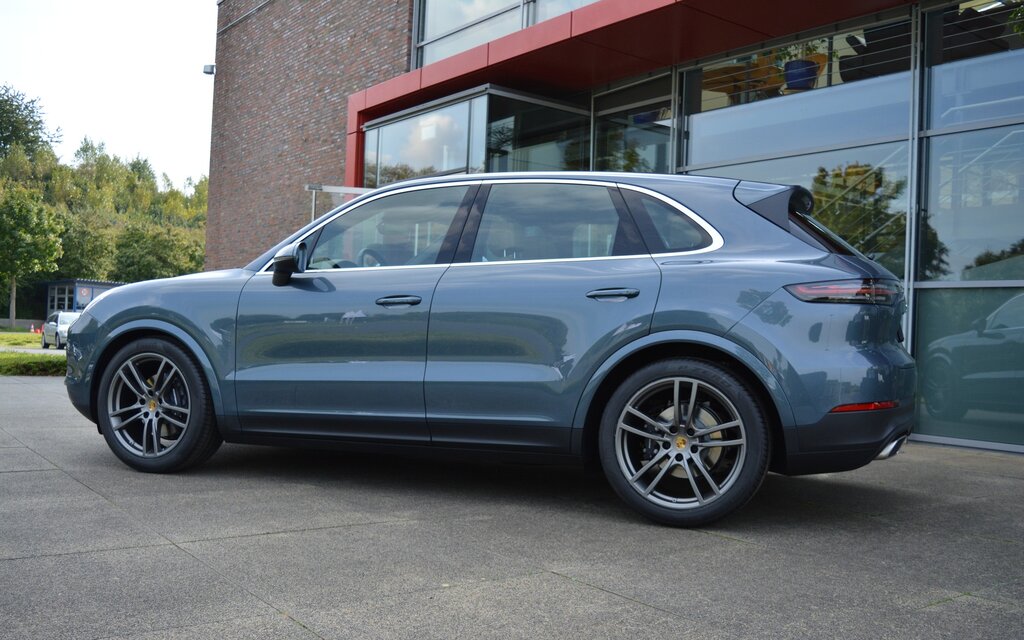 The new shell
For starters, the new 2019 Porsche Cayenne is 9 mm lower, 63 mm longer, 23 mm wider, and proposes a 100-litre larger trunk (770 litres total). The new body remains conservatively Porsche with hints of the new Panamera, 911 and Macan for a look that is equal parts crisp, muscular and sophisticated. It now sports a larger and staggered wheel setup for upgraded stability and, well, it doesn't hurt visually.
In fact, so sophisticated is the vehicle's shell that it now features standard active aero. The front adaptive radiator grilles can close up to 100% (there are four sets of flaps: side intakes, upper grille and lower grille) for improved cooling, or wind drag resistance.
The coolest element is the adaptive roof spoiler which is reserved for the Turbo. There are five positions designed to lessen or increase drag. It stays closed below 160 km/h, raises by 20 mm above 160 and in Sport Plus mode, raises 40 mm. Around 200 km/h, it lowers marginally and if the roof is open, the compensation mode raises the spoiler by 60 mm. And lastly, in hard braking situations, the spoiler rises by 80 mm, adding 110 kg of negative force over the rear wheels. From 250 km/h, the air brake can reduce stopping distances by two metres.
The extensive use of aluminum (body panels are 100% aluminum) has allowed the engineers to reduce the new 2019 Porsche Cayenne's total weight by 55 kg over its predecessor. This despite adding more conventional and hot formed steel to strengthen the structure for better crash resistance.
Power at your fingertips
What gets the Cayenne moving is always my favourite part. There are three engines, for the moment; a single twin-scroll turbo 3.0-litre V6, a twin-turbo 2.9-litre V6 and a twin-turbo 4.0-litre V8. The base 3.0 generates 340 horsepower while the "S" gets a boost with 440 horsepower working for it.
The kicker is the Cayenne Turbo and its 550-horspower V8. Until a Turbo S is released (with over 600 horsepower?), this is the be-all-end-all of the range. It'll hit the ton in 3.9 seconds and looks the part thanks to larger air intakes, extra wide body parts (arches), 21" wheels, that roof spoiler and specific twin tailpipes.
A new eight-speed Tiptronic S automatic transmission, not a dual-clutch unit like the Panamera, handles shifting duties. This was chosen because of the autobox's inherent robustness for towing, for example. It now integrates the front axle and differential. Top speed is reached in 6th, while 7th and 8th are overdrives. To note, Porsche engineers mentioned that it is capable of accepting hybridization in the future and currently features auto start/stop at speeds of 7 km/h or less when coasting.
As good as the old Cayenne was, the new one can only be better. In fact, only one aspect was negatively impacted in the process of creating the new truck and that is weight distribution; more of it now being up front. But Porsche is not going to let something like that hamper handling. The front suspension is now a multilink setup instead of the previous double-wishbone setup. The electromechanical steering is more direct with a quicker ratio (12.2:1 vs. 13.3:1) and has been precisely engineered to produce Porsche-specific feedback.
And then there's rear axle steering and electromechanical roll stabilization. The latter uses a 48-volt energy supply and maintains neutrality, stability for both comfort and grip by counteracting lean. It works for both on and off-road applications. Finally, in order to increase the Cayenne's breadth of abilities, a new three-chamber air suspension reaches from comfort to sharp handling extremes.
Puts you in real control
The new 2019 Porsche Cayenne receives a revised active hang-on AWD system that is now rear-wheel biased. A new transfer case (capable of handling more torque) is located directly behind the transmission, creating a very neat and compact setup. It transfers the torque to the front via wet multi-plate clutches. The Porsche Traction Management system varies torque front to rear, but always favours the larger rear rubber. The optional PTV (Porsche Torque Vectoring) controls rear differential locking, aided by braking intervention for maximum cornering speeds.
Porsche is introducing new optional brakes with the Cayenne and they sit, performance-wise, between the regular steel and the carbon-ceramic units. The Porsche Surface Coated Brakes (PSCB) are, as the name indicates, coated in a tungsten-carbide solution that offers many advantages. Namely, the components will last 30% longer and produce far less brake dust. According to Porsche, the brakes are now more responsive with better pedal feel. As part of this advancement are 10-piston front callipers for better pressure distribution and optimized stopping power.
Technology everywhere
Once aboard, Porsche swathes you in what it calls Porsche Communication Management or PCM. There's a gorgeous full HD 12.3" display and highly configurable 7" screens on each side of the analog tachometer. The big news with the big screen is that all the services are available whether the car is online or not. Of the services, and through a programmable Home button, navigation, parking location options and so much more is always at the occupants' disposal.
The revised voice control is more fluid, and natural, and can command HVAC settings, for example. Perhaps best of all is the Porsche Car Connect app which can communicate seamlessly with the car from your house, or anywhere in the world. You can preset the navigation system and so much more.
Safety to the nines
The new Cayenne provides the user with a battery of safety features, from passive to active and in the mix even throw in Park Assist where the 'ute will park itself depending on the selected trim and options.
Some of the highlights are lane keep assist that will work at speeds between 0 and 210 km/h. Also, emergency assist (which detects a potential emergency based on driver inactivity) and a new active cruise control, called Porsche InnoDrive, which will use road data from up to 3 km ahead of the car to set it up. Another cool element is manoeuvring assist and rim protection which will be active at speeds up to 10 km/h with audible sounds.
The new 2019 Porsche Cayenne reads like it will be the most capable yet. It not only has a wading depth of up to 500 mm and is capable of towing up to 3500 kg, but its overall efficiency will be far greater than the outgoing version. It arrives in Canada next summer with a base price of $75,500. The Cayenne S begins at $92,600 and the mind-blowing Turbo starts at $139,700.
Share on Facebook