2018 GMC Terrain 2018: Seize All Opportunities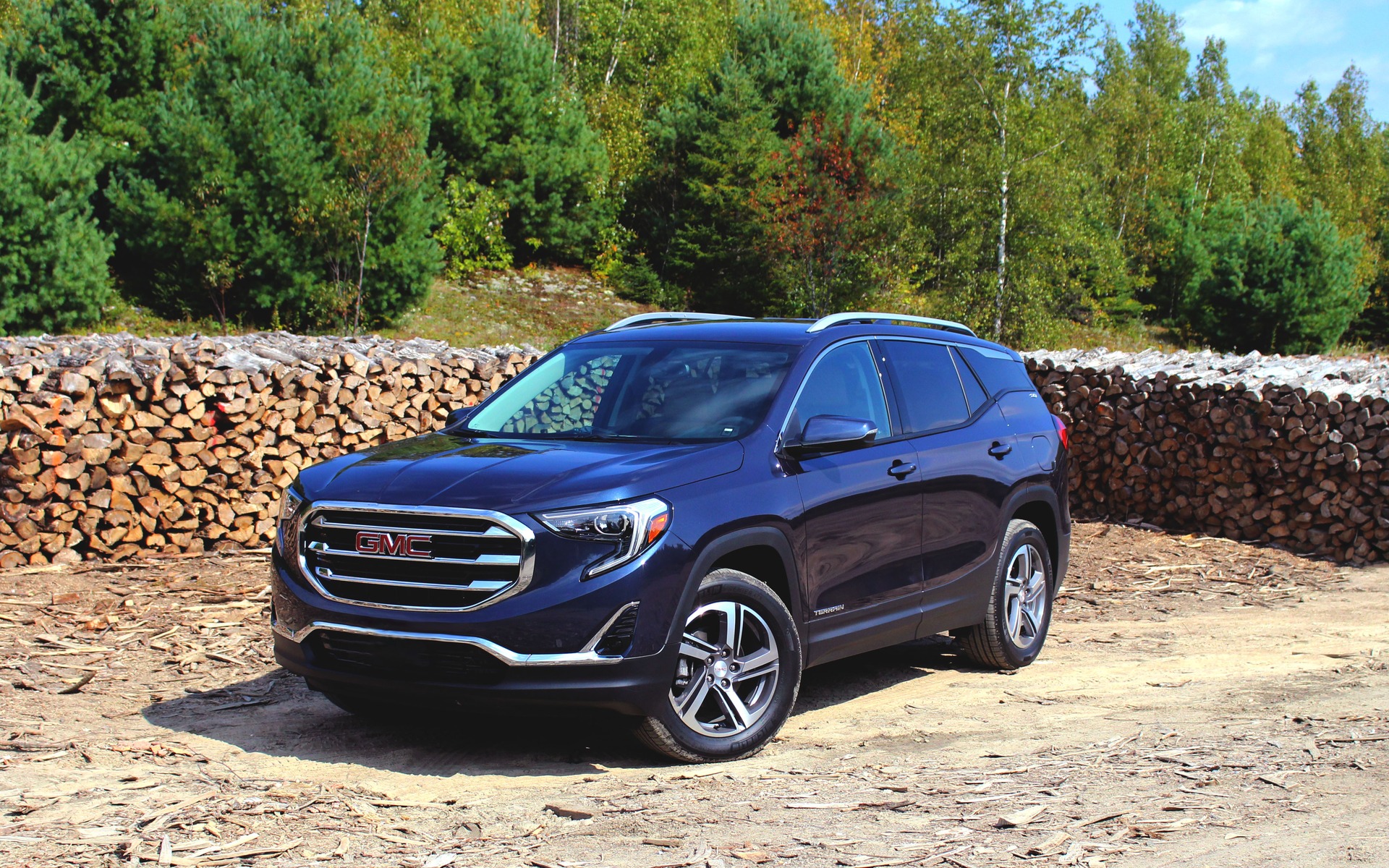 Strong points

Three efficient engine choices
Excellent transmissions
Innovative infotainment system
Well equipped

Weak points

Noisy diesel engine (when we're outside the cockpit)
Denali version a little pricey for what it offers
Counter-intuitive transmission buttons
Full report
LAC-BEAUPORT, Québec – The compact SUV segment isn't popular; it's literally overflowing with models of all shapes, sizes and price. With so many different variations of the breed, consumers, which continually come asking for more, no longer know where to look.
For a carmaker as diversified as General Motors, this trend signifies an opportunity to sell several different types of vehicles, under different nameplates in order to better adapt to the varying needs of consumers. The 2018 GMC Terrain is the inevitable result of this strategy.
One Platform, three Vehicles
It is therefore not surprising that the 2018 GMC Terrain is essentially a mechanical twin to the Chevrolet Equinox. Even GM says it without shame. But that doesn't prevent the Terrain from standing out. As a matter of fact, what GM is showing us with its latest trucklet is how varied consumer demand is. Unlike the Chevrolet, the Terrain sits in the premium compact SUV segment, see it as a more upscale and better equipped version of an Equinox. GM says that no Terrain will come "naked," and that even the base model will be fully equipped with creature comforts such as heated leather seats, LED headlights and all-wheel drive.
As is tradition with GMC products, a Denali trim, with its flashy chrome grille and higher price tag is also available for the Terrain, something that can't be had in the Chevrolet lineup.
However, here's the million dollar question: why opt for a GMC Terrain instead of its cousin, the Buick Envision? Remember, Buick is also a premium brand. When I asked the people at GM, I was told that the Terrain has a more "rugged" and "masculine" demeanor, and that it is aimed at adventure and the great outdoors, compared to the Envision which is more "refined" and "urban." I guess this makes sense from a marketing standpoint. Indeed, the Terrain is in fact nestled in a price bracket squeezed between the Equinox and Envision.
Completely redesigned for 2018, the new Terrain is now blockier and resembles more a good old truck than its curvy cousins. When looked at from the side, you instantly notice its floating roof, created by a glass-covered C pillar, similar to what you get on a Nissan Murano. This gives the Terrain a more modern and distinguishable design than the model it replaces, which, let's face it, was essentially a rebadged Chevrolet.
Inevitably, the Terrain borrows the same D2 platform as well as the three drivetrain options offered in the Chevrolet Equinox. This is an all-new Terrain, and not an update of the old version. Three turbo four-cylinder engines are offered, two gas-powered, one diesel. The smallest of the petrol engines is a 170-horsepower, 1.5-litre unit. The other, a 252-horsepower 2.0-litre mill. As for the diesel, it's a 1.6-litre engine good for 137 horsepower and 240 lb.-ft. of torque, says GM. It's bolted onto a six-speed automatic.
During my drive during the official Canadian launch in Lac-Beauport, Quebec, I mostly focused on the diesel engine with all-wheel drive. Since GM is the only carmaker to currently offer such an option in this segment, it will undoubtedly be the version of choice for Canadian consumers.
It Gets the Job Done
On the road, the GMC Terrain drives...exactly the same as a Chevrolet Equinox. Which means its suspension is compliant over road imperfections and the vehicle remains quiet and refined for the segment. Its cabin is well put together, the materials used are of good quality and it offers decent cargo space (1792 litres total), less than a Honda CR-V (2152 litres), but more so than a Mazda CX-5 (1699 litres). The Terrain is therefore not the best, nor the worst people carrier out there. Let's just say it gets the job done.
As for the diesel, it offers plenty of low-end torque for passing manoeuvres. Surprisingly, its power delivery is smooth and linear, never feeling too harsh as these drivetrains typically tend to feel. Honestly, you barely even notice you're driving a diesel. During hard acceleration, the diesel's immense torque leads to entertaining performance, at least, considerably more than with the 1.5-litre whose performance is rather anemic.
Of course, where the diesel shines is in fuel economy. GM claims 8.5 L/100 km city, 6.1 highway. During my time with the thing, I managed to maintain an average of 7 L/100 km. For an all-wheel-drive vehicle, that's excellent. As for the 2.0-litre gasoline engine, fuel ratings are claimed at 11.2 L/100 km city, 9.2 highway. The 1.5-litre with AWD pulls 9.6 L/100 km city, 8.3 highway. That's good, but not great.
Good Gearboxes with, buttons?
Whether you opt for the six- or the nine-speed automatic transmission, you won't be disappointed. In both cases, performance of these two units is more than ample, even if they are now operated with buttons instead of a good old shifter. GM says the goal of this unusual and frankly unintuitive configuration was to clear up the centre console to add storage space. Granted, it definitely works, but why feel the need to reinvent the wheel? The system proved to be infuriating during a quick reverse/drive manoeuvre.
That being said, the gearboxes in the Terrain are excellent. They shift quickly, effortlessly and discretely. In both cases, they are perfectly suited with their respective engines and don't ruin their performance at all. If anything, they actually help at maximizing the traditionally narrow torque curve of the turbo engines.
Other big news for the GMC Terrain: an all-new infotainment system. Not only has its interface been entirely updated to make it easier to understand, it is now possible for users to connect two smartphones via Bluetooth at the same time.
Six USB ports (two USB-C) are now available, and it is now possible to configure unique user profiles, which lets users customize and save their preferred radio stations, general layout of the interface and phone settings. The navigation system even adapts to your driving habits and eventually suggests your favourite roads, restaurants and gas stations. These profiles can then be saved on a cloud server and recovered in another GM vehicle equipped with the same system. All the user needs to do is sign in to their profile.
To sum it all up, it's easy at first sight to see the 2018 GMC Terrain as another marketing technique to generate more sales. To be totally honest, that's kind of what it is. But at the end of the day, its unique design, abundant list of standard features and significantly upscale interior allow it to carve itself a niche in a traditionally boring segment.
Say what you will, the Equinox and Envision are not bad SUVs. Their qualities (and faults) are simply transposed under a new shell we now call the GMC Terrain, a strategy that should allow GM to grab a bite out of whatever demographics will enter its showrooms.
Share on Facebook