2018 GMC Terrain: It's All About the Marketing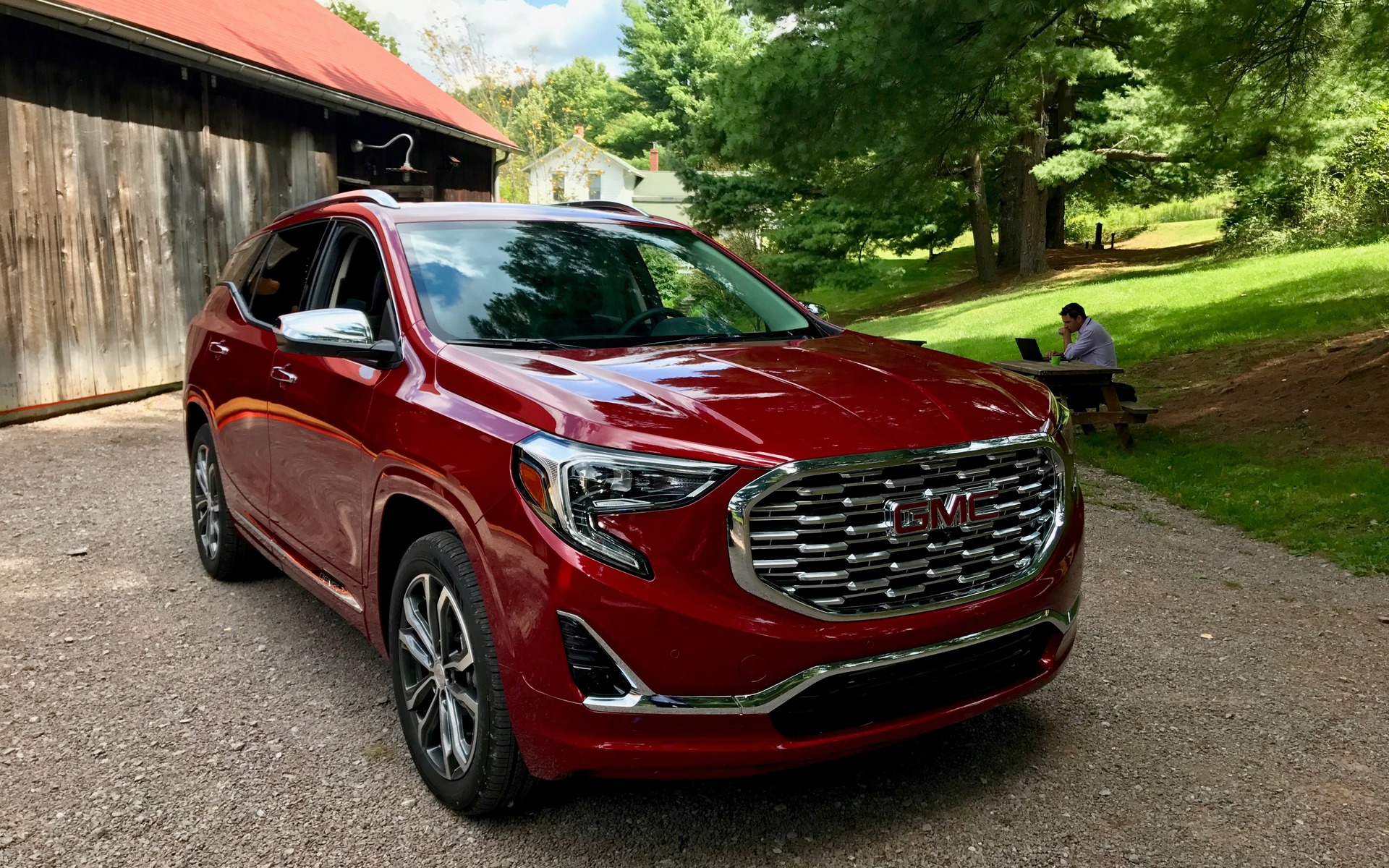 Strong points

Trio of effective, fuel efficient engines
Nice design
Improved infotainment system
Well-equipped basic version

Weak points

Not enough "wow" factor for the Denali version
Boring ride
Engines lack punch
Full report
Meet the 2018 Terrain. We've been expecting it. Like its brother-from-another-mother, the Chevrolet Equinox, it has undergone a significant transformation, turning the refinement up a notch to challenge the competition. The product unveiling was essentially an exercise in marketing mumbo jumbo, as a great deal of time was spent talking to us about GMC—keep in mind that this is a brand that doesn't offer any original products, only rebadged Chevrolet vehicles—and telling us the extent to which GMC's image is geared toward professionals. In fact, it's even their slogan: Like a pro.
But don't be angry at GMC or Chevrolet. I can already tell you how the GMC Terrain runs: it drives well and is comfortable, quiet, economical and roomy—just like all its competitors. This is an era where differences between products are slight and they all cost about the same amount and all are equipped with the same stuff. Since it has become difficult for brands to set themselves apart through their products, they're trying to stand out with their marketing efforts. To be fair, the Terrain is technically a more luxurious version of the Equinox. It starts at $32,000 and the most extravagant version, the Denali, goes for $43,500, which is nearly $3,500 less than the previous generation. A fully loaded Equinox will run you $40,000.
Three interesting engines
Like the Equinox, the 2018 GMC Terrain is available with three different engines. The first is a turbocharged, 1.5-litre four cylinder that generates 170 horsepower and 201 lb.-ft. of torque. Paired with an excellent nine-speed automatic gearbox, its average fuel consumption is 8.6 L/100 km. That's not half-bad for an SUV.
More eco-conscious buyers can opt for the turbo-diesel, 1.6-litre four cylinder with 137 horsepower and 240 lb.-ft. of torque. Combined with a six-speed automatic gearbox, you can expect an average fuel consumption of under 7.5 L/100 km.
Last but not least, both the mid-line SLT and top-line Denali come with a turbocharged 2.0-litre four which delivers 252 horsepower and 280 lb.-ft. of torque. It works with the same nine-speed gearbox as the 1.5-litre engine. However, with a combined city/highway average fuel consumption of 10.2 L/100 km, it's much less fuel efficient.
Don't expect many thrills from this trio. Although there's no shortage of torque, you don't really feel it. With the pedal to the metal, the 1.5-litre and diesel offer little more than a whimper. And while the more powerful 2.0-litre provides a livelier drive, the experience isn't worth the extra 2 to 3 litres of gas per 100 kilometres.
It isn't as mechanically refined as the new 2018 Volkswagen Tiguan, but to be honest, the average SUV driver won't notice. For everyday use, most people will be perfectly content with the GMC Terrain.
Like all the others
The Terrain's style is very different from that of the Equinox. As mentioned in the introduction, they are essentially the same vehicle. The Equinox, however, is more family-oriented, while the GMC Terrain is more macho, boxier and more masculine (their words, not mine).
Both inside and out, the Terrain is a rather handsome vehicle. Then again, the same can be said of all the other SUVs in this category, with the exception of the Nissan Rogue, which could use a little T.L.C. in its cabin.
The Denali's cabin is loaded with nice materials, but it doesn't have as much wow factor as it used to. The problem is the quality of the finish and materials: it has improved so much in recent years that it's becoming difficult to offer a "luxury" version that truly stands out.
Like all the other SUVs, the 2018 GMC Terrain is comfortable, quiet, nicely executed and relatively roomy. What's more, since the front passenger bench folds down completely, you'll even be able to transport longer items such as 2x4 lumber.
The Terrain's infotainment system is the very latest iteration and it's superb. The high-resolution graphics are simple, attractive and—most importantly—the experience is easy and doesn't lag. It's the polar opposite of Honda's system.
The most disappointing aspect of the Terrain is its ride, just like the Equinox. The steering is disconnected from the road, soulless and devoid of excitement. I know what you're thinking—that the average SUV buyer doesn't care about that, and you're absolutely right.
This brings me to the conclusion. All compact SUVs look alike and they all have their own good qualities. At the end of the day, though, the overall experience is comparable from one product to the next. People no longer base their purchase decision on exhaustive research to determine which vehicle is best. They buy an experience, they buy a brand—basically, they buy marketing.
GMC is marketed as a sturdier version of Chevrolet products. In actuality, the Terrain drives like the Equinox, while offering a more robust style, which is great, if that's what you're into. However, don't be fooled into thinking that you've somehow found a rare pearl. This is but one pearl among many.
Share on Facebook