2018 GMC Terrain: a Loveable, but Expensive SUV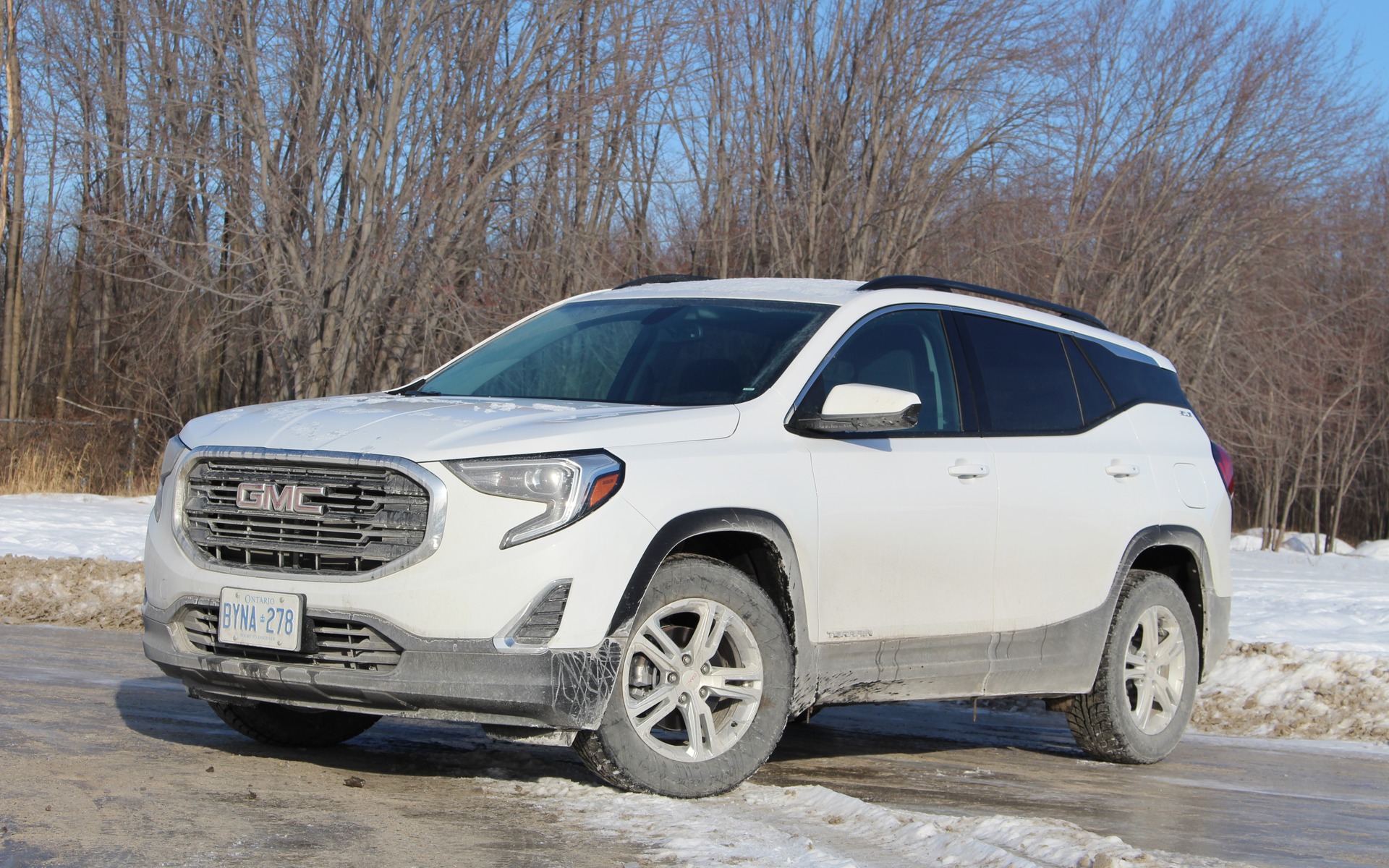 Strong points

Comfortable ride and seats
Good fuel economy (1.5L engine)
Rugged good looks

Weak points

High base price
Some cheap interior materials
Limited rear outward visibility
Full report
If a few years, half the country could be driving around in subcompact and compact SUVs, so there's a lot of potential for every automaker. Some are more popular than others, though, and the rest must rely on innovative features or an alluring price tag to get some extra attention.
The 2018 GMC Terrain has been totally redesigned this year, and brings a lot of improvements to rival the likes of the Toyota RAV4, the Honda CR-V, the Ford Escape, the Nissan Rogue and the Hyundai Tucson. The Terrain has many more adversaries, including its Chevrolet Equinox cousin, but the ones listed above are among the top 10 best-selling utility vehicles in Canada.
The GMC's design manages to be unique with its octagonal grille, its V-shaped headlight clusters and taillights as well as its greenhouse that slims down towards the rear. Those rearmost windows are pretty small, though, as is the rear window, which reduce outward visibility. Form over function here.
Inside, the dashboard doesn't look any more modern, but the overall styling is jazzed up with some brightwork, woodgrain trim and contrast stitching. It's a shame that build quality still needs improvement, as we noticed a gap between the infotainment screen housing and the dashtop, large enough to wedge in quarters and dimes. Almost all of the sound system's physical buttons have been ditched in favour of touchscreen controls. The simplified climate controls are easy to use while driving, with rotary dials for both temperature control and fan speed. It's straightforward, like it should be.
The IntelliLink infotainment system is also uncomplicated, and integrates Apple CarPlay and Android Auto if we prefer one of those interfaces. Even the base SLE trim, the one we tested, gets a seven-inch screen along with six speakers, USB ports front and rear as well as an integrated Wi-Fi hotspot—although a monthly data package is required at extra cost.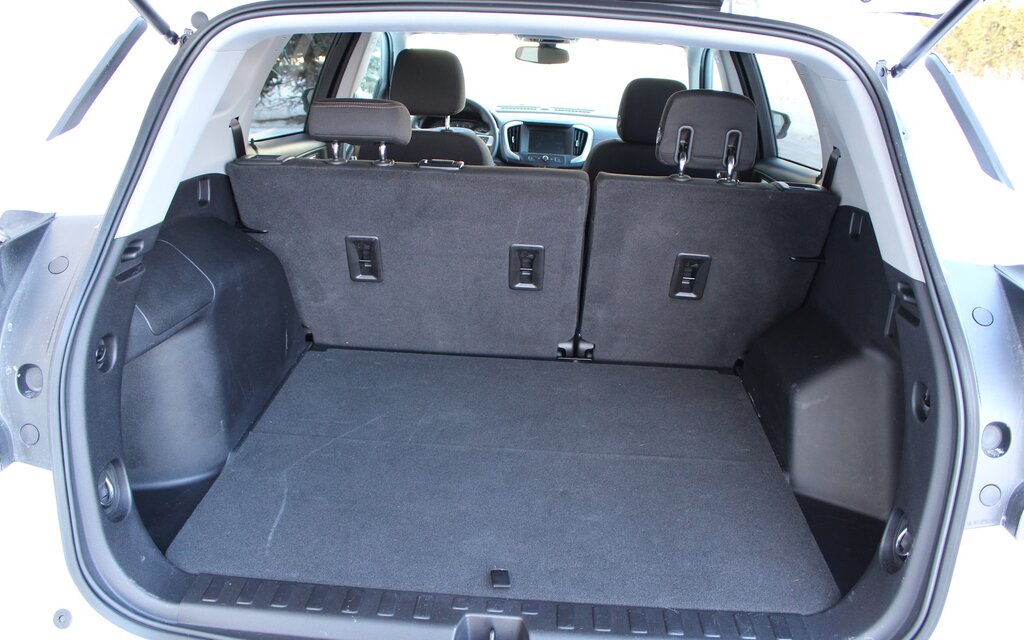 On paper, passenger space hasn't changed much compared to the outgoing-generation Terrain, but in real-world conditions, the rear-seat area of the 2018 model is more accommodating. There's a good amount of leg- and footroom, and the flat floor helps, too. During a round trip from Montreal to Quebec City over the holidays, the teenage kids never complained about a lack of space—although the on-board Wi-Fi probably played a huge role in keeping them silent, and there are USB ports back there to keep their devices juiced up.
Cargo space is actually down, if we look at the spec sheets. However, the new Terrain's wider interior makes it more versatile, and it's still fairly roomy with a maximum volume of 1792 litres when the rear seatbacks are folded down. It used to be difficult to fit a baby stroller in back, but not anymore. When opening the liftgate in winter, it's impossible not to get our hand dirty, as the release button is located just above the bumper. Oh, and the liftgate doesn't open very high, so folks over six feet tall will have to duck or bang their head repeatedly.
The 2018 GMC Terrain gets an all turbocharged engine lineup, including the base mill, a 1.5-litre four cylinder that develops 170 horsepower and 203 pound-feet of torque. It's connected to nine-speed automatic transmission, and together, they provide the SUV with more than adequate performance for the daily grind. Obviously, the small-displacement engine doesn't make the Terrain a hot rod, but with the kids and the family pooch on board, are we really in that much of a hurry? The compromise is worthwhile, with city/highway ratings of 9.2/7.9 L/100 km. During our road trip, which consisted mostly of highway travel, we managed an excellent average of 8.1 L/100 km. That's with our front-drive tester—expect about 1 L/100 km more with AWD, which most Canadian consumers will choose.
Leadfoots can also choose the turbo 2.0-litre four, good for 252 hp and 260 lb.-ft. of torque, and hypermilers may opt for the turbo-diesel, 1.6-litre four and six-speed automatic combo that's now available in the Terrain and the Equinox. It produces 137 hp and 240 lb.-ft., and it can consume as little at 6.0 L/100 km on the highway. However, it costs $4,000 more than the 1.5L engine, which pretty much offsets the fuel economy gain.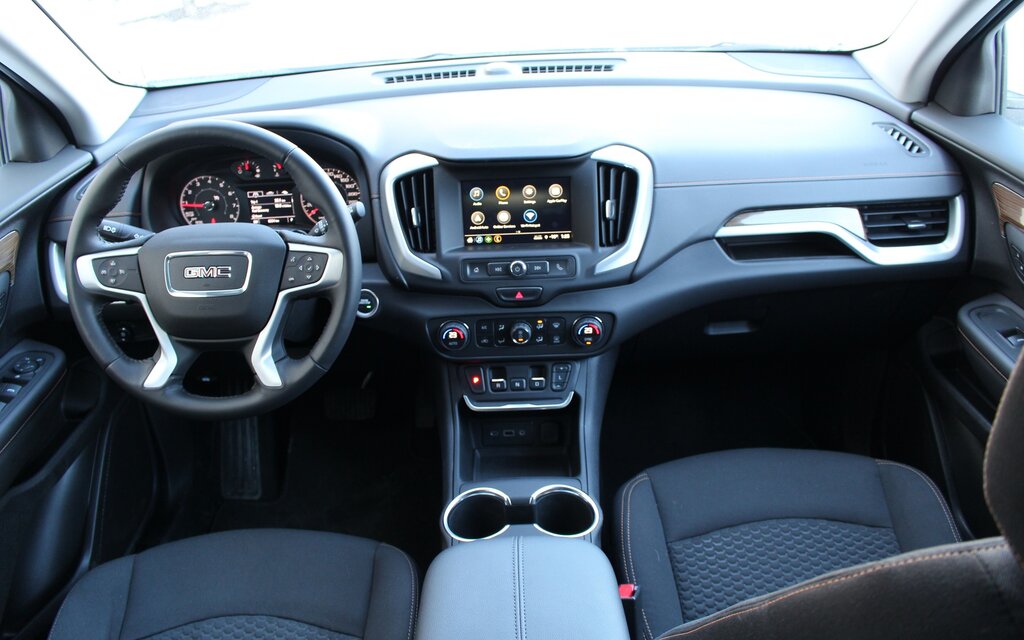 Instead of a conventional shift lever, the Terrain's transmission is controlled by rocker switches mounted on the centre stack. While it does free up space on the centre console, using these buttons takes some getting used to, as it's much less intuitive than rowing up and down a traditional lever, or even pushbuttons that we're starting to see in more and more vehicles. One snowy morning, we were stuck in the driveway, and not only is it impossible to perform a drive-to-reverse, rocking-horse manoeuvre with these transmission switches, but the stability and traction control system can only be deactivated through the trip computer. Ugh.
Pricing for the 2018 GMC Terrain, in base SLE trim, starts at $30,300 before freight and delivery charges. That's a hefty sum compared to the base MSRPs of its rivals, which are all well under $30K—and in some cases five thousand dollars less. You do get an elaborated infotainment system, heated front seats, a power driver's seat, an intelligent key with remote start and dual-zone climate control, but still, the Terrain isn't cheap. Adding AWD and a few comfort and convenience items brings the price up to $37K. A Denali variant starts at $44K, which is a lot of money for a compact SUV that isn't sold by a luxury brand.
The new Terrain is a comfortable, efficient and good-looking SUV, and GMC has done a good job improving it over the previous generation. It's also distinctive enough to not be simply considered as a rebadged Equinox—or the other way around. If only it was a couple thousand dollars cheaper, it would be a much more interesting proposition.
Share on Facebook