2018 Chevrolet Equinox: True to its Roots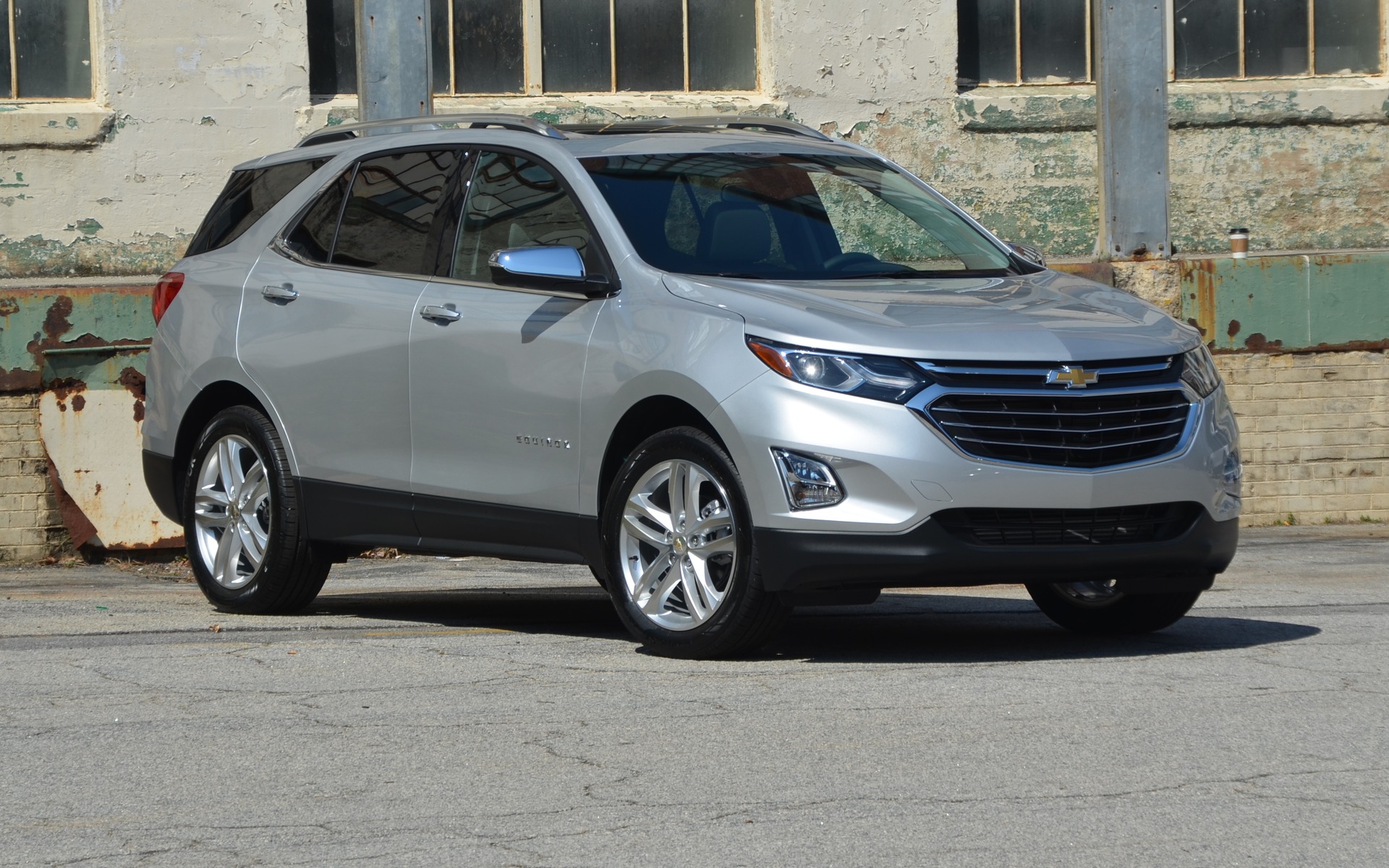 Strong points

Modern lines
Has shed some extra pounds
AWD available on all versions
Great comfort
Fuel economy better than before

Weak points

1.5L lacks punch
Boring ride
Hesitant six-speed automatic gearbox
Reliability and resale value not known
2.0-litre turbo and 1.6-litre diesel not offered yet (coming later this year)
Full report
The previous-gen Chevrolet Equinox was due for a makeover. After all, it wasn't exactly the most innovative vehicle in its class, even when it came out in 2010. Furthermore, the compact SUV segment has seen a bigger spike in sales than any other category over the last 10 years.
And when a category is popular, manufacturers suddenly take notice, as though the future of the planet depended on it (that's a bad example – they couldn't care less about the planet). They'll spend millions of dollars on research, development and marketing to attract as many buyers as possible—this has given us the Honda CR-V, Hyundai Tucson, Mazda CX-5 and a dozen other models. With all this going on, the Equinox was left out of the running, despite a light update two years ago.
The 2018 Equinox is brand spanking new! It features a more torsion-resistant chassis designed to score better on the Insurance Institute for Highway Safety's new impact tests. What's more, it has trimmed a few centimetres here and there and is 181 kg lighter. Weighing just 1509 kg, the base trim is one of the category lightweights. The Ford Escape, its main competitor, is nowhere near as light.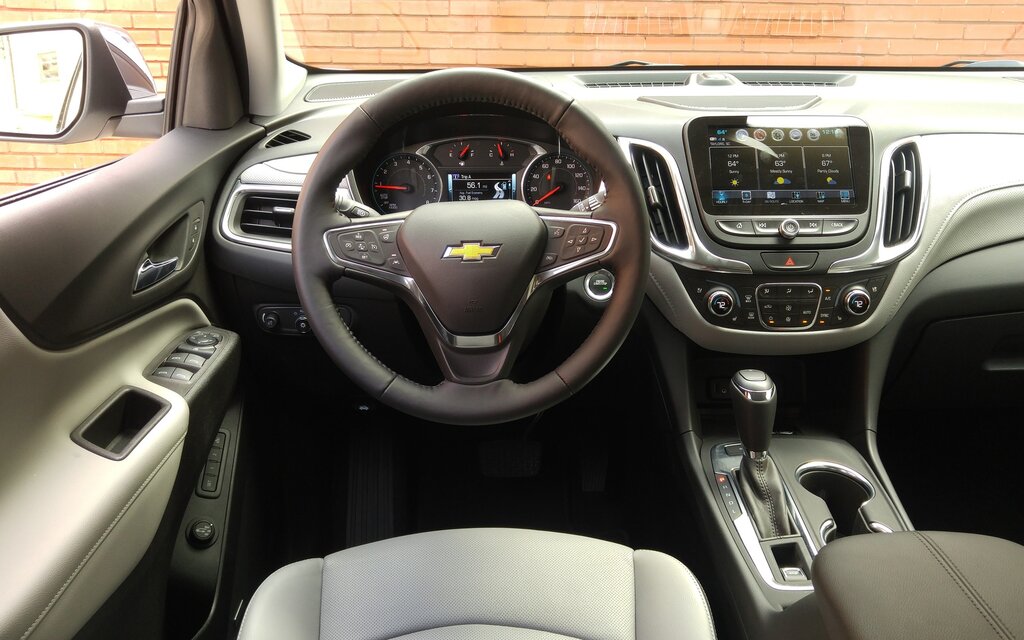 Seven or eight inches?
The passenger cabin is pure Chevrolet, for better and for worse. The dashboard is well designed, all the controls are in the right place and the materials are infinitely better than before. Although, to be fair, it would have been difficult to find worse materials than before.
As you'd expect with a Chevrolet product, standard equipment includes all imaginable technologies. In the less posh versions, the central screen is seven inches in size compared to eight in the Premier version. Regardless of the variant, the Equinox offers such features as 4G LTE on-board Wi-Fi, Apple CarPlay, Android Auto and Teen Driver (a parental control) via the MyLink system.
The front seats are comfortable—at least they were for the two consecutive hours I spent in them. I was less happy with the lack of storage spaces and, in one of the vehicles tested, with the racket the power seat made when being moved back. The rear and ¾ rear visibility are surprisingly good despite very small outside mirrors, who in return improve your field of vision when approaching a street corner.
The first of three engines
The new Equinox will feature three four-cylinder engines, all turbocharged. Arriving at dealerships as we write these lines, is a 1.5-litre mill that generates 170 horsepower and 203 lb.-ft. of torque. It's paired with a six-speed automatic gearbox. This engine will soon be followed by a 2.0-litre producing 252 horsepower and 260 lb.-ft. of torque. In this case, the gearbox will be a nine-speed developed in conjunction with Ford. Lastly, there will also be a 1.6-litre diesel offering 136 horsepower and 236 lb.-ft., paired with a six-speed transmission.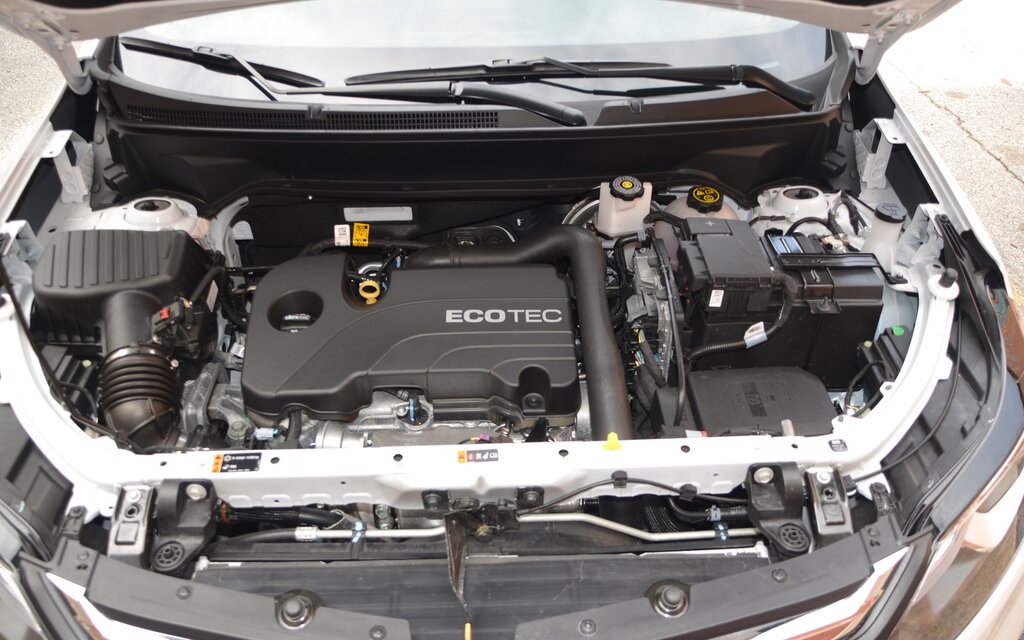 The 1.5-litre is replacing the antiquated 2.4-litre (190 horsepower and 179 lb.-ft.) engine. This 1.5-litre may not be the most dynamic mill out there, but it is more than capable of making you forget the 2.4. It's smoother, quieter and less thirsty. During our test drive—half highway and half secondary roads—our overall average was an impressive and very surprising 8.3 L/100 km according to the onboard computer. At 60 mph (96 km/h), the rev counter indicated 2000 rpm, which is very high for 2017. When climbing a hill or driving aggressively on a winding road, the six-speed gearbox often searched for the right gear, thereby increasing engine revs and fuel consumption while putting a damper on the driving experience. Bring on the 2.0-litre and its nine-speed gearbox!
The 1.5-litre engine comes standard with front-wheel drive, but all-wheel drive is available on all trim levels (LS, LT or Premier). Speaking of which, the folks at Chevrolet emphasized that the Equinox's AWD can be activated and deactivated using a button on the centre console. That means 100% of torque is sent to the front wheels to save precious tenths of litres of fuel. Some manufacturers offer the same thing, but without human intervention. Incidentally, the 1.5-litre turbo Equinox can tow up to 1500 lbs. (680 kg).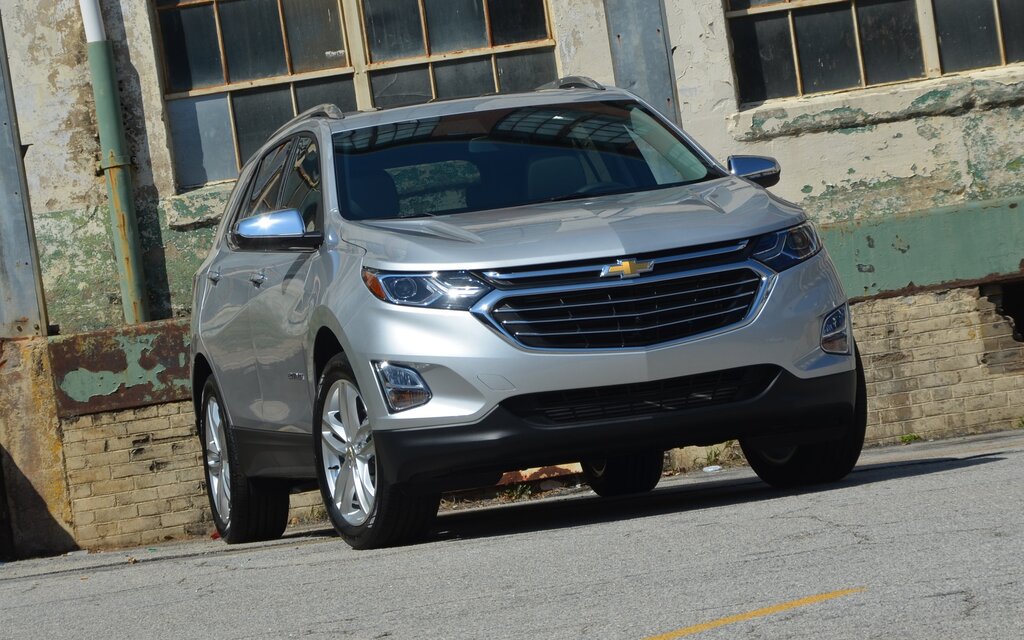 Evolution rather than revolution
On the road, the 2018 Chevrolet Equinox remains true to what it has always been: unpretentious, with no claims of sportiness. It combines comfort with a quiet ride. The suspension is calibrated to provide excellent comfort (note that we were in the United States, where the roads are very well maintained). In tight turns, the four-wheel independent suspension keeps roll under control. And while the steering isn't overzealous, it's loose in the middle, providing little feedback and is to blame for a rather long turning radius.
Even though the Equinox has come a long way, it's still a step behind the Mazda CX-5 that we recently test drove. Then again, it will undoubtedly seek out a different, more traditional and family-oriented clientele. At the same time, those who trade in their previous-generation Equinox for a new one will be in familiar territory. This compact SUV has been treated to an update for 2018, but it hasn't set a new category benchmark – at least not with the 1.5-litre!
Share on Facebook