2018 Jeep
Grand Cherokee

Trackhawk: Daily Hellraiser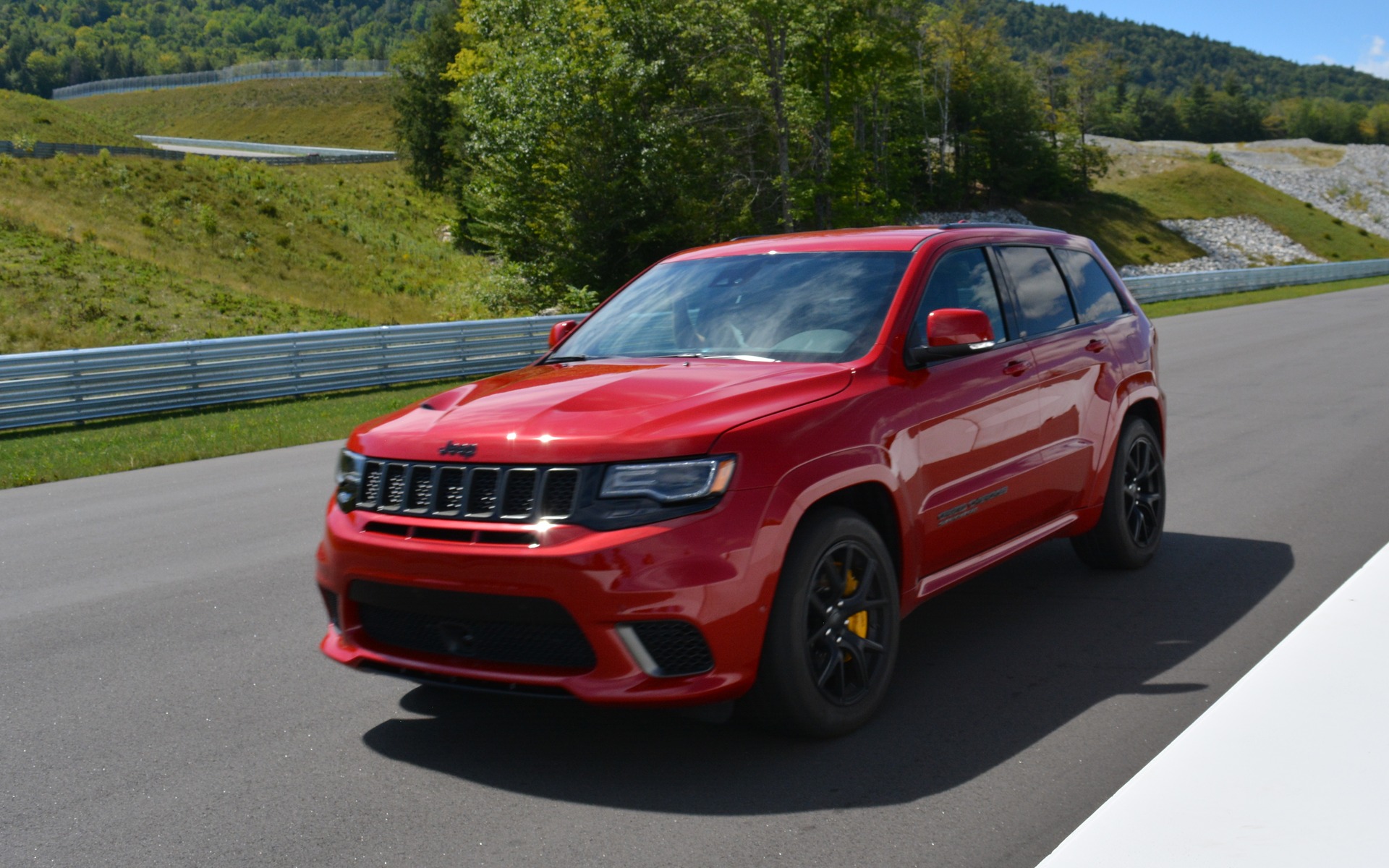 Strong points

Mega power
Subtle and powerful looks
Handling and ride quality
It's still a versatile Grand Cherokee

Weak points

Steep price
Mega fuel consumption
In the wrong hands, this Jeep is a weapon
Full report
PORTLAND, Maine – Put yourself in the size 11 shoes of your friendly neighbourhood psycho car guy and try not to be insanely in love with what FCA has been doing of late. What am I talking about? Umm, SRT everything including the Durango (Yeah!), Hellcat madness, the Devil's Demon and the latest Grand Cherokee Trackhawk. I mean, if this is not a middle finger to the "Green Movement," I don't know what is.
Now, I'm not saying FCA is evil and out to literally destroy the world, no, the U.S. has someone in Office that will take care of that for us. The bottom line is that FCA is simply answering consumer demand for off-the-wall, over-the-top, high-powered vehicles. Although all were long-awaited, the Trackhawk is the one I was most looking forward too.
Why is that, you ask? Why more than the Dodge Challenger SRT Demon? Simple. Because the 2018 Jeep Grand Cherokee Trackhawk may be the most versatile, capable, all-terrain, horizon-busting mass production vehicle of all time. Truly, there is nothing that this truck cannot do.
Subtle packaging
What's brilliant about the GC Trackhawk is that the transformation from run-of-the-mill Laredo family SUV to daily hellraiser has in no way affected the vehicle's outright usability. And on top of that, FCA was wise enough not to adorn the truck with colossus aero, stove-pipe exhaust outlets or even a hood scoop. Obviously, there are clear and present visual differences between said Laredo and Trackhawk, but if you don't know, you'll probably not notice. If I was to make one comment, I'd lose the "Supercharged" moniker on the front doors. If you want another hint, look for yellow brake callipers—a sure sign of badass-ness.
The cabin is what ultimately makes the Grand Cherokee Trackhawk a daily automobile. Whether it's soccer practice, Costco or the cottage, this giant devastator can handle it all just as easily as a Laredo or a Summit would. The sexy and big bolstered suede/nappa performance seats with embroidered "Trailhawk" logo is the most notable change and best when Ruby Red coloured.
A revised 8.4-inch Uconnect touchscreen takes centre stage and is as good to use as ever. This Grand Cherokee gets Trackhawk-exclusive Performance Pages with timers, gauge readouts and more. The instrument panel holds a 7-inch driver information display that can feature the tachometer in the middle, where it belongs.
Why so mega?
By now, most of you know about SRT's supercharged 6.2-litre V8 engine. Its 707 horsepower at 6000 rpm are unchanged from the Hellcat's, but torque drops slightly to 645 lb.-ft. (from 650) due to the slightly more restrictive exhaust system. Is this a problem? LOL.
The Trackhawk is mental. The way it launches from a standstill defies all logic. It's incredible to watch the rear end squat and the front lift when the brake pedal is released (check out the video on The Car Guide's Facebook page). Oh, right, the Trackhawk includes a launch mode that will get you to 60 mph (96 km/h) in 3.5 seconds all day, every day. I know it's possible, as I managed to do it three times in a row. For us Canucks, the 0-100 km/h sprint requires 3.7 seconds, but I think it could do it in 3.5. How? Less fuel in the tank, no passenger (we had instructors on board) and perhaps tweaking tire pressures. Mental.
When the brake pedal is sidestepped, the fear of imminent mass destruction takes over as the truck generates 1.4 g of forward thrust. If the launch is done right, wheelspin is non-existent. The trick AWD system with rear electronic limited-slip differential and electronic proportioning transfer case blends a 50/50 torque split, which reverts to a 30/70 mix from 25 mph. It's difficult to otherwise accurately describe what it's like when the 5363-lb. (2433-kg) truck leaves inertia's grasp.
In the wrong hands, this truck can be a weapon. Passing and accelerating are akin to firing a gun. This means keeping a good distance between yourself and the car ahead is necessary. I promise you that a car length disappears quickly when the hammer goes down. You don't want to be the guy rear-ending the 110 km/h car ahead of you that you were trying to pass… at 150 km/h or more.
I must admit that I never glanced down at my speed when I reached the end of Club Motorsports front straight, but it must have been close to 120 mph (193 km/h). When we got to it, the six-piston front, four-piston rear callipers clamped down hard on mega 15.75-inch, vented two-piece front discs and 13.78-inch vented rears. The dramatic forward weight transfer severely unloads and destabilizes the rear end, but despite repeated abuse, they held out beautifully. From 96 km/h, the brutish SUV will come to a full stop in a supercar like 35 metres.
All day, every day
Another key to the Trackhawk's daily appeal are the Bilstein adaptive dampers and purpose-tuned springs. There's a thing called Selec-Trac that enables the driver to select between five pre-set drive modes as well as a Custom setting. They control the AWD system, transmission, paddle shifters, suspension and power steering.
The everyday modes are Auto and Custom, while Sport and Track put to good use what the engineers have endowed the Trackhawk with. Because this is an AWD SUV, it also features a Snow and a Tow mode. That's right, this truck can still tow up to 7200 lbs. (3266 kg), perfect for taking the race car to weekend track events. Should it break down, your tow vehicle turns into the spare track machine. Seriously, can there be a more perfect setup?
The adaptive dampers maintain a lovely level of comfort on regular roads. At the other end of the spectrum, they expertly control weight transfers through apexes around the track. They regulate body roll and keep the massive new Pirelli P295/45ZR20 Scorpion Verde tires in contact with the tarmac for ideal at-the-limit responsiveness. Steering weight varies through Selec-Trac, but is never too quick or heavy. It would be wrong to say that it's full of feel, but there's sufficient communication between the rubber and the steering wheel to keep everything within the driver's thresholds.
Big leagues
The 2018 Jeep Grand Cherokee Trackhawk has no immediate competition in the power or price game. It handily crushes the BMW X5 M, Range Rover SVR and Porsche Cayenne Turbo, to name a few. The question is whether Jeep is exclusive enough, or if the Grand Cherokee is refined enough for you, and why you are considering the aforementioned vehicles.
Orders for the Trackhawk opened on August 15th and 50% of the year's allowance is already spoken for.
Share on Facebook