2018 Jeep
Grand Cherokee

Trackhawk: Hell Bent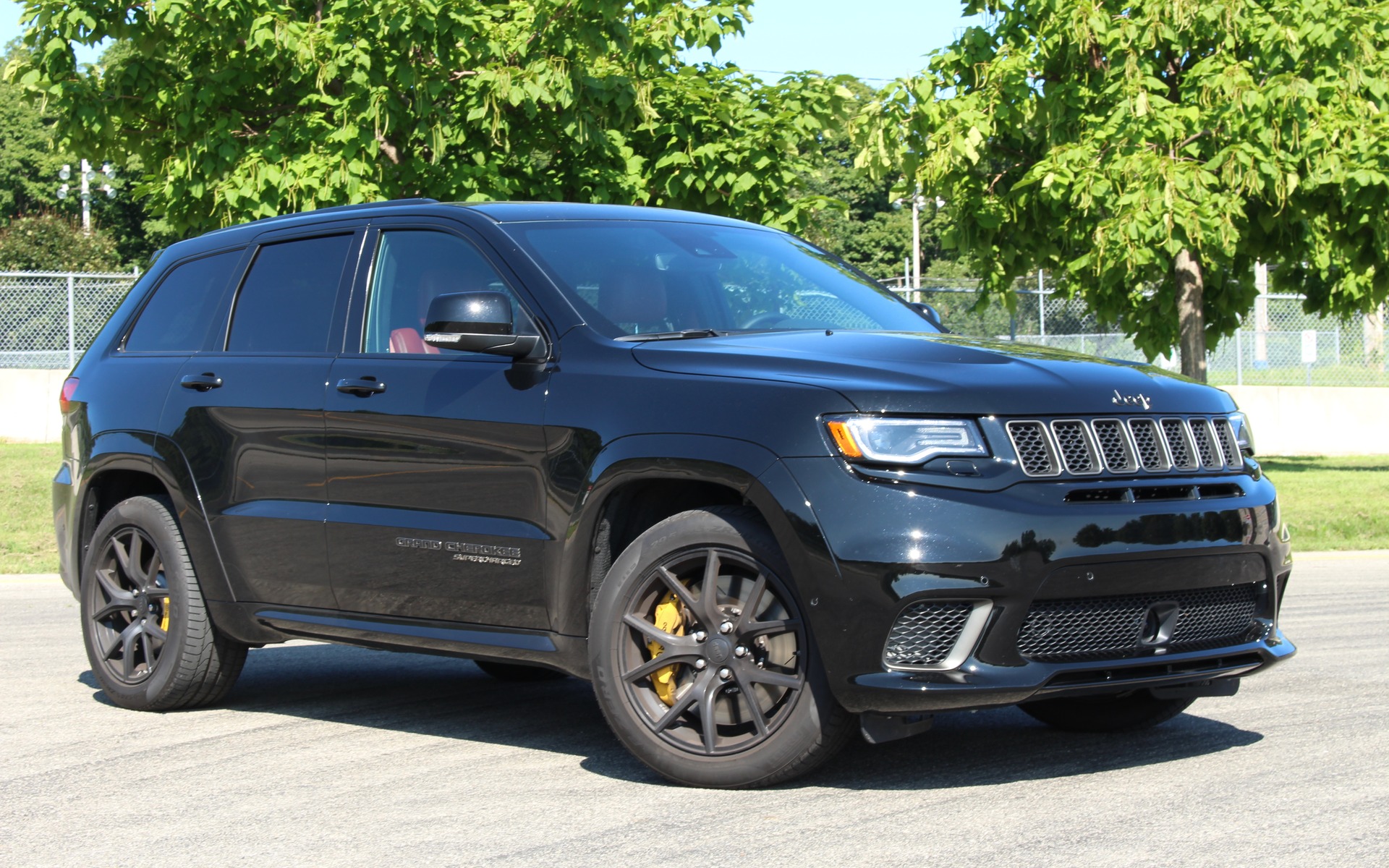 Strong points

Awe-inspiring power and torque
Addictive engine and exhaust roar
Still as versatile and easy to live with as a regular Grand Cherokee

Weak points

A gas guzzler, of course
High price
Some cheap interior furnishings
Full report
After it was released back in 2006, the Jeep Grand Cherokee SRT8 was considered a poor man's alternative to a Porsche Cayenne Turbo, rocking a 6.1-litre HEMI V8 with 425 horsepower and a chest hair-raising soundtrack. It was fast, it was relatively affordable—compared to the Porsche—and it was very popular.
The current-generation Grand Cherokee SRT, introduced in 2014, raised the performance bar even higher with a 6.4-litre HEMI V8 and 475 horsepower, with the added bonus of actually being able to tow a trailer—which the first-gen SRT8 couldn't do.
If seems as though customers wanted more. And if they didn't ask for more, FCA is giving it to them anyway with the 2018 Jeep Grand Cherokee Trackhawk. For those unfamiliar with this limited-production (says FCA) beast, know that it's equipped with the same engine as the Dodge Challenger SRT Hellcat and Charger SRT Hellcat.
That's right: we can now purchase a Jeep straight off the dealership floor with a thunderous, supercharged 6.2-litre V8 that develops 707 horsepower and 645 pound-feet of torque, matched to an eight-speed automatic transmission with wheel-mounted paddle shifters. No other factory SUV can touch the Trackhawk's output, and we're talking about heavy artillery such as the Porsche Cayenne Turbo (541 hp), the Rolls-Royce Cullinan (563 hp), the BMW X5 M and X6 M (567 hp), the Range Rover Sport SVR (575 hp), the Mercedes-AMG GLE 63 S and GLS 63 (577 hp), the Bentley Bentayga (600 hp) and the Lamborghini Urus (650 hp). Crazy stuff.
FCA claims a 0-to-96 km/h (0-60 mph) time of 3.5 seconds, thanks to the Trackhawk's four-wheel drivetrain, Track drive mode and launch control system. It can also clear the quarter mile in 11.6 seconds and reach a top speed of 290 km/h. We averaged 16.0 L/100 km during our test. The automaker is not only holding their middle finger up to the face of treehuggers, it's mooning them as well.
A Grand Cherokee SRT at wide-open throttle sounds awesome, but a Trackhawk adds a layer of supercharger whine, producing an aural experience that's indescribable without the use of swear words or sexual references. It's hard to resist giving joyrides to friends, family and neighbours who'll be flabbergasted at the 2018 Jeep Grand Cherokee Trackhawk's explosive performance. The sport-tuned suspension with adaptive Bilstein dampers and braking system with massive discs (400 mm up front, 350 mm at the rear) and yellow Brembo callipers help us keep the SUV in control if we go overboard with its forward thrust.
Yet as brutal as the Hellcat engine may be, and sound, it's remarkably smooth and well-behaved at relaxed cruising speeds. We can be a douchebag if we want to, but it's nice to know that we don't have to be one 24/7.
If there's one thing the Trackhawk lacks—which can be both a good thing and a bad thing—is some visual distinction from the SRT. Aside from a SUPERCHARGED badge on the front doors and quad exhaust tips, there's little here to show people that you're behind the wheel of the most badass Jeep on the market.
The rest is pure Grand Cherokee, with a luxurious cockpit that has its hits and its misses. The standard black Nappa leather and suede seats can be swapped for sepia upholstery, or Demonic Red Laguna full leather upholstery—the latter being part of a $6,995 leather-wrapped interior package with red seat belts. Our test vehicle looked pretty hot with that option, despite its price.
The Uconnect infotainment system is easy to use, with big button zones and a very reactive touchscreen, but FCA smartly left rotary dials for radio volume, station tuning and fan speed. Heated and ventilated seats, along with a heated steering wheel, and standard fare, and although we operate them with on-screen controls, we can program them to turn on automatically according to outside temperature, which is neat.
On the other hand, the shiny carbon fibre-style trim on the dash doesn't look very rich, and the silver plastic trim on the steering wheel and centre console doesn't belong in such an expensive vehicle. The storage bin cover just below the climate controls lines up so poorly with the shift lever and cupholder bezel, that we'd always leave it open. The doors close shut with a feel and sound that we expect in a subcompact car, but not in a premium SUV. This is what you get for choosing a Grand Cherokee instead of a Cayenne or an X5 M.
Versatility is completely unaffected by the Hellcat powertrain and high-performance components. Cargo space is still adequate with 1028 litres behind the rear seat and 1934 litres with the seatbacks folded down, while maximum towing capacity is still rated at 7200 pounds (3265 kilograms).
Base price for a 2018 Jeep Grand Cherokee Trackhawk is a staggering $110,845 before freight and delivery charges, and our tester carried about $13K in options. In comparison, a base Cayenne Turbo is listed at $139,700, while a Range Rover Sport SVR starts at $133,000.
This is a tough one. We're mesmerized by the Hellcat engine's power, intoxicating supercharger whine and everyday usefulness, but it comes at a cost that's pretty high for a Jeep. And since the vast majority of people will think we're driving a "regular" SRT, we might feel as though the extra $38,000 could've been spent elsewhere. On the other hand, if there really won't be many Trackhawks on the market, this could be a potential collectable years down the road.
One thing's for sure, though: it's one of the fastest, loudest and thrilling SUVs on the market, which may be enough for it to be considered a bargain.
Share on Facebook