2016 Chevrolet Camaro RS V6 – All American Sports Car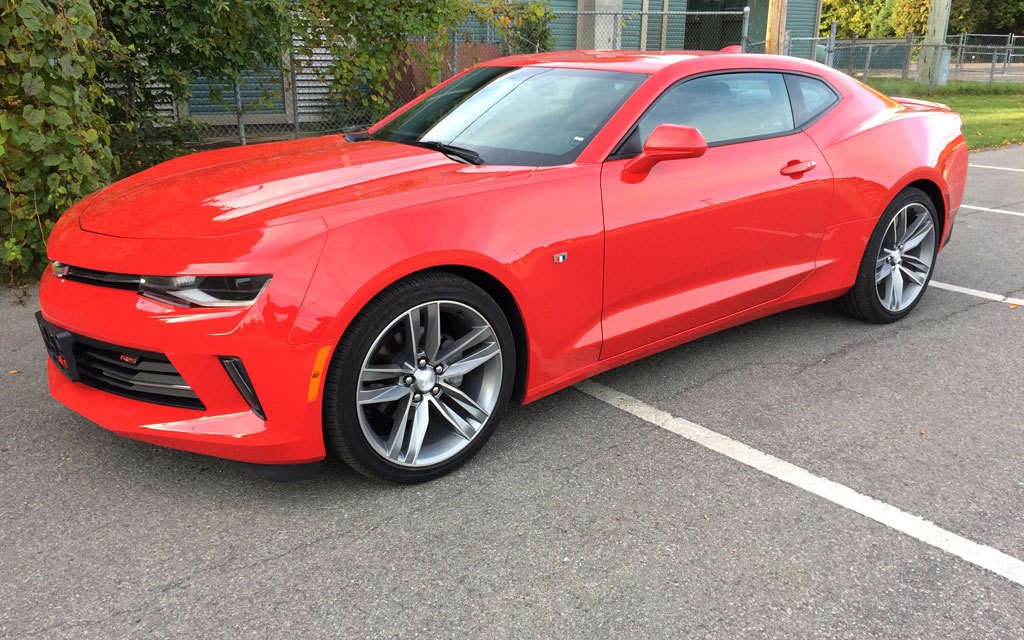 Strong points

Iconic looks
Supportive seats
Inexpensive

Weak points

Cheap-looking interior
Angled display screen
Low outward visibility
Full report
The Chevrolet Camaro is an iconic American sports car that is instantly recognizable as such to almost any human being. A modern-day musclecar, the current sixth-generation Camaro is certainly no slouch when properly equipped. The ZL1 version will blow the doors off almost anything with its 640-horsepower, supercharged V8, but the Camaro can also be had in four- and six-cylinder variants.
The test vehicle here is a base Camaro 1LT ($29,095) equipped with the $2,145 RS package, which includes a rear lip spoiler, a black grille with chrome accents, high-intensity discharge headlights and 20" split-spoke wheels. In addition, the optional $1,645 upgrade to the V6 engine was selected, as was the $900 performance exhaust system. Including freight and delivery charges, the car came in a hair over $34,000, which is a very reasonable price for a gorgeous piece of American heritage.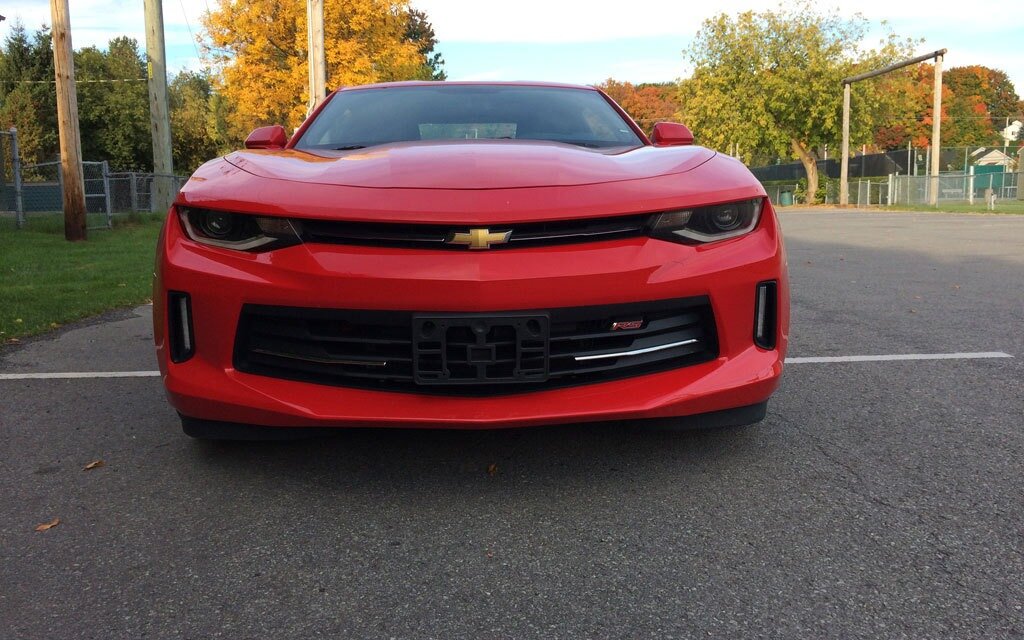 Now, you might be thinking "why would anyone buy a Camaro with anything other than a V8 engine?" It's a long-standing debate in the car community, but it seems that the sales numbers speak for themselves, with more people buying V6 Camaros than V8 Camaros—a lot more. In fact, during the 2014 calendar year, 73% of all Camaros sold were equipped with V6 engines, while 27% were equipped with V8 powerplants. Add to this the fact that there now exists a turbo four-cylinder option and the conventional wisdom that a Camaro must be equipped with a V8 goes out the door.
But what's it actually like to drive? Well, pretty much as one would expect, I would say. The 3.6-litre V6 with its 335 horsepower and 284 lb.-ft. of torque doesn't have the ability to push you back into your seat under massive acceleration like its V8 counterparts do, but it's still a nice improvement from previous generations.
Flooring it will get you an adequate amount of pull, thanks in part to a 300-pound weight savings over the previous-generation Camaro. The sound is also a little puny, even with the performance exhaust, but both these aspects were to be expected. If you want the roar of the V8, then you must get a V8. If you want to be able to pull impressive times at the local drag strip then the V6 also isn't for you.
Sitting inside the Camaro, we find an interior which is quite baron and devoid of much detail. The leather-wrapped steering wheel's white stitching is a nice touch, but the rest of the materials are quite plain. One thing that immediately stands out is the downward angle of the infotainment system screen. It's pointed slightly toward the floor which I found very odd, but in fact it's a clever trick from GM to reduce glare.
Another clever trick from GM engineers is the design of the climate controls. To operate the fan or change the temperature, you must turn the surrounding trim of the air vents which functions as dials. It took me a little while to figure that part out, and I did find it a bit odd at first, but I came to appreciate the ingenuity and seamless integration into the form that reduces clutter.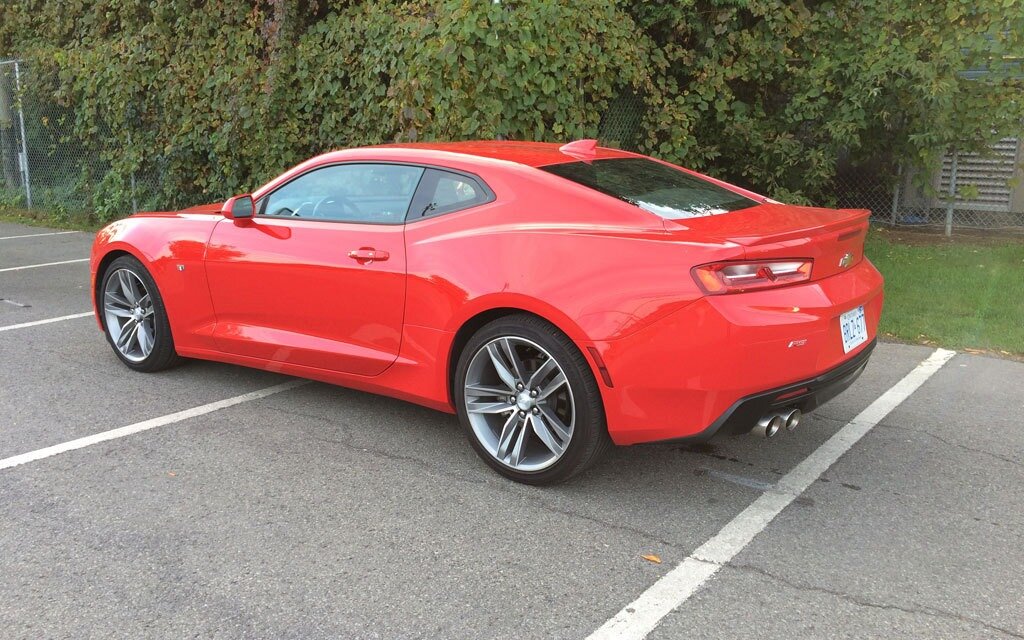 The infotainment system was a breeze to use and was quite intuitive, though the steering-wheel mounted controls for volume were bit odd to manipulate. Visibility isn't one of the Camaro's strong suits and the low roofline serves to reduce your view of things to the sides and rear.
Chevrolet has figured out that an electronic parking brake is a must with a manual car these days. The Dodge Challenger still uses a foot-pedal system that complicates operations a little with essentially four pedals under the dash. I also prefer to engage the parking brake while having the clutch in—something that's impossible with a foot-operated system.
The V6 Camaro is also quite nimble to manipulate. An adaptive suspension is only available on the SS trim, but the standard-issue setup was quite capable of reducing body roll and allowing for quick turns. Performance options that you can opt for on the V6 include Brembo brakes, an external engine-oil cooler and an auxiliary radiator.
I let my wife give it a try and she loved the car. It looks gorgeous, is fun to drive and turns a lot of heads, even in V6 trim. In fact, she started inquiring about how much it would be to obtain one. As I mentioned, the Camaro is quite reasonably priced and all of this fun can be had for around $34,000. This is the 2016 model, but the specials on the 2017s are already out.
It's evident why the Camaro V6 sells so well. It's an attractive all-American sports car with adequate performance and a good price. If you don't plan to race it—and a large portion of buyers never will—then it represents great value. Racing enthusiasts will want something with a little more oomph, however.
Share on Facebook