The Mitsubishi Mirage Under the Microscope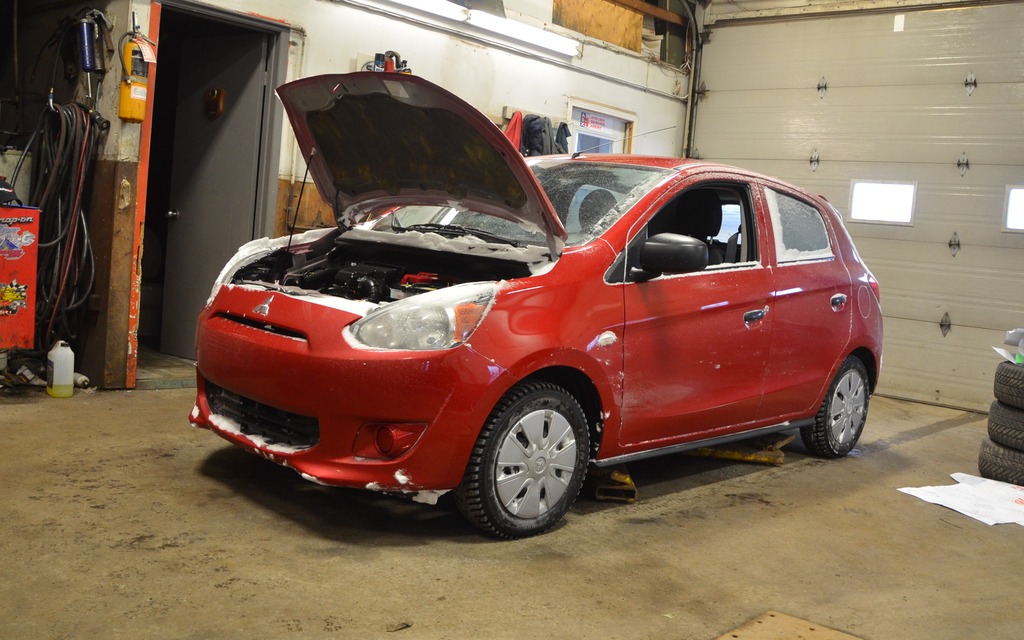 Since its North American debut, the Mitsubishi Mirage has been the subject of a lot talk—and heated debate! While its body shape is not unpleasant, a closer look reveals all the shortcuts the manufacturer took to produce the car at a low cost. Shortcuts like that are okay, but only when the vehicle's price reflects its quality.
To find out more, the Car Guide decided to call on the services of our friend Ghyslain from the Roch Lavallée et Fils garage in Granby. The in-depth review revealed a few horrors, but also a few aspects that were not so bad.
Cutting on colour
Anyone with an observant eye will quickly notice that the paint is applied very, very parsimoniously. It's to the point that you've got to wonder how resistant the vehicle will be to rust. In the passenger compartment, the quality of the plastics is exceptionally questionable, much like the other materials.
But what about the mechanics? The 1.2-litre three-cylinder engine only produces 74 horsepower at 6,000 rpm and the same amount of lbs.-ft. of torque at 4,000 rpm. These aren't exactly record-breaking figures, but considering that the Mirage is very light (the model we tested weighed just 895 kilograms) and that it will primarily be driven in the city, performance is actually satisfactory – as long as you're willing to live with a lot of noise during acceleration. It becomes tolerable once you reach cruising speed.
Winter fuel consumption
The Mirage's mechanics are simple, but modern. There's dual overhead cams, variable valve timing, timing chain (no timing belt) and electronic throttle control. During the week that we tested it in March, Mother Nature blessed us with extreme cold and snow storms—the kind of stuff we usually get in January. As a result, fuel consumption was 8.0 L/100 km. But given the circumstances, we took this figure with a grain of salt. In more human conditions, we would expect it to be around 7.0 L/100 km. This figure is still nothing to write home about given the vehicle's weight and intended use.
To find out more, check out our photo gallery!
Share on Facebook