2014 Mitsubishi Mirage: Are Your Eyes Deceiving You?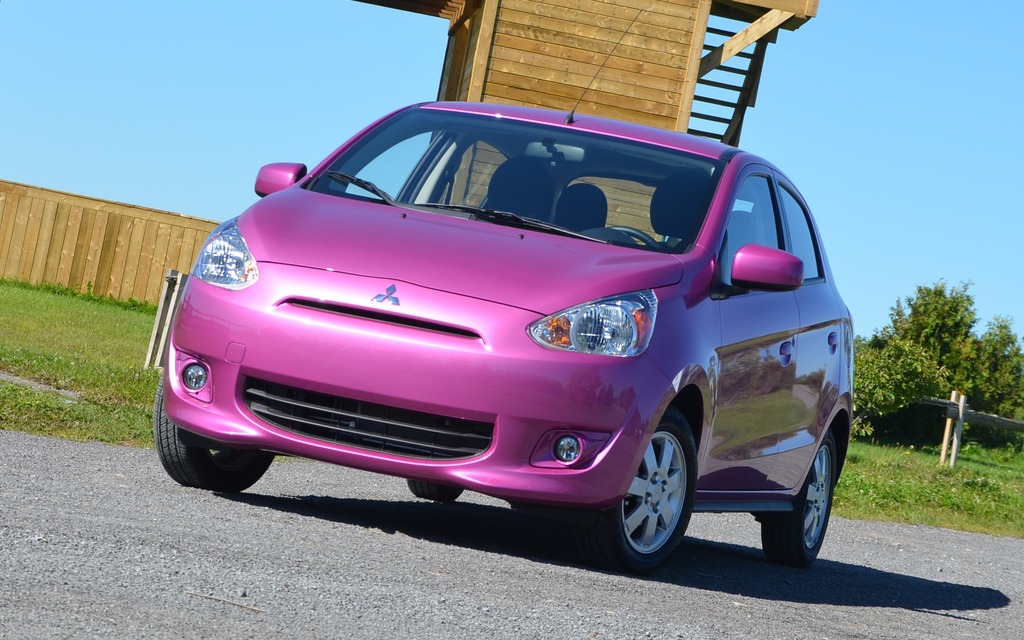 Strong points

Roomy
Respectable comfort
Bright colours
Short turning radius
Excellent CVT

Weak points

Modest power (but decent for the category)
Conservative design
High loading height
The more expensive versions are too expensive
Full report
Mitsubishi's North American line-up is nothing if not heterogeneous. Two compact SUVs (the Outlander and RVR), a rather ordinary sedan and wagon whose base versions become exceptional when called Ralliart or, especially, Evolution. There's also a little, 100% electric car called the iMiEV. And last week, we attended the launch of the new sub-compact: the Mirage.
The Mirage's size places it, more or less, between the Chevrolet Spark and Toyota Yaris. This little Mitsubishi is quite nice and I find its lines, while they are neither very modern nor retro, better balanced than those of the Spark. Fortunately, several bright colours are offered, including sapphire blue, kiwi green, infrared and plasma purple – the latter being the colour of our test car.
A matter of taste
The passenger compartment is disappointingly conformist. Not that the dashboard isn't nice or that it's poorly assembled. It just lacks pizzazz. When a 52-year old geezer thinks the design is average, you can bet that the Mirage's young target market isn't going to be gaga for it either. But it's a matter of taste, and there's a distinct possibility that I have none.
In the few hours that I drove it, I didn't find the seats uncomfortable, but I should admit that the roads choosen were in good condition. All the controls (there are so few!) are within reach. The buttons are big, which makes them easy to handle, and there's enough room in front. Note that the driver's seat is height-adjustable. A quick jaunt on the rear bench was a pleasant surprise. Sure, going from Montreal to Miami would be a tad exhausting, but the leg and head room are perfectly acceptable for a 5'6" person. Mitsubishi very optimistically advertises it as a three-person bench.
The 60/40 rear seatbacks can be lowered, but not completely flat, and the loading height is significant and the opening of the hatch is very small. Mitsubishi Canada has been tight-lipped about the trunk capacity with the seatbacks up, when you know that the capacity with the seatbacks down is only 487 litres (better than the smart and the Scion iQ but worse than the other sub-compacts), you can't expect much. Rear visibility isn't perfect, but it's better than many other models.
The Mirage is built on the RISE monocoque structure that has already been used on several other Mitsubishi vehicles. It improves active and passive safety and, thanks to its front end that is screwed on instead of being welded, it costs less to repair – at least, that's what we were told during the presentation. Furthermore, they quite justifiably emphasized the Mirage's five-star rating in collision tests done in Australia. Tests done by the Insurance Institute for Highway Safety (IIHS) will most probably be every bit as convincing.
Fear not, Lancer Evolution
Under the Mirage's short hood, there's a 1.2-litre three-cylinder that develops 74 horsepower at 6,000 rpm and 74 lbs-ft of torque at 4,000 rpm. That's not much, but since the base trim weighs only 895 kilos (again, between the smart and the Scion iQ), it performs rather enthusiastically. We weren't able to test its acceleration or pick-up, but I would be surprised if the car was able to do the 0-100 km/h sprint in less than 11 seconds – the norm for a sub-compact.
There are two available transmissions: a surprisingly sophisticated CVT made by Jatco and a five-speed manual. Most of our trip was covered in a Mirage with a CVT. Although the CVT is louder when you accelerate, it's never too loud. At low speeds, there's a high-pitched noise when you play with the accelerator, but it's not exactly anything you'll need to contact Consumer Affairs about. At 100 km/h, the engine only revs to 2,200 rpm, which is great news. At 120, it revs to 3,200, which confirms that it's more of a city car than a grand touring. The manual gearbox represents a pleasant surprise. The clutch is soft but less so than that of a Yaris, for example, and the shifting is very good.
Fuel consumption TBD
The two Mirages with CVT we tested gave quite different average fuel consumption numbers: 5.4 L/100 km (43.2 mpg) in the morning and 6.7 L/100 km (35.1 mpg) in the afternoon (several of our test cars were American since it was the North American launch). The former figure seems more realistic since, Mitsubishi has announced that the CVT's average fuel consumption is 4.4 L/100 km highway and 5.3 city (compared to 4.6 and 5.9 for the manual). A future week-long test drive will prove more revealing.
If you think that the ride will be sporty, you've got another think coming. Accelerations didn't faze the modest horsepower too much, but I would like to see how it deals with the hills of the Charlevoix region. Mitsubishi preferred to take us to the Island of Orleans instead. The steering, which was very light in town, became firmer on the highway. Every test drive includes a few wrong turns, but that helps verify a car's turning radius – and once again the Mirage pleasantly surprised us. It turns on a dime – make that a quarter. An sudden emergency braking situation demonstrated a rather long, although not measured, braking distance. I strongly suspect that the Dunlop Enasave 165/65R14 tires favour grip instead of performance.
There are three versions of the Mirage:
$12,498 (ES, manual)
$13,698 (ES, CVT)
$15,398 (SE, manual)
$16,598 (SE, CVT)
$15,898 (SE, Convenience Package, manual)
$17,098 (SE, Convenience Package, CVT)
Overall, the Mirage is a very good sub-compact. With a starting price of $12,498, it compares favourably to similar cars. However, once you hit $15,000, it starts to get pricey. A basic Lancer could become very attractive. But you can say that about most any sub-compact: base versions are inexpensive, but as soon as the price starts to go up, the quality and size for the cost becomes less appealing.
Share on Facebook