All-Electric 2024 Honda Prologue Revealed With GM Tech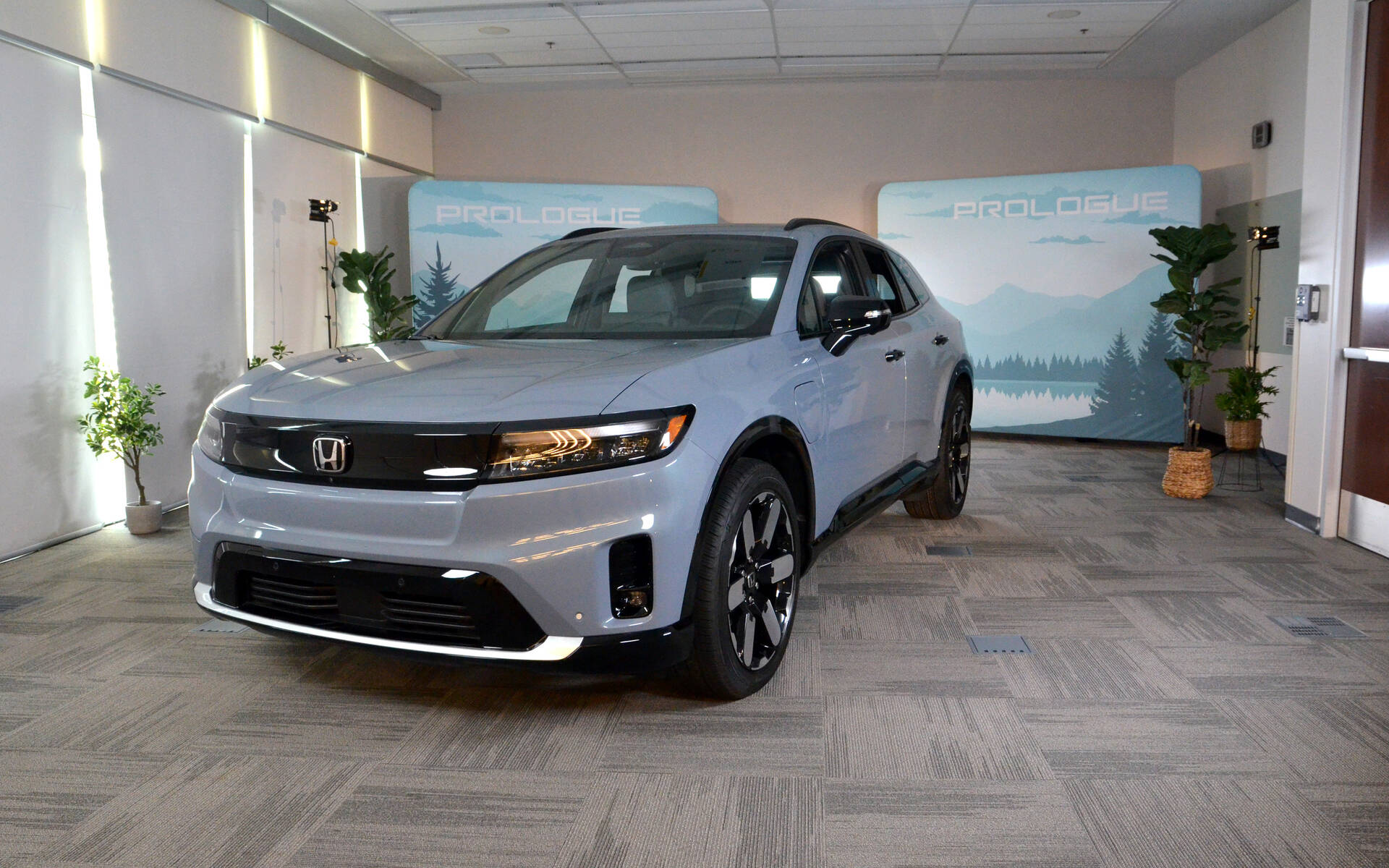 Toronto, Ontario—One hour. That's all the time Honda Canada allowed us to spend with its all-new and fully electric Prologue. The highly anticipated crossover will be the Japanese automaker's first EV in North America when it launches next spring, and that's because the Honda e city car sold overseas would have enjoyed too little success here.
Speed dating? Yeah, that's pretty much what it was. Following the usual walkaround with a product planning specialist, we managed to snap a bunch of pictures which you'll find in the gallery above.
Unfortunately, we didn't get to test drive the 2024 Honda Prologue. However, the company was kind enough to share some juicy nuggets about its latest star—one that's actually based on GM's Ultium platform.
EX, EX-L or Touring
Canadians will have three Prologue models to choose from including EX, EX-L and Touring. All of them come standard with dual motors and AWD, so forget about the single-motor FWD variant that's also available in the U.S. Naturally, our first experience with this vehicle involved the top-line Touring.
The base EX features 19-inch wheels (same as EX-L) along with black/anthracite cloth seats. The driver's seat offers eight-way power adjustments including lumbar support. Heated front buckets, dual-zone climate control, an 11-inch digital instrument cluster and 11.3-inch touchscreen are also part of the package.
Leather seating and steering wheel can be found in EX-L trim. A driver's seat with memory, auto-dimming rear-view mirror and parking assist (front and rear) enhance comfort and peace of mind. Music lovers will be happy about the 12-speaker Bose audio upgrade.
Finally, the Prologue Touring stands out with 21-inch wheels—the largest ever fitted to a Honda vehicle. It also boasts perforated leather, ventilated front seats, a heated steering wheel and Sport drive mode.
As previously reported, all Prologues get Google built-in, as well as wireless Apple CarPlay and Android Auto. The wireless charging tray for smartphones is mounted vertically in order to save space on the centre console.
Those familiar with GM products will feel in familiar territory. Other than the badge on the steering wheel, the layout is fairly similar. The same can be said about the controls and seats, by the way.
Relatively Spacious
The Prologue is roughly the size of a Honda Passport, yet offers more interior space (up to 3,877 litres). There sure is plenty of legroom and elbow room, but headroom is limited. Second-row occupants that stand 5'9" like this writer will have their hair touching the headliner. Considering how much lower than the Passport the electric crossover is, it's no surprise. On a positive note, the rear seats recline to provide more comfort.
When it comes to cargo, the trunk can fit 714 litres—or 1,634 litres with the rear seats folded down. Too bad the resulting cargo floor is not completely flat to allow longer items in the cabin. Taking a page from many competitors, the Prologue offers extra storage under said floor.
Powertrain Specs
The permanent-magnet, dual-motor powertrain delivers 288 horsepower and 333 lb-ft. of torque. Output for the U.S.-only single-motor configuration has not been announced yet. No performance variant is planned, leaving the Prologue without a response to the 577-horsepower Chevrolet Blazer EV SS or the 480-horsepower Ford Mustang Mach-E GT Performance.
Range is estimated by the EPA at 450 km with the standard 19-inch wheels. Look for shorter distances with the top-line Prologue Touring and its oversized alloys. The lithium-ion battery supplied by GM has a capacity of 85 kWh and is able to extract up to 155 kW from a DC fast charger. This means 10 minutes are enough to get 100 km of range.
It will be interesting to see how Honda's first EV handles on the road and how it fares in winter conditions. Incidentally, weight is not specified—both for the AWD and FWD models. Honda will provide that information at a later date.
Honda Driving Experience
While the architecture and main components all come from GM, drivers should still expect the signature Honda experience behind the wheel. As mentioned up top, we were denied the opportunity to take the Prologue for a spin during the media event, so we can't validate that.
Honda Canada product planner Philippe Hallé told us that GM sent its Japanese partner a few units of the Chevrolet Blazer EV in the early stages of development so that Honda engineers could adjust the suspension the way they wanted, ensuring the Prologue would have a different feel on the road.
And that's exactly how it should be. Of course, easier said than done. EVs tend to use a similar approach and kind of feel the same. Engineers must work on settings and adjustments, not to mention artificial soundscapes, to make their products behave differently from the competition.
No Prices Yet
As you can imagine, pricing for the 2024 Honda Prologue remains another mystery at this point. However, we can tell you that the base model will start at around $60,000, a sweet spot to qualify for various EV incentives. Will availability be a problem? Maybe at first, especially if the UAW strike drags on south of the border (GM will build the vehicle, not Honda), but the plan is to reach 70,000 units annually starting in 2025.
Hopefully we'll get to drive the Prologue and share our first on-road impressions later this year or early next year. And for drivers who'd prefer a pure Honda EV, those will come in the second half of the decade when the Japanese automaker debuts its own platform called e:Architecture.
Share on Facebook