2024 Jeep Wrangler: Four-Headed Legend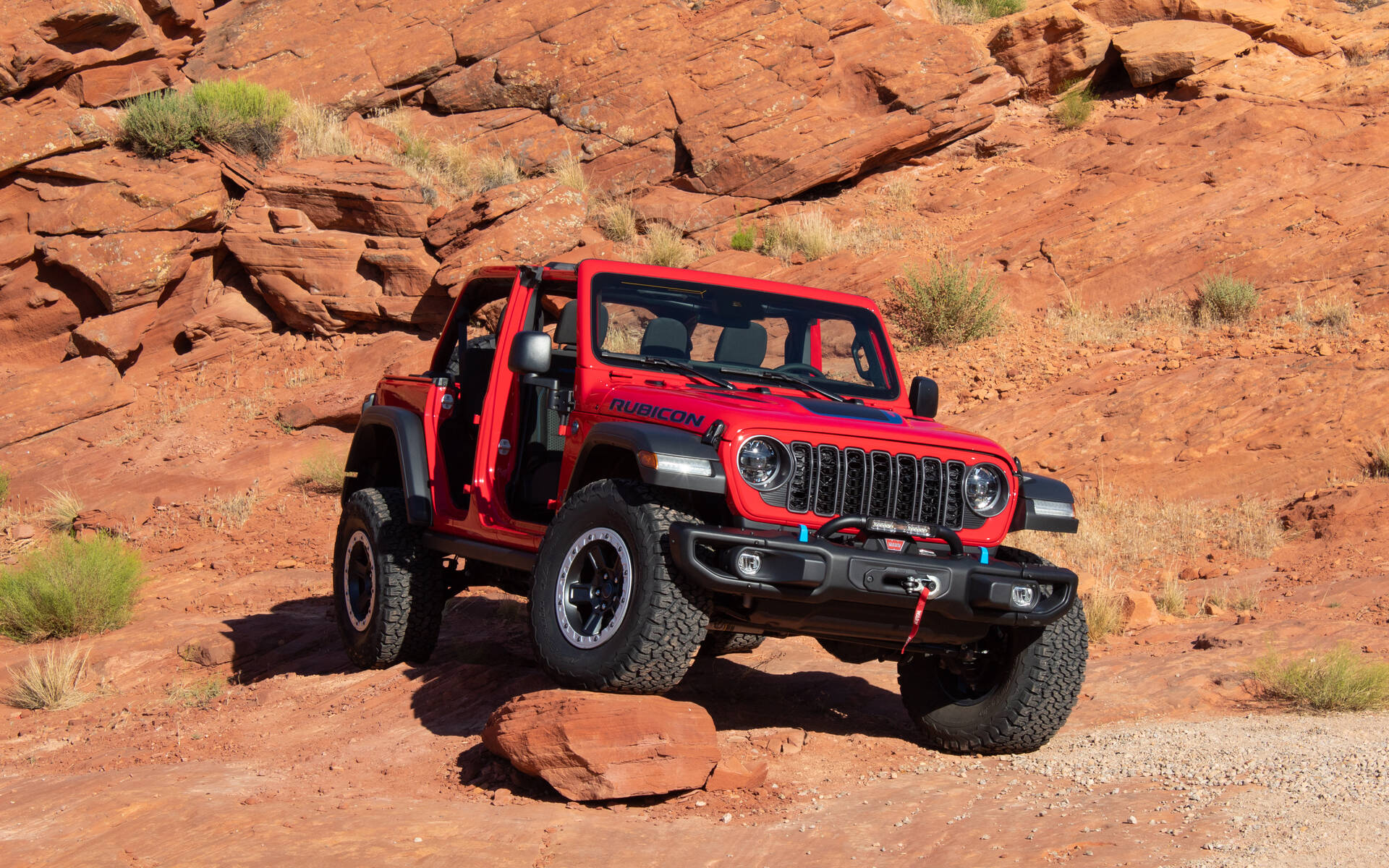 Strong points

So much fun to drive
Mind-blowing off-road capability
Wide array of models
Available manual transmission

Weak points

Limited towing capacity (392 and 4xe)
Awful fuel economy (392)
Disappointing EV range (4xe)
Full report
The iconic and inimitable Jeep Wrangler has been one of the most off-road capable vehicles in the entire industry for decades.
The refreshed 2024 model is still unmistakable thanks to that classic silhouette and seven-slot grille, but the latter is now smaller in order to accommodate the newly available Warn winch that can pull up to 8,000 lbs. Designers have also revised the exterior to optimize the engine's air intake. Oh, and a new trail-ready stealth antenna integrated into the front windshield replaces the previous steel mast antenna.
The Wrangler's cabin features a standard 12.3-inch Uconnect 5 touchscreen with operating speeds that are five times faster when compared to the previous generation. Seriously, it's a major improvement, both in terms of ergonomics and ease of use. Wireless Apple CarPlay and Android Auto connectivity is standard, while Amazon Alexa and a 4G LTE hotspot are optional.
Each of the four available powertrains gives the 2024 Jeep Wrangler a unique personality—dependable, efficient, powerful or just well-rounded.
V6: A Dependable Friend
Robust and dependable, the 3.6-litre Pentastar V6 is a beautiful match for the Wrangler. Acceleration is smooth and linear, although the engine loses steam at higher revs.
With 285 horsepower and 260 lb-ft. of torque, max towing capacity amounts to 5,000 lbs. We put it to the test by pulling a 4,300-lb Airstream trailer on the mountain roads of Utah. The V6-powered Wrangler did a good job overall and remained comfortable. Of course, the steeper inclines revealed the limits of those 285 ponies.
Handling is fine and few steering adjustments are required to maintain a straight line, but only because the pavement over there is in much better condition than what we have in Canada. Due to the rugged suspension design, the ride felt a little bouncy. By the way, a Mopar trailer brake controller is built into the centre console.
The eight-speed automatic transmission, which is available on all 2024 Wranglers, performs adequately in normal driving and towing conditions alike. Purists will obviously turn to the six-speed manual gearbox, which can only be had with the V6.
4xe: The Most Comfortable
As a plug-in hybrid, the Wrangler 4xe combines a turbocharged 2.0-litre four-cylinder engine with a 134-horsepower electric motor. Naturally, it's most efficient of the bunch since it can travel up to 35 km by relying solely on battery power (17.3kWh). Granted, that kind of zero-emission range is unimpressive by modern PHEV standards, but it's still 35 km more than the Toyota 4Runner or Ford Bronco.
The 4xe proves more comfortable than every other Wrangler. Ideal weight distribution results in greater stability on the road, and the quiet ride (especially in EV mode) is highly enjoyable. Transitions between gas and electric are seamless. Also, as you can imagine, motivation is never a problem with 375 combined horsepower and a V8-matching 470 lb-ft. of torque.
The unique driving experience extends beyond paved roads, of course. Silent EV operation adds a whole new dimension to the Wrangler. You can better hear the tires and suspension doing their thing and also get a better feel for the terrain in order to effectively adjust to the obstacles that lie ahead.
392: A Real Monster
The Wrangler Rubicon 392 is essentially a muscle truck. Did you read our detailed review we posted last year? If not, you should check it out now. Blessed with a naturally aspirated 6.4-litre HEMI V8, this monster sounds like, well, a monster.
Fuel consumption is gargantuan-like, but it's almost impossible to resist the urge to depress the throttle—Mother Nature be damned. Performance is mind-blowing and exhilarating. The Rubicon 392 will prance and pin you to your seat before reaching 100 km/h in five seconds and running the quarter-mile in just 13 seconds. It's a game you want to play over and over again.
Despite generating more torque than the V6, both the 4xe and 392 can tow no more than 3,500 lbs. According to Jeep, this has something to do with trailer sway control.
Away From the Beaten Path
The ultimate off-road machine is and will always be the two-door Wrangler. Our Willys tester featured tubular steel doors and a retractable top. It came with the turbocharged 2.0-litre four-cylinder producing 270 horsepower and 295 lb-ft. of torque, which was more than enough to complete the challenges Jeep gave us.
We first put the transfer case in 4LO mode and then pressed the Off-Road button before tackling the sandy trails that would lead us to the slickrocks and mountains we had to climb. It's a good thing the Willys rode on 33-inch BFGoodrich All-Terrain T/A KO2 tires with a pressure down to just 20 psi.
In this type of situation, it's paramount to make delicate use of the throttle and brakes in order to avoid sand building up excessively in the tire grooves. The Jeep instructors on hand sent us on various rocky ascents and steep descents where smooth, controlled progress was in order. Through it all, the Wrangler seemed to fear nothing, and the third-generation Dana axles performed admirably. Alas, we didn't get to try the new full-float Dana 44 HD rear axle that Jeep has been bragging about since the public debut of the 2024 Wrangler (it's exclusive to the Rubicon models).
The Bottom Line
With constant updates to its iconic off-roader, Jeep remains on the leading edge of an ever-changing market. The 2024 Wrangler feels confident both on and off the road. Pricing starts at $43,770 in two-door Sport configuration and goes all the way up to $114,270 in four-door Rubicon 392 trim, not counting freight and PDI.
Watch: 2024 Jeep Wrangler Makes Official Debut
Share on Facebook