2024 Chevrolet Trax: Meet the Cruze 3.0
Strong points

Sporty looks
Spacious and modern interior
Nice content and tech
Attractive pricing

Weak points

Three cylinders only
Disappointing real-world fuel economy
Less agile than most rivals
Will it be reliable?
Full report
The original Chevrolet Trax (2013-2022) ended a long and mostly forgettable career by watching the fresher and larger Trailblazer steal whatever thunder it had left. Following a one-year hiatus, the Trax is back and completely transformed, and if it were carrying any other name, you'd think it was a brand new vehicle altogether.
Before the first few units start arriving in Canada all the way from South Korea this summer, The Car Guide was able to take the 2024 Chevrolet Trax for a spin in and around Quebec City as well as on the scenic roads and mountain passes you can find on both shores of the St. Lawrence River.
FWD Only
The second-generation Trax is available in five trim levels—LS, 1RS, LT, 2RS and ACTIV—and all of them come exclusively with front-wheel drive. Chevrolet made this decision because it now has the Trailblazer, which offers an all-wheel drive option, and also because the new Trax was designed as a sportier and more versatile replacement for the late Cruze sedan and hatchback.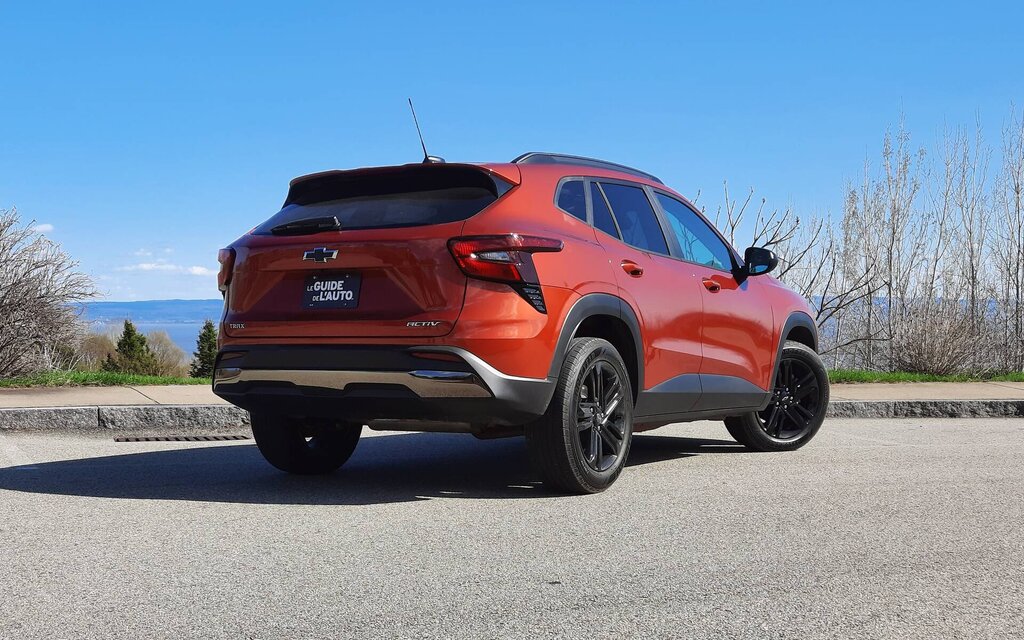 As such, the Trax moves into a different role and primarily takes on the likes of the Nissan Kicks, Hyundai Venue and Kia Soul. You could also throw in FWD variants of the Hyundai Kona and Mitsubishi RVR. Priced from $24,498 including freight and PDI, it's a new entry-level product that's just as affordable as the old one, yet way more attractive.
Tiny Blazer
The 2024 Chevrolet Trax definitely resembles the Blazer up front, even more so than the Trailblazer. It looks much more aggressive and athletic than its short and chubby predecessor, with 279 mm of extra length, 51 mm of extra width and 88 mm lower height. Designers have pretty much nailed the exterior, although the taillight treatment might be a bit too much for some. LED headlights are featured as standard.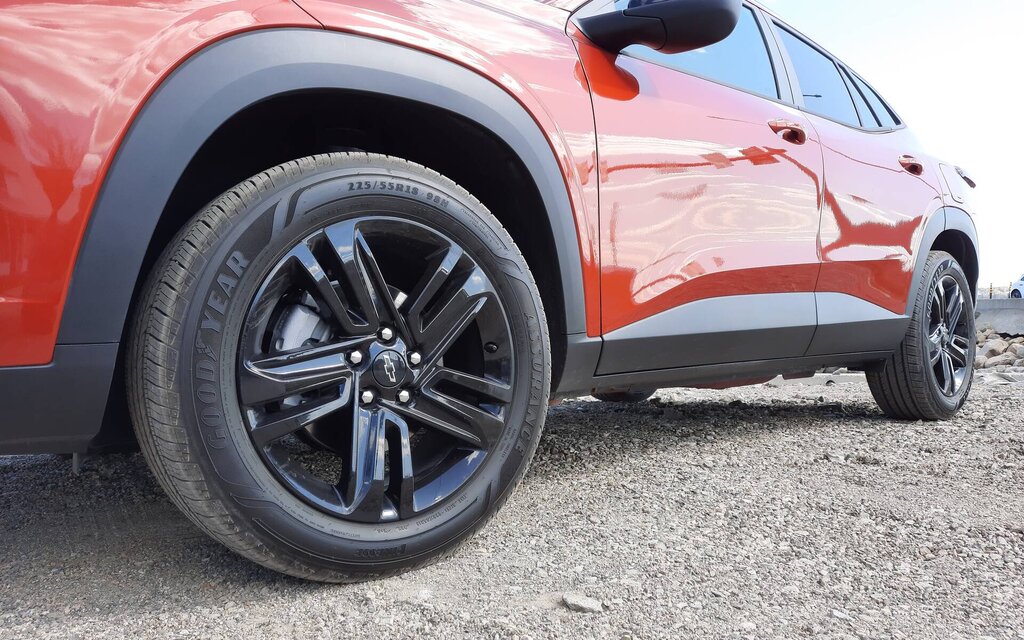 Each trim level gets a unique appearance and that includes the wheels, which range from 17-19 inches in diameter. The base LS rides on steelies, mind you. The 1RS and 2RS have a sportier and darker look, while the new ACTIV model (in burnt orange seen here) stands out with a monochromatic exterior including titanium chrome accents, unique black wheels and a rear skid plate motif. A sunroof is optional on 1RS models and up, and Chevrolet offers some bold colour options but no two-tone combinations as some competitors do.
Generous Space and Tech
Stretching the Trax so much has resulted in a significantly roomier interior. The front seats are more accommodating, and even when they're pushed back for taller drivers, there's still decent legroom left in the rear. In fact, the new model provides 76 mm more of it. Rear passengers will appreciate the flat floor, too, especially the person sitting in the middle. Headroom is rather tight for adults, but obviously not a problem for kids.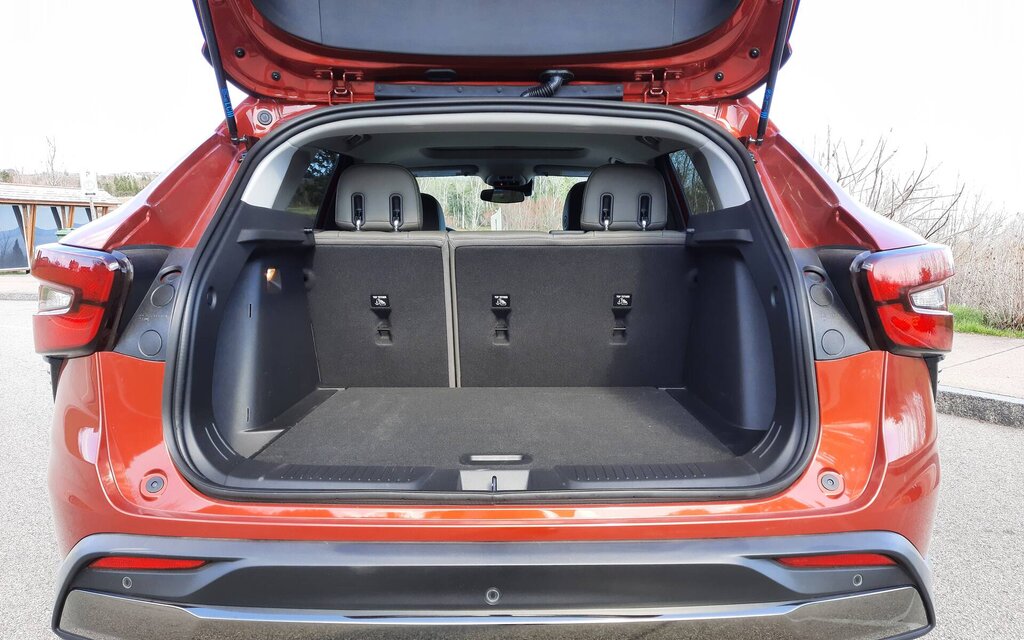 The seats are reasonably comfortable on top of that, although we wish the front passenger bucket could fold flat like in the Trailblazer. As for the trunk, the 725 litres of cargo room lead the segment, and you can get up to 1,532 litres by lowering the rear seatbacks, which is an increase of 161 litres from the old Trax.
Getting back to the front, the dashboard design has been wonderfully updated. The Trax LS and 1RS have analog gauges flanking a 3.5-inch display, while other models receive a customizable 8-inch display. The latter is nice but certainly not necessary, if you ask us. The centre touchscreen, which stands a good 8 or 11 inches depending on the trim level, is relatively easy to access, sharply angled toward the driver for friendlier use and powered by an infotainment system that is sleek and straightforward.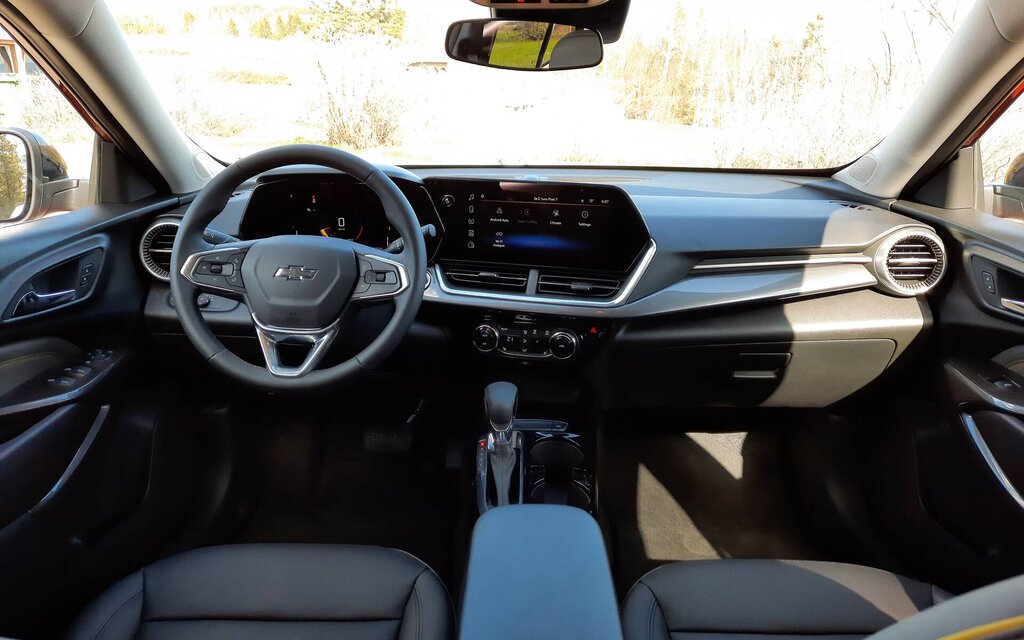 Standard content includes wireless Android Auto and Apple CarPlay, heated front seats, two USB ports and cruise control (the adaptive kind of higher grades). Let's not forget advanced safety systems such as forward collision alert with pedestrian detection, automatic emergency braking and lane keep assist with lane departure alert.
For just $1,500 extra, the Trax 1RS ($25,998 all-in price) adds sharp-looking 18-inch alloy wheels, a heated, flat-bottom steering wheel, heated mirrors, remote start and more. It's arguably the most sensible purchase you can make. In fact, Chevrolet anticipates this model to be the volume leader in the Trax lineup.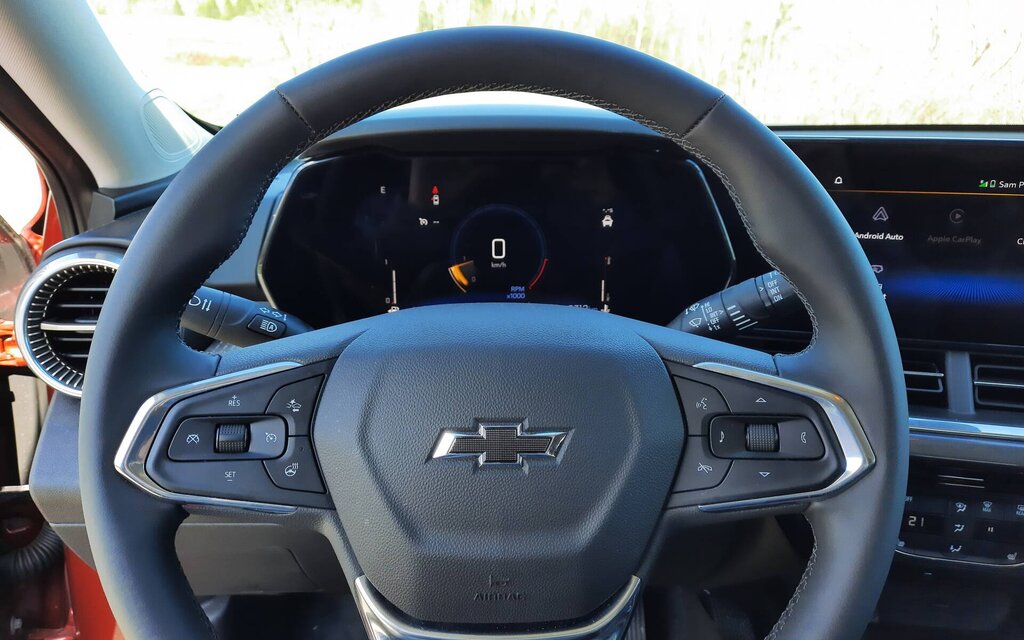 Three Cylinders
Now, when it comes to the driving experience in the 2024 Chevrolet Trax, we hate to report that the turbocharged 1.4-litre four-cylinder engine in the previous generation (155 horsepower, 177 lb-ft. of torque) has been replaced by the same turbocharged 1.2-litre triple-cylinder that powers the base Trailblazer. The flexibility and low-end responsiveness that come from the 162 lb-ft. of torque make things interesting, but the 137 ponies quickly reach their limit, as we found out on some fairly steep hills.
Chevrolet has wisely opted to retain and improve the six-speed automatic transmission instead of going with the Trailblazer's CVT. The former could still use some work, particularly when downshifting, but we'd take it over the latter any time.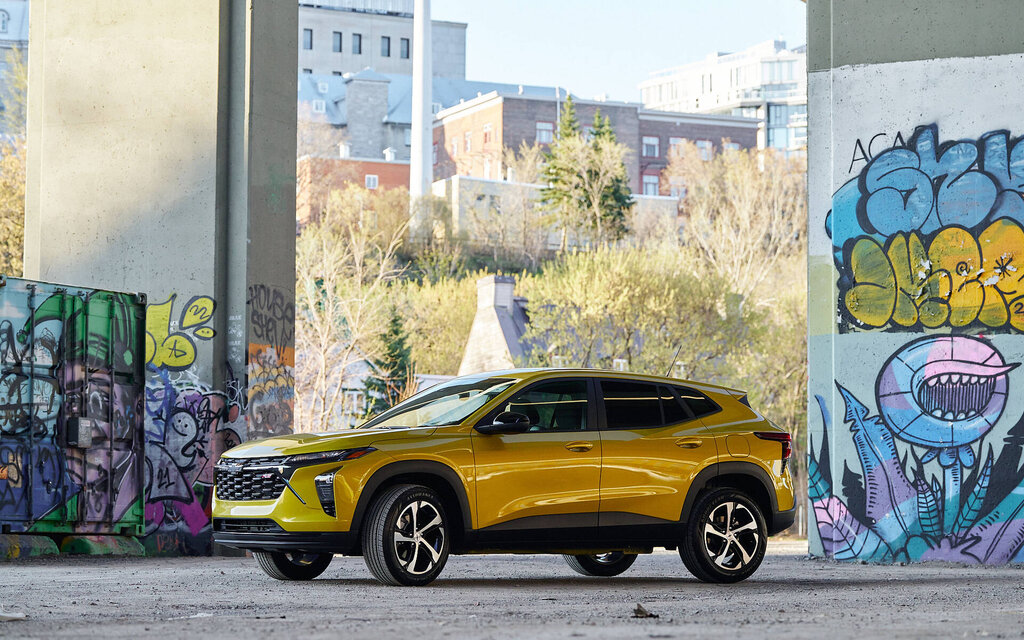 As for fuel consumption, the official rating from Natural Resources Canada has dropped to 7.9 L/100 km, which is an 8 percent improvement, but the average we ended up with at the end of our trip was almost on par with the 8.6 L/100 km achieved by the old four-pot. See, smaller engines with fewer cylinders aren't always better.
What else? Well, the lower driving position and centre of mass are positive attributes of the new Trax. Wind noise is a bit quieter, too. On the other hand, visibility out the rear window is pretty limited, and the longer body doesn't give you the same type of agility you'll find in competitors, especially in tight turns. A quicker-ratio steering would be appreciated. Lastly, the ride is on the stiff side and material selection won't blow you away, as you'd expect in a vehicle at this price point.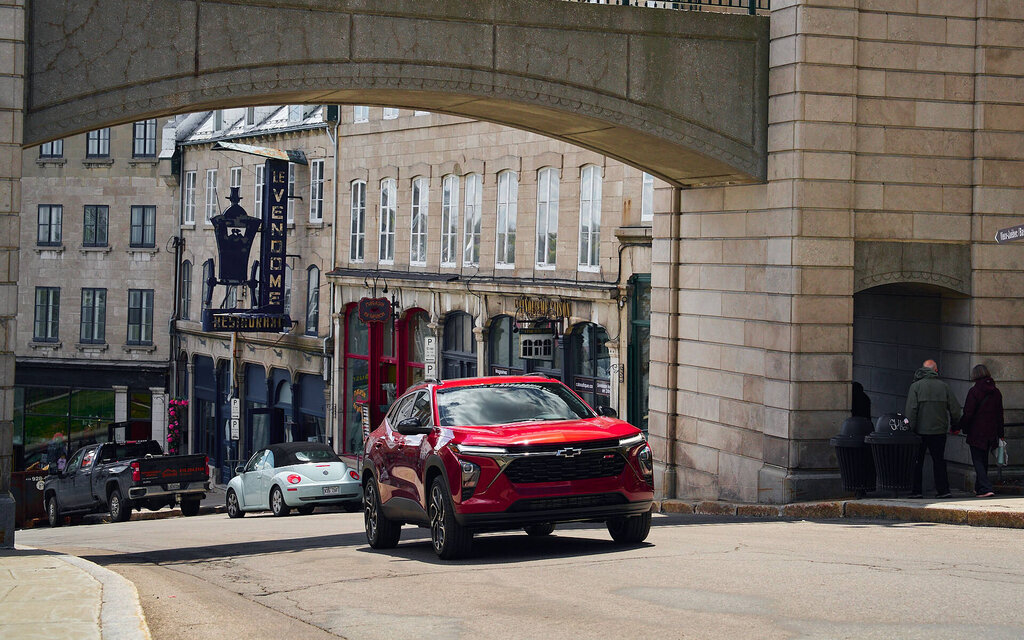 Our Verdict
Chevrolet thinks the fully redesigned and super-affordable 2024 Trax will become its third best-selling product, right after the Silverado and Equinox. It will certainly attract many first-time buyers, empty nesters, people trading in their small car and those who would otherwise turn to a used vehicle to save money. On that note, spending $30,798 on a top-line 2RS or ACTIV model seems like too much money for 137 horsepower and front-wheel drive.
Version 2.0 of the Chevy Trax is light-years ahead of the original and essentially a Cruze 3.0 in an era of city-dwelling crossovers. Full of style and space, not to mention technology, it could prove highly successful if reliability is also part of the package.
Share on Facebook