All-New 2024 Mazda CX-90 is a Premium, Electrified Three-Row SUV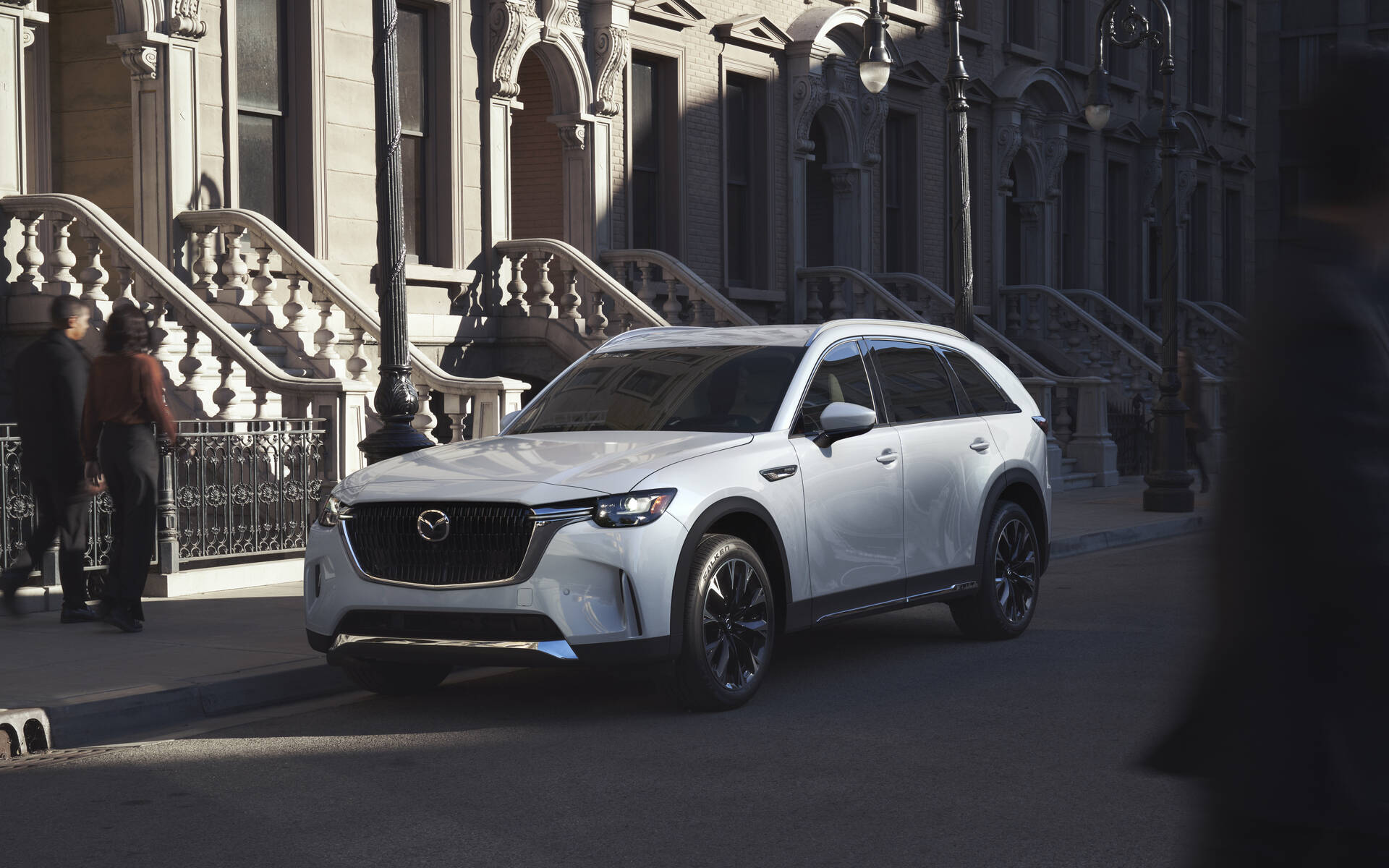 This is it. Mazda's all-new three-row crossover debuted today as a replacement for the CX-9 with seating for up to eight, a unique new architecture and a pair of electrified powertrains. It will go on sale this spring as a 2024 model and become the Japanese brand's new flagship in North America.
As previously reported, the Mazda CX-90 comes standard with a turbocharged 3.3-litre inline six-cylinder engine. Output is rated at 340 horsepower along with 369 pound-feet of torque (when running on premium gasoline), making it the most powerful production engine in company history.
A small electric motor sits between the longitudinally mounted engine and the equally new eight-speed automatic transmission to create a mild hybrid system which Mazda calls "M-Hybrid Boost." Zero-emission driving is possible at low speeds. Oh, and just to be clear, the CX-90 has standard AWD, as well.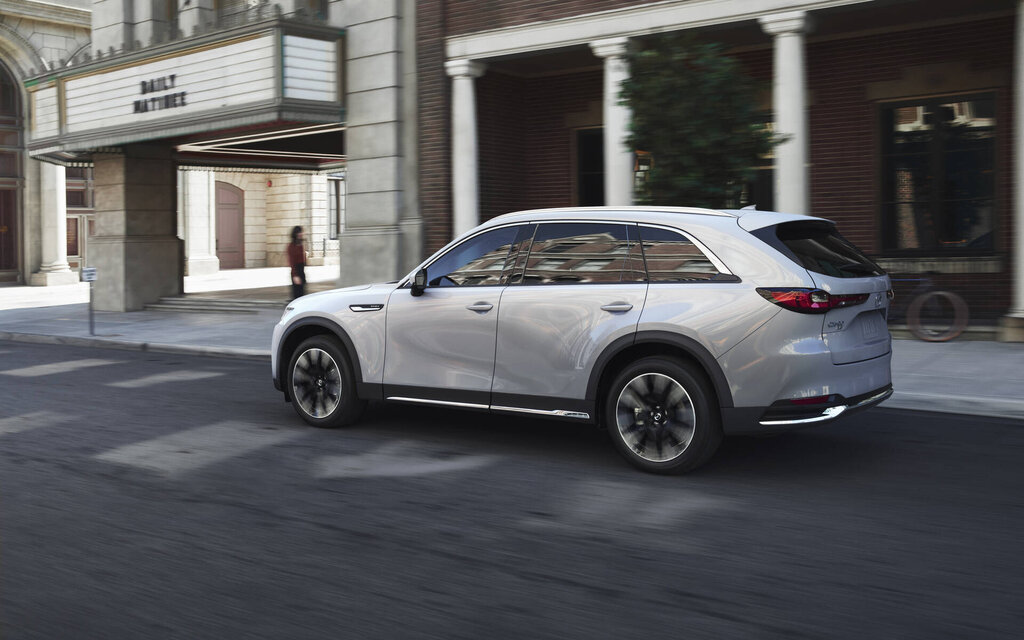 Plug-in Hybrid
Also available with the 2024 Mazda CX-90 is a plug-in hybrid powertrain built around the brand's turbocharged 2.5-litre four-cylinder engine. The latter benefits from a revised intake that maximizes torque. A potent electric motor draws energy from a 17.8kWh lithium-ion battery that was co-developed with Toyota and Panasonic.
The CX-90 PHEV delivers a combined 322 horsepower and an identical 369 pound-feet of torque (again using premium gasoline). The same new eight-speed transmission handles shifting, power is distributed among all four wheels, and maximum towing capacity is 5,000 pounds with each powertrain.
Last summer, our colleague Antoine Joubert drove the Euro-only Mazda CX-60, which features the PHEV system, and managed to travel 56 kilometres on pure battery power. He then regained 18 kilometres of zero-emission range through energy recuperation over the next 70 kilometres or so while the vehicle was operating in hybrid mode.
Of course, the CX-90 is heavier than the CX-60 and likely won't achieve such impressive numbers, but Mazda's technology looks like the real deal, for sure.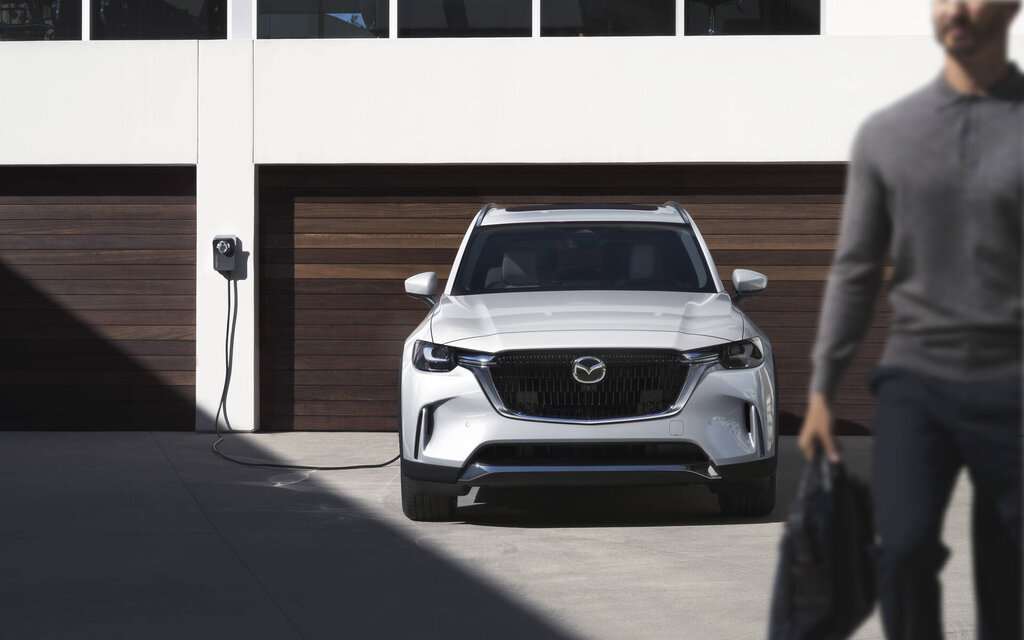 Agile Handling
Engineers say the 2024 Mazda CX-90's ultra-rigid architecture and rear-biased AWD system combine for more agile handling than the outgoing CX-9. We're looking forward to a first test drive so we can validate that claim. Our guess is they're right.
The new platform also gives the CX-90 a longer wheelbase and extra width. Chrome accents on the lower bumpers are available to emphasize the vehicle's broad, athletic stance. Diamond-style 21-inch wheels in a black metallic finish can also be specified. What's more, Mazda designers have come up with a new signature body colour, Artisan Red, specifically for the CX-90.
Premium Interior
Inside, the new three-row crossover features minimalist styling and several manufacturing techniques the Japanese are renowned for including kumihimo braiding. The clean, spacious cabin is appointed in high-quality materials and finished with remarkable attention to detail. Distinctive topstitching is just one example.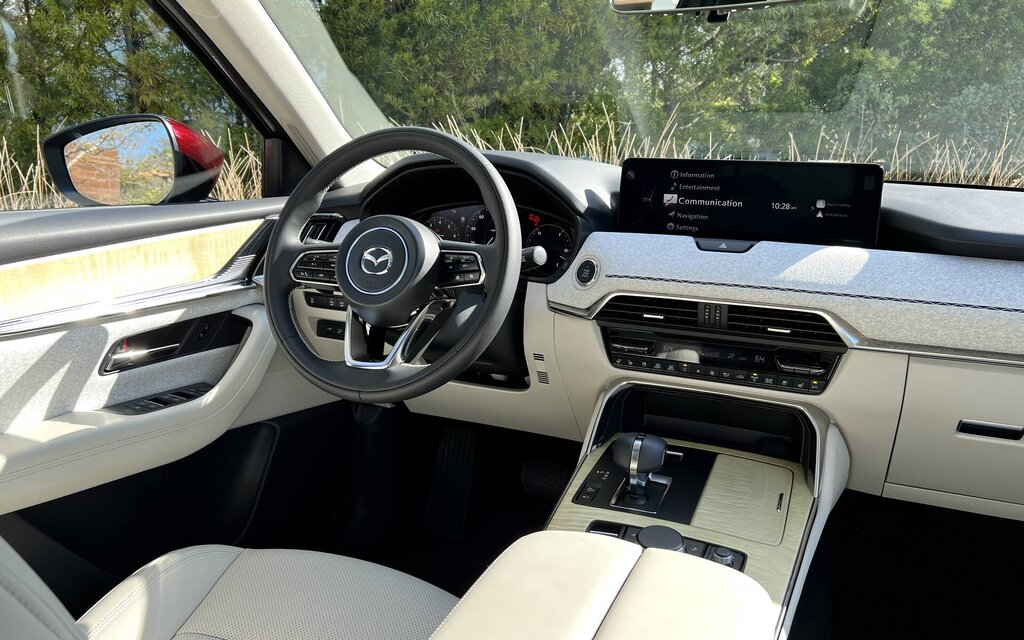 The instrument cluster is replaced by a multi-function display and a 12.3-inch screen towers above the centre stack. Similar to that of the CX-50, the latter has touchscreen capability with Apple CarPlay and Android Auto, but Mazda's own infotainment system can only be controlled by using the large dial on the centre console.
Mazda continues to move upmarket and challenge more established luxury brands. Pricing for the all-new 2024 CX-90 will be announced closer to launch, but this model will inevitably cost more money than the 2023 CX-9, which ranges from $42,050-$54,050 in Canada. Don't miss our first-drive review sometime in the spring for more details and pictures.
Listen: Our experts go over everything you need to know about the 2024 Mazda CX-90
Share on Facebook