2023 Audi
Q4 e-tron

: Worth the Wait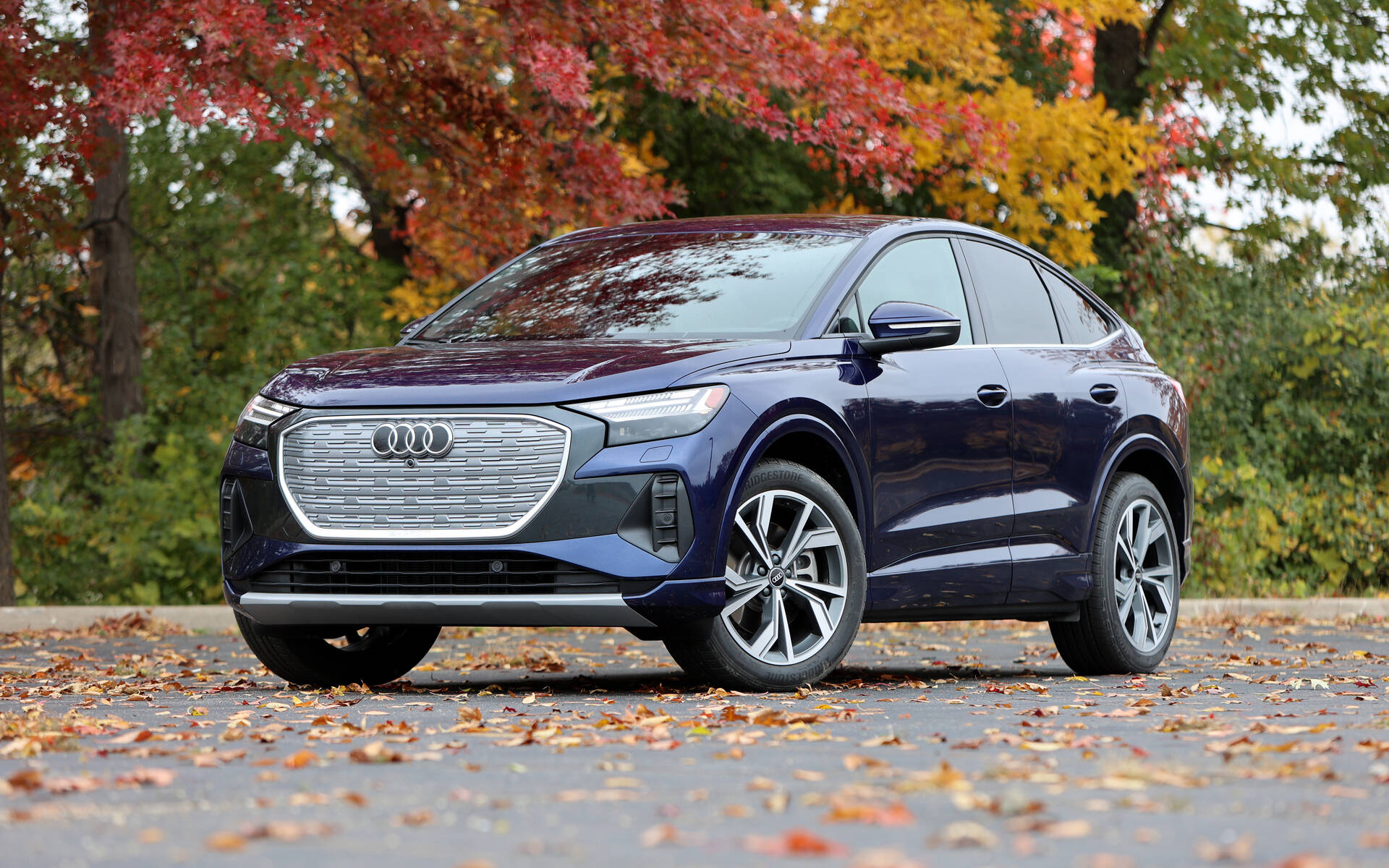 Strong points

Great driving dynamics
Nice interior design
Decent range (388 km)
EV rebates apply (except for Sportback variant)

Weak points

Unreasonable delivery times
Output could be higher
One-pedal driving is not possible
Some plastics don't live up to Audi's reputation
Full report
The all-new Audi Q4 e-tron should have launched in Canada in the fall of 2021, but as it turned out customers had to wait an extra year. Dealers are now getting 8-10 units a month, which is nowhere near enough to meet demand for this highly attractive and competitively priced luxury electric crossover.
Heck, in some parts of the country, like Quebec, people who order a Q4 e-tron today probably won't take delivery until 2024, maybe 2025.
I've had the opportunity to put two different models to the test in recent weeks including the standard Q4 e-tron and the coupe-like Sportback variant (pictured here). Starting at $69,800, with no base Komfort trim level that would lower the price, the latter is considerably more expensive and therefore not eligible to any EV rebates, whether at the federal or provincial level.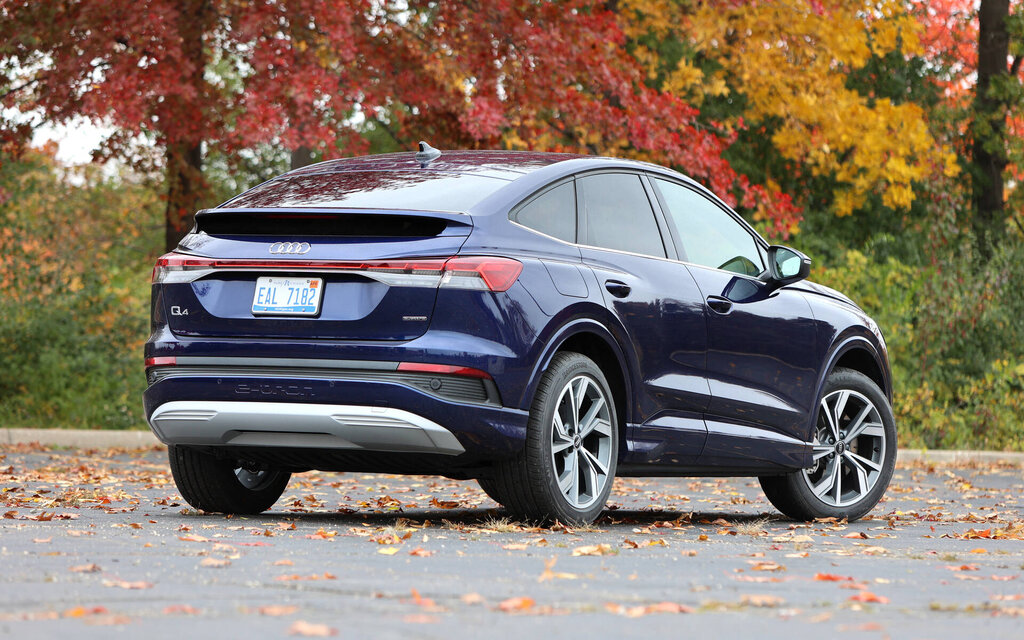 On the other hand, the standard Q4 e-tron comes in Komfort trim starting at $59,950, meaning it qualifies for those rebates. The same holds true even if you select the Progressiv or Technik package that can push the price close to $80,000.
Looking at the competition, the Audi duo's most direct threat comes from the Volvo XC40 Recharge and C40 Recharge, both of which retail from $59,950. And this is no coincidence.
More Than a Fancy ID.4
Despite arriving a year late, the Q4 e-tron is primed to enjoy success in the segment. Of course, it helps that the Mercedes-Benz EQB is only just hitting dealerships.
Believe me, Audi's entry-level EV was worth the wait. Not only does it look very dapper, but it also proves more dynamic than the Volkswagen ID.4, which uses the same MEB platform, 82kWh battery and dual-motor powertrain. By the way, Canadian-spec models feature quattro all-wheel drive exclusively. In the U.S., a single-motor, rear-wheel drive variant with a 62kWh battery is available, as well.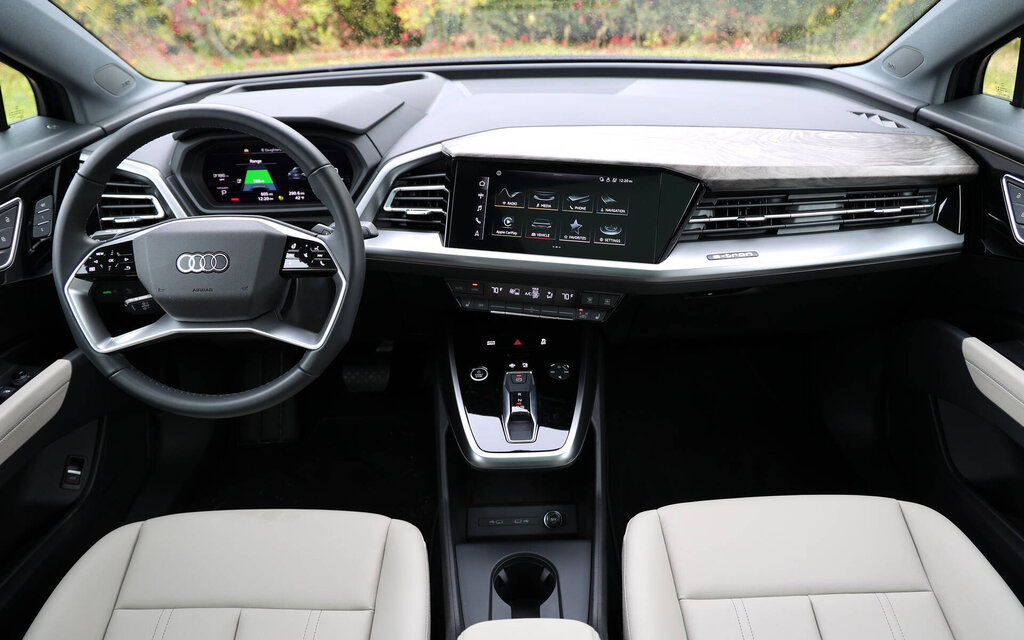 Unsurprisingly, maximum range is similar at 388 km, and so are charging times—about 7.5 hours using 240V AC current or 40 minutes when plugged into a DC fast charger (10-80 percent charge). Alas, one-pedal driving is possible with the ID.4 but not with the Q4 e-tron.
Volkswagen's crossover may be quick and comfortable on the road, but it's not particularly exciting to drive. Steering feels a tad disconnected and lacks feedback, while the suspension is not tuned with sporty handling in mind. Audi's answer is quite the opposite. It feels lighter, more nimble and just more fun to drive—exactly like you'd expect a battery-powered Q5 to behave.
Output is clearly not on par with the Volvo offerings (402 horsepower) or the Genesis GV60 (314-483 horsepower) at 295 horsepower, but driving dynamics are easily some of the best in the segment. Same thing for interior refinement.
Fun fact: while the Sportback variant appears to have a smaller trunk due to the sloping roofline, it actually offers more cargo room than the standard Q4 e-tron (535 litres vs. 520 litres).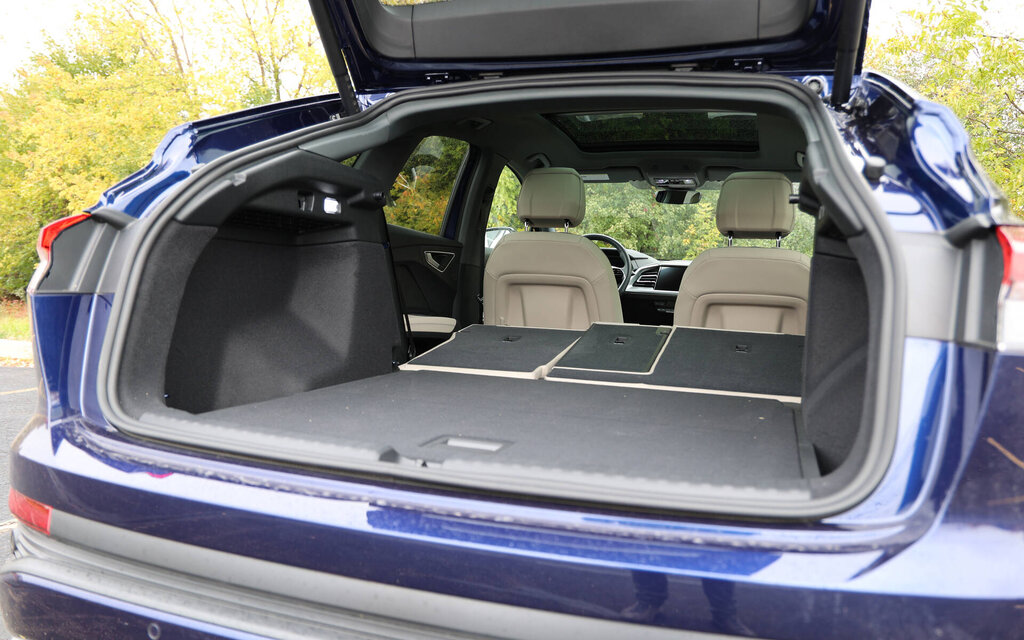 Up front, the driver-centric layout is smartly designed with a user-friendly touchscreen. Wireless Apple CarPlay and Android Auto is included, too. The digital instruments are easy to read and can be supplemented with an augmented-reality head-up display.
Space is generous no matter where you sit, and the magnificently sculpted sport seats in Progressiv and Technik models make for a great driving position. Cabin design is nice, though some of the plastics don't live up to Audi's reputation.
Obviously, the higher you get up the ladder, the more features and amenities you'll find. If you pick the top-line Technik package, your experience will be enhanced with an amazing Sonos audio system, heated windshield and semi-autonomous driving technology (which works remarkably well, I might add).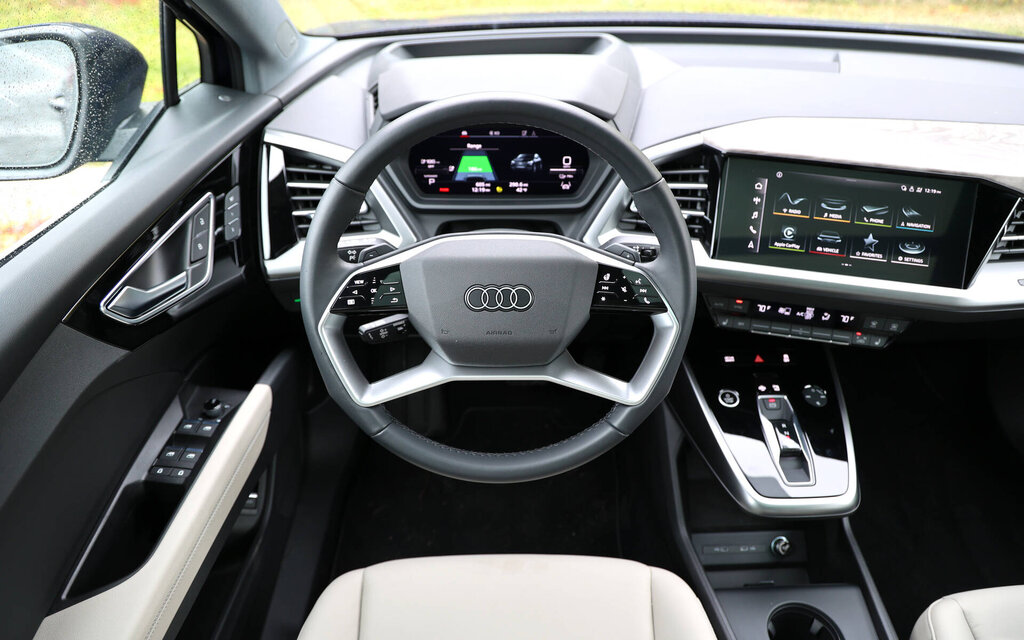 Bottom Line
You'd think the Q4 e-tron Sportback's hefty price would be a problem, especially considering the Volvo C40 Recharge is much cheaper, but demand is so strong that units simply come and go at Audi dealerships. Will the company add a lower-priced trim at some point? We'll see.
Overall, the Q4 e-tron is an attractive and pleasant electric crossover that's bound to enjoy success and retain tremendous value over time, like most vehicles in this segment. Hopefully Audi will find a way to increase production for the Canadian market.
Share on Facebook